As Marvel's Black Panther continues its benevolent reign over the box office, the film's cultural impact is starting to make itself known. The latest sign comes from the world of athletics, where black athletes have started celebrating their victories with the "Wakanda Forever" salute featured in the film. The movie version can be seen in the second shot from this ad:
The first athletes to adopt the signal seem to have been Jesse Lingard and Paul Pogba of Manchester United, who were doing the Wakanda salute as far back as a match against Chelsea on Feb. 25. [See update below for an earlier example.] Here's Lingard's version:
And here's fan-shot footage of Lingard and Pogba exchanging the salute after a winning goal:
The salute crossed into the tennis world this week at the BNP Paribas Open in Indian Wells, California. On Thursday, French player Gaël Monfils commemorated his victory over Matthew Ebden with the salute. The next day, American player Sachia Vickery, ranked #100 in the world, came from behind to win a stunning upset Friday over #3-ranked Garbiñe Muguruza of Spain. Vickery marked the occasion with a familiar gesture:
Asked in an interview with WTA Insider about the salute, Vickery confirmed it was from Black Panther:
That was definitely Wakanda Forever. I'm so obsessed with the movie. It's taking over my life. I have seen it four times already. Literally, I'm obsessed. I have watched it twice here. I may just keep watching it because it's been working out so well for me.
Vickery later acknowledged Monfils on Twitter:
Monfils won again on Sunday, and once more gave Wakanda its due: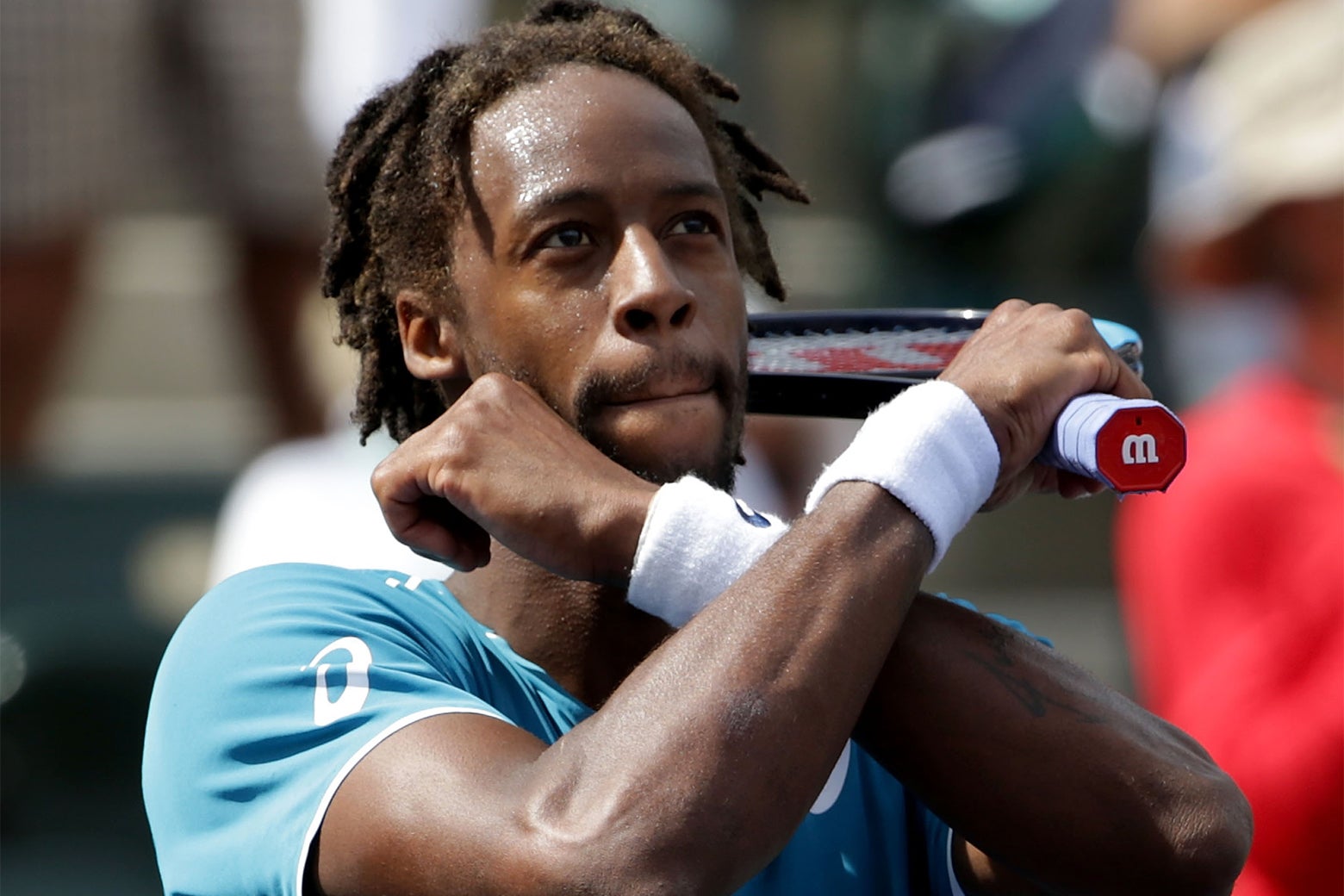 Asked about the salute, Monfils spoke about what Black Panther meant to him:
I think that movie is great. It's great for the community, for our community, it means quite a lot. It's not just a sign, it's everything. It's everything going on, and definitely a shout-out saying I'm supporting the Black Panther's community.
Black Panther is clearly becoming a cultural touchstone across the African diaspora, even without the backing of Wakanda's vibranium reserves. Colonizers beware.
Update, March 11, 2018: Rugby players are proclaiming their allegiance to Wakanda too. Here's Kenyan player Collins Injera scoring his 250th try at the World Rugby Sevens tournament on Sunday:
Update, March 12, 2018: Black List founder Franklin Leonard points out an example of the Black Panther salute prior to the Feb. 25 Manchester United–Chelsea match. Here are Huddersfield Town players Steve Mounie and Colin Quaner celebrating a goal against West Bromwich Albion on Feb. 24. Is this professional sports' Wakanda Salute Zero?