Sign languages played an unusually visible role during this year's Academy Awards: Marlee Matlin, the only deaf woman ever to win for Best Actress, was shown signing in that category's introductory montage; Baby Driver, which costarred deaf actor CJ Jones, was nominated for several awards; and The Silent Child, about a deaf girl who learns to sign, won Best Live-Action Short. On top of all that, the biggest award of the night, Best Picture, went to The Shape of Water, whose protagonist is mute janitor Elisa (Sally Hawkins), who communicates using a period-specific version of American Sign Language.
To make sure Hawkins got it right, the production hired two ASL coaches, one of whom was Amanda Richer, an actress, director, and producer whose breakout role was on the Canadian kids show Deafplanet in 2003. I spoke to Richer via email about what she thought of this year's Oscars, her experience working on The Shape of Water, and that one particularly profane fingerspelling scene.
How did you become involved in The Shape of Water?
A friend of mine, who was working in the production office at the time, reached out asking if I'd like to meet with Sally. Naturally, without hesitation, I said yes. We met for tea and chatted all about ASL, film, life … a few weeks later I was in studio working alongside her.
What was an average session like?
We met every day for 3 hours for the month and a half prior to shooting. We did a lot of repetition. Every day was a new point of focus. Once we got into production, Sally and I would meet before to run her lines for that day and I stayed close by the monitor in case she needed anything. Sally is an extremely hard worker and an unbelievable actress, so she made my job easy. I'm so proud of her work, Oscar-worthy.
The ASL used in the film isn't entirely contemporary ASL, is it? I've read that it's meant to be period-specific.
Correct. The ASL that Sally used in the film is from the 1960s. During that time period, ASL was very English-based. I did a lot of research and had a friend who is also an ASL Coach/Consultant and certified in Deaf Culture and ASL Linguistic to bounce things off of. It's amazing how ASL has changed over the years, just like any other language.
What did you think of the final result and how ASL figures into the finished film?
When I saw the film for the first time at TIFF, I was beaming with pride. Sally was truly remarkable. Every scene with ASL had such a profound emotional impact. One look, one sign can really be so powerful. I always told Sally she was the perfect Elisa, because she's naturally so expressive and feels everything.
Speaking of expressive, I'm a fan of the F-U-C-K-Y-O-U scene, personally.
After we shot that scene the crew would come up to me and spell it out. I was like, yes! If the crew is signing the letters, then the audience will too!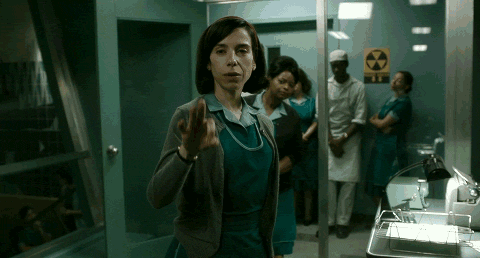 Were you watching the Oscars this year?
I was watching the Oscars. I am so happy they won.
What did you make of Rachel Shenton's speech in BSL?
I thought Rachel Shenton's speech was perfect, and with the platform she had, it needed to be said. So many children are born into a world of silence. The barriers that deaf children and adults face on a daily basis are something people don't understand or generally think about.
The cool thing about Rachel signing in BSL is that it shows people sign language is different all over the world. I can't wait to watch her film.
What advice do you have for filmmakers who want to incorporate sign language into their projects? Do you think it's important to cast deaf actors in roles that use ASL? Or is it enough to have deaf talent involved behind the scenes?
There are so many incredibly talented working deaf actors and behind-the-scenes professionals that could inject a true sense of authenticity and legitimacy into these characters and projects. My advice to filmmakers looking to incorporate sign language into their art is not to shy away. Deaf actors, ASL coaches, interpreters and script supervisors can all work together to avoid any miscommunication on set and ensure each performance is delivered with mastery and accuracy.
ASL can have such a profound impact in a scene. There is such a power in silence and unspoken script. It truly is an all-encompassing language that flows throughout every inch of you and can really provoke an emotional response.