Great true-crime writers tend to fall into one of two schools. The first are detectives, gifted at both finding overlooked information and synthesizing old data to arrive at new insights. They excel at taking a scrambled heap of loose facts and shaping it into a narrative that makes sense. Jon Krakauer (Under the Banner of Heaven), Dave Cullen (Columbine), and Errol Morris (the film The Thin Blue Line but also the book A Wilderness of Error: The Trials of Jeffrey MacDonald) approach true crime this way, as the perilous and ever-fascinating process of arriving at a workable truth of what really happened. The other school consists of evokers, more focused on character and mood than detection. These writers are drawn to crimes in which the bare bones of the narrative are relatively uncontested, yet an enigma lingers: Why? Even if they cannot conclusively answer that question—and often they can't—evokers use the crime as a key to unlock the shadowy inner rooms of human nature. The most celebrated true-crime book of all time, Truman Capote's In Cold Blood, is the quintessential work of an evoker.
The late Michelle McNamara was remarkable for being both types of true-crime writer at once. You can see the outline of her detective skills in I'll Be Gone in the Dark, the book she was working on when she died suddenly in her sleep in 2016. The book, though, is unfinished, just as the decades-spanning mystery it examines remains unsolved. Her husband, the comedian Patton Oswalt, joined the journalist Billy Jensen and McNamara's lead researcher on the case, Paul Haynes, to piece together I'll Be Gone in the Dark from her draft, notes, previously published feature stories, and interview transcripts.* McNamara had, after much effort, recovered a long-neglected cache of documents from the Orange County Sheriff's Department; she believed that with the help of former police investigators and the online community of fellow investigators, she could finally identify the criminal she called the Golden State Killer.
She only made it a quarter of the way through those files before her death. Readers with a detective-style true-crime jones will probably find I'll Be Gone in the Dark a bit of a letdown, as McNamara herself likely would have. "One day soon," McNamara writes in a letter to the Golden State Killer used as the epilogue to I'll Be Gone in the Dark, "you'll hear a car pull up to your curb, an engine cut out. You'll hear footsteps coming up your front walk." She not only wanted very badly for the murderer to be caught, she fully expected him to be. "I was married to a crime fighter for a decade" is how Oswalt puts it in his afterword—"an emphatically for-real, methodical, 'little grey cells,' Great-Brain-type crime fighter." But the lack of a concrete answer in I'll Be Gone in the Dark works to highlight McNamara's other, more evocative gifts.
Criminals, no matter how banal the details of their actual lives, fascinate. Once the identity of a notorious transgressor becomes known, he sucks up all the air in the room. The lack of a "who" at the end of I'll Be Gone in the Dark forecloses any focus on a traditional "why"—although you can make some educated guesses about the motives of a man who would do the things this man did. Instead, I'll Be Gone in the Dark blossoms into a masterful accounting of what might at first seem like a minor issue: where. We're used to thinking of crime as the product of psychological, historical, and social factors, but in I'll Be Gone in the Dark McNamara skillfully demonstrates the role geography and architecture played in shaping the Golden State Killer's reign of terror.
The GSK brutally raped at least 50 women and murdered 12 people in California in the late 1970s and early 1980s. The crimes fell into roughly two periods. In the first, in Sacramento, he established his pattern of casing his targets' homes by prowling around outside, sometimes breaking in but leaving only slight traces of the intrusion. This he followed with a home invasion in which he woke his sleeping victims by shining a flashlight into their faces. Using a weapon (a knife or gun) to ensure their compliance, he tied them up. Although he sometimes chose single women to assault, over time, he showed an increasing preference for straight couples, forcing the woman to tie up the man before leading her into another room where he bound and raped her. Things he said during the attacks and his efficient modus operandi indicated that he had stalked his victims for days beforehand, gathering information.
The second stage, beginning in 1979, took place in Southern California and the San Francisco Bay area. It was there that the GSK turned lethal. He killed, by bludgeoning or gunshot, four couples and two solitary women, and was thwarted in an attempt on a fifth couple when the woman's escape and screams frightened him off. It wasn't until the late 1990s that DNA testing would prove that the same man had committed both sets of crimes. Sacramento law enforcement nicknamed him the East Area Rapist while a remark made by one of the investigating officers in Southern California led the press to call him the Original Night Stalker (that is, the home-invasion killer who preceded Richard Ramirez, who is more commonly known by that name). He is often referred to by the acronym EAR/ONS.
All of the victims were attacked in single-story houses in middle-class suburbs, homes in neighborhoods that amounted to a common version of the American dream. They had addresses on streets with picturesque names like Cockleshell Drive and Queen Ann Lane. The series of murders the killer committed in the Southern California town of Goleta led local residents to call him the Creek Killer because all of the houses targeted abutted a leafy, trickling gorge. One house was only visible from the path that ran through it. McNamara herself walked along the bed of San Jose Creek and was struck by
how captivating the overgrown path, shrouded in huge, draping trees and strewn with moss-covered rocks, would be for a certain kind of suburban adolescent boy, a semiwild, underparented kid yearning for refuge. Rope swings dangled from sycamore trees. … There were secret tunnels and cement-lined drainage ditches where kids skateboarded. There were no lights and the path was confusing and hard to follow. It felt like the kind of place you'd know only if you spent a lot of time down there as a kid.
The people who lived in these neighborhoods typically thought of them as safe, but the same idyllic features that added value to their property—tall, dense trees, the adjacent creek, a healthy distance from the neighbors—made them vulnerable to the GSK. Until his crime streaks made the news, victims and their neighbors overlooked the little signs that a household had attracted his attention: footprints in flowerbeds, a door left open, a dog barking, small sounds coming from the roof at night.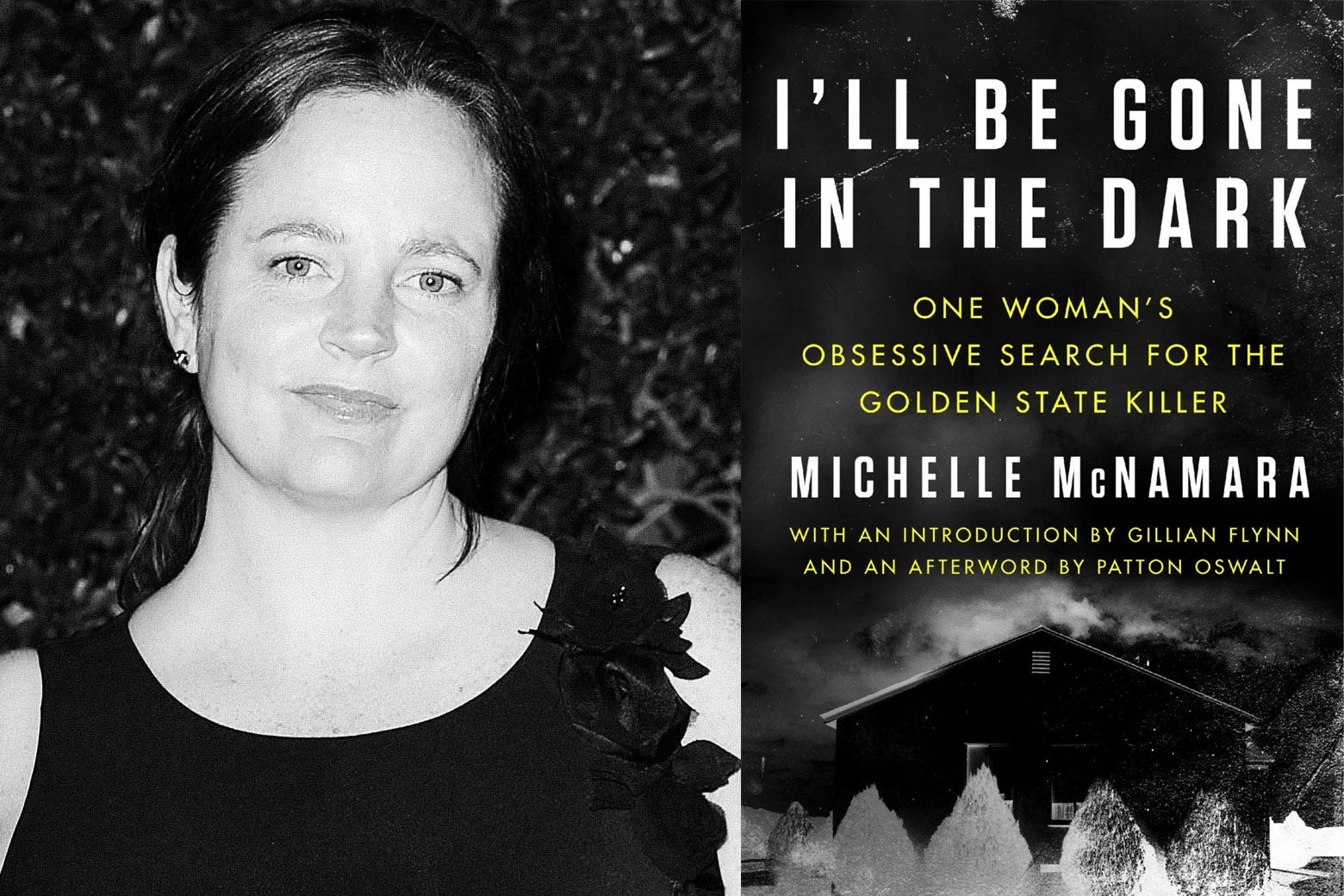 McNamara weaves her own autobiography through I'll Be Gone in the Dark—her Irish Catholic girlhood in the Midwest and the unsolved murder of an acquaintance—but the anecdote that feels most relevant to the GSK case is a chapter about the neighborhood where she and her family lived while she wrote the book in California. Asking herself why witnesses so seldom called the cops, sometimes even when they spotted young men jumping fences and other suspicious activity in the neighborhoods the killer targeted, she recalls a morning when her own neighbor's house was burglarized; she'd seen two youths in suits on the sidewalk but assumed they were selling magazine subscriptions door to door. She, her husband, and her neighbor, talked it over afterward: "From now on, the three of us told each other, we'll look out for each other. We'd alert each other when we were going out of town. We'd be better neighbors, we promised." She writes that the neighbor seemed like a great guy; they wave and chat now and then, but, she observes, she still doesn't know his last name. A suburban neighborhood doesn't necessarily make it difficult to know your neighbors, but it does make it easy not to.
Nowhere do the impulses that created a hunting ground for the GSK appear more evident than in Rancho San Miguel, a development in Walnut Creek designed in the 1950s by Joseph Eichler. Eichler houses, coveted by aficionados of midcentury modernism, feature blank walls facing the street contrasted with glass walls and sliding doors opening onto a backyard enclosed by high fences. Although Eichler is celebrated for establishing nondiscrimination policies in his planned communities, what the architecture of the houses themselves communicates is a desire to turn away from the neighborhood and toward a dream of secluded, semioutdoor living. The development is catnip for peeping toms—display cases for their residents' private lives with minimal chances of being spotted. "I call this the Bermuda Triangle of Contra Costa County," a criminalist in the sheriff's office told McNamara. "We've had other serial killers attack in this same neighborhood."
Whatever personal history formed the psychopathology of the Golden State Killer, he was also, McNamara and most of her law enforcement forces believe, a product of an environment much like this one. Although he wore a ski mask during his attacks, the few witnesses who saw his face describe him as white and fit, with slightly shaggy blond hair: indistinguishable, that is, from hundreds of young men who inhabited the neighborhoods he terrorized, like a surfer, perhaps, or a former skateboarder. Many of the houses he broke into were for sale or near ongoing construction; maybe he worked in a housing-related job, or maybe he chose spots where an unfamiliar car or man would be less remarkable, where he could surveil his potential targets while attracting minimal attention. People came and went in these neighborhoods, restlessly searching for a Californian ideal.
McNamara is so good at evoking these milieus—the teenage girls hanging out at a Sacramento park to watch "shirtless boys wax their cars" before heading out to see the Eagles or Peter Frampton play at the outdoor Days on the Green concerts in Oakland; the way the St. John's River, with its water "the color of weak coffee" would wash away the alkali dust from an inner tube rider's feet; the smell of night-blooming jasmine drifting through Santa Barbara's windows on hot evenings—it's sometimes hard to believe she grew up in Oak Park, Illinois. The detective's nose for the crucial clue transmutes so easily into a novelist's eye for the concrete detail that conjures a memory or emotion. She applies the same gift to a handful of portraits of people affected by the killer's crimes: a girl who lost her mother at 16, in the midst of the stormy filial conflict that so often unfurls at that age; a young man who envied his married brother's life and then bonded with his fiancée when she helped him clean his sister-in-law's blood from the walls of the house he'd once coveted. These read like fragments from Raymond Carver stories, tales of ordinary lives fractured by incomprehensible violence. Had she lived, McNamara might have helped identify the man who committed that violence, but before she died, she did something nearly as miraculous: making them all live again in some small way.
I'll Be Gone in the Dark: One Woman's Obsessive Search for the Golden State Killer by Michelle McNamara. Harper.
Read all the pieces in the Slate Book Review.
Correction, March 16, 2018: This article originally misstated that Paul Haynes is an amateur expert on the Golden State Killer crimes. Haynes was Michelle McNamara's lead researcher on the book I'll Be Gone in the Dark, a paid position.