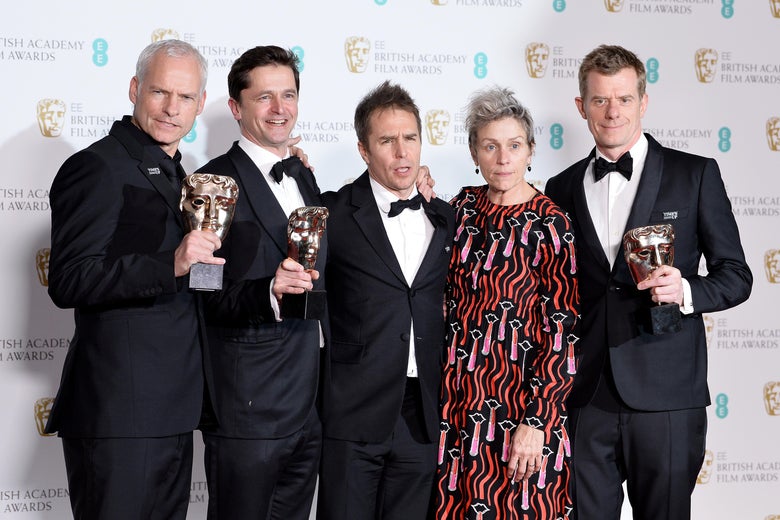 The British Academy of Film and Television Arts held their annual awards ceremony Sunday night at the Royal Albert Hall, and Three Billboards Outside Ebbing, Missouri was the night's biggest winner, Variety reports. The film won five BAFTAs: Best Film, Outstanding British Film, Original Screenplay for writer/director Martin McDonagh, Leading Actress for Frances McDormand, and Supporting Actor for Sam Rockwell. After similarly strong showings at the Golden Globes and SAG Awards, Three Billboards heads towards the Academy Awards with a full head of steam. The film received seven Oscar nominations, but can only win a maximum of six, because Sam Rockwell and Woody Harrelson are both nominated for Best Actor in a Supporting Role.
In the non-Ebbing-Missouri categories, Guillermo Del Toro won the BAFTA award for Director for The Shape of Water; his film also racked up wins for Original Music (Alexandre Desplat) and Production Design (Paul Austerberry, Jeff Melvin, and Shane Vieau). Darkest Hour won two awards, with Gary Oldman winning the Actor category while David Malinowski, Ivana Primorac, Lucy Sibbick, and Kazuhiro Tsuji won Make Up & Hair. The only other member of the multiple-BAFTA award club this year was Blade Runner 2049: Roger Deakins picked up the Cinematography award while Richard R. Hoover, Paul Lambert, Gerd Nefzer, and John Nelson won for Special Visual Effects.
No other film took home more than a single BAFTA award. Allison Janney picked up the Supporting Actress award for her performance in I, Tonya, The Handmaiden won for Film Not in the English Language, Coco won for Animation, Call Me By Your Name won Adapted Screenplay, Baby Driver won Editing, and Phantom Thread won Costume Design. Finally, Get Out's Daniel Kaluuya won the EE Rising Star Award, which is sponsored by telecom firm EE and voted on by the public. Absolutely Fabulous' Joanna Lumley hosted, and used her introduction to mark a centennial at the Royal Albert Hall:
… a place that, exactly 100 years ago, hosted an historic event celebrating the first group of British women being given the vote. A century ago, the suffragettes laid the groundwork for the kind of dogged resistance and powerful protest that is carried forward today with the Time's Up movement, and with it, the determination to eradicate the inequality and abuse of women the world over.
It wasn't the only nod to the post-Weinstein era: Many women attending the ceremony wore black as a sign of solidarity with the women who have been speaking up about sexual assault and harassment. One exception was Frances McDormand, who acknowledged her red and black dress In her acceptance speech, telling the audience, "As Martin [McDonagh] said, I have a little trouble with compliance, but I want you to know that I stand in full solidarity tonight with my sisters in black."
A complete list of this year's BAFTA award nominees and winners can be found here.
Support our journalism
Help us continue covering the news and issues important to you—and get ad-free podcasts and bonus segments, members-only content, and other great benefits.
Join Slate Plus
Join
---