Whatever your opinions on the polarizing Best Picture-nominee Three Billboards Outside Ebbing, Missouri, the protest at the center of the film is undoubtedly shocking and memorable: Frances McDormand's character rents out three billboards in order to call out the town's police chief for failing to arrest anyone for the rape and murder of her daughter. "Raped while dying"; "And still no arrests?"; "How come, Chief Willoughby?" the signs read in sequential order. The fictional protest is so memorable, apparently, that several instances of activism echoing the movie have been reported around the world over the last few weeks.
Earlier this month, protesters set up three trucks around London to bring renewed attention to last year's deadly Grenfell Tower fire. In a press release on their website, the group Justice4Grenfell released photos as well as a statement that read in part,
8 months on from the tragedy of the Grenfell Tower, the issue is being ignored.

71 people died in the Grenfell Tower.

And still no arrests.

And still 297 flammable towers.

And still hundreds of survivors are homeless.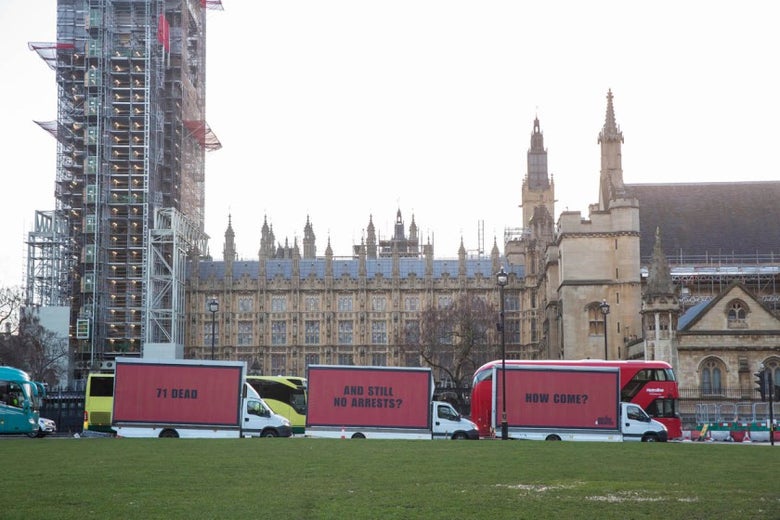 This week, the international civic group AVAAZ took three billboards to Miami to call out Senator Rubio in the wake of the Parkland, Florida shooting: "Slaughtered in school"; "And still no gun control"; "How come, Marco Rubio?"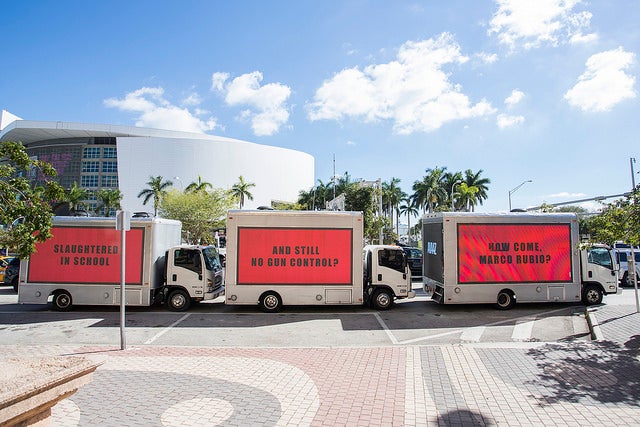 And on Thursday, the Union of Medical Care and Relief Organizations, a coalition of medical and humanitarian organizations, set up three billboards outside of the United Nations in New York, urging the Security Council to act on the violence happening in Syria.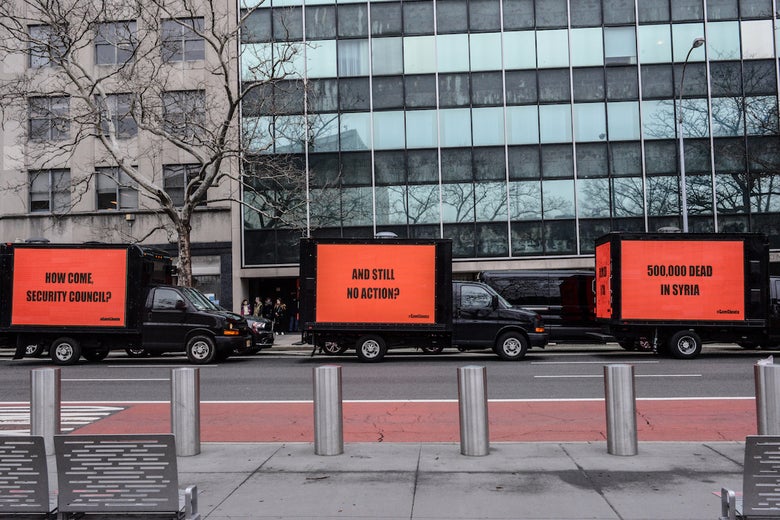 During her acceptance speech at the BAFTAs on Sunday, Frances McDormand commented upon the reports, stating she is "thrilled that activists all over the world have been inspired by the set decoration of the three billboards in Martin's film." We've reached out to Martin McDonagh for comment and will update if he responds.