Four years ago in Sochi, the U.S. women's hockey team led mighty Canada 2–0 with four minutes to play. The Americans hadn't won gold in the Olympics since the Nagano Games in 1998; Canada hadn't lost a single game at the Olympics since losing that gold-medal match in Japan. It seemed like both of those streaks were going to end. They didn't. Canada staged an epic comeback in 2014, scoring two goals in regulation and another in overtime to send Team USA to a devastating defeat.
Hilary Knight was "crushed and heartbroken" after that come-from-ahead loss. "There was definitely an I-don't-know-if-I-can-go-another-four-years kind of feeling," she told NBC Sports' Nick Zaccardi last year. Knight, who was a college star at the University of Wisconsin, had thought at one point that she wasn't even going to make it to Sochi. She'd gone to Boston to train for the games, she told Fox Sports, and ended up calling her mom "bawling crying because my funding essentially wasn't enough to live out here."
Knight stuck it out, and she helped lead the national team's effort to get a fairer labor deal. After securing that contract, Knight scored the game-winning goal in overtime to lead the U.S. over Canada at the 2017 world championships. And on Thursday in South Korea, Knight netted the first goal in Team USA's shootout win over the Canadians, helping to secure the gold medals she and her teammates have been desperate to get around their necks.
After Knight opened up the scoring, the U.S. conceded a pair of goals in the second period to lose the lead. With less than seven minutes left in regulation, Monique Lamoureux-Morando got the puck on a breakaway and slid it past Canadian goalie Shannon Szabados, tying the game 2–2 and setting the stage for a disgustingly tense overtime period and shootout.
Monique and her identical twin sister Jocelyne Lamoureux-Davidson—more on her later—are known, according to the NBC Olympics website, as "The Twins." The North Dakota natives may have the least creative nickname in sports history, but they are at least more successful Olympians than the Winklevoss twins, who did not medal in men's pairs rowing in Beijing in 2008. In a Q&A before the games, Monique described the United States' rivalry with Canada as "not friendly at all." Her third-period goal seems unlikely to bring about a détente. The Americans' win in Pyeongchang will mark the end of the first phase of the 28-year-old Lamoureux-Morando's career. "My husband and I have put off having children until after the 2018 Olympics," she explained. "I am essentially counting down the days to when I can get pregnant." That kid's going to hate Canadians so much.
Gigi Marvin went to high school with Sochi shootout hero T.J. Oshie. On Thursday, playing in her third Olympics, Marvin got a shootout goal of her own.
This is what she looked like when she scored: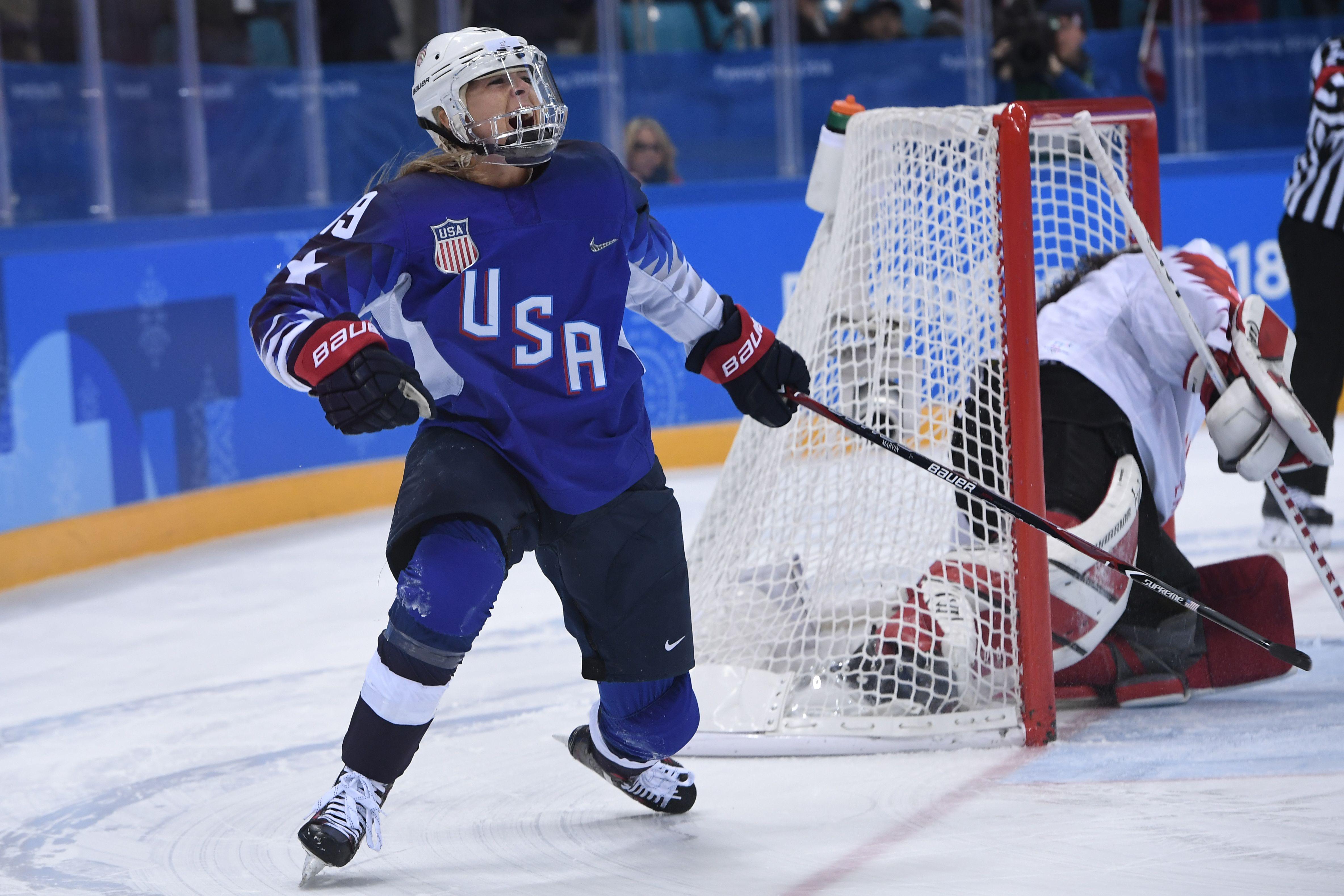 This is what she looked like when the game was over: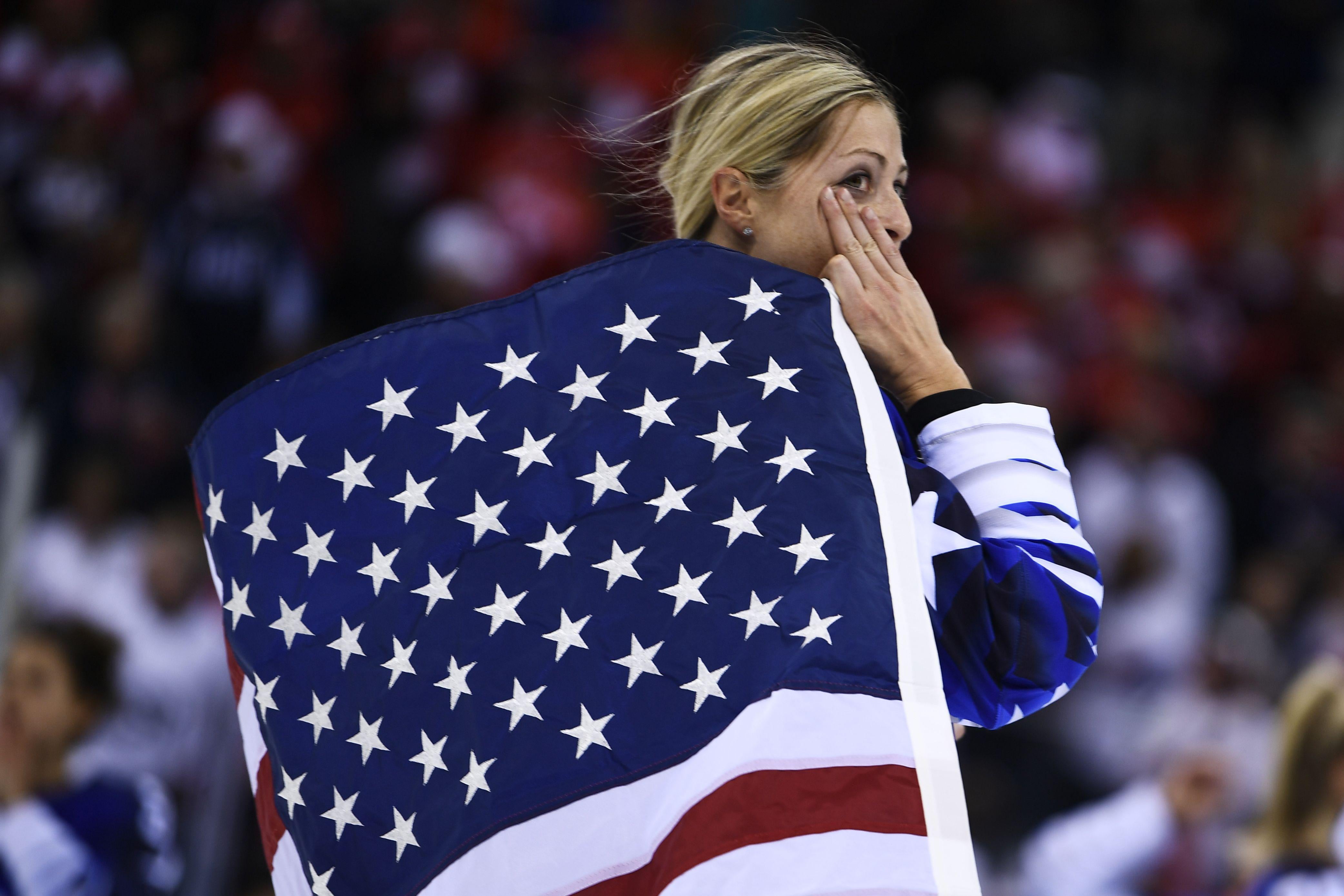 Amanda Kessel, 26, was named the country's best female collegiate hockey player while playing for the University of Minnesota in 2013. She's still pretty great. She scored the second shootout goal, a straight-ahead shot that immediately answered the preceding goal from Team Canada. She was concussed while training for Sochi in 2014 and suffered from the symptoms for almost two years thereafter—during which she thought she would have to quit hockey forever. She eventually recovered and made her way back to the sport, though she doesn't see a long-term future in the underpaid world of women's hockey: Before the games she told ESPN that she needed to "figure out what I'm going to do with my life." She is the sister of NHL player Phil Kessel, who was last seen stuck inside an ominous tube. Let's hope she has won her brother's freedom by means of her excellent performance in Pyeongchang.
Jocelyne Lamoureux-Davidson is the second of the aforementioned Lamoureux twins. (There are four other hockey-playing Lamoureuxs, too, and if you have an hour to kill you can read the story Gary Smith wrote about the family for Sports Illustrated in 2010.) She scored the game-winning shootout goal, a brilliant deke that saw her fake left and shoot right as the Canadian goalie fell over.
According to her sister, Jocelyne's move is called "Oops, I Did it Again." (That is a much better nickname than "The Twins.") Lamoureux-Davidson had a great Winter Games, scoring two goals in six seconds in an earlier contest against the Russians. Like her sister, she hates Canada. "You literally train four years for one game," she told ESPN. "The time it takes to get to this point … the amount of work and the sacrifices. This is what we wanted, a chance for a gold medal." They got their chance, and they got their medal—and Lamoureux-Davidson's goal was how they got it.
Maddie Rooney, the goalie, is impossibly young—20 years old—and impossibly poised for her age. All the attention and all the pressure was on Rooney when, after Lamoureux-Davidson put the U.S. in the lead, Canada's Meghan Agosta headed her way to try and extend the game. Rooney wasn't having it.
A college student at the University of Minnesota–Duluth who has taken this year off to train with the U.S. women's team, Rooney wasn't around to experience the crushing defeats of the previous Winter Games. Szabados, her Canadian counterpart, first appeared in the Olympic Games in 2006. In 2006, Maddie Rooney was in elementary school; she was only seven months old when the U.S. women's hockey team won Olympic gold in Nagano. She is a Justin Bieber fan, and of course she is, because she is 20 years old. When I was 20 years old I was trying to buy rum with a bad fake ID at the discount liquor warehouse on Route 13. Maddie Rooney might be doing that, too, but she also has an Olympic gold medal.
Read the rest of Slate's coverage of the Pyeongchang Olympics.
• The United States' Thrilling Cross-Country-Skiing Gold Was Everything Great About Sports
• I Believed in the U.S. Men's Hockey Team for Roughly 30 Minutes. That Was a Mistake.
• The Lowest-Ranked Male Figure Skater in History Is One of My All-Time Favorite Athletes