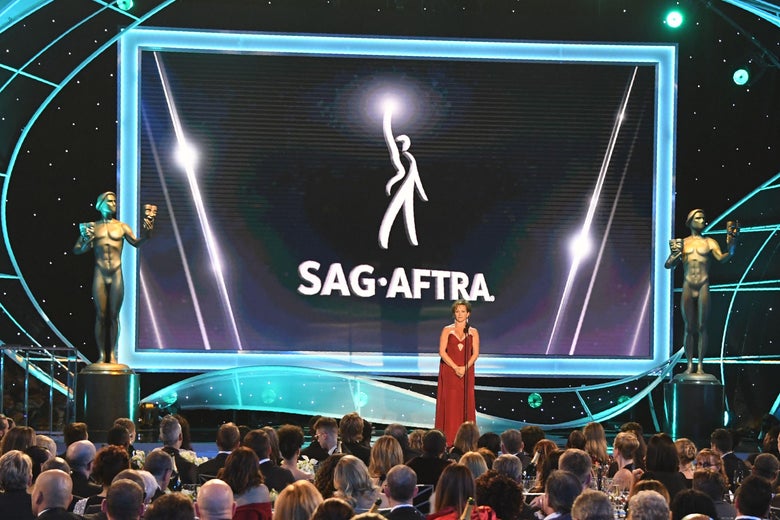 Yet another Hollywood body has established a behavioral Code of Conduct, as it becomes clearer that the code of basic human decency is too difficult for many to crack. SAG-AFTRA has released its new "Code of Conduct on Sexual Harassment," which both defines sexual harassment and sets forth an "expectation" that its 160,000 members will "refrain" from engaging in it.
It's hard to believe that anyone in Hollywood could not know the definition of sexual harassment by now, but the SAG-AFTRA code attempts to elucidate things anyhow, defining harassment as "conduct of a sexual nature that unreasonably interferes with an individual's work by creating a pervasive sexually hostile or offensive work environment," including "sexual assault (which is also a crime), unwanted sexual advances, requests for sexual favors, inappropriate use of nudity or sexual images in work areas, repeatedly sending sexually offensive texts or emails, and other unwelcome verbal, visual, or physical conduct of a sexual nature." Hopefully that clarifies things for any remaining "old dinosaurs" out there.
Coming from a labor union, SAG-AFTRA's code is a little different in its focus. The code places a greater onus on employers, not its members, to prevent harassment, threatening to use its "enforcement powers" to direct members away from noncompliant workplaces. The code is particularly concerned with labor conditions, setting out subheadings to describe the various ways in which harassment may interfere with employment: Quid Pro Quo Sexual Harassment, or that in which work assignments depend on submitting to romantic or sexual demands; Hostile Work Environment, as created by unwanted, unwelcome, pervasive sexual advances; and Retaliation, which occurs when an employer takes retaliatory employment action against a complainant or their supporters. But the union's focus on employment outcomes leaves SAG-AFTRA's definition somewhat confused: Is workplace harassment not considered harassment if it's a one-off, and doesn't affect anyone's employment status directly?
And while the threat to employers is quite overt (there is a whole section entitled "WHAT HAPPENS WHEN AN EMPLOYER FAILS TO KEEP AN ENVIRONMENT FREE FROM HARASSMENT?"), there are no explicit consequences in the code for members found guilty of sexual harassment: "Sexually harassing conduct may also form a basis for member discipline" is as far as it gets. The union—responsible to all of its members, both the accusers and the accused—suggests that SAG-AFTRA members accused of harassment may be entitled to "union representation if their employer pursues discipline." SAG-AFTRA is explicitly concerned with ensuring "fair treatment and due process" for its members, with protecting actors from what some see as the excesses of the #MeToo moment. Yes, it wants employers to act on sexual harassment claims, but the guild will also be there to protect its harassers when they do.
While demanding safer workplaces is an eminently reasonable request, it is also, in a sense, a product of Hollywood's failure to grapple with its own culpability. In calling for employers to do a better job at preventing harassment, and failing to emphasize the condemnation and—one would hope—expulsion of the harassers themselves, the guild lets individuals off the hook, placing the onus on bosses to prevent harassment of its members that is all too often committed by its members.
---