"When he was really young, I'd put him on stage," says Ed Hamell of his son Detroit. "I put him in a chair next to me on stage. He was with me all the time. Remember that kid that got eaten at Disneyland, by the alligator? That would never have happened on my watch. I had my hand on that kid the whole time."
Hamell, a singer-songwriter who goes by the stage name Hamell on Trial, is a bulldog of a man in his 60s, with the profane candor of the blue-collar upstate cities where he has spent most of his life. In his later years, he has added glasses, a shaved head, and a black goatee. His son's name is tattooed in Gothic script across his breastbone. Fifteen-year-old Detroit is slim and confident with a hint of a pompadour and has spent summers and weekends on the road with his father for the past seven years. He tells me his father "actually has a line on stage: 'You might notice that my kid is sitting over there, and it's midnight, and you're probably thinking to yourself, why would he bring a kid here? And I would say to you, fuck you, don't judge me.' "
In the wake of a "traumatic heartbreaking divorce" from Detroit's mother, Hamell faced a familiar issue—how to spend enough time with his kid—combined with the knottier challenges of an aging performer. He was already in his 40s during his brief turn on the major-label stage in the 1990s, and the following two decades brought a series of independent and self-released albums, a one-man show, and fatherhood, but little financial stability. The audience for his lowlife morality tales and Bill Hicks–inspired rants (both in songs and between them) was devoted but limited. His was a bulk business, dependent on maintaining a critical mass of intimate shows and using them to move merchandise.
The Hamells tour in a brown 2006 Corolla. Their first few years traveling together, when the young Detroit rode in a child seat in the back, were more likely to feature afternoon trips to amusement parks. Now, Ed says, Detroit's "into clothes, so [we] go to the Mall of America." What began tentatively as long weekends became an annual, extended summer road trip. The child in a chair on stage, after a few years, became the teen at the merchandise table, playing video games during his father's set. A shtick in which the young Detroit came onstage to deliver a short setup-punchline joke on mic gradually expanded into a 10-minute standup routine. Hamell's small business became a family business: Detroit now routinely makes a thousand dollars in tips on a summer tour.
"I swear," says Hamell, "that fuckin' kid, has never, ever, ever complained. Not once. He just digs it." In fact, for Detroit, touring has been good for his social fluency as much as his wallet. "I'll make small talk with [fans], and they'll tell me about, maybe, their first time seeing my dad, or [how] they saw me when I was younger," he explains, "so it's really taught me to have better social skills, funnier responses to certain things, how to make eye contact—I know, like simple stuff," but hardly irrelevant to a teenage boy.
To the lay parent, the idea of touring with children raises any number of questions. How do you get them to sit still for the long, daily drives? What about school? Do the bars let them in? How do you protect them from the drunks and creeps who sometimes haunt the rock circuit? Where and when, for goodness' sake, do they sleep?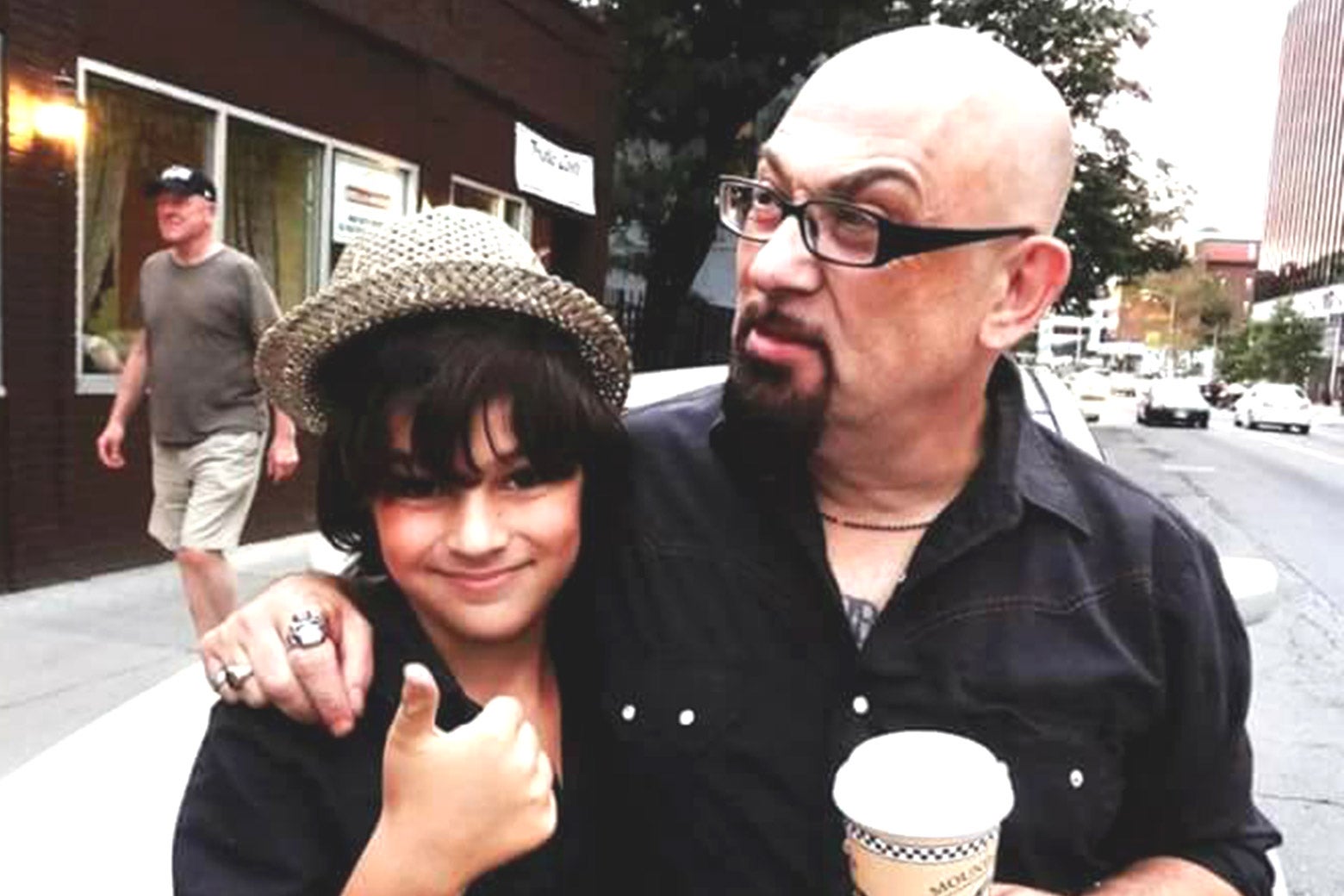 The Hamells are far from the only family on the road. In an era in which record sales are dwindling and streaming royalties rarely make up the difference, touring is often musicians' primary means of making a living. At the same time, as has been widely noted, now is a time of steadily increasing gender parity on the rock touring circuit. What has long been a preserve of male indulgence is now increasingly travelled by parents who don't feel comfortable leaving their kids at home, don't feel able to do so, or simply resent the idea that they have to choose.
Most of them aren't dads on their own like Hamell. In most situations involving children on the road with their father, the mother is also present as a performer. While the problem of balancing work and family for touring artists is by no means exclusively a women's issue, male artists have traditionally felt little compunction about extended touring and recording absences from their children, often facilitated by homebound partners. Many women who are performers find this choice­—between a touring career and spending time with their children, or having children at all—unacceptable. "I've always wanted to be a full-time mom," says Dawn McCarthy of the band Faun Fables, "and I just also really wanted to continue singing and touring. I reckon I was too stubborn to bow out gracefully."
The stag model of the rock era, in fact, may have been the anomaly. Not that the pre-rock circuits were exactly family friendly. (Buster Keaton once remembered that, during his early life touring with his family's vaudeville act, "There was not one word that made it illegal for my father to display me on the stage as a human mop or to kick me in the face.") But the travelling showbiz family was no novelty. The first members of what became the famous Barrymore acting family appeared on stage in 1752. Jean-Gaspard Deburau, who created the archetypal portrayal of the commedia dell'arte character Pierrot in the 19th century, was from his childhood a member of his father's troupe. Keaton and other vaudeville and early film performers began their careers as helpmeets, apprentices, and refugees from family acts. Various family bands stud the history of country music, notably the Carter Family—who, in their original incarnation, drove to regional appearances in a Model A Ford with a lantern tied to its front in lieu of headlights. But movies turned the traveling showbiz kid of the vaudeville circuit into the overworked but sedentary striver of the Los Angeles audition circuit. Soon afterward, in the music business, the rock mythology of tour bus and backstage debauchery discouraged the involvement of both children and women—women, that is, who might bring unwelcome reminders of family responsibility. In today's more gender-integrated touring community, the pendulum is swinging back toward an earlier model.
Among the reinventions pioneered by the independent and DIY musicians of the 1990s was the possibility of combining parenthood with a working life on the road. In this, as in many things, Sonic Youth's Kim Gordon was a model. Kori Gardner, of the husband-and-wife duo Mates of State, remembers seeing "Kim pregnant on a show, playing on TV, and I was like, 'Oh, she's actually a mom!' " A kind of mom underground began to coalesce. "Kristin Hersh was one of the only ones I'd heard of that'd been doing it." says McCarthy. "I knew that Sleater-Kinney had a kid [on the road]," says Gardner, "so I knew it had been done, but … I didn't know how they did it." (The more visible paradigm—celebrity touring mothers like the Dixie Chicks—were operating on a higher financial and logistical level.) Over time, many of these women formed informal networks. "We're sort of reaching out to each other," says Suz Slezak of the band the David Wax Museum. "There's [a] growing tribe of us, and it's so beautiful to connect."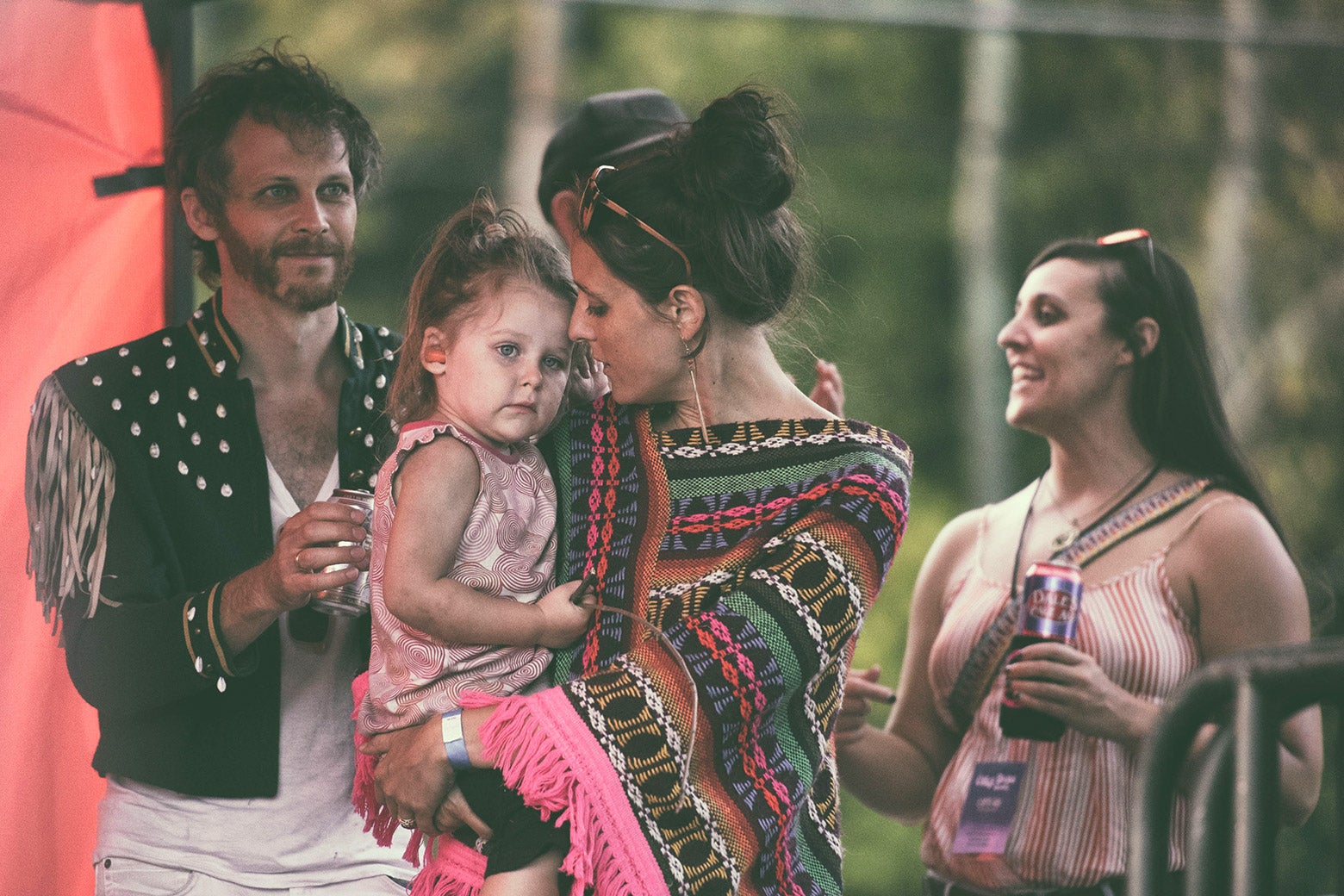 A class difference, between those who travel in a tour bus and those in a minivan, remains operational. One thing these levels have in common, though, is the need for additional child care, whether from family members or professional nannies. Erin Abbott worked on both levels: She spent seven years working as a tour nanny on the minivan tier with Mates of State and on the tour-bus scale for the Flaming Lips. Crucially, Abbott had already spent several years as a member of traditional touring crews, selling merchandise and managing tours for bands such as Hot Water Music and New Found Glory. The Lips traveled in two buses, one for the crew and one (peanut-free) family vehicle with cribs in the back lounge. It could be an isolating experience for a veteran like Abbott to go from feeling like "part of the crew" to "this extra person on the road primarily for just one small facet of the band."
In 2010, Gardner, Abbott, and two partners formed an agency called Charter Nannies to match child care providers with touring acts. When the logistics of keeping the agency running became overwhelming, the baton was picked up by a woman named Brandy Schultz. Schultz had supported herself and her husband, an aspiring musician, as a travel nanny—a child care provider for ambitious family vacations, "somebody who was like a Wilderness First Responder, [who] could start fires while they were camping and set a femur," Schultz says. When her husband found success as the frontman of the folk-rock band the Lumineers, her company Adventure Nannies became a natural resource for touring artists as well.
Schultz and Gardner agree that it is easier, because of the unique stresses and insular culture of touring crews, to transition a seasoned touring professional to nannying than introduce a nanny to touring. Schultz usually suggests a trial run for tour neophytes. "It can be hard, I think, especially for musicians who aren't necessarily used to being somebody's boss, to communicate … the unspoken rules that everyone who's been on tour already knows." Stoicism and a thick skin are necessities. In addition, for an accredited agency, complying with industry and federal standards for working hours is, she says, "impossible."
After some apprehension, Gardner and her husband Jason (the two members of Mates of State) brought her mother on tour, and she recommends extended family members as tour nannies. This isn't easy for everyone. During the first two years of Slezak's daughter's life, Slezak's father joined David Wax Museum on tour to help with child care. This, though, introduced another dynamic familiar to many contemporary working families: the "sandwich generation" problem of managing both young children and elderly parents. "He's 70 now," says Slezak of her father. "He wakes up at 4 in the morning naturally, so he likes to go to bed at 9 p.m., [when] we're just getting started … It felt too challenging for me to navigate three generations."
It can be a challenge, too, for parents to switch between performer and parental roles, like trying to maintain a professional demeanor on Take Your Child to Work Day. If there is, additionally, a status disparity between the parents' roles in the act, this can lead to a volatile layering. Schultz alludes to difficult situations that Adventure Nannies has encountered in which a mother plays in a group in which the father is the "main performer." There can be an "ego element," she says, when, for example, the father has "an after-show DJ set afterwards" while the mother has to remain with the nanny and child.
Mike and Katie West, who perform and record as Truckstop Honeymoon, act out a kind of "good cop, bad cop" routine on stage: he genially wild-eyed with long, loose-flowing hair and she performatively chilly, with her hair drawn back into a tight bun. ("Your mother is a sociopath/ She hates all the other mothers," Mike sings in one song.) Their eldest daughter, his stepdaughter, was 2 when her parents began touring together. They now have four children, aged 8, 10, 13, and 16, who have, West says, "grown up with touring as part of the rhythm of their lives."
Mike had a long career as a solo act (as well as recording engineer) before partnering with Katie. He still remembers the turning point, a night when he was "playing an almost empty bar in Lafayette while Katie was back in New Orleans looking after our eldest."  At the end of his first set, he says, "I realized that this was not the place I needed or wanted to be. I was entertaining two drinkers in a basement when I could have been home reading a story to my daughter and putting her to bed." He told the bartender he was going home, that he didn't need to get paid.
The couple launched Truckstop Honeymoon as a duo and experimented with ways to include the children. Katie, Mike says, "played many shows and recorded several albums with a baby on her back." Then, he continues, they improvised, "figuring out how to potty train a little one on the side of a highway, nursing a baby at sound check, trying to find a babysitter you could trust in a town you'd never been to." When they couldn't find child care, he says, "We'd have the little ones on stage with us. We'd tell the sound engineer that we wanted no monitors on stage at all because we didn't want the kids to damage their hearing. Once we even tried setting up a tent at the back of the stage for the kids at a club with no dressing room." At first they "tried to maintain [the] artificial rigor of home life on the road—bedtimes, mealtimes, schooling, etc., but as the family has grown and we have grown older," Mike adds, "I think we have become more flexible and adaptive."
Mates of State's Gardner points out that it's not like babies adhere to an ideal sleeping schedule at home, either. "We just threw away the idea that the baby has to go to bed [at the same time] every night," she says. "They were right there for us when we finished playing, and then the baby's schedule adapted to our schedule." Abbott carried a sling that could be adapted into a small hammock for the baby to sleep in. "I've seen people who [used] a laundry basket" as a makeshift crib, she says. "Then they can just put stuff in it during the day, in the vehicle."
Faun Fables (who have experimented with a variety of ways of traveling, including a family Eurail train pass) have customized an Econoline van and an RV to allow the family to spend nights in rest-area parking lots just outside of whatever city they've just played. McCarthy points out that tours quickly develop a predictable routine of their own—drive, load in, sound check, dinner, show—to which children adapt as quickly as anyone else. She and her bandmate, her husband Nils, initially tried bringing a "stroller to the side of the stage while the baby slept with headphones on," McCarthy says.
Faun Fables, Truckstop Honeymoon, and others also spend many nights at the homes of friends and surrogate relatives, many of them with children of their own. Mike West says this "provides our kids with familiar surroundings and relationships even as we tour." He included portraits of longtime hosts from England and Australia in the children's book he wrote, Truckstop Honeymoon's Guide to Touring for Young Musicians. But the circuit of friendly homes began as a roulette of strangers. The Truckstop Honeymoon song "Couch Surfing With a Family of Six" describes the process: "You oughta try couch surfing with a family of six/ Sadie, take the sofa/ Vega, take the floor/ You other two kids, take the space behind the door/ Where Mom and I'll go, God only knows." A well-meaning host in the verses, who expects only the parents, is polite but doesn't invite them back.
Young children can handle only so many consecutive days of multihour driving, which affects show scheduling. "Three days on and a day off," says Schultz, "is a pretty nice schedule for kids—and everybody involved." In larger cities, Mates of State would book two nights in a smaller club instead of one in a larger venue, to spare the children a drive day. Many of the parents and nannies research kid-friendly daytime activities in cities where they'll have downtime.
Parents with school-age children lean heavily on home schooling, tutors, and alternative schools that, as Gardner says, "[see] the value in the life experience." Since their older children started school, Faun Fables now tours almost exclusively in the summer. (Counterintuitively, touring can become harder as children age and their own attachments to friends and home community must be honored.) Schultz has helped parents arrange tutors to their specifications—even finding "a Japanese-speaking, piano-playing tour nanny."
The tour can even act as an academic incentive. Detroit is "very, very good academically, pretty much a straight-A student," says Hamell. "There was a period of time a few years ago where he was, like, pulling a C in some course. And I said, you know, Detroit, I can't really take you out on these summer things if you're not getting straight-A's, because of what I do, how, you know, offensive it can be interpreted, in [the] straight world. When people come at me and say, 'You're bringing your kid into saloons, with [your] potty mouth and the anarchistic politics,' I can retaliate by saying, he's a straight-A student, fuck you, you know, don't judge me. And he pulled it up to an A!"
Festivals are popular destinations for touring families, because they have more green space, earlier set times, and the possibility of other families like them. But the primary touring circuit remains bars restricted to attendees 18 and older or 21 and older. Laws for bar access vary, but as a general rule, underage performers are allowed to enter the venue immediately before the performance, if they leave immediately afterwards. "A lot of times I'd spring it on [the venues]. I wouldn't tell 'em," says Hamell. "Because I need the gig, you know? … All of a sudden he's sitting on a chair with me—what are they gonna do, shut me down?" Only three times—Pittsburgh, Florida, Las Vegas—has a club insisted that Detroit stay outside.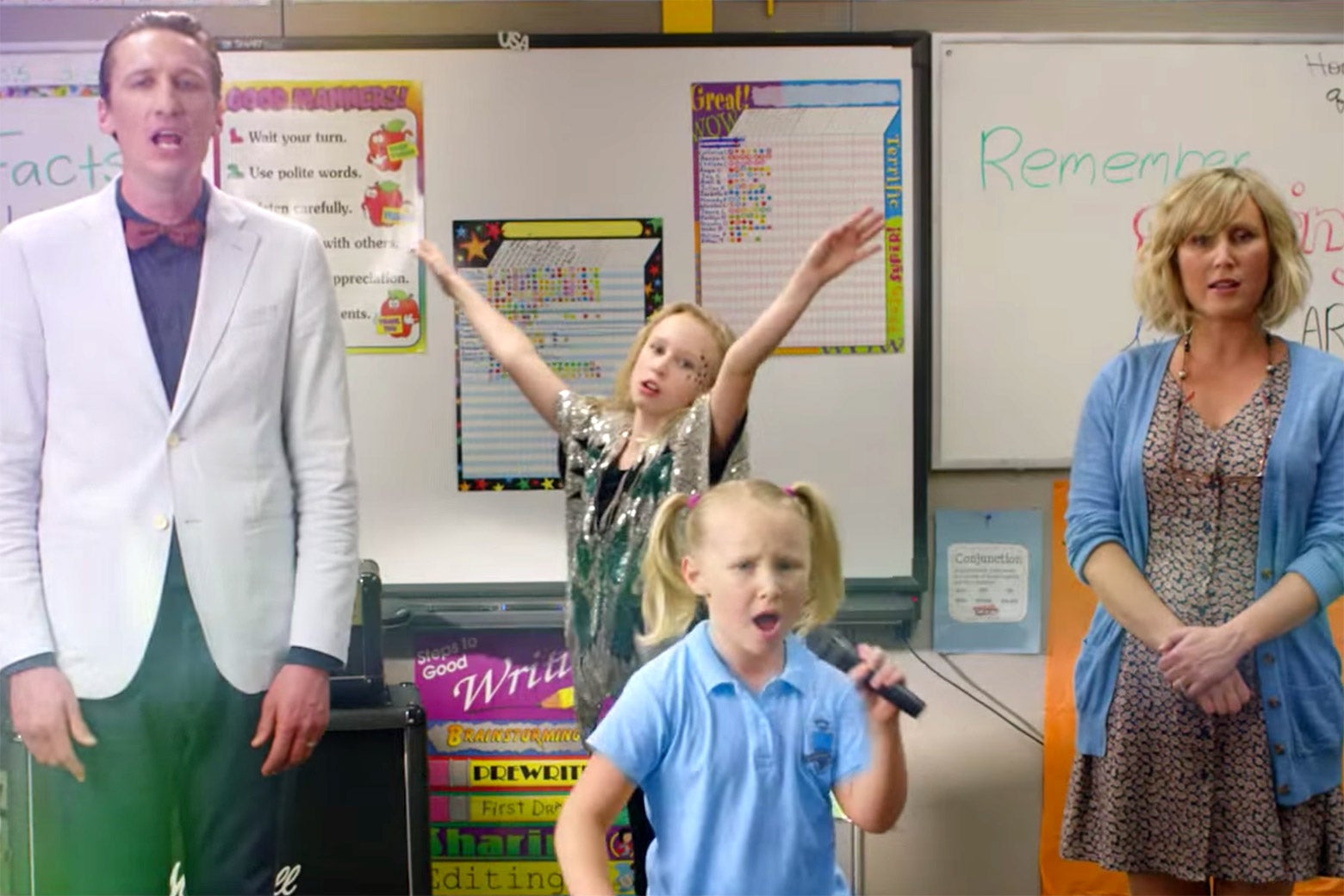 Mates of State, whose bigger audience gave them more leverage with venues, let clubs know in advance. "I remember our rider used to say, like, 'baby food' at the end, or … 'a surprise for a 4-year-old,'" says Gardner. "So they knew kids were coming. We let them ride their bikes around the venue when we were soundchecking." In some cases, promoters and venue staff had kids of their own, so they could organize play dates in advance. But the challenges were, most often, structural: In the days before widespread indoor smoking bans, Gardner "was pregnant posting my own signs, like 'Please don't smoke, the band requests,' because sometimes the venue wouldn't do anything about it."
There are limits to any parent's protective shield. In Hamell's case, his own blunt songs have more than enough provocative content in their lyrics to fuel uncomfortable conversations. "Inquiring Minds," off 2006's Songs for Parents Who Enjoy Drugs, addresses the toughest questions Hamell expected to field from his son, about drugs, sex, crime, and his own sordid past:
Dad, you courted mom, how'd you make her your own?

We'd drink a lot of vodka and do methadone.

So when he asks me about my past and did I get high,

I've been seriously thinking about my reply.

I'm gonna lie.
"When I was a kid, I didn't understand what it meant," Detroit says. They've never actually had those conversations: "It's always just sorta been in that song." And the effect of dealing with bar patrons has been to make Detroit "not want to drink ever … because I just don't want to turn into one of those people."
Though Truckstop Honeymoon's older children—a 16-year-old girl who plays bass and a 10-year-old boy drummer—join the band for several songs, their parents actively discourage fans from taking photographs of the kids. "We have teenage daughters," says Mike, "and there have been times when Katie has chased off someone who was perhaps behaving inappropriately around them. But I'm not sure it's any better when we are at home. On the road, the family stays very tight and it is easier to keep a watch on them all. At home, they go off in all directions and you don't know what is going on sometimes. To be honest, a rock venue can seem like a much safer and healthier environment than a middle [or] high school."
This, in fact, is the conclusion to which many of the parents have come: that parenting is hard even if you never leave home—so they may as well try, as the trope says, to have it all. Unlike the older, harsher models of family touring, the 21st-century family bands have explicitly progressive goals: cultivating cosmopolitan children, enabling women to continue their work as artists after becoming mothers, and bonding the family together through shared adventure. It's the antithesis of risk-averse contemporary child rearing based in comfort and predictability, while at the same time being the ultimate helicopter parenting, since they're always there.
Gardner had periods during which she reconsidered the traveling family project—as much for her own sake as for the kids'. "I felt like my time as an adult, my time as an artist in life was depleted, because all of my energy went to raising kids and making sure the road was right for them," she says. "But … what was the alternative, staying home?"
The singer and songwriter Amanda Palmer has had the opposite reaction—one that is in some ways a more traditional choice (and perhaps reflects a lesser reliance on touring income) to reduce her performing schedule and public exposure to focus on spending time with her son. After experimenting with short touring runs, with bringing a babysitter or two, and with leaving her son with her husband, Palmer has "deliberately downshifted" from a full-time touring schedule. "First, it sucks to see a kid strapped into so many places, unable to move," she explains, "and second, I'm too tired to enjoy my time with my kid." Palmer, who had made a project of radical public transparency about her own life, has also retreated from her social media exposure—initially to protect the privacy of her well-known husband, but even more after becoming a parent. She wanted, she says, "to do this for myself, not as a performance."
"There are times," says McCarthy, "when you have just nursed the baby to sleep, and jump into the venue, tossing a ribbon in your hair and a little eye makeup on and make it to the stage to start your set just barely on time. Or you are heading to the venue, running a bit late, trying to think of what songs to play or would like a moment of focus before it's showtime, and your kids are fighting and you know you will not get that moment of focus … I have learned, above all else, to not be precious about what conditions I can do my art in."
Few of the parents express either a desire or expectation that their kids will continue in the family business of music. Hamell thinks that Detroit has "seen enough of it to not want to do it with his life," he says. "I think he will get into the arts, but playing music and performing music holds no appeal for him. He's seen every beer cooler, dressing room, from here to fuckin' L.A. and back." The Wests were surprised when their eldest daughter took up the electric bass. "It's amazing to find myself on stage with [her]," says Mike, "playing bass with us, looking so calm and authoritative … comfortable in her own skin. I guess it gives me hope that maybe we didn't mess up everything."
"I was kinda hoping he'd be a drummer, maybe," admits Hamell wistfully. "We could do a [duo] thing, you know?" But his feelings are common to any parent's slow emotional separation from a child approaching adulthood: "The day he stops trick or treating it's gonna be a bad day for me, the day he stops coming [on tour] with me it's gonna be a fuckin' bummer … I'm gonna bring him out as long as he wants to come out. I hope he does the driving and wheels me onstage."