Update, Feb. 5, 11:46 a.m.: Philly erupted into celebration last night following the Eagles' Super Bowl victory. While reports indicate that the revelry was largely peaceful, many of its excesses were captured via police scanner chatter as officers mobilized to contain the pandemonium.
10:20 p.m. "Thousands going south on Broad Street from Spring Garden."
10:36 p.m. "We need somebody at Broad and Walnut, southwest corner. People on the pole."
10:40 p.m. "I got about 2,000 college students coming from Walnut Street to 30th to Center City."
10:46 p.m. "It's endless, chief. Endless."
10:50 p.m. "I got people coming up the ramps on 676 eastbound. I don't have a clue how they're getting up … Should I go up to get those people off 676?"
10:53 p.m. "About four stories above the Wawa we got people out on the ledge. I can't tell how they came up. If they're not allowed to be there can we get them down? … They're coming out of the window up there."
10:57 p.m. "Be advised that someone is flying a drone in the area at 1-5 and Market."
11 p.m. "At 15th they're lighting off fireworks."
11:04 p.m. "We got a large crowd at City Hall climbing the fence."
11:11 p.m. "They're on top of trash trucks. There is to be no one on top of trash trucks, guys."
11:14 p.m. "We have multiple people on Broad Street swinging on light poles."
11:20 p.m. "Climbing the trash trucks at 13th and Market."
11:23 p.m. "I got a group jumping up and down on tractor trailers now. Two white men in black jackets and blue jeans."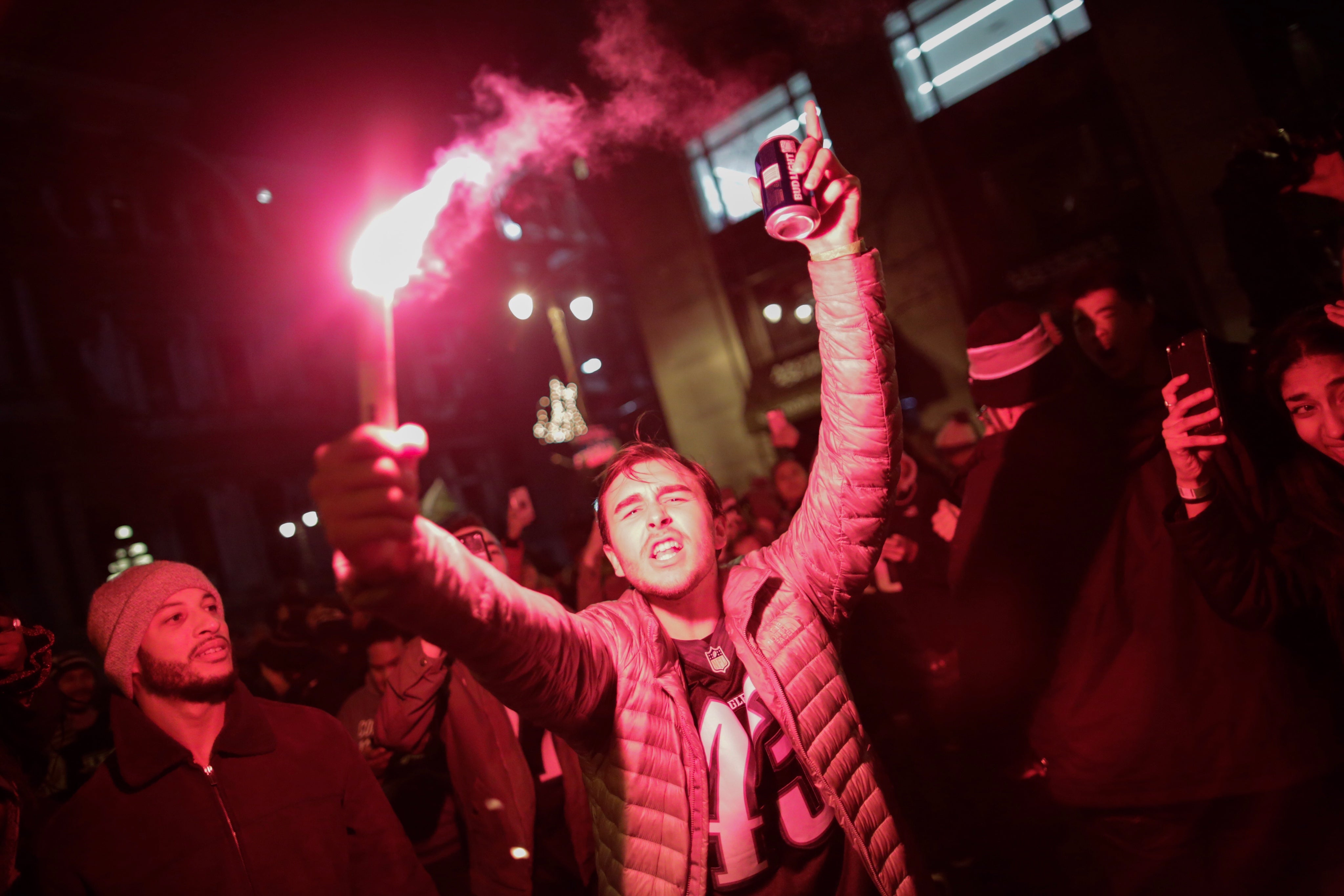 11:25 p.m. "I need to get the fire extinguisher out of my trunk. I got a fire on Broad Street just south of South. Someone lit a Christmas tree on fire."
11:26 p.m. "They just flipped a car over here. If you could get a medical response team over here, I'd greatly appreciate it."
11:35 p.m. "Do you have medics over here coming to 17th and Lombard? We have a female here who was assaulted."
11:37 p.m. "This is extremely horrible. We need rescue here. We got someone horribly injured from a fall."
11:38 p.m. "They're trying to tear multiple light posts down and I don't have anyone to counteract it right now."
11:42 p.m. "They're climbing up the fire escape onto the roof of the building"
11:44 p.m. "A man jumped off the light pole and landed on his head."
11:45 p.m. "We have a light pole down. On the east side of Macy's corner. We have live wires."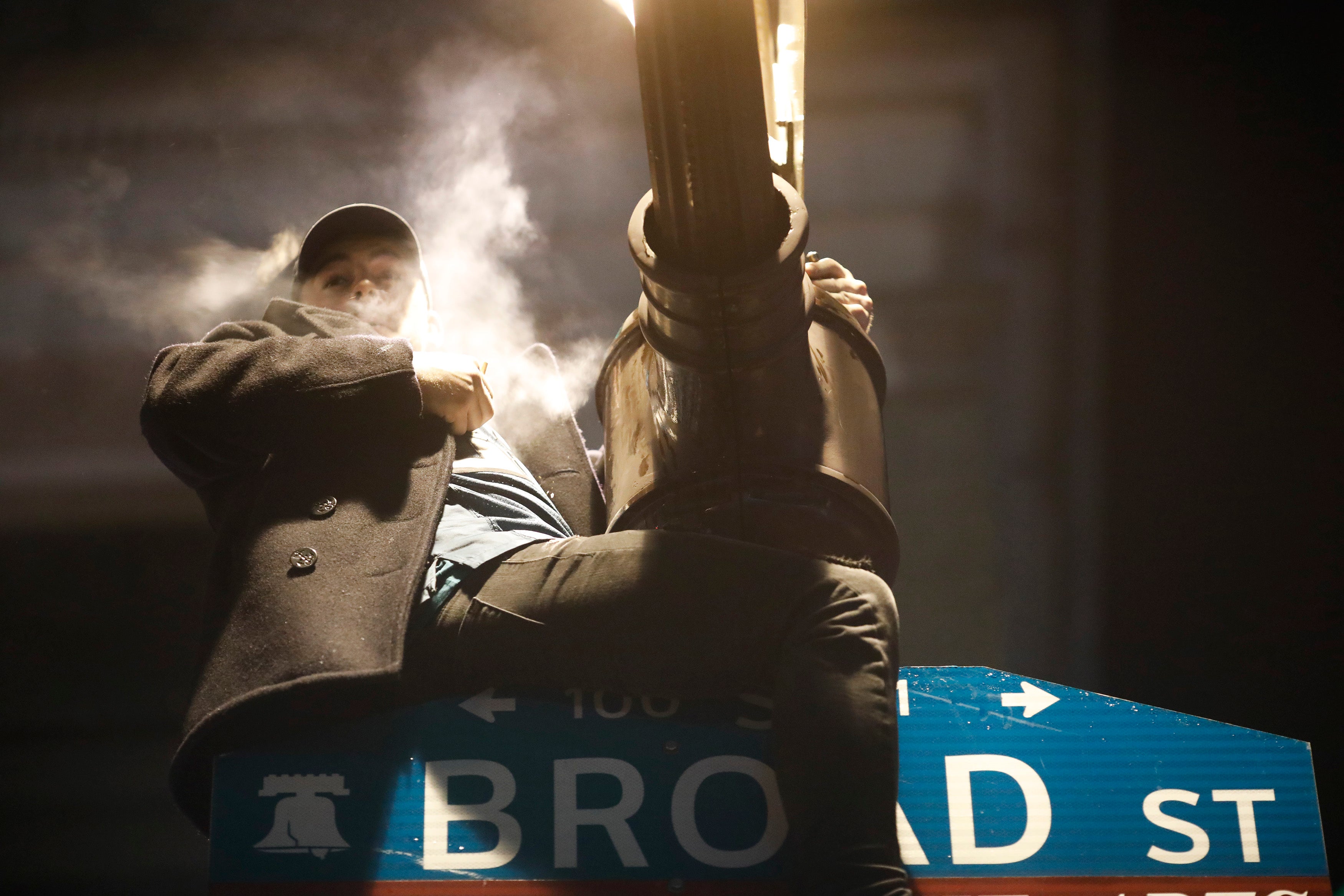 11:48 p.m. "I got two down that fell off these light poles at Broad and Arch."
11:51 p.m. "On the southeast corner the pole is about to collapse. There are about 40 of them on there."
11:53 p.m. "We have a large crowd throwing bottles and chanting 'Meek Mill.' "
11:55 p.m. "We have a large fight at Broad and Ellsworth."
11:58 p.m. "I got a male in custody in this location. He's saying he's an off-duty cop."
12:11 a.m. "On Juniper and Market traffic lights are down. All signs are down."
12:12 a.m. "At Broad and Market they're throwing bottles at the cops. Please send SWAT teams over there in case we need them."
12:24 a.m. "I got somebody jumping on top of the fire truck now."
Also in Slate: In 2012, Will Oremus warned that we shouldn't believe everything we hear on police scanners.