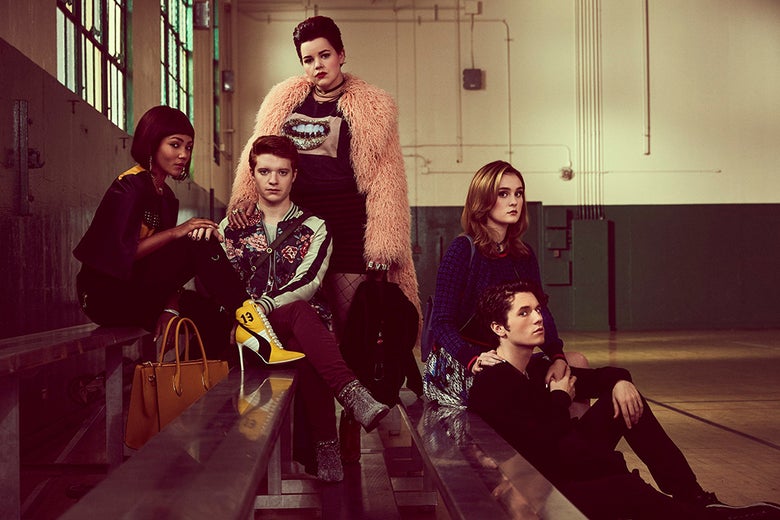 The recently rebranded Spike TV—now Paramount Network—has announced that it is postponing its Heathers TV reboot because of the school shooting in Parkland, Florida. "While we stand firmly behind the show, in light of the recent tragic events in Florida and out of respect for the victims, their families and loved ones, we feel the right thing to do is delay the premiere until later this year," the network said in a statement Wednesday. The show was scheduled to air March 7.
It would be cynical to suggest that Paramount is using this tragedy to bury a show that has gotten poor reviews, though as others have pointed out, Paramount Network already put the pilot episode of Heathers online on February 21, which was a week after the Parkland shooting. Let's instead be generous and assume that it just took a little time for network executives to make the decision to postpone the show, probably because it's the show's later episodes that they're worried about. There's no shootout in the pilot, but Heathers is supposed to explore issues "ranging from personal identity to race and socio-economic status to gun violence," according to the statement.
But even if we take the network's statement at face value, it is still making a mistake to postpone the series, because the way things stand, there will never be a right time to air an episode about gun violence. Networks have been doing this dance for ages—Buffy the Vampire Slayer put off an episode involving a "schoolyard massacre" a week after Columbine in 1999—but it's a very silly dance to do. Guns kill more than 15,000 Americans each year, and in 2018 alone, there have been 35 mass shootings. It's not even March yet. At that rate, unless lawmakers take meaningful, drastic action, there is simply no reason to believe that there won't be another mass shooting, and another reason to postpone Heathers again, in April or June or December or whenever they decide the time is right.
The truth is, the time will never be right, because not only will there always be another mass shooting on the horizon, there is no period of time long enough to make the sight of a bunch of teenage actors approximating the fear and pain of a mass shooting more palatable. Just ask the residents of Newtown, Pennsylvania, where Glee's school shooting episode prompted complaints and a school superintendent's letter to parents warning them about the episode's content. That was almost four months after the Sandy Hook shooting. How long after a school shooting does it become acceptable to show that kind of gun violence on television? How severe must the next shooting be for that window to reset?
Networks should just air their gun violence episodes, with appropriate content warnings, as they were originally scheduled. And if they really want to respect victims of gun violence, they should start long before it's time for the episode to air by really examining why gun violence is necessary to their particular story. Do the showrunners have something smart to say about America's gun violence epidemic, as in BoJack Horseman's scathing "Thoughts and Prayers" episode, or The Carmichael Show's "Shoot-up-able" (itself delayed because of the shooting of Rep. Steve Scalise)? Or are they using a school shooting for sensationalism? If it's the latter, they shouldn't postpone the episode. They should never have made it in the first place.
---