Names: Torger Nergaard, Haavard Vad Petersson, Christoffer Svae, Thomas Ulsrud, and alternate Markus Hoeiberg
Home country: Norway
Known for: Wearing flamboyant pants at curling competitions, monetizing their flamboyant pants, sometimes removing their flamboyant pants for flamboyant naked pictures.
Why they might be jerks: The members of the Norwegian Olympic curling team, known as "Team Ulsrud" after the last name of skip Thomas Ulsrud, aren't your grandma's stodgy old curlers sweeping the ice less for enjoyment than to satisfy an intrinsic Protestant work ethic. No, these guys are the wacky curlers sweeping the ice as an excuse to play dress-up in public. This alone might be enough to qualify them as jerks. The world doesn't need its curlers to be wacky. The world needs them to be middle-aged and dutiful!
They manifest their zaniness via their choices of competition pants. Most curlers wear plain black pants. Not these wacky blokes! The members of Team Ulsrud bring multiple outfits to each competition, and they change pants after they lose a match. Here they are at the Vancouver Olympics in 2010, wearing pants patterned after the back of a set of playing cards: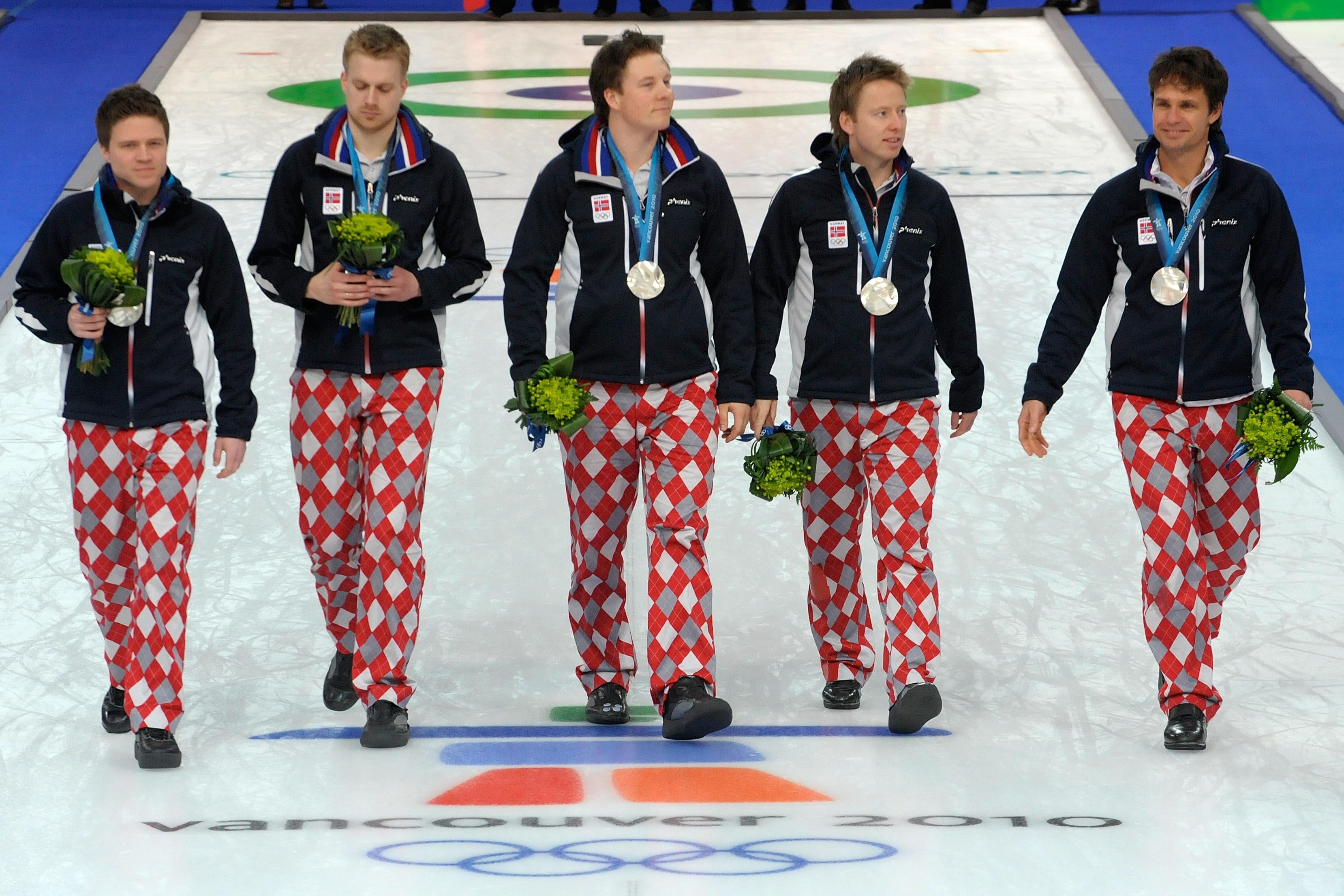 Here they are in Sochi in 2014, wearing floral-print trousers: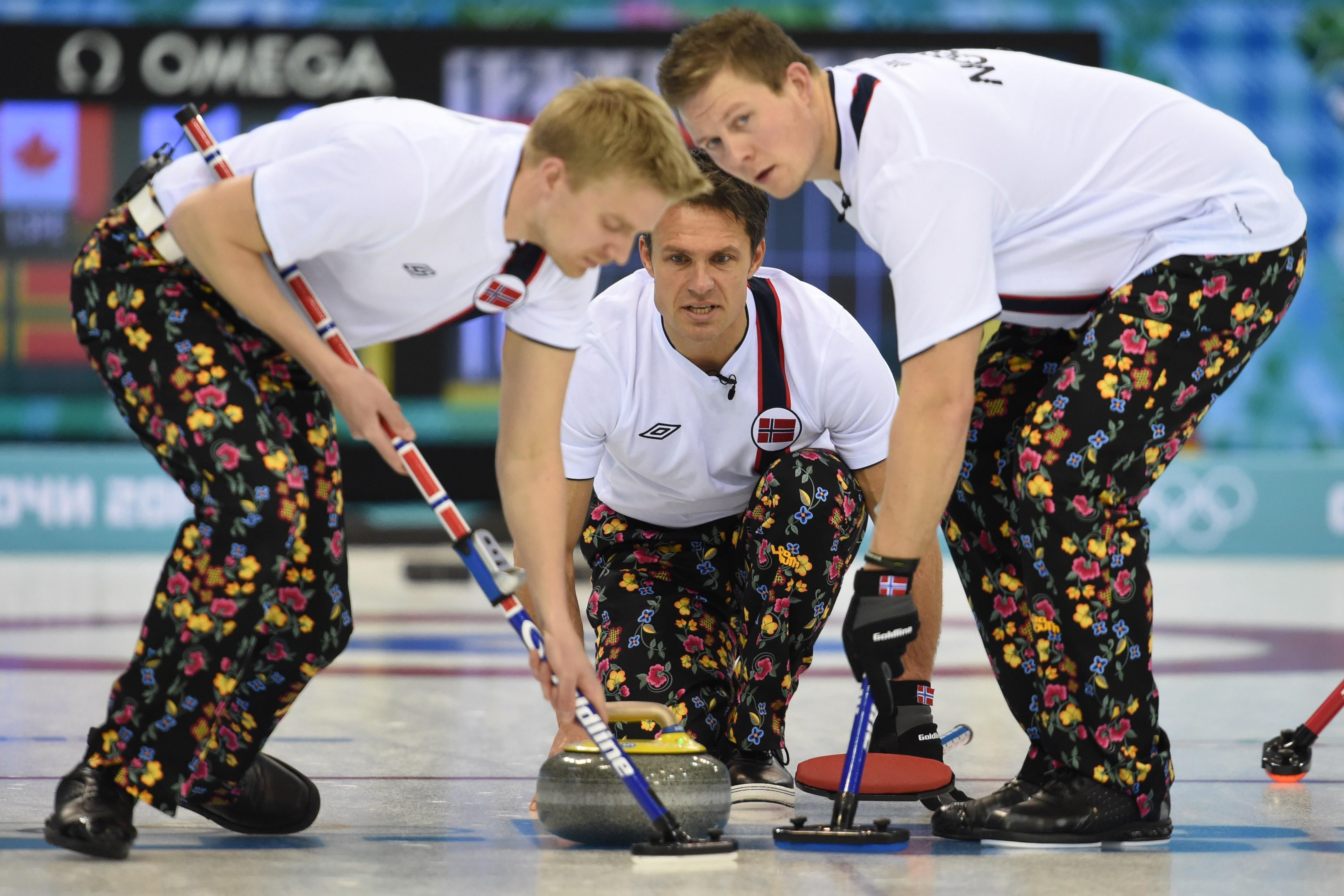 And here they are in Pyeongchang, in pants that resemble a fireworks display: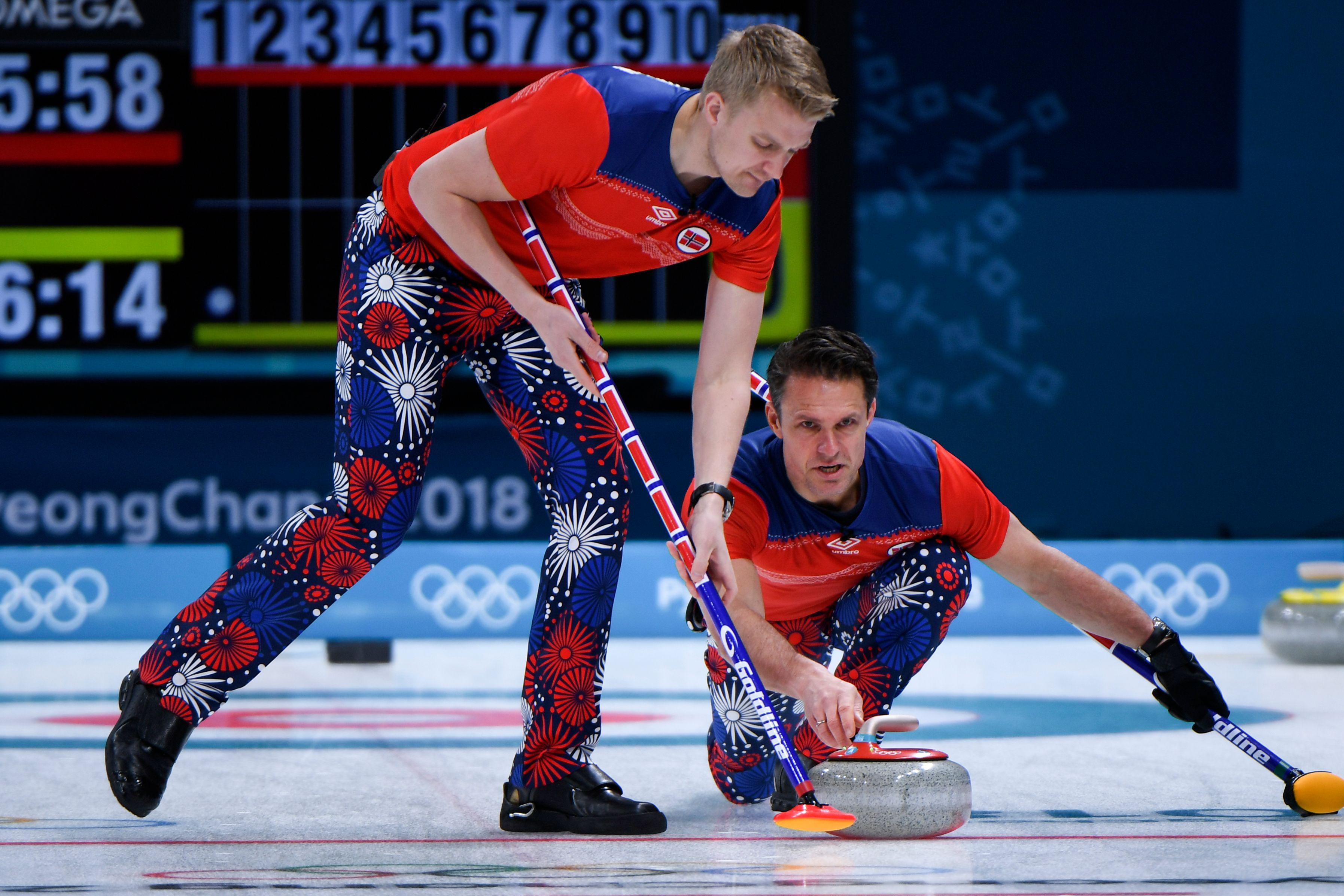 There's nothing wrong with guys having fun with their clothing choices, and many non-jerks dress distinctively. But is it jerky to affect a flamboyant style as a marketing gimmick? The team's Facebook page is laden with product endorsements: Edox watches, Voss water, Renault cars, a karaoke bar in Oslo. Again, there's nothing wrong with garnering sponsors, but it does make the funny pants feel less like an authentic expression of whimsy than a calculated marketing ploy.
The Norwegian curlers have leveraged their pants into fame that is perhaps out of proportion to their abilities. "In Norway, people think we always win, because we're always in the media, with the pants. So let's keep that," Svae said in a recent interview. Does Team Ulsrud always win. No, Team Ulsrud does not. While the Norwegians won silver in Vancouver in 2010, they took fifth place in Sochi and have posted inconsistent results in the world and European championships. They are a good curling team, but they aren't the best curling team. Way to delude the citizens of Norway into thinking you never lose, you jerks!
Sometimes tournament organizers prevent them from wearing their fancy pants. This happened to Team Ulsrud one year at the Continental Cup, in Canada, where they were made to wear plain old black pants. They found a way to make themselves the center of attention anyway. All it took was some partial nudity and the song "The Final Countdown":
Re-watch that clip and try to focus on the other curlers standing in the background as the Norwegians gyrate. I am probably projecting here—I can't really see their faces—but their body language does not indicate that they find these guys hysterically funny. Is it reasonable to think some people on the international curling circuit might be tired of their act? I don't know. In my experience, people who dress in a self-consciously wacky style in incongruous settings aren't that funny in real life. "This guy is probably a character," you might say upon encountering a fellow who wears Zubaz. But the odds are good that he's not a character, he's just annoying.
Finally, as the concluding exhibit in my case for Team Ulsrud's jerkdom, they recently posed for this photo.
Why they might not be jerks: Ultimately there's nothing wrong with these guys having fun and using their outlandish attire to raise their profiles, get some sponsors, and make people laugh. And their pants do make people laugh, while simultaneously raising awareness of the sport of curling. Team Ulsrud clearly cares a lot about making people realize that curling a) exists, and b) is fun. Using goofy pants to spread these messages is perhaps an unorthodox strategy, but when you're participating in a sport that isn't hugely popular, maybe you need to get a little loud, pants-wise. Anyway, the strategy has been successful: A Facebook page dedicated to their pants has almost 500,000 followers. That's great for curling, even if only a fraction of those followers ever end up taking a curling lesson or attending a tournament.
Furthermore, I have found no evidence that anyone on the curling circuit truly loathes these guys, except perhaps for some tournament officials who might believe their zany attire makes a mockery of the sport. But I don't think they're all style and no substance, given that they are indeed good curlers. (They don't win every match, but they win a lot.)
They doffed their shirts in the photo above as part of a "Men of Curling" calendar, sales of which help fund various Canadian charities. There's nothing jerky about taking your shirt off for charity.
Finally, Team Ulsrud has not had a great Olympics this year and will not medal in Pyeongchang. True jerks would be upset about this outcome and would don pants emblazoned with curse words. But Team Ulsrud dealt with defeat gracefully:
That's classy, not jerky.
Jerk score: I'll give them 3 out of 3 points for style, obviously. 1 out of 3 points for technical merit, because true jerks would insist on decorating their curling stones, too. 1 out of 3 points for execution, because at least they don't also have self-consciously wacky catchphrases. And 0 out of 1 points in the category of "Have they been known to remove their shirts for photo spreads in non-charitable calendars?" 5 out of 10 points for the jolly men of the Norwegian curling team. Not jerks! Next!
Previously on Olympics Jerk Watch: 
• The Vice President of the United States of America: 7 out of 10 Jerk Points
• The Sporteaucrats Who Risked Snowboarders' Lives: 6.5 out of 10 Jerk Points
• The Shirtless Tongan: 4 out of 10 Jerk Points
• The Inept Halfpipe Skier Who Loopholed Her Way Into the Games: 9 out of 10 Jerk Points
Read the rest of Slate's coverage of the Pyeongchang Olympics.