In Pyeongchang, Russian Olympic athletes aren't Russian Olympic athletes. Rather, they're "Olympic Athletes from Russia"—OAR, for short. Athletes, commentators, and spectators at the 2018 Pyeongchang Games have been struggling to process and deploy the unnatural terminology all week. "Olympic Athletes from Russia" is an octosyllabic mess that's hard to say and hard to understand. The euphemism is as clumsy as the compromise that produced it.
In late 2014, Russia was implicated in a long-term, state-sanctioned, systemic sports doping scandal. After subsequent reports and investigations substantiated and expanded upon the initial claims, the International Olympic Committee announced in December 2017 that the Russian Olympic Committee would be suspended from the 2018 Winter Olympics. Hundreds of Russian athletes were affected by the ban, including many who had not themselves been directly implicated in the doping but were nevertheless made to suffer the consequences of a violation for which they had not been found guilty.
This outcome seemed unfair. So the IOC devised an inelegant solution: Certain Russian athletes who'd never tested positive for performance-enhancing drugs and who met some other vague criteria could compete in Pyeongchang, but not under the Russian flag. Instead, they would form an entirely new and wholly temporary entity: Olympic Athletes from Russia. The IOC even devised a logo as a substitute for the national emblems the athletes have been forbidden to wear, and it's truly the best logo 14 cents can buy: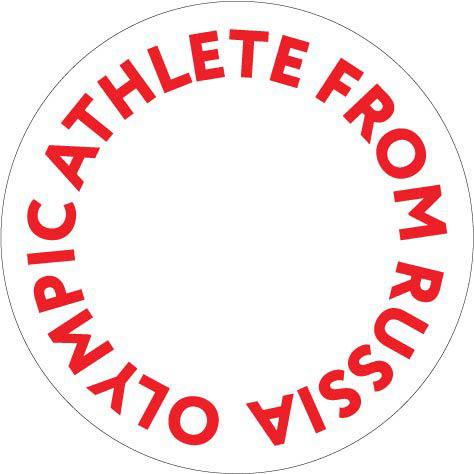 Good work, IOC! You devised both a logo and an outcome that satisfies no one.
Technically, any medals won by the Olympic Athletes from Russia will not count under Russia's all-time totals. Practically, I doubt historians will acknowledge the difference. It's the Olympic equivalent of Mets manager Bobby Valentine being ejected from a game, only to don a fake mustache and sneak back into the dugout. It's still him! Everyone knows it's still him!
It certainly has been difficult to differentiate between RUS and OAR while watching the Winter Olympics, even though the event commentators are doing yeoman's work in deploying the ungainly descriptor at every turn. When OAR short track speedskater Semion Elistratov won bronze last weekend, he was clearly still the same Semion Elistratov who won 5000-meter relay gold for Russia in Sochi. (They should have had him borrow Bobby Valentine's fake mustache.) OAR figure skater and gold-medal favorite Evgenia Medvedeva has drawn a lot of press thus far at the games, and she is invariably referred to in those articles as a Russian figure skater. Because that's what she is! Evgenia Medvedeva is from Russia, not from OAR! OAR is not a country. It's an American rock band featuring the musical stylings of Marc Roberge, Chris Culos, Richard On, Benj Gershman, and of course, Jerry DePizzo.
The absurdity of this particular compromise has been most evident in the team events. Take team figure skating, which featured the cognitively dissonant spectacle of a bunch of individual Russian Olympians, competing together as a unit of Russian Olympians, who nevertheless officially couldn't be said to be representing Russia, the nation they all hail from. When all was said and done, the non-Russian Russians ended up with a silver medal, the spectators ended up confused, and the IOC ended up with a situation that seemed to negate the entire point of the sanctions against Russia. The IOC did not want there to be a Russian Olympic team at the Pyeongchang Games. And yet the hockey, curling, and figure-skating arenas are full of teams of Russian Olympians competing together as single units, for the greater glory of "Olympic Athletes from Russia." It makes no sense.
It's tempting to ascribe the IOC's decision-making process here to rank incompetence, and to imagine the IOC as a group of hapless oafs who bumbled their way into the "Olympic Athletes from Russia" moniker. Don't be fooled. This outcome is a product of corruption and indifference—a half-hearted wrist slap issued by an entity that appears more interested in saving face than in protecting athletes. In a December 2017 op-ed for the New York Times, former World Anti-Doping Agency investigator Jack Robertson—the man who conducted the inquiry into Russia's doping program—implied that the IOC was initially indifferent to Russia's transgressions and tried to stymie his investigation by withholding resources. After Robertson subsequently leaked news of his investigation to the press, the IOC could no longer ignore the scandal. So the committee did the next-worst thing and issued a milquetoast, "non-punitive punishment meant to save face while protecting the I.O.C.'s and Russia's commercial and political interests."
In his Times op-ed, Robertson charged that the IOC's actions "have not deterred but rather emboldened Russia's future cheating endeavors without fear of any true reprisal," and argued that the only people who have been been deterred by the ban are future whistleblowers. If the IOC wanted to send a message to Russia, it should have enforced a complete and total ban on Russian Olympians in Pyeongchang—or, at the very, very, very least, should have kept the OAR competitors out of any and all team events. As it stands, the compromise only serves to mitigate the effect of Russia's punishment—and the most obvious conclusion is that the IOC wanted it this way.
Read the rest of Slate's coverage of the Pyeongchang Olympics.
• Evgenia Medvedeva Is the World's Best Skater and She Loves Dancing at the Mall
• Bronze Medalist Adam Rippon is Winning the Winter Olympics
• I Long for the Days When the Winter Olympics Mascot Was an Abstract Monster