These Olympics are wearing Eric Billings out. The resident of St. John, New Brunswick, isn't an athlete. He isn't a coach. He isn't even at the games. But for the past two weeks, watching sports on TV has been his full-time job. "You're exhausted," Billings told me. "When you get up, you're watching. When you go to bed, you're watching."
Billings said he's up most nights until 12:30 or 1. At daybreak, it's back to the grind. "I'll get the kids up in the morning, send them off to school, and then I park my butt right on the couch again and start watching at 7 o'clock."
Anyone who's an Olympics superfan has probably daydreamed about taking time off to achieve total games immersion. (A 2016 survey from Allianz Global Assistance found that fully 38 million Americans planned on missing some amount of work to watch the Olympics that year.) I spoke to Billings and three others who've managed to make the Olympics staycation a reality: just them, their televisions, and two glorious weeks of sports.
Billings works as a golf pro, a seasonal job that gives him flexibility when the Winter Olympics roll around. He usually does a variety of construction jobs in the winter, but this year, "I told [my employers] I need this month of February off to enjoy," he said. He explained it's important to him to share the games with his children, who are 9 and 11 years old.
Charles Loachamin, who lives in Winter Garden, Florida, shares this sentiment. "Now that I'm an adult and I have two kids of my own, I make it a point for them to watch the Olympics because I want to show them that there are people out there that do incredible things," he said. He watches with his 7- and 10-year-old in the evenings, and he takes a week off whenever the Summer or Winter Olympics arrive.
"For me, growing up in South America and seeing what these people were able to do in places that I had never seen before in my whole life was just amazing and mind-blowing," he said. "It impacted me in such a way that not only it became a tradition, but it became part of me that every time the Olympics come, I don't care what I'm doing, I'm going to stop it and I'm going to watch it."
Loachamin works as an international-business consultant. "I'm the boss," he said, explaining how he's able to arrange his schedule to make room for the games. "I tell them that I'm doing it because it's a thing that I do. They respect it. At the same time, I prepare everything ahead of time. I give a lot of my workload to the people that need to have my workload while I'm enjoying the Olympics. This way, I don't have to worry about anything. I tell them, 'Look, for this time, think of it this way, I am not around. Don't call me.' "
For that week, he is in Olympic bliss. "I have my movie-theater room upstairs and we make sure that we put the volume all the way up," Loachamin said. "We've got our bass kicking. We sit there and just enjoy it on our big TV. We even went crazy enough that we got a refrigerator full of ice cream and pop and snacks just so we don't have to go downstairs."
Kara Anne O'Grady, of Nutley, New Jersey, is another longtime Olympics lover. "I have been a huge Olympic fan since I was a little kid," she said. "It's one of the few wholesome things that is still as cool to me today as when I was 6."
She went on, "It's a great time for everyone to come together, no matter who you talk to, especially now because everyone's so political about everything; it's wonderful to finally have people who I haven't talked to in a year and a half on my news feed, and we're all talking about curling or snowboarding."
This time around, O'Grady had a perfect excuse to stay home: "I actually had some not-so-elective surgery that had to be done, and when I was given my choice of surgery dates, I picked the one that was closest to the Olympics so I could be off on recovery while the Olympics started for the first week."
She found the first few days of the Pyeongchang Games, before the opening ceremony actually happened, a little numbing. But "now that we've got six or seven different sports going on at any given time, I'll watch one thing for an hour and a half, and then I'll skip over and go watch something else," she said. "It's kind of like binge-watching Netflix, except you're binge-watching … speedskating and curling.
"The only thing you have to do is occasionally get up to get food, and that's about it—and then feel bad about the food that you're eating while you're watching all these athletes burn calories."
O'Grady would like to go to the games one day—"It's absolutely on the bucket list"—but she's usually more than content to watch from afar.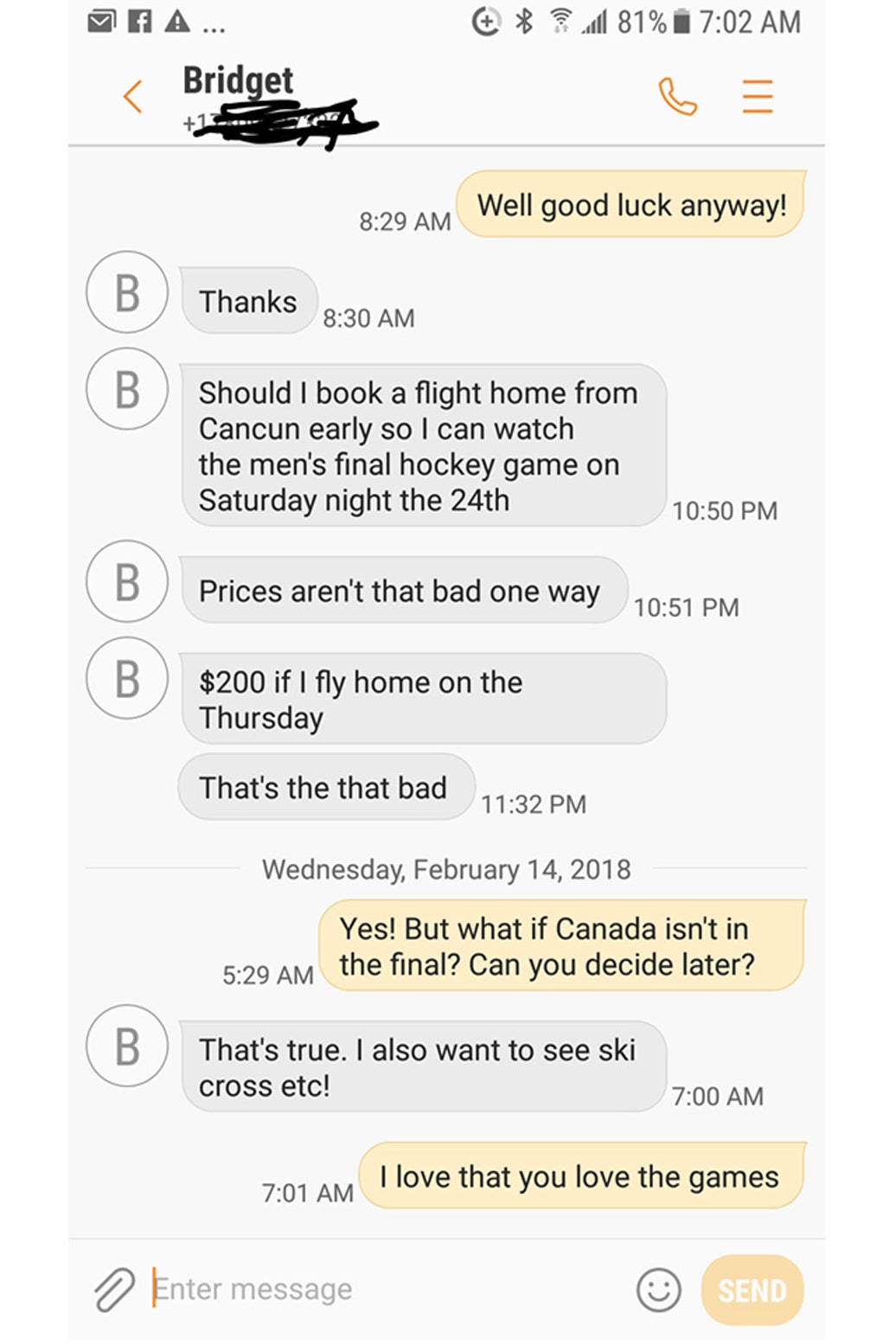 Vanore Voaklander of Edmonton, Alberta, has incredibly fond memories of the 2002 Salt Lake City Games. "I took a whole two weeks off for that," she told me. "I don't think I missed a single event for Salt Lake. My daughter was in second grade at the time. The teachers happened to go on a teachers' strike. We stayed home and watched the Olympics, it was the best time ever." This year, Voaklander's daughter planned a trip to Cancun and was considering coming back from Mexico early so she would miss as little Olympic action as possible.
Voaklander, who works in human resources, doesn't think shirking work for the Olympics raises any ethical concerns. "I find when employees are given a little bit of latitude to be adults about it and make their own decisions that they usually make good ones," she said. "I'm still going to get my work done even if I'm highly distracted every four years in February."
Voaklander has been to the games in person, both summer and winter, but she said there's something special about watching at home. "I really like to watch on TV," she said. "You do see everything. You catch nuances that you may not have seen in real life."
The only downside to staying home to watch the Olympics is that, before long, you have to get back to work.
O'Grady, who is back on the job as a lighting designer this week, was expecting "to have a little Olympic withdrawal." She was already thinking about how to avoid hearing the medal count on her commute home.
For other Olympic staycationers, the outlook isn't so cloudy. Once the games end, "You're getting into a schedule again. Right around the corner, the Masters are here," Billings, the golfer, said. "The flowers are blooming. Let's get ready for the Summer Olympics."
Read the rest of Slate's coverage of the Pyeongchang Olympics.
• Forget Tara and Johnny. Dick Button Is the Best Figure Skating Analyst in the Game.
• The Best Moments From the Gold Medal Duel Between Alina Zagitova and Evgenia Medvedeva
• Somebody Needs to Make a Movie About John Shuster and His Ragtag Team of Curling Rejects