Olympic figure skaters-turned-NBC commentators Johnny Weir and Tara Lipinski have been attracting as much attention these Olympics for how they look as for what they have to say. Weir, in particular, has become something of a meme, with viewers noting that his hair and outfits make him look like Caesar Flickerman, Stanley Tucci's character in the Hunger Games movies, a kind of talk show host who also provides commentary as children try to kill each other. (I guess that means Lipinski is his Hunger Games co-host Claudius Templesmith? Ouch.)
It's not just Weir's gravity-defying pompadour that's inviting the comparisons to Flickerman. A flip through Weir's lookbook shows that some of his ensembles seem to be overt homages to Flickerman's, including this sparkling navy blazer, which matches his blue-tinged hair. In the first Hunger Games movie, Flickerman wears a similar jacket and hairstyle while hosting interviews with teenagers about to be sent to their deaths—festive! But Weir puts his own, nonlethal stamp on the outfit, opting for an Erickson Beamon jeweled collar instead of Flickerman's black tie.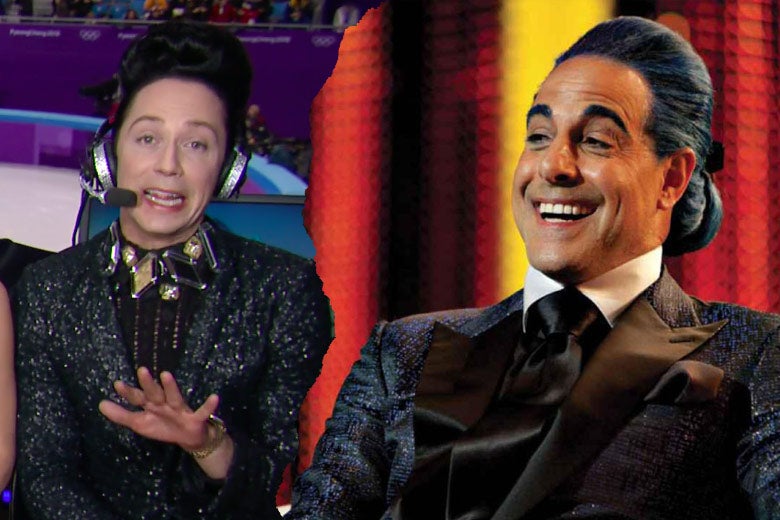 Weir has also apparently borrowed Flickerman's red, sequined blazer from Mockingjay Part 2, complete with a black shirt to make sure the jacket really pops. While Tucci's character is only seen from the waist up, Weir added a pair of leather pants, which seems fitting. It's a shame Weir didn't also dye his hair and eyebrows to complete the look, although that may have been too much of a commitment for just one outfit.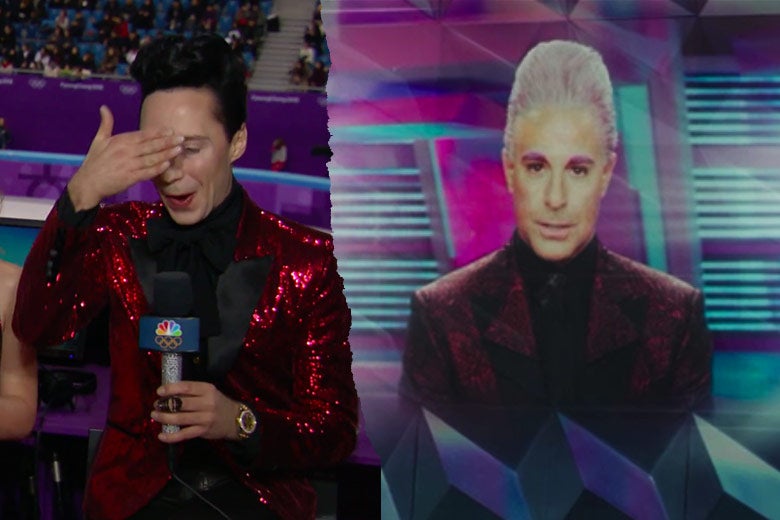 Weir, for his part, has encouraged the comparison to Flickerman, even responding to the memes on the air, calling them "hilarious" and admitting that the Hunger Games host "was sort of my muse in preparing and getting ready" for the Sochi Games in 2014. He even tried out a Stanley Tucci laugh, and not only was it surprisingly good, it also proved that even when he's not exactly dressed like Flickerman, the resemblance is still noticeable.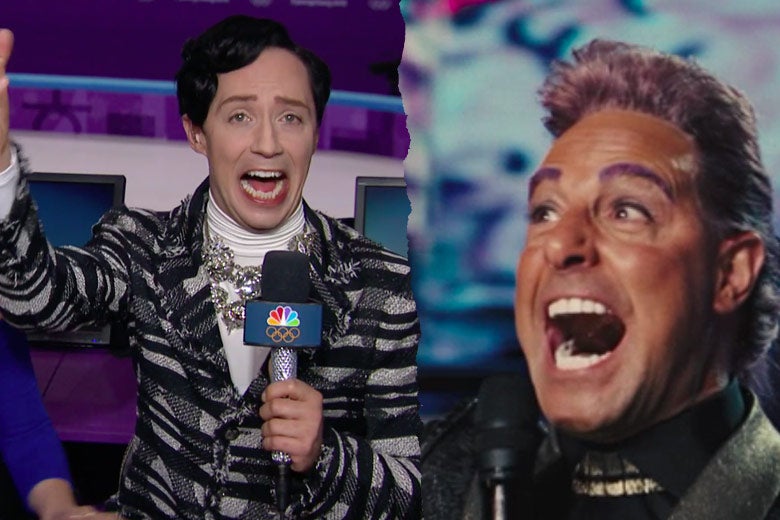 Most importantly, Weir's comments confirm that his Hunger Games fashion transformation didn't happen overnight. At the Sochi Games in 2014, where he also acted as a correspondent for NBC, Weir channeled the fabulous Effie Trinket, wearing a bold, color-block suit with green-and-gold accents to match. (Lipinski's perilously perched fascinator in the same hue is a nice, Effie-approved touch, too.)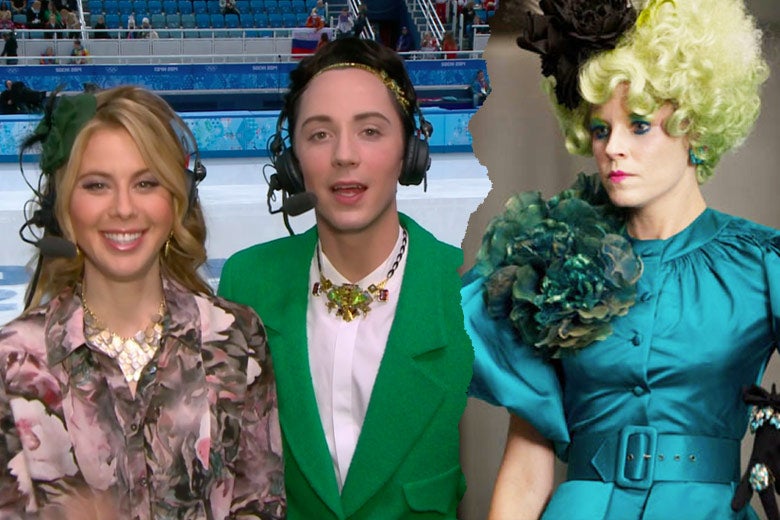 Also at the Sochi games, Weir and Lipinski donned gold, Laurel wreath–style crowns. Sure, that's pretty standard for the Olympics, but if you were to tip Weir's forward, it would also scream, "I survived the 64th annual Hunger Games!"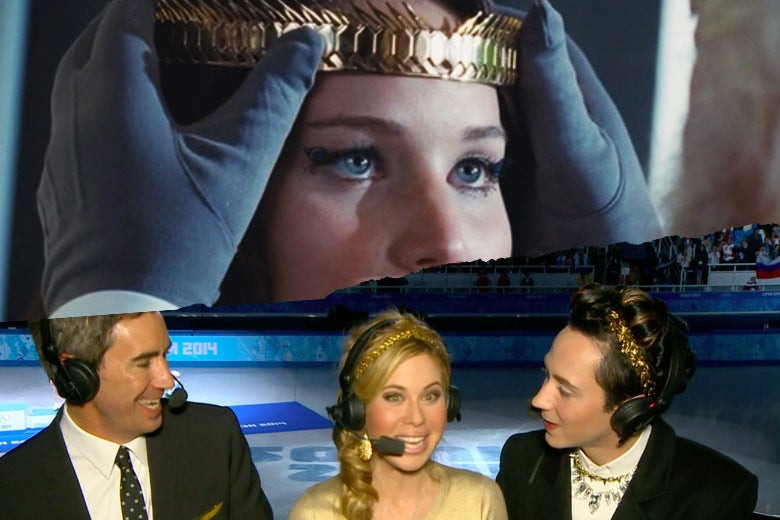 But my favorite Weir look to date—and arguably his most Hunger Games–ian ever—is this skintight bodysuit, which he donned last year at Bryant Park's Winter Village Tree Lighting Skate-tacular. The shocking contrast of the bold red suit against that white ice evokes Mockingjay Part 2's marketing campaign, which featured Jennifer Lawrence in red armor on a white throne.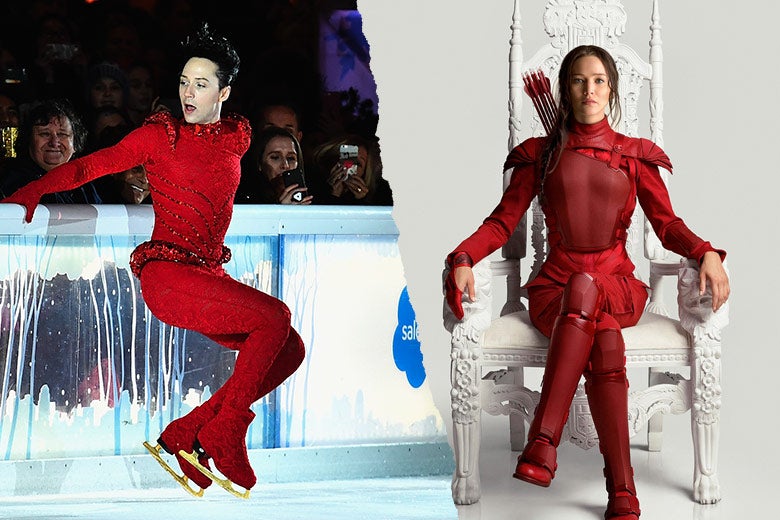 Weir may be channeling Flickerman for the cameras, but on the ice he's Katniss Everdeen through and through.
Read the rest of Slate's coverage of the Pyeongchang Olympics.
• Adam Rippon's Costume Designer on the Skater's Love of Crystals and Skintight Mesh
• An Interview With the Figure Skater Who Did the Only Legal Backflip in Olympic Competition
• The Zagitova-Medvedeva Battle for Gold Was the Essence of a Sport That's Not Just a Sport