On Wednesday in Pyeongchang, cross-country skiers Kikkan Randall and Jessie Diggins pulled off the United States' biggest upset of the Winter Games, winning a gold medal in the women's team sprint. It's safe to say no one saw this coming. If cross-country skiing is the NFL, then the United States is the Cleveland Browns. Imagine how surprised you'd be if the Browns made the playoffs, then got to the Super Bowl, then hoisted the Lombardi Trophy, having defeated Norway along the way. But Norway doesn't play football, you might say. This is my fantasy, I might then scream before a manager asks me to stop bothering the other customers in the frozen foods aisle.
Anyway, what I'm trying to say is that the victory came as a total shock to almost everyone save for the athletes themselves. Randall and Diggins have won World Cup races in the past, and even won the team sprint at the 2013 world championships. They're not Olympic tourists, and the duo's gold medal wasn't a case of two scrubs Rudy-ing their way to glory. In fact, Randall and Diggins posted the fastest qualifying time in the team sprint semifinals in Pyeongchang. But they also carried the weight of our nation's long history of cross-country ineptitude. While both women have lots of high-level experience—Randall has skied at five Winter Games, Diggins at two—the United States hasn't reached the podium in an Olympic cross-country race since 1976, when Bill Koch won America's first and only cross-country medal, a silver. By comparison, Norway has won 107 cross-country medals, and Sweden has won 74.
Why is America comparatively so terrible at cross-country skiing? One big reason is that it's hard to recruit new athletes into a physically painful sport that will make you neither rich nor famous. In Scandinavia, the best cross-country skiers are legitimate celebrities, with their own reality television shows and sideline music careers. "If we screw up, we're on the front page of every newspaper in Norway," Norway's chief Olympic cross-country ski wax technician recently told the New York Times. By comparison, this may be the first time you've ever heard of Kikkan Randall. She is a big fish in a small and unpopular pond.
I am partially to blame for this pond's pitiful dimensions. I will admit that I ranked the sport far too low in my pre-games rankings of all the Winter Olympic sports. All the competitors are in terrible pain and clearly want to die. That makes for loads of fun for the home viewer! If I could redo my rankings, I would move cross-country up from 13th place to at least 10th or 11th. Maybe even ninth. "Cross-country skiing: it's not as bad as you think!" would be a good motto for the American team to adopt.
The team sprint, which was only added to the Olympics in 2006, isn't just non-bad—it's one of the most exciting events in the entire Olympics. It's structured as a mass-start two-person relay race, with six 1.25-kilometer laps; the two-person teams trade off skiers after each lap. Because of these built-in rest periods, the competitors have a chance to regain energy, meaning everyone is going close to full throttle when they're on the course. Plus, the relay point is always crowded and chaotic, which ups the potential for physical comedy.
Randall started off strong on the first lap but fell back on the steep hill that's been dubbed "the klaebo-bakken," after the young Norwegian skier Johannes Klaebo, who has surmounted the imposing incline so gracefully throughout these games. The U.S. sat in fourth place when Jessie Diggins took over for lap two. Diggins is an up-and-comer. She is 26 years old and has hung with the contenders in almost every race she's entered in Pyeongchang. She finished in fifth place in the 10-kilometer freestyle—only 3.3 seconds behind the two skiers who tied for bronze—and can turn on the jets when she needs to. If Randall is the face of American cross-country skiing, Diggins is the future.
The American women oscillated between third and fourth place for most of the race, jostling with Sweden, Norway, and the Olympic Athletes from Russia. On the fourth lap, Diggins made a move, pulling ahead of the entire field. Even though I already knew the outcome of the race before I watched the full replay, I still sat up in my chair when I saw Diggins pull ahead. I've watched enough cross-country skiing to know it's rare for an American to ever pull ahead. "She's going to do it," I said, even though I knew she had already done it. That's how thrilling this race was: It made me nervous about an outcome that I already knew was not in doubt.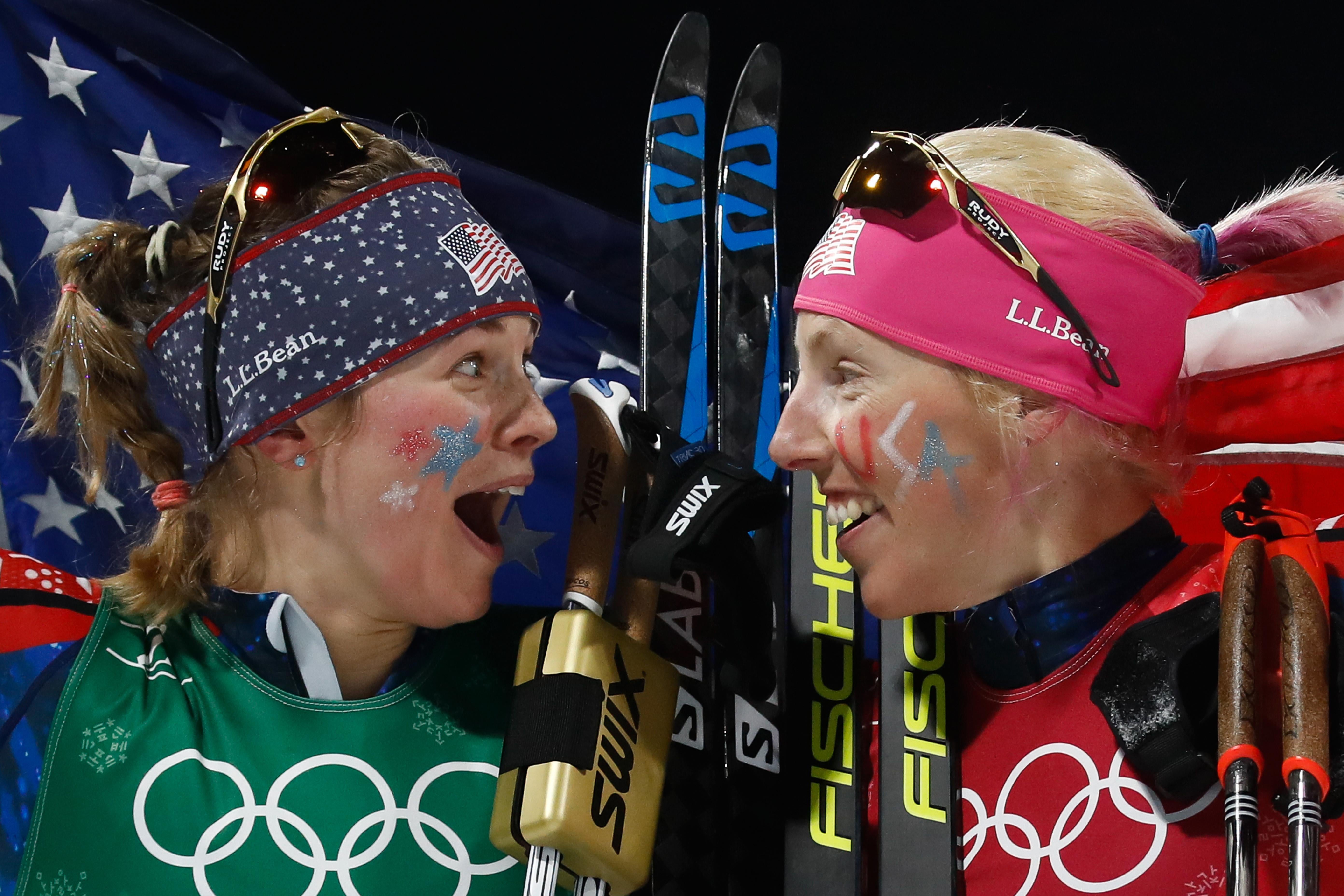 Diggins' surge in the fourth lap meant Randall just needed to keep pace with the Norwegian and Swedish skiers during lap five to give Diggins a chance to bring it home. The veteran skier, slower than Diggins but just as determined, maintained America's medal position—and was helped along the way when the OAR skier, in fourth place, broke a pole and fell out of contention. As the teams went into the sixth and final exchange, three women were in a race for gold: Diggins, Norway's Falla, and Sweden's Stina Nilsson.
Watching the rebroadcast, I knew Diggins was going to win but I had absolutely no idea how she was going to make it happen. Nilsson had won individual sprint gold already in Pyeongchang and Falla had won sprint silver. Diggins finished a distant seventh in the individual sprint, and it seemed unlikely she could pass her decorated competitors. But the three women hung close for the entire lap, climbing up the klaebo-bakken in near parallel, trading the lead until the final stretch. "They're all completely gassed! They've given it everything on the klaebo-bakken!" screamed commentator Chad Salmela on the NBC broadcast. "Stina Nilsson leading Jessie Diggins into the final turn: Can Diggins answer?"
I have watched the end of this race about 10 times, and I'm still not sure how Diggins passed Nilsson. As the three women skied into the stadium, Nilsson made her move. Diggins was about two ski lengths behind, and I didn't think she could possibly catch up. I was wrong. "Here comes Diggins! Here comes Diggins!" yelled a hoarse Salmela, as Diggins—impossibly—began to pass Nilsson on the right. "Yes! Yes! Yes!!!" cried Salmela, as Diggins moved half a length ahead and stretched over the finish line. "Gold!!!" It's an incredible moment:
How did Diggins pull it out? My best guess is that Nilsson mistimed her move, expending her final reserves of energy about two seconds too early, allowing Diggins to make one final charge mere yards from the finish line. A sports-radio caller would probably say that Diggins just wanted it more than Nilsson. However it happened, it happened, and as she crossed the finish line, Diggins screamed in triumph and collapsed to the ground, overcome with exhaustion—as did, I suspect, every single member of America's small, now-mighty cross-country community. Salmela's emotional call of the finish on NBC sounded like the release of 42 years' worth of pent-up pressure. American cross-country skiers have been awaiting this victory for a lifetime. "It feels unreal," Diggins told NBC after the race. "I can't believe it just happened." It's real. It happened. And it's America's best moment thus far at the games.
Read the rest of Slate's coverage of the Pyeongchang Olympics.
• Part-Time Skier Ester Ledecka's Shocking Super-G Win Was the Best Moment of the Winter Games
• How an Artist Made That Awesome Olympics Skeleton Helmet With a Roaring Grizzly Bear
• Elizabeth Marian Swaney Is the Reason Olympics Jerk Watch Was Invented