Fifty Shades Freed may be mostly a movie about two very good-looking people boning, but that doesn't mean that it doesn't also have a plot. No, I'm not talking about all the sabotage and kidnapping being carried out by Anastasia Steele's vengeful former boss (and notorious Dodge Durango owner) Jack Hyde. He's just a distraction. Rather, I'm talking about another, much more subtle plot twist, one that the filmmakers have been hinting at since the very first installment in the franchise: that Ana's hunky billionaire love interest, Christian Grey, is secretly a Sith lord.
This hidden identity is never explicitly revealed in the books or the movies, possibly because it was deemed too controversial or because E. L. James and co. were afraid that Lucasfilm would sue. But once you start looking for the signs of Christian's alignment with the dark side of the Force, they seem so obvious that they can't possibly just be coincidences. Don't believe me? Let's examine the evidence.
1. The Sith Code
To start, let's review the code of the Sith:
Peace is a lie. There is only Passion.
Through Passion I gain Strength.
Through Strength I gain Power.
Through Power I gain Victory.
Through Victory my chains are Broken.
The Force shall free me.
Passion? Strength? Power? Christian Grey is obsessed with all of those things, and thanks to his bedroom activities, we know he spends plenty of time around chains. Christian ascribing to a philosophy of "The Force shall free me" would also answer the question of why, exactly, the third installment of the franchise is called Fifty Shades Freed, which never becomes clear in the movie itself. Who is being freed? From what? Now we know.
2. His empire
Christian Grey is a billionaire because he founded a company that has a hand in everything from the communications industry to "next generation farming solutions." Anything he wants, he can pretty much get in an instant, frequently using that dazzling wealth to try to impress Ana. In Fifty Shades of Grey, he tells her that the key to his success has been "identifying talented individuals and harnessing their efforts."
You know who else amassed great power by identifying talented individuals and harnessing their efforts?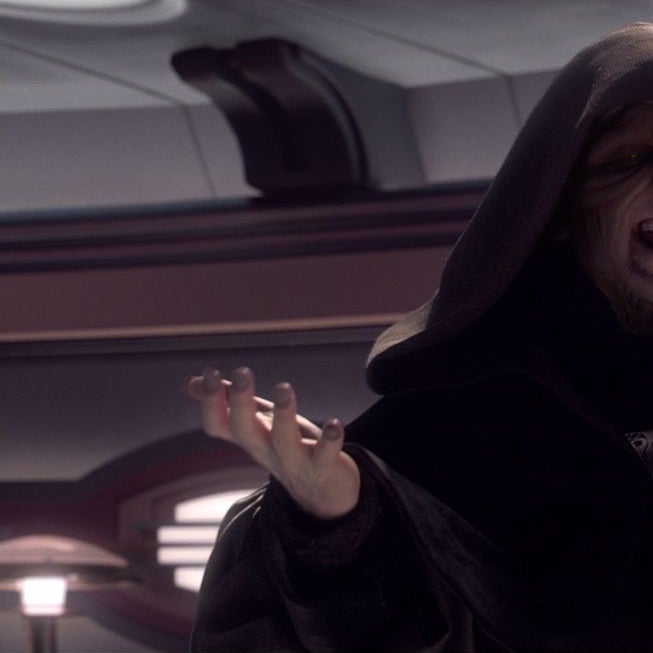 "I exercise control in all things, Miss Steele" is starting to sound a lot like code for "Unlimited power!"
3. His name
Have you ever noticed that Sith lords choose extremely literal names for themselves? Plagueis, Tyrannus, Maul. Even Sidious and Vader are just insidious and invader with the in- prefix chopped off. Similarly, the characters in Fifty Shades of Grey tend to have very heavy-handed names. Jack Hyde is secretly evil. Anastasia Steele is tougher than she knows. Christian Grey is morally gray. OK, so it's not really definitive proof—I'm just saying, these are names straight out of the Star Wars baddie playbook.
4. His backstory
Over the course of the trilogy, we learn that Christian used to be an angst-ridden teenager and that he is haunted by the memory of his dead mother after being taken away from her at a young age and adopted into a new family.
You know who else was an angst-ridden teenager who was haunted by the memory of his dead mother after being taken away from her at a young age and adopted into a new family?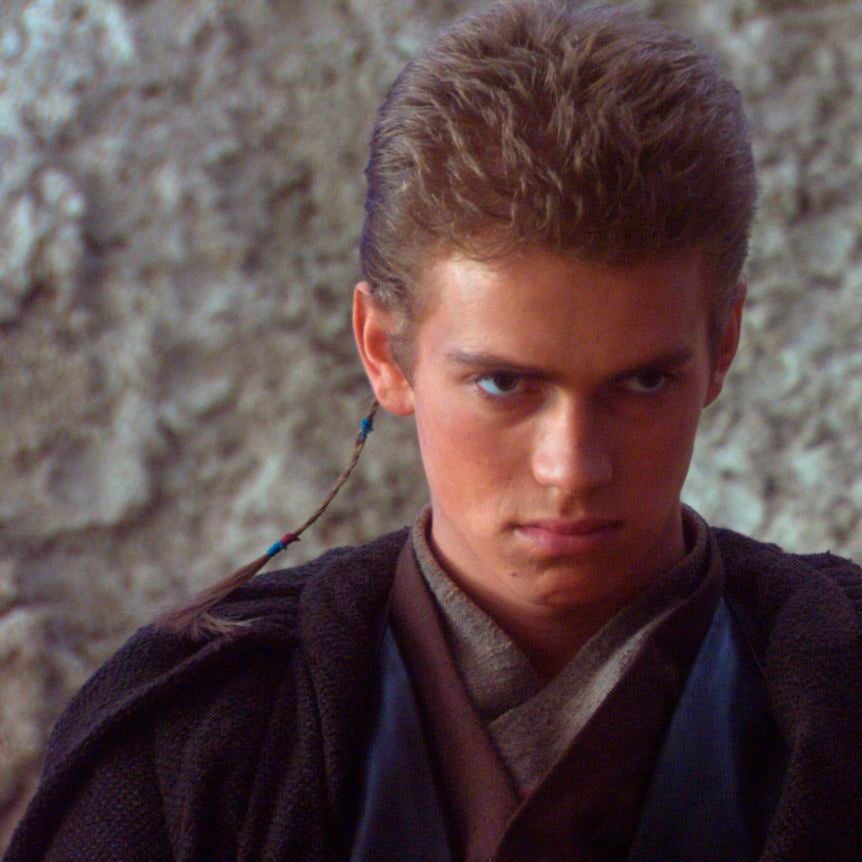 5. His Yoda-approved training routine
Christian Grey keeps in excellent shape: When he's not working out in the bedroom or the Red Room (more on that below), he can be found jogging the streets of Seattle or doing balance exercises on a pommelhorse. Why? What is he training for, if not an eventual conflict with the Jedi? And what should make of the fact that Christian's preferred training methods, running and handstands, are awfully similar to those Yoda uses to train Luke on Dagobah? (Minus the little green puppet on his back, of course.)
6. His affinity for red and black color schemes
Exhibit A: Supreme Leader Snoke's throne room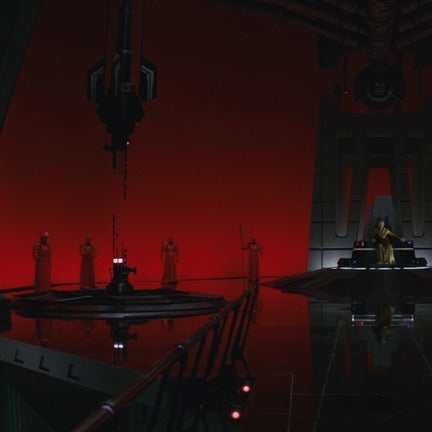 Exhibit B: Christian Grey's sex dungeon (a.k.a. the Red Room of Pain)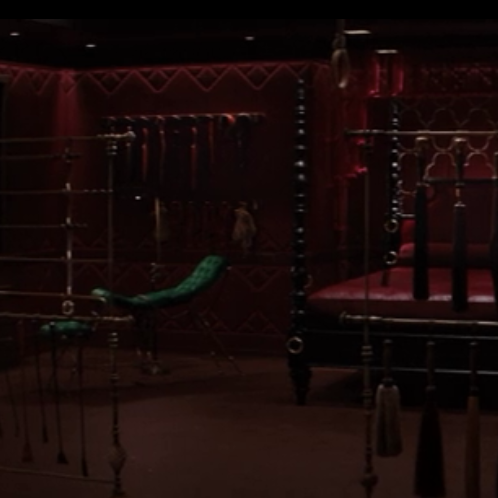 Both rooms are predominantly red with black accents, both have a focal piece that you sit/lie down on, and both contain instruments of torture. A certain billionaire with a flair for BDSM has obviously been paying attention to the Sith Code of Interior Design.
7. His Force abilities
Of course, all of this (the name, the lust for power, the red and black color aesthetic) means nothing if Christian Grey can't use the Force—that's what really separates Sith lords from ordinary creeps, after all.
But there is compelling evidence that suggests that Christian is, in fact, Force-sensitive. He's such a good pilot that he's able to safely land a sabotaged helicopter, he always seems to know what Ana is thinking, and, c'mon, how else do you explain this scene from Fifty Shades Darker?
Christian somehow a) senses Ana is in danger at this exact moment, leading him to burst dramatically into her apartment; b) compels Leila to hand over the gun with only a wave of his hand and intense eye contact; and c) convinces her to kneel before him by uttering a single word. This all happens so quickly and in such a bizarre fashion that a less savvy viewer might deem it sloppy storytelling, but you and I know better. Let's call Christian's powers of nonverbal persuasion what they so clearly are: a Jedi mind trick.
I rest my case.