Barrett Martineau was never a threat to win a medal in men's skeleton. The 26-year-old Canadian, who finished in 24th position, didn't even take a fourth and final face-first run, as those last jaunts down the icy track at the Olympic Sliding Centre were reserved for those in the top 20. But as you can see from the image at the top of this post, Martineau was one of the big winners in Pyeongchang: The Canadian slider had by far the best helmet at the 2018 Winter Olympics.
The bear-painting genius behind that helmet is Kyle Langlois. The 33-year-old Langlois, who lives in Brampton, Ontario, Canada, and has been doing custom airbrush art for 14 years, told me he got connected to Martineau in 2013. "He wasn't too specific or picky," Langlois said, "he was hoping I could maybe put a leaf on it for him or something—something to make it Canadian." Langlois, who painted the helmet for free because he felt "a call to duty" to assist a fellow Canadian, did a lot more than put a leaf on it.
Langlois, who had painted hundreds of hockey goalie masks but never a skeleton helmet, said he was inspired by seeing a lid adorned with a mean-looking beaver—perhaps the one below, worn by Canada's Jeff Pain at the 2010 Vancouver Winter Olympics.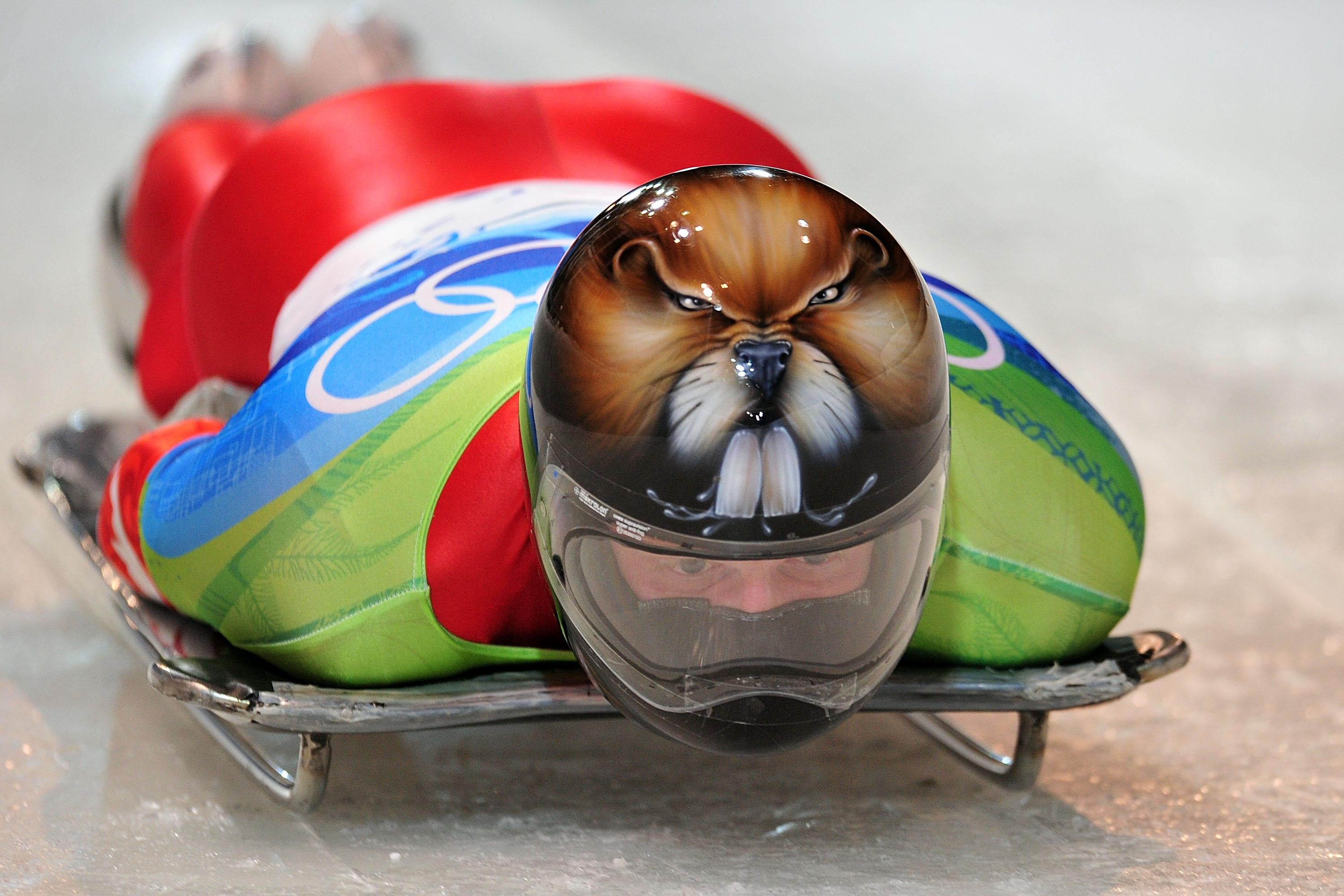 He also cited another helmet, this one covered with a brain pattern, as a creation that helped him understand the creative possibilities of the skeleton-helmet medium.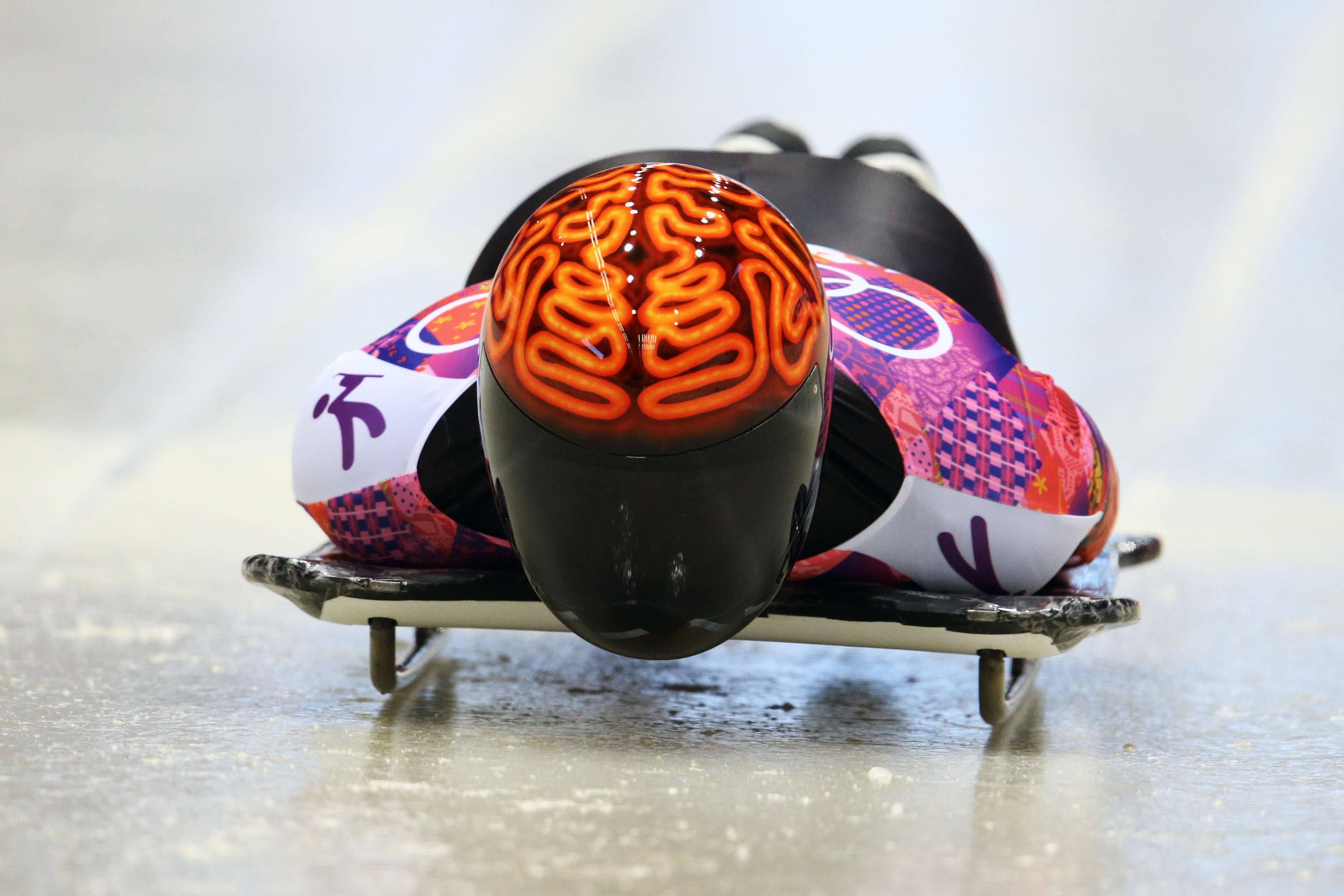 Once he decided Barrett should get a mean-looking grizzly bear, Langlois browsed online for reference images, then lightly penciled a design onto the plain white helmet. He then got to work with his airbrush gun, spraying black and gray acrylic paint to create the bear and blending together orange and magenta to fashion the deep red maple leaf elements that encircle the bottom of the helmet.
One of Langlois' favorite things about the design is that when Martineau has his head upright, you only see those Canadian symbols.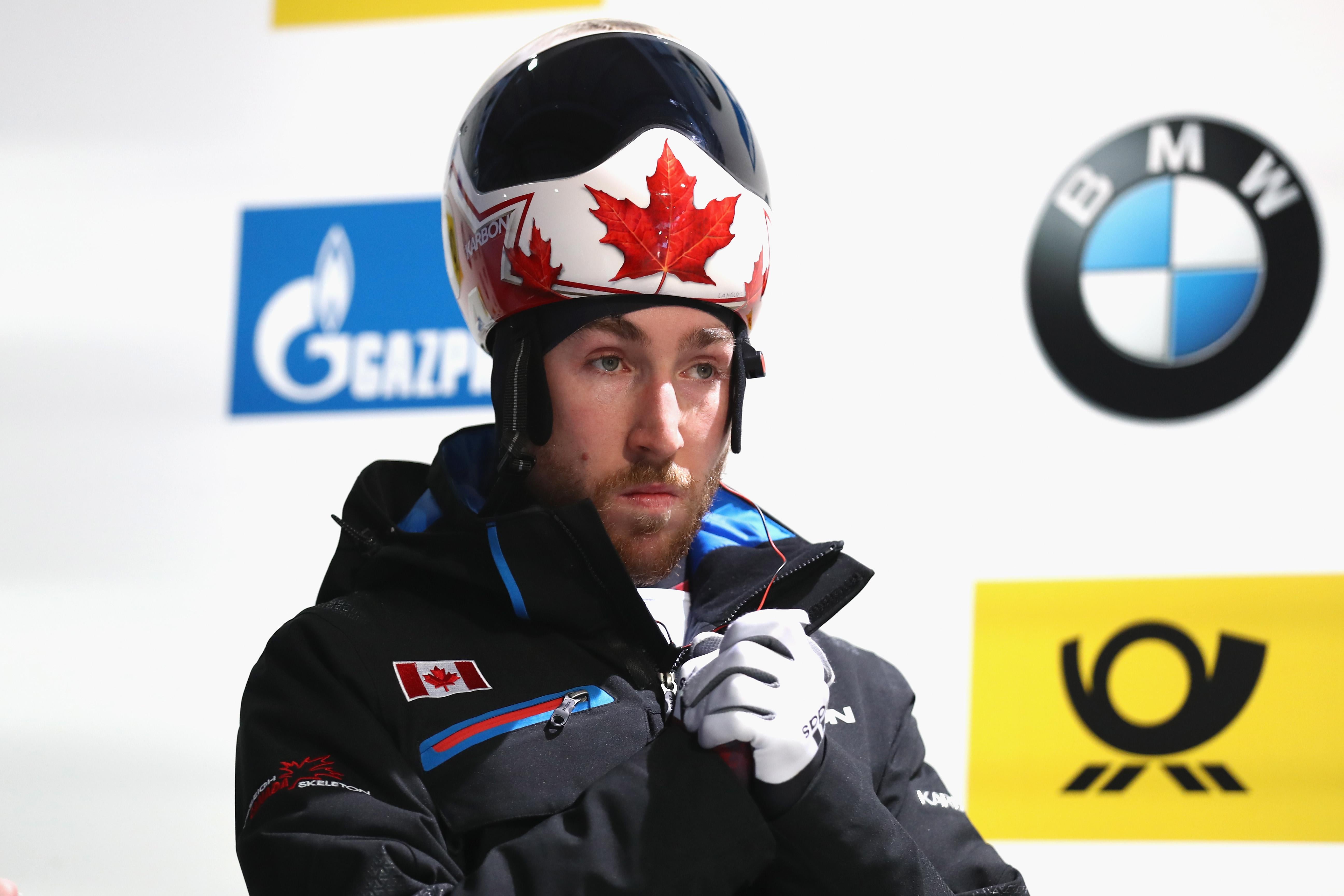 When he flies down the track, however, the bear—Martineau's game face—is front and center.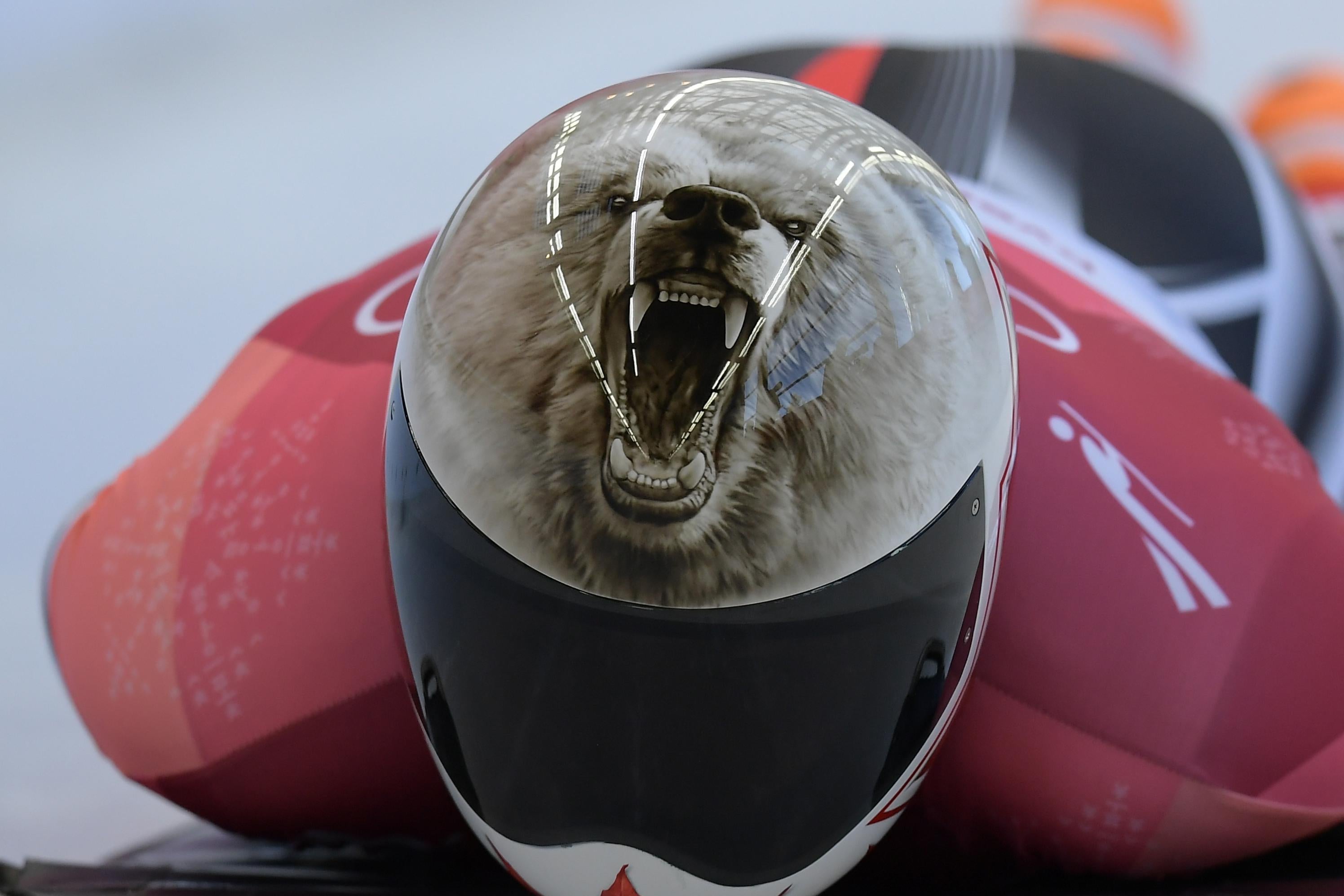 Langlois said Martineau loved the helmet; he told the artist that other skeleton racers complimented him for having the best-looking noggin on tour. That's high praise considering all the other exemplary designs on display in the skeleton world.
Yun Sung-bin of South Korea, who won gold in Pyeongchang, went for an Iron Man look.
Ghana's Akwasi Frimpong opted for a lion design.
And Joseph Luke Cecchini of Italy went with a glowing skull.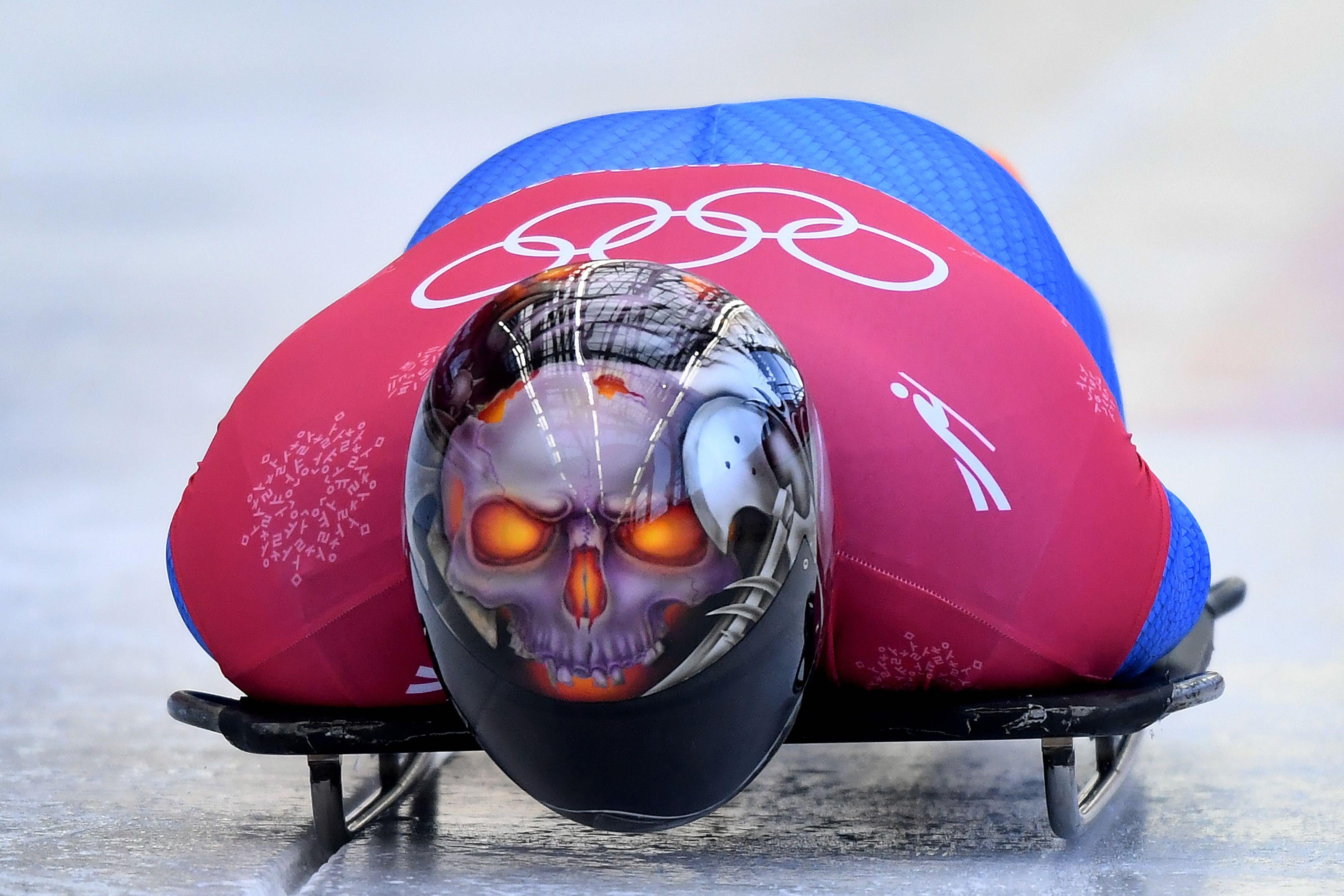 Langlois' recent work tends to the creepy and grotesque. Over the last few years, he's moved away from helmets and started working with a company called Morphsuits that sells spandex costumes. This scary clown is one of his favorites:
He's also partial to this skull and bones design:
Langlois said it was very cool to see his helmet at the Olympics. It would be even cooler, he said, to see a skeleton racer dressed like a skeleton. Let's hope someone takes him up on that in 2022.
Read the rest of Slate's coverage of the Pyeongchang Olympics.
• Part-Time Skier Ester Ledecka's Shocking Super-G Win Was the Best Moment of the Winter Games
• According to Science, the Shirtless Tongan Is Not an Olympics Jerk
• Snowboarder Lindsey Jacobellis Deserved the Redemption Narrative NBC Gave Shaun White