Like everyone else writing about the Winter Olympics, I rely heavily on action shots of the athletes competing in Pyeongchang. Lucky for me, I can just drop them into my stories from the remote, warm comfort of my house in California. The people actually taking those photographs have to work a lot harder than I do. It's very cold in South Korea, their equipment is constantly threatened by the elements, and the athletes they're assigned to shoot often move at speeds reserved for interstate automobile travel.
Given that I can't take a selfie without it becoming a blurry mess, it's hard for me to fathom how the eagle-eyed and photo-bibbed men and women in Pyeongchang have been able to take such amazing pictures. Slate subscribes to Getty Images, so I've been using Getty photos throughout the Olympics. To get a better sense of how those images get to my computer, I spoke to Al Bello, one of the photographers shooting the games for the agency.
Specifically, I asked Bello a very simple question about a very difficult task: How'd you get that photo? This is the twelfth Olympics Bello has covered, so few are better qualified to explain how it's done.
In Bello's own words, here are the stories behind a handful of his favorite photos from the 2018 Winter Olympics. His responses have been condensed and edited for clarity.
Alpine Skier Kjetil Jansrud Getting Air in the Men's Downhill Race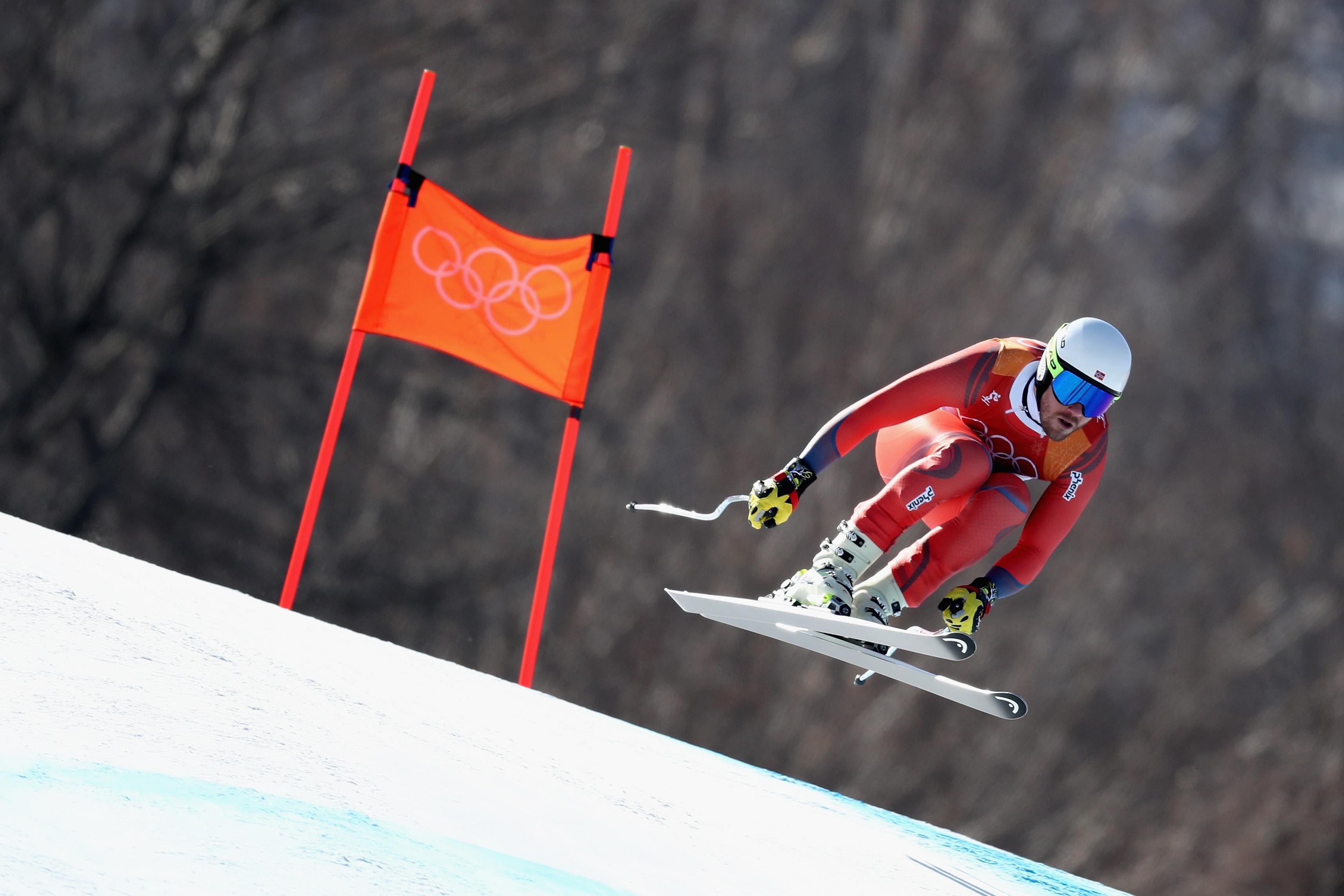 The day before, they called me and asked if I'd like to do the downhill and I said, "Yeah, sure." I rented some skis and went up the day of. I skied down with the other photographer early, like hours before the race. We found a position off course, in the woods. On skis I'm alright. I'm not the greatest, but I'm good. I'm OK. The problem is when you have 70 pounds of gear on your back and you're going down a sheet of ice. That's not the most normal feeling.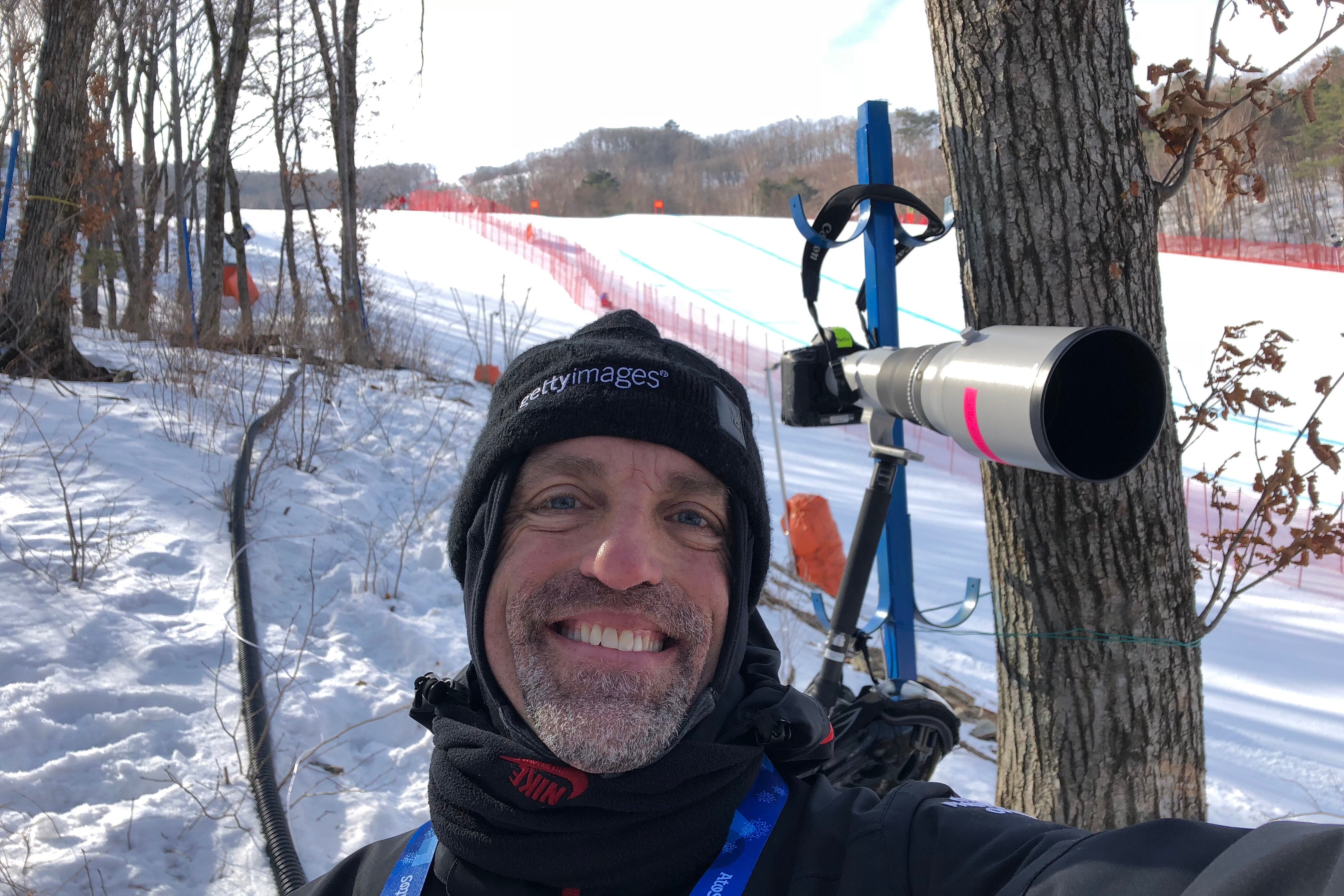 You gotta drop dead be in that position an hour before [the race]. They have ski patrol come down to check your spot to see if it's safe or not. Having said that, even if it's been deemed safe, it's not 100 percent safe. The other day, a [woman] slid out and crashed into a whole bunch of photographers at the bottom of the hill. It's just one of those things.
You just have to wait for [the skiers] to come through. You have to time it. There's no warning, they just fly through. It's very easy to miss them.
Through the trees, you might be able to see a different jump higher up, and you'll see a little skier go by. And then you can count down how long it takes them to come to your jump. So on that downhill jump shot, I saw the skier at the top of the hill ski through some trees, and then I counted to 22. I remember I counted to 22 65 times because there were 65 skiers coming through. As soon as I'd see them, I'd go, "one, two, three" in my head, and then right around 22, I had my lens on the gate and I would fire like five frames.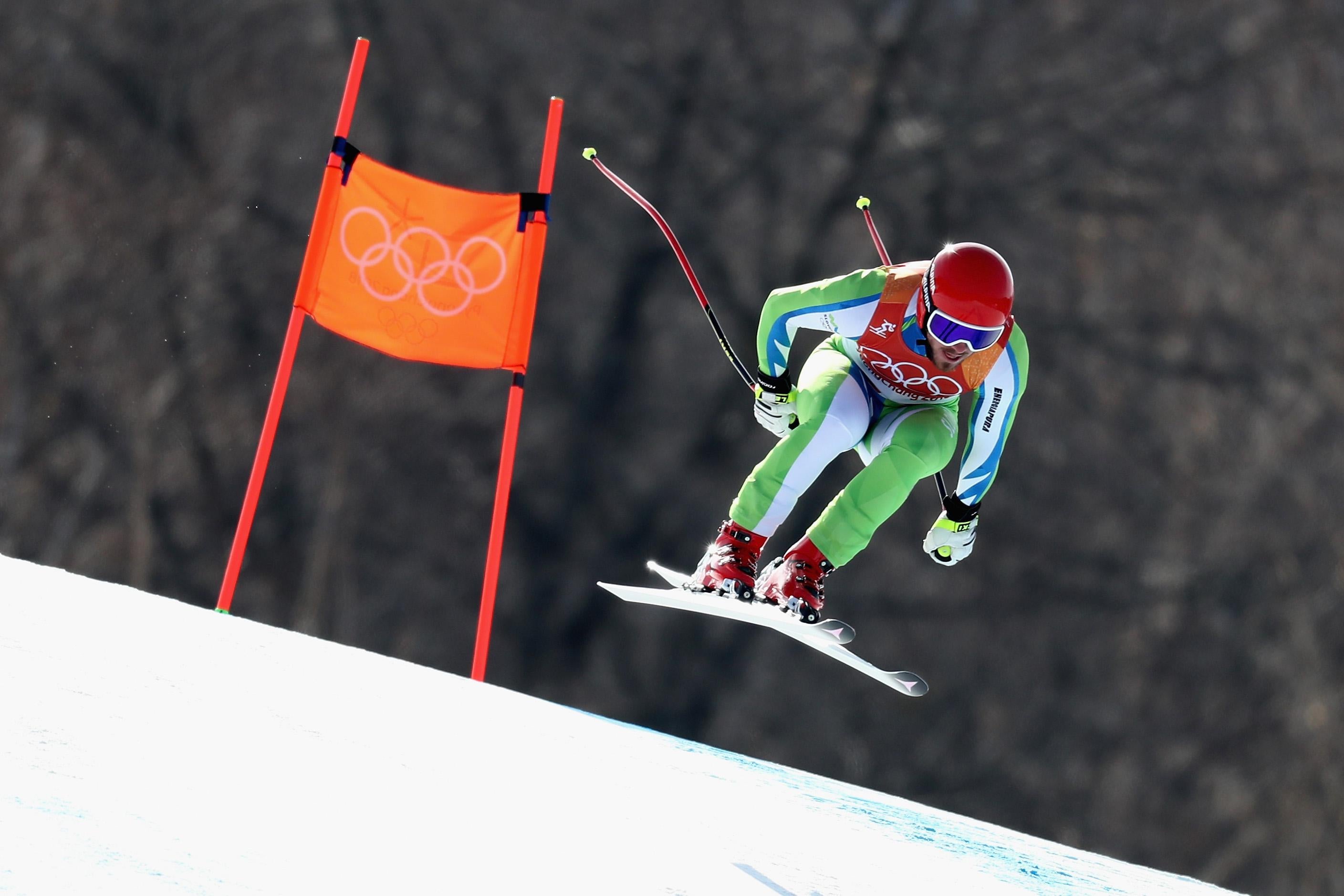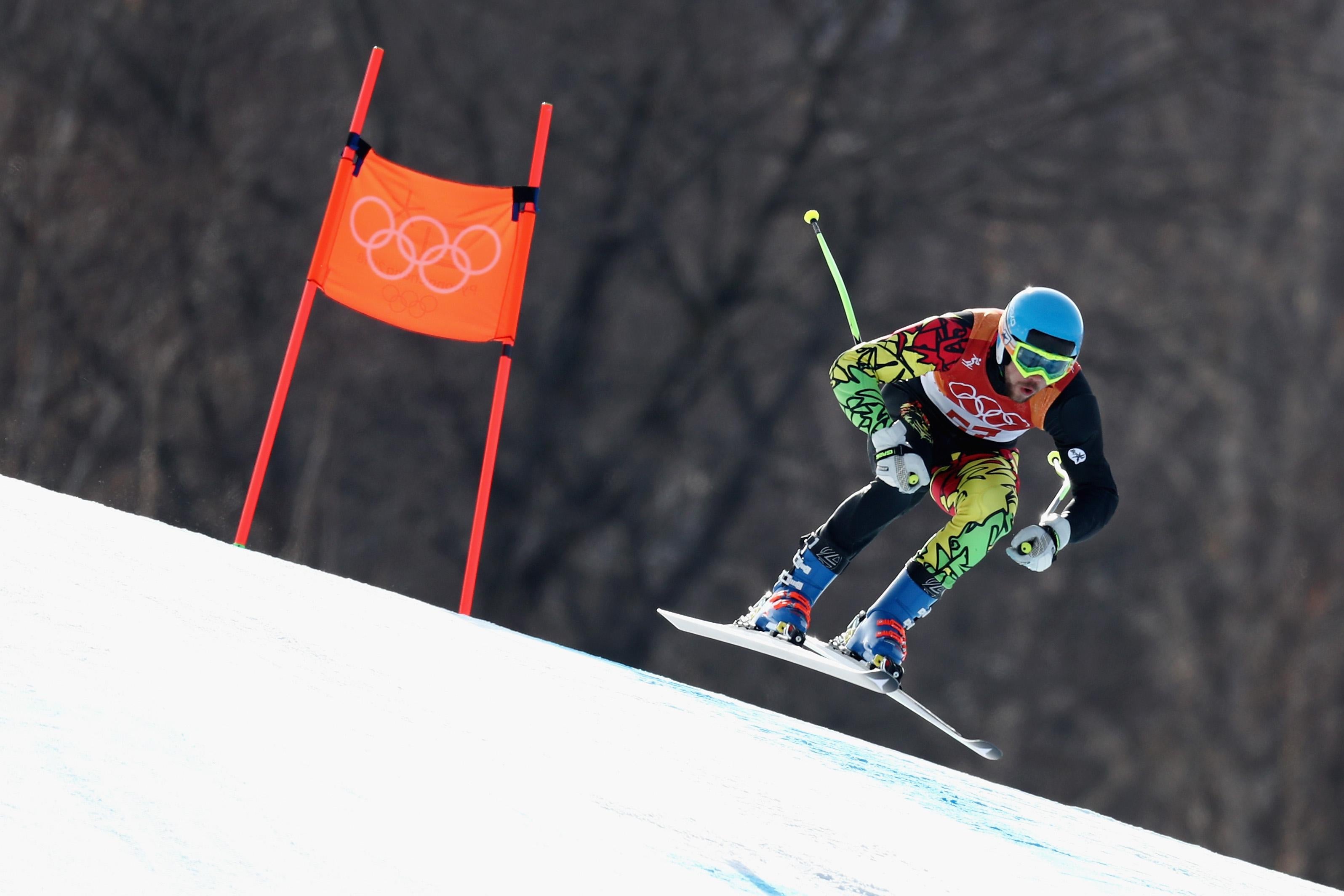 Experience comes in handy. Anticipation and concentration are key. If you're off looking at birds or something they'll just go right by you. You can't redo it.
German Cross-Country Skier Thomas Bing, Collapsed at the Finish Line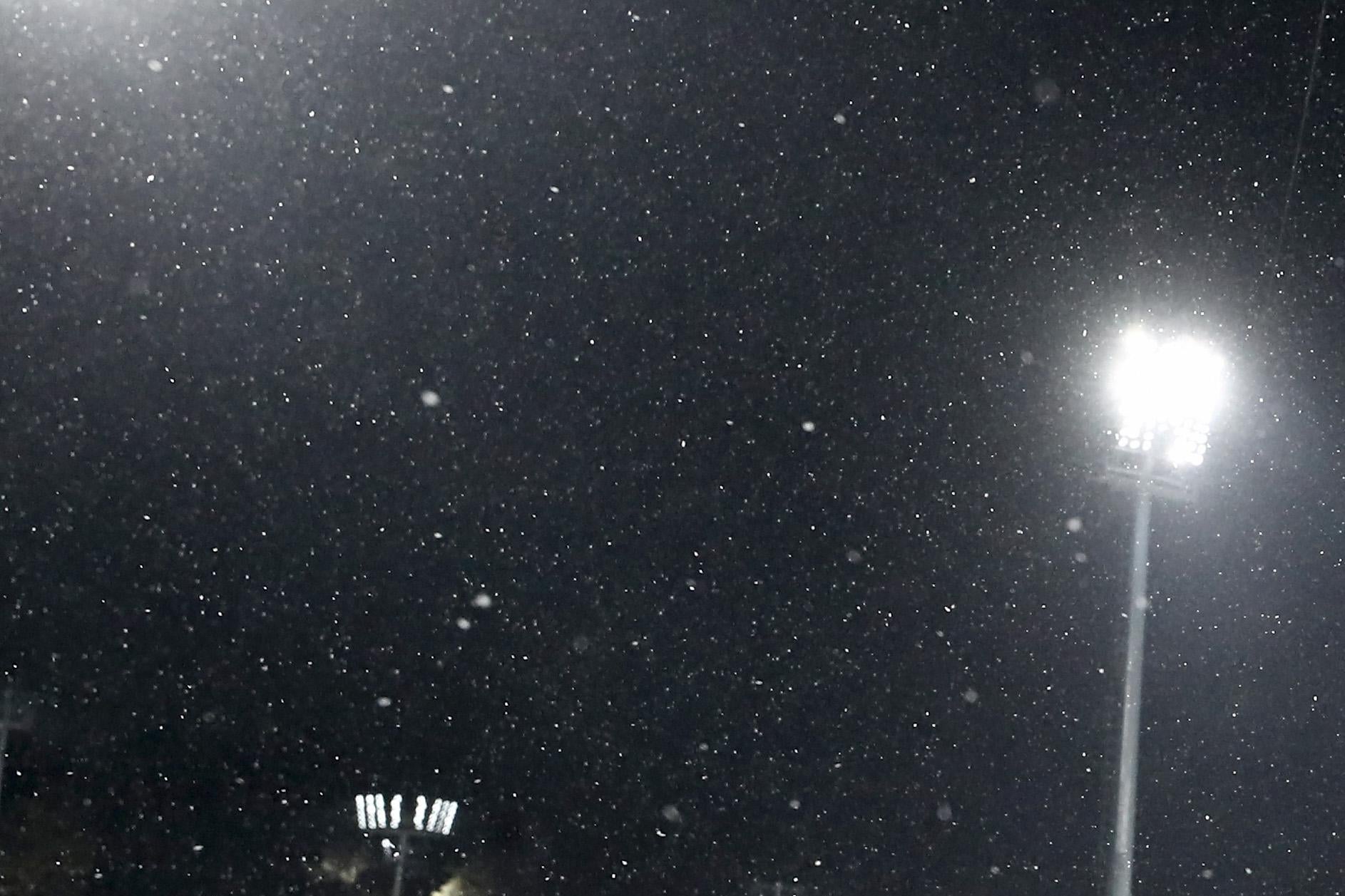 I knew someone was going to fall down. I mean, they always do. You see them do these crazy climbs on skis [during the race], and they do it again and again. They're amazing athletes. I have a lot of respect for the cross-country skiers. They're really fit.
I shot the original picture looser. I have to give credit to my editor, his name's Cliff Hawkins, and he found that photo within a photo. [Bing] fell down in front of me and I originally shot him full body. And [Hawkins] saw the picture within the picture and cropped in on it. (Note: You can see the original photo at the top of this post.)
I remember he was looking at me. He laid like that for a little bit. It wasn't anything I planned. It's just one of those moments at the Olympics that just happens.
Norway's Jan Schmid Ski Jumping During Nordic Combined Trials
The background of the hill for ski jump is not great at all. It's a tough hill to work, and to get a picture is a very big challenge.
This was a morning when I was actually quite frustrated. I just couldn't see anything I liked. I climbed on the top of the big hill and I didn't like anything. I went from behind and didn't like anything. I [shot] from below, but it was a cloudy day so the sky was pure white and really gray and gloomy. So I climbed up [to a location] outside of the course, and I just saw the way the two red lines were on the hill.
What you do, it's called a pan. You slow down your shutter speed and follow along with the skier. The axis that the [ski jumper] is skiing, you have to be on the same axis with your camera. It's very hard to line that up. I shot that at, I think, one-eighth of a second. If you move along with the skier and you focus correctly, the idea is to get the skier sharp and the rest of the background blurry.
It's a low-success photo. Honestly, the only one that I liked a lot was the one on my Instagram.
Snowboarder Mark McMorris Blotting Out the Sun While Training For Slopestyle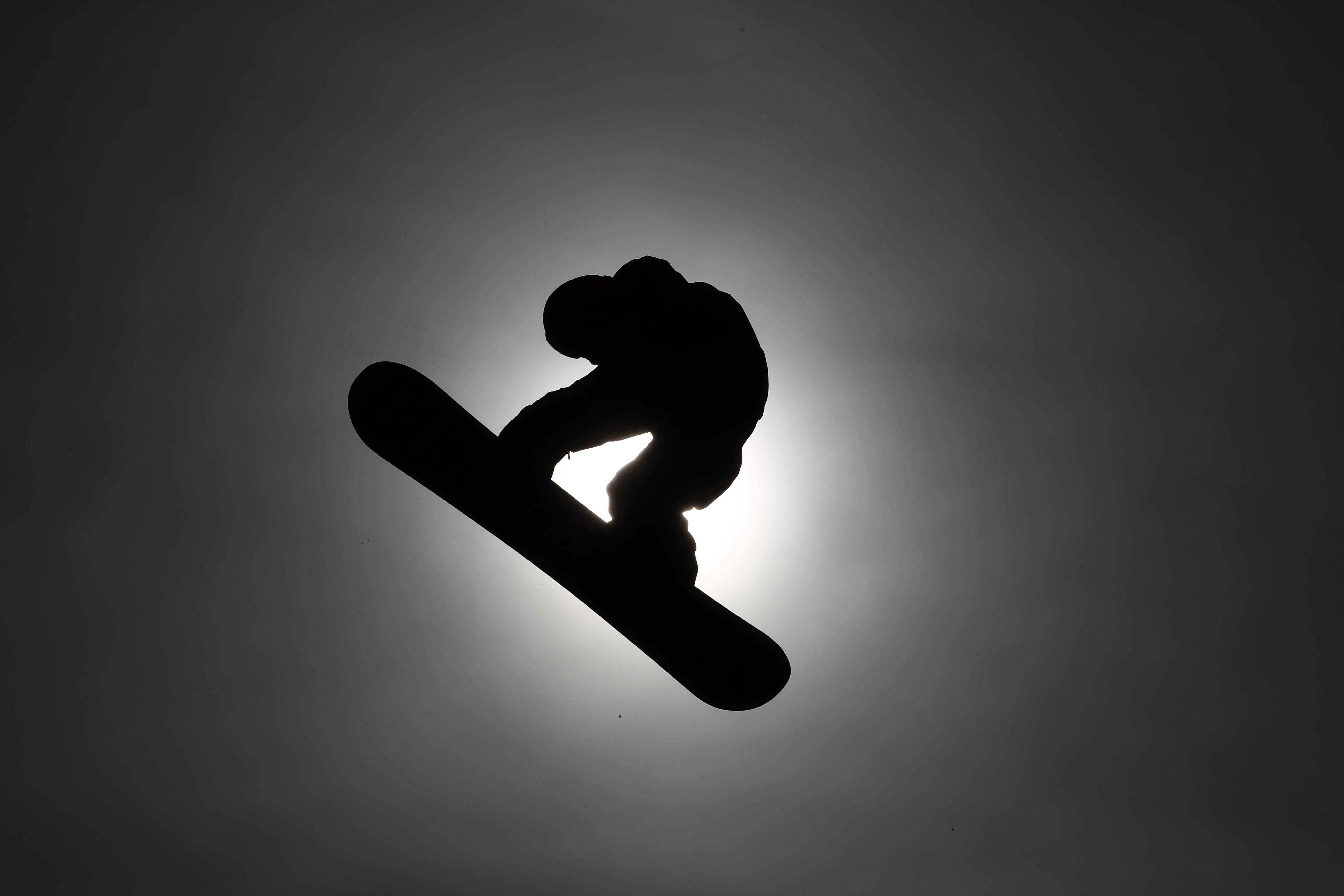 It was kind of a gray day. But the sun was coming out like a minute at a time, and not too often. But it came out a bit and I tried to make the best of it with a couple shots.
If it's a cloudy day, [the sky] looks kind of wishy-washy, so you probably want to find something to shoot against like mountains or maybe a darker background so it will be a bit less pasty. Just depends on the weather.
[For] a silhouette, you shoot right into the sun. You have to expose it right and you get a silhouette of the boarder going by. I'm not the first, nor will I be the last to do that. It's just a technique that people do.
Skiers During the Men's Biathlon 12.5-Kilometer Pursuit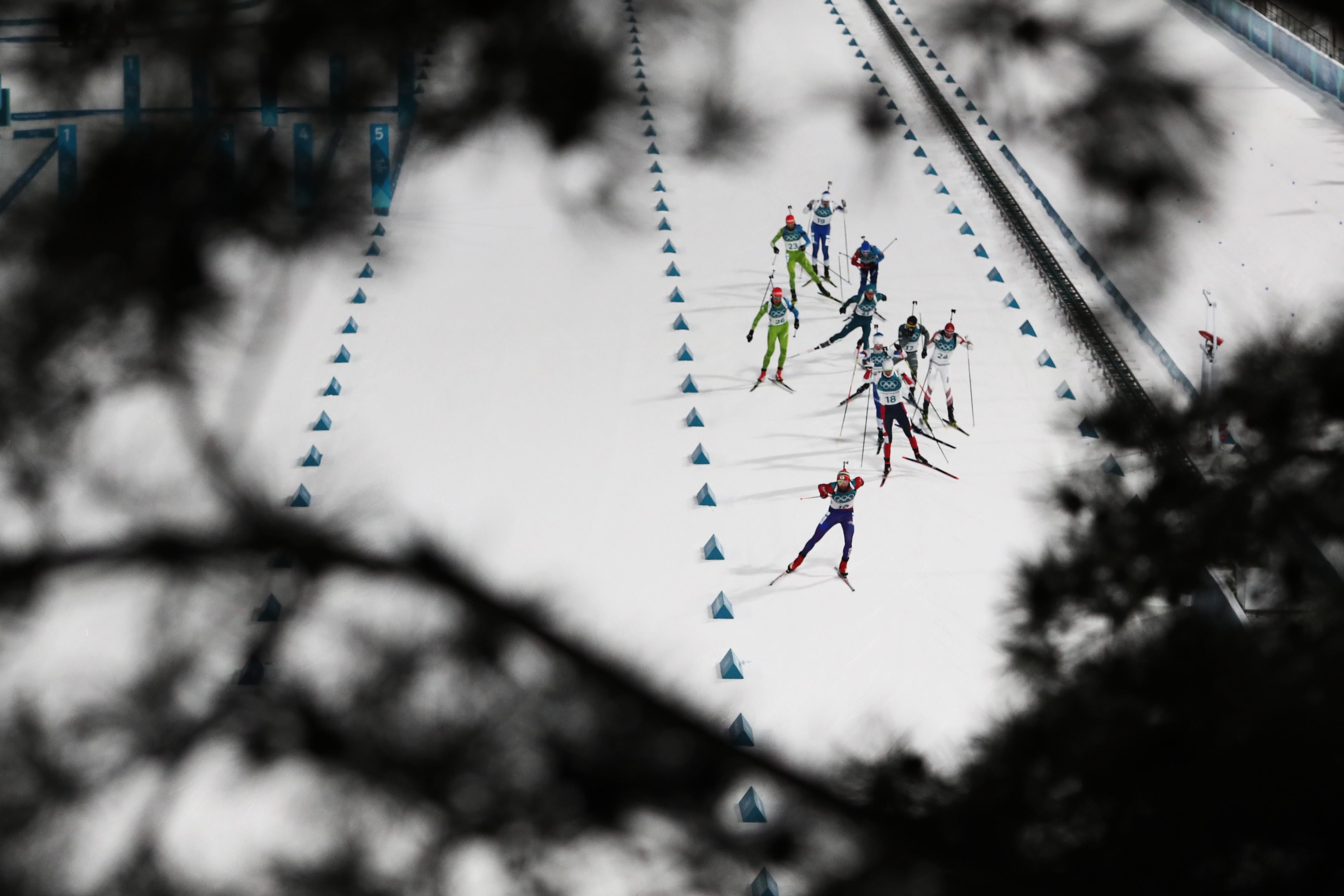 I went up a hill on a scaffolding that was outside the stadium and then looked back on the start. I saw a tree that was covering the course and just looked around for an opening in the trees. I was able to position the the biathlon people skiing through the little hole in the trees.
This wasn't a [marked] position, it was just something you go and find. It wasn't even inside the stadium. It was outside the stadium, on the street, on scaffolding—I think it was a scaffolding for another event, but everything's close by when you're in the facility.
Alla Tsuper of Belarus Crashes During the Freestyle Skiing Women's Aerials Final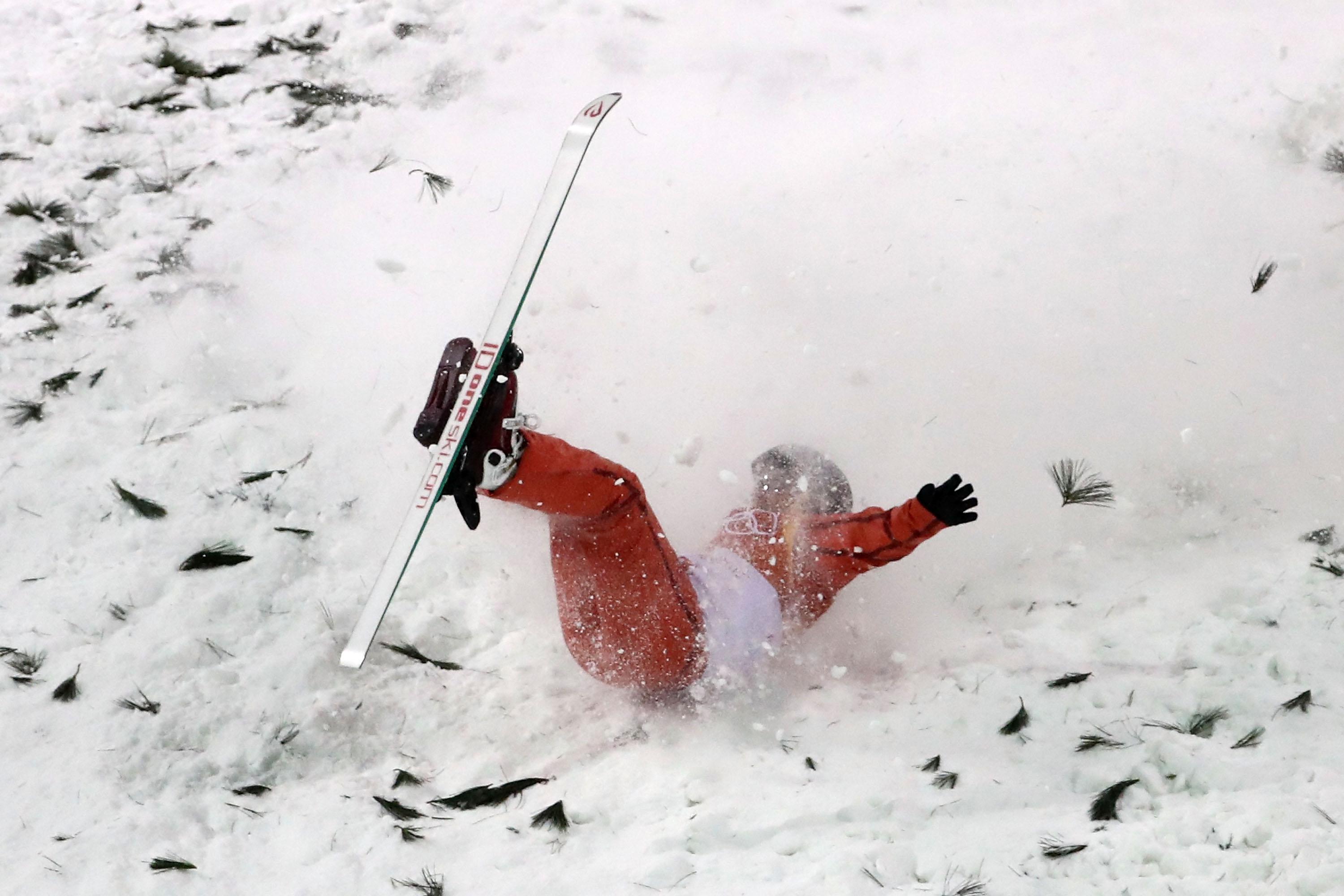 I was at the bottom of the course, and it was the final jump. They go for their big jump then, and it's a little bit easier to follow them down into the snow. If they don't hit it right, they just flip around and fall down. It's a little easier [to capture]. You just kind of follow them with your lens the whole way down, and then when they hit the snow, if they don't hit it right they just start flipping and falling.
Luger Raluca Stramaturaru on a Training Run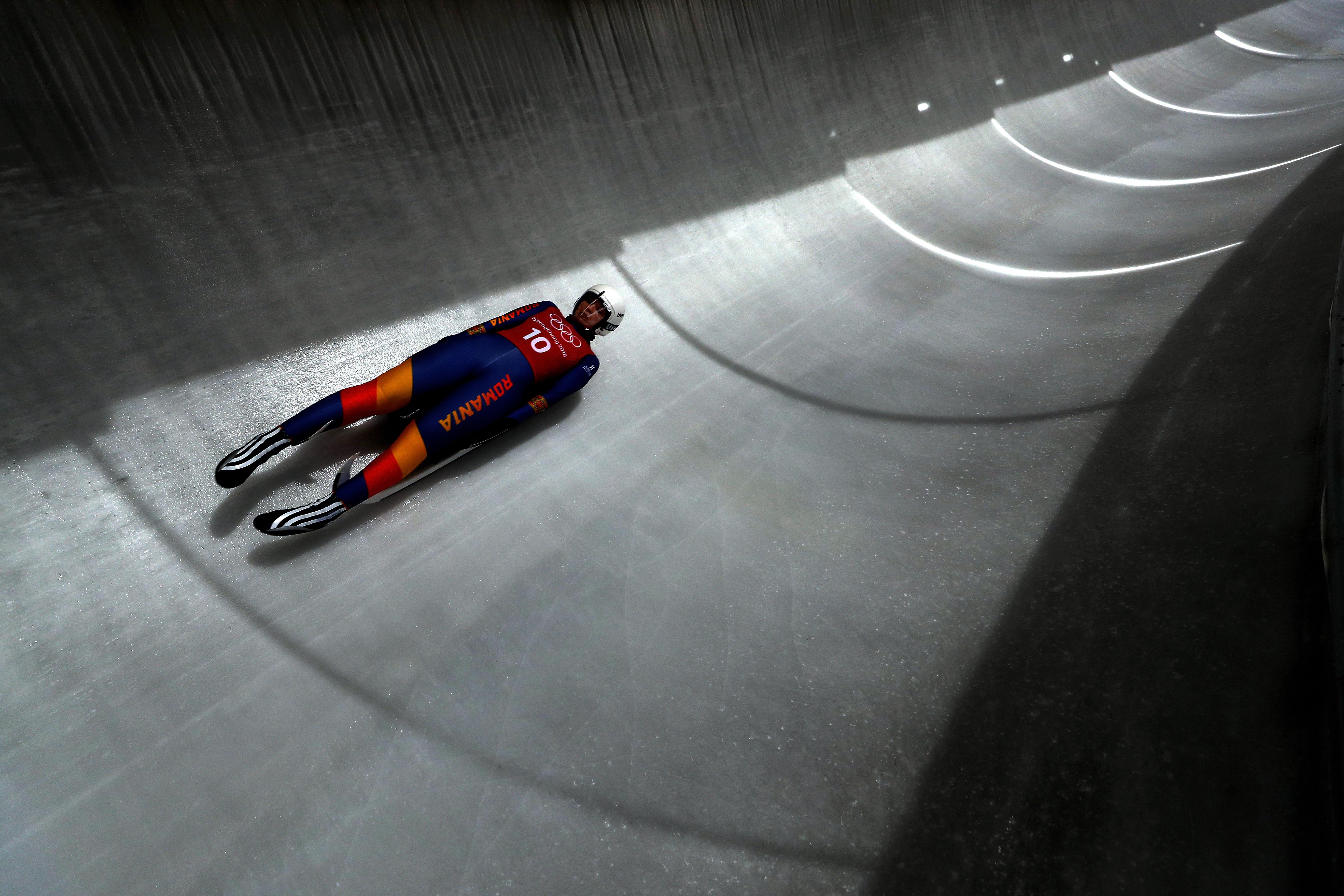 You have to pre-focus on a spot on the track and let them fly through. As they come, you pick them up and do a burst of frames on your camera. And while a lot of them aren't sharp, there's usually maybe two that are good. Maybe one that is good.
They're coming through blind. You don't see them. With the downhill skier or a luger coming through at 80 miles per hour, they just come around the turn. At least with the luger you can hear the rumbling of the sled.
Read the rest of Slate's coverage of the Pyeongchang Olympics.
• How an Artist Made That Awesome Olympics Skeleton Helmet With a Roaring Grizzly Bear
• Adam Rippon's Costume Designer on the Skater's Love of Crystals and Skintight Mesh
• Is Curling Measuring Device Guy the Best Job at the Olympics?