Update, Feb. 4, 2018:  It may be cold in Minneapolis, but Bill Belichick is bringing the heat inside U.S. Bank Stadium for Super Bowl LII. Like all the greats, he knows that fashion is as much a craft as it is an art. By wearing a quarter-sleeve sweatshirt over a three-quarter-sleeve undershirt, he's figured out how to show some forearm without sacrificing sleeve fabric. Like a poet, Belichick knows there's power in negative space.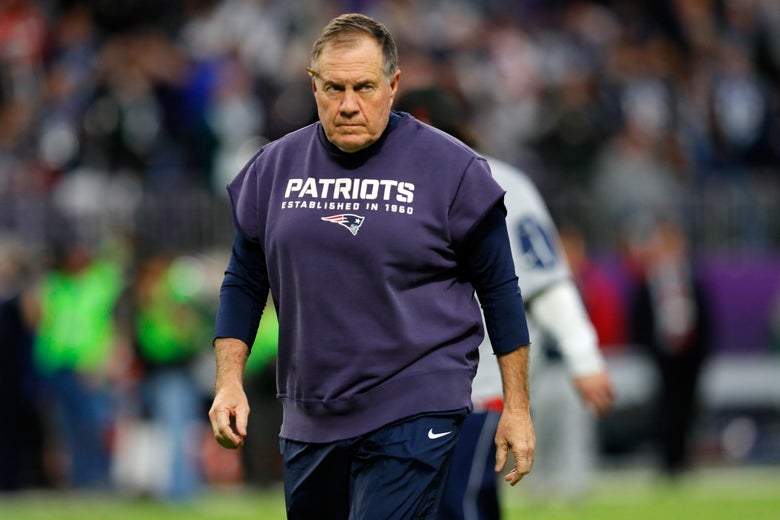 Original post: That Bill Belichick's peers often imitate him says a lot; that we never blame them for it says even more. The New England Patriots' head coach is so forward-thinking, the rest of the NFL doesn't have much of a choice but to chase his shadow. He is a pioneer, and his brilliance goes far beyond Xs and Os. After all, you don't become a fashion icon without knowing a thing or two about haute couture.
When it comes to breaking sartorial barriers, Bill Belichick is fearless. He doesn't flinch when going for it on 4th down on the field or on the runway. Belichick always steps his game up when the pressure's on, which is why you can count on him to be a total vision when he's coaching his team in the Super Bowl.
As we wait for Bill to reveal his latest paradigm-shifting outfit on Sunday, let's look back at some of his boldest ensembles from big games past.
Super Bowl XXXVI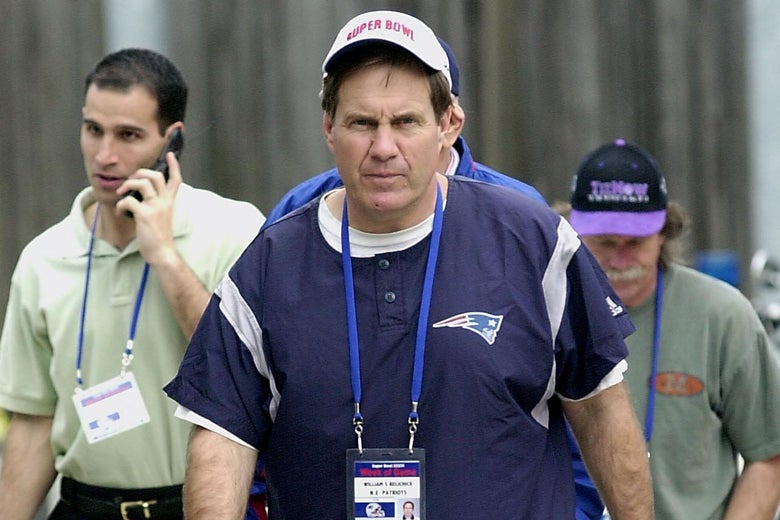 In 2002, Belichick made his first Super Bowl appearance as a head coach, leading the Patriots into battle against the St. Louis Rams. Any doubts as to whether he and his young squad belonged on the biggest stage were quickly put to rest when he arrived wearing a hat emblazoned with the words SUPER BOWL. Clearly, this was a man who knew exactly where he was. New England kept the high-powered Rams offense in check and won on a last-second field goal, 20-17.
In the words of his hat, it truly was a Super Bowl.
Super Bowl XXXVIII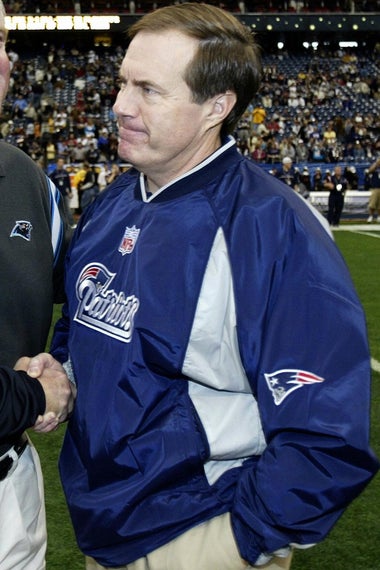 In 2004, the New England Patriots and Carolina Panthers treated fans to one of the wildest Super Bowls in history. The Patriots won 32-29, but Bill Belichick managed to upstage the shootout with this daring pullover. Festooned with logos and worn with a pair of oversized khakis, this team-issued windbreaker represented a moon-landing moment for lovers of high fashion.
Belichick had already shown that you could wear a hat with words on it, but by doing this with a zipper-less nylon smock, he confidently staked his claim as a true revolutionary. This man wants to do more than just hoist up trophies—he insists on tearing down walls as well.
Super Bowl XXXIX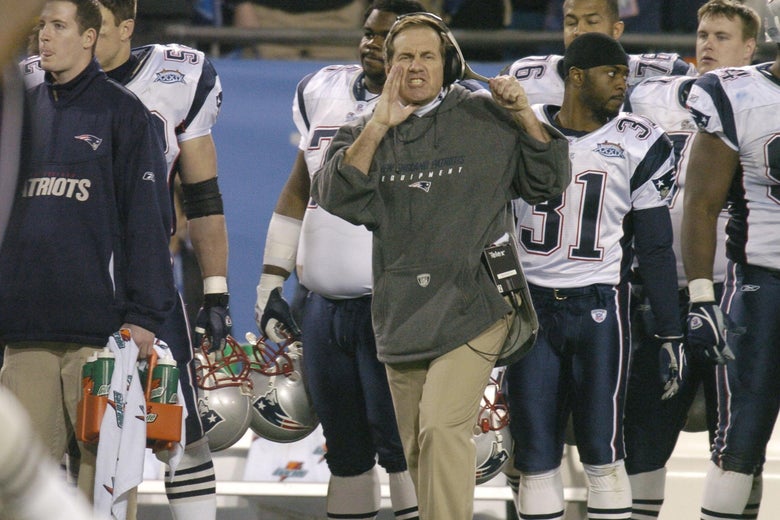 Winning consecutive Super Bowls is quite an achievement, but predicting the big sleeve trend of 2017 may be even more impressive. Bill Belichick managed to do both in 2005, when the Patriots beat the Philadelphia Eagles 24-21.
Facing off against fellow fashion icon Andy Reid, Belichick brought the runway to Jacksonville, Florida with a chic, monk-sleeved fleece hoodie. It was in that moment that he grabbed the dinosaurs of Paris and Milan by the lapels and screamed, "I'm Bill Belichick and I matter!"
Super Bowl XLII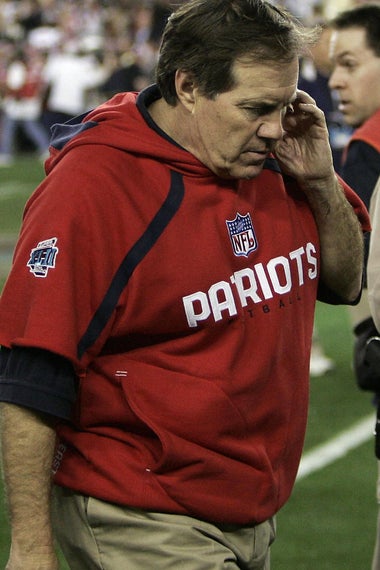 If Bill Belichick could have just one Super Bowl back, he'd certainly choose 2008's disaster. The Patriots were chasing an undefeated season, but rather than going 19-0*, they stumbled at the final hurdle against the Eli Manning-led New York Giants. To make matters worse, Belichick's red fleece lacked the bravado of 2005's gray number and he clearly knew it.
It was a rare misstep after a season of excellent outfits. If anything, it showed that the Great Belichick did, in fact, bleed the same color blood as us mortals: red, just like his fateful hoodie.
Super Bowl XLVI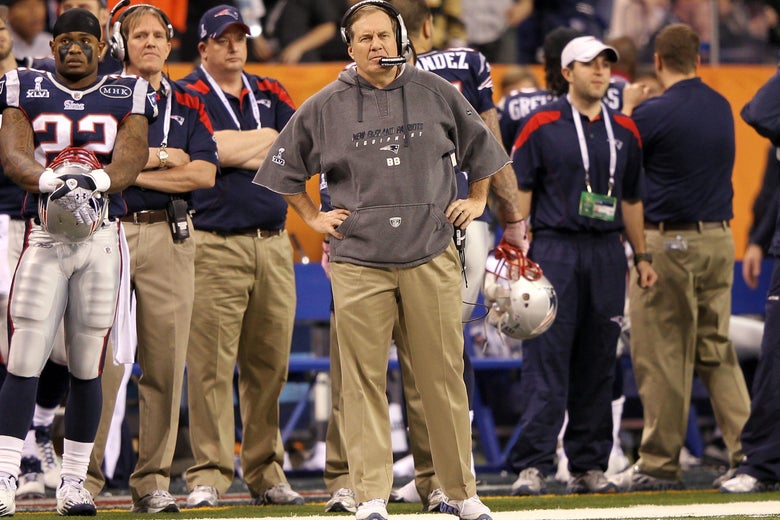 Belichick's doubters had no choice but to eat crow in 2011 when he appeared on the Super Bowl sidelines wearing this modern twist on a classic look. The hastily ironed-on initials across his lightweight sweatshirt reminded everyone that Bill Belichick was not to be dismissed. By pairing it with khakis creased all the way to the nipples, Belichick's Super Bowl XLVI ensemble will forever be remembered as a high point in New England Patriots history.
The Patriots lost to the Giants, 21-17.
Super Bowl XLIX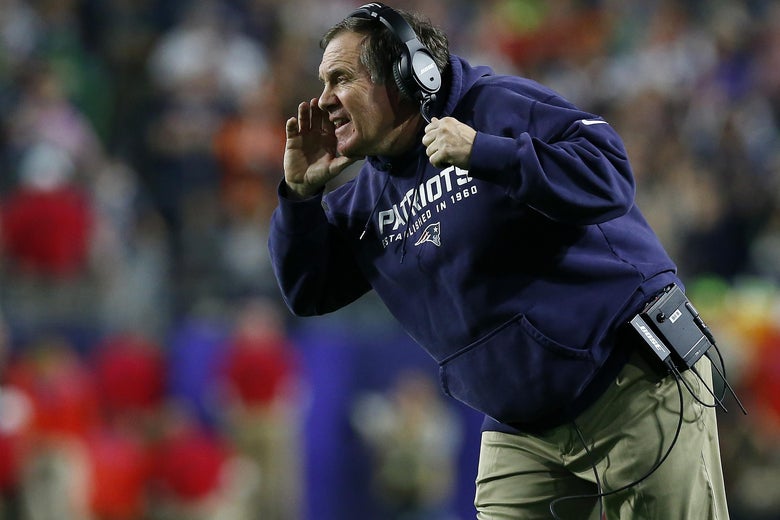 Sorry, people who believe in reincarnation, but it's time to confront some facts: Bill Belichick was born in 1952. Christian Dior died in 1957. That five-year overlap means it's impossible for the French icon to have been reborn in the infant body of the future New England Patriots' head coach.
Face it: Belichick's genius is all his own, and Christian Dior had nothing to do with this 2014 ensemble, worn during the Patriots' 28-24 victory over the Seattle Seahawks.
Super Bowl LI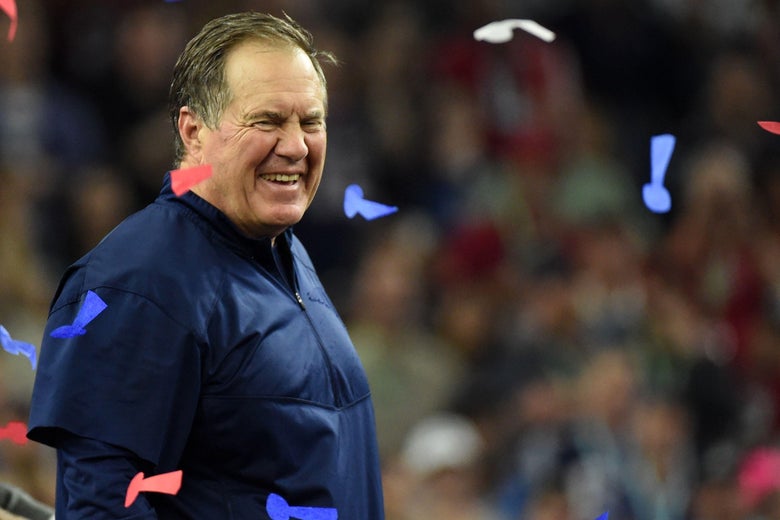 In 2017, the Patriots overcame a 28-3 deficit to defeat the Atlanta Falcons. It was the greatest comeback in Super Bowl history, one that was orchestrated by a man whose style has never fallen behind.
Take a bow, Coach Belichick. Some stars burn bright for only a brief period of time, but your sartorial genius has shown no signs of fading. The world eagerly awaits what you have in store for us on Sunday. It will undoubtedly be magnificent.
*Correction, Feb. 1, 2018: This post originally had the incorrect undefeated record the Patriots were striving for. It was 19-0, not 18-0.