In Episode 5 of American Crime Story: The Assassination of Gianni Versace, the spotlight moves from the killer Andrew Cunanan to his victim Jeffrey Trail, seen only briefly at the beginning of Episode 5 before he is viciously assaulted by Cunanan with a claw hammer. This episode fleshes out the relationship and, in particular, Trail's conflicted journey out of the closet, which is counterpointed with Versace's more serene progress. This episode is less about one specific crime story than a more general crime issue, homophobia.
Versace's Advocate Interview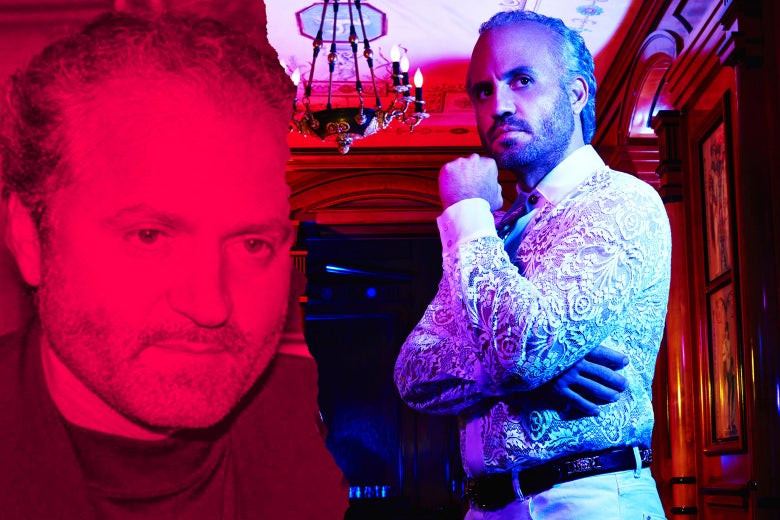 In the opening scene, Versace (Édgar Ramírez) announces his intention to come out in an upcoming interview with the gay-oriented magazine the Advocate. Furthermore, he wants to go public about his relationship with his companion (the designer's preferred term) Antonio D'Amico (Ricky Martin), which has been in the shadows for 13 years.
His sister Donatella (Penélope Cruz) is far from happy about this, pointing out that it could cost the company celebrity endorsements from actors and rock stars. As well, the company is opening stores in countries where homosexuality is illegal and which might not even let Versace enter in light of the revelation. Versace, however, is adamant. Thanks to the new retroviral drugs, his HIV diagnosis is no longer a death sentence and he feels he has to do something to deserve this new lease on life.
Versace did indeed give an interview to writer Brendan Lemon of the Advocate in July 1995 to promote his book Men Without Ties. The book is dedicated to "the three Antonios" of his life: his father, his nephew, and D'Amico, who, the interview notes, "knows every detail of the designer's peripatetic life." Moreover, it says, when Versace refers to D'Amico as his companion, "for once the phrase connotes not some Jamesian spinster being trundled around Europe by a niece or a euphemism bestowed by New York Times obituary writers [the paper's many obituaries of gay men in the '80s tended to refer to the lovers who survived them as 'longtime companions'] but a genuine term of endearment."
And while Versace never comes right out and says, "Yep, I'm gay," the article quotes the curator of the Metropolitan Museum's Costume Institute as saying, "there is no question that Versace's own out gay identity has been a part of this work." So that would seem to settle that.
Jeff Trail's Navy Career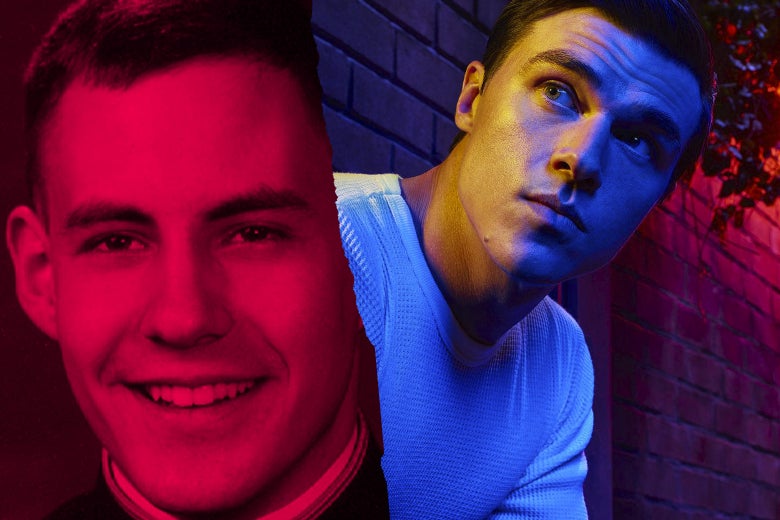 What Trail (Finn Wittrock) tells a fellow vet on his lunch break from his blue-collar job is largely true to the life of the real Jeffrey Trail. Trail was indeed an Annapolis grad who served a five-year hitch in the Navy, leaving in 1996 as a lieutenant, having served on a six-month peacekeeping mission in the Persian Gulf on the USS Gridley in 1992. According to Maureen Orth's Vulgar Favors, the source material for the show, his older sister Sally was indeed in the Air Force (and later attended the Army War College) and his brother Mike was a Navy corpsman.
According to the Washington Post, Trail really did then leave San Diego to take a position in Bloomington, Minnesota, at a propane delivery company, but his job as a manual laborer as depicted in the show is pure invention. He was a district manager.
The show suggests that Trail was happy being in the Navy until the homophobia he witnessed came into ever greater conflict with this growing awareness of his orientation. It also suggests that after he intervened to protect a gay sailor who was being bullied, his own sexuality came under scrutiny, he became more of a pariah, and his career prospects were ended.
But Orth reports that Trail already knew he was gay before he was deployed to the Persian Gulf and that he was popular with the 42 men he commanded despite being only one of two unmarried officers. Moreover, she asserts, his stymied career prospects had more to do with an ill-judged joke gift to a superior officer (a set of the board game Clue, because the man was thought of as clueless).
In ACS's version, Trail meets Cunanan in a San Diego gay bar after an unsuccessful suicide attempt brought on by realizing that he can either stay in the Navy or come out of the closet but not both, so he will have to choose. The show also suggests that Trail was very restrained when it came to meeting men.
Orth, however, says the decision was less anguished, maintaining "once Jeff came to terms with being gay, he began to make up for lost time in pursuing men," and quotes a naval officer who was Trail's roommate as saying, "I think that he decided the Navy was incompatible with the lifestyle he was beginning to enjoy, and he didn't want to pursue the Navy anymore." And Michael Williams, a friend of Trail's, told the San Diego Reader that while Trail loved the Navy, he also did public health outreach in the city's gay community, "like Project Lifeguard, which has to do with safe-sex programs," so clearly he wasn't that paranoid about being discovered.
One thing is certain: It was Trail who courageously spoke up about homophobia in the military on CBS's 48 Hours. "He chose to speak to us because he thought it was the right thing to do. He did the interview in silhouette but he was still taking a tremendous risk with his career," said CBS correspondent Richard Schlesinger, who interviewed Trail for the program. The gist of the interview, in which Trail says he'll be hunted if he comes out and that his Navy career was harmed by coming to the aid of the bullied gay sailor, is much as presented in ACS.
The Trip to Minneapolis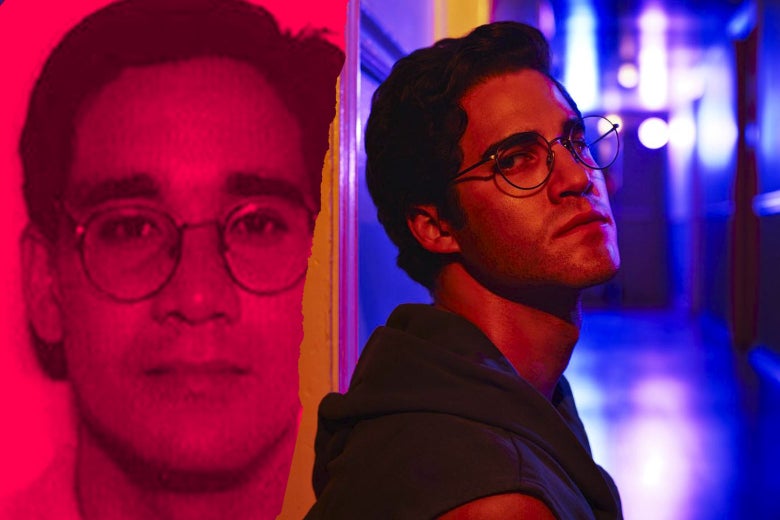 In the ACS version, Cunanan meets up with his friends ("my two best friends") at the Minneapolis airport, having guilt-tripped them into inviting him to stay for a weekend. Trail makes no bones about having no use for Cunanan any more, telling David Madson, "I'm giving him this weekend for old times' sake, then I'm done with him." The source of Trail's ire is that Cunanan has "mistakenly" sent a postcard to Trail's father that could reveal his sexuality. He agrees to let Cunanan stay at his apartment for two nights while he stays at his sister's, although he tells Cunanan he's going out of town (according to Orth, Trail did go out of town—with his boyfriend, Jon Hackett).
In fact, Madson alone greeted Cunanan at the airport. Cunanan did indeed give Madson a Cartier gold watch, although it is not certain a proposal accompanied it as the show suggests. According to Orth, the scene where the two went out to Nye's Polonaise, a campy polka club, that night and meet up with a female friend of Madson's is true to life. Cunanan spent the Friday night at Madson's loft and then, because Madson had a date, the Saturday night at Trail's apartment.
While it is not known if, as ACS suggests, Cunanan actually unpacked his host's dress white uniform and left it in a heap, thus precipitating a huge fight, witnesses do attest to a falling out between the two. Trail's friend Williams recalled speaking to Trail over the weekend and asking Trail "if he'd talked to Andrew. He told me that Andrew and he had had a huge falling out and that he would never speak to him again. When I asked why, he said he was just sick of the lies and the bullshit and all the stories." Moreover, several people recall Trail passing this dim view of Cunanan onto Madson. It's not clear whether the fallout was triggered by a postcard, but Trail's sister confirmed to People magazine that he had not told his parents about his sexuality.
Jon Hackett arrived at Trail's apartment on Sunday evening to find all traces of Cunanan gone except for an answering machine message asking Trail to call Madson's apartment, an appointment from which, of course, Trail never returned.
As is so often the case, it is the most apparently contrived detail that turns out to be true: Trail's family became aware that something was wrong because the day of the murder was the day Trail's sister went into labor and he didn't call the hospital, a message he never would have ignored.
Read more in Slate about The Assassination of Gianni Versace.