At 10:43 p.m. EST on Friday night, NBC's Dan Hicks declared skier Anna Veith the Olympic champion in the women's super-G. The 28-year-old Austrian, who'd won the same event at the 2014 Winter Olympics, tore her ACL and meniscus after the Sochi Games and has struggled to recover her world-beating form. A few days earlier, Hicks' colleague Bode Miller had said, with regard to Veith's subpar post-injury results, "The knee is certainly an issue. I want to point out she also got married. It's historically very challenging to race on World Cup with a family or after being married. Not to blame the spouses, but I just want to toss that out there, that it could be her husband's fault." (Miller later apologized for his idiocy.)
On Friday, with, in Hicks' words, there being no skiers left "with any kind of chance of getting on the podium," Veith had overcome her ligament damage and her marital vows and found her way back to the top. "Not a lot of people gave her much of a shot here," Hicks said, adding, "We will have more, including a chat with Anna Veith, the gold medalist, when we come back."
Veith never got that chat. NBC, which was broadcasting the women's super-G live, then went to commercial. The network then aired an interview with Lindsey Vonn, who finished just off the podium in the super-G, and cut from there to figure skater Adam Rippon's long program. At 11:11, 28 minutes after Hicks announced Veith as the winner, he came back on the air and said, "Well, these are the Olympics, and anything can happen. And it just happened in the women's super-G."
What happened was that Ester Ledecka, ranked 43rd in the World Cup standings, charged down the hill and beat Veith's time by one one-hundredth of a second. While it may have been true that not a lot of people gave Veith much of a shot in Pyeongchang, the announcers and the race organizers had acted like Ledecka barely existed. Ledecka, who is far more accomplished as a snowboarder, had started in the 26th position. The top 20 starting slots are reserved for those considered medal contenders. As Sports Illustrated's Tim Layden explained, the course typically deteriorates after the top racers chew up the snow, making it difficult for lower-ranked skiers to post solid times.
I highly recommend that you go back and watch the "enhanced feed" of Ledecka's run. (To see it from the beginning, fast-forward to the 1:07:10 mark.) As the 22-year-old, who represents the Czech Republic, skis on the left side of the screen, you can watch Veith futzing with her backpack in a small window on the upper right. Veith doesn't look up until Ledecka is almost at the bottom of the mountain. When Veith does finally get her eyes on a monitor and sees Ledecka's time, the Austrian whispers a one-syllable exclamation—"wow" or "whoa" or maybe "what."
Ledecka, for her part, stares at the scoreboard with her mouth agape for 30 seconds after she crosses the finish line.
Someone off camera, probably the camera operator, eventually tries to wake her from her stupor.
"You're first! You're the winner," he says.
Ledecka shakes her head as if she thinks she's being put on. "No," she says.
"You are!" the cameraman insists. "Come on!"
"It must be some mistake," Ledecka says.
His response: "It's not a joke."
Two minutes later, Ledecka gave Veith a hug and said, still incredulous, "How did that happen?"
On NBC, Miller explained that it happened because Ledecka took a more direct line down the course than her fellow competitors. Miller also suggested that the Czech woman may have absorbed some magic because she was racing "on Mikaela Shiffrin's skis." Shiffrin's mother later said it wasn't true that Ledecka had borrowed gear from the American gold medalist. It was true, though, that Ledecka was using hand-me-downs. "I always choose some skis which were already riding with some other girls, maybe from past seasons," Ledecka told SI's Layden, "because it's better for me because I don't do as many runs on them because I do also snowboarding." When asked by NBC's Heather Cox how she'd managed to shock the world, Ledecka again cited her other discipline: "I was probably the only snowboarder at the start, so all the girls, they risk a lot, you know, they are specialists, so there must be a lot of pressure on them, and I was just trying to do my best run."
Ledecka, who did that interview and her post-event press conference while wearing her ski goggles, later explained that she "was not as prepared as the other girls. … I don't have no makeup."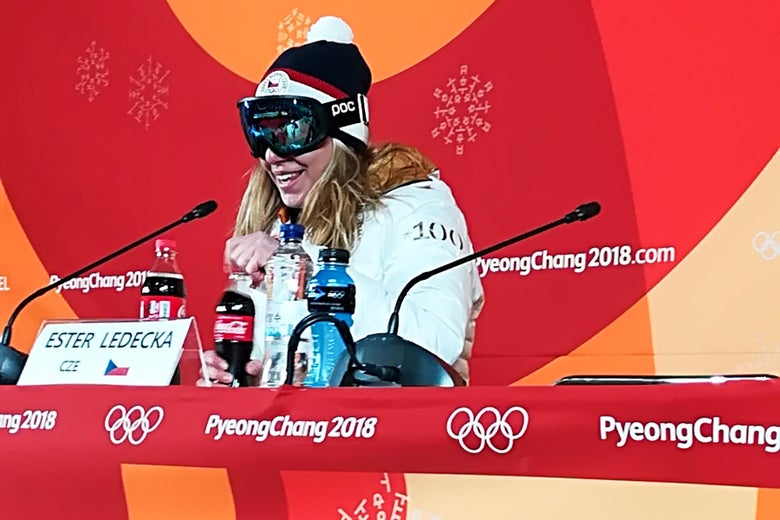 Ledecka and NBC will likely be more prepared next weekend, when she'll be the favorite to win gold in women's parallel giant slalom snowboarding. If she gets first place in that event, she'll do it with her own equipment. What's the fun in that?
Read the rest of Slate's coverage of the Pyeongchang Olympics.
• Snowboarder Lindsey Jacobellis Deserved the Redemption Narrative NBC Gave Shaun White
• Mikaela Shiffrin Is a Sleepy Skiing Genius