The blackest cultural event in recent history, known more widely as the premiere weekend for Marvel's Black Panther, looms large, and with well over a year of anticipation in the making, frenzy has reached a pitch that the descriptor "fevered" can't properly do justice. In just the first 24 hours of presales in early January, it handily bested the record for most advance tickets sold for a Marvel feature—previously held by Captain America: Civil War, which went on to open at $179 million. Black Twitter is awash in hype unlike anything we've quite seen before. The combination of built-in comic book nerds and all-star talent involved would've been enough to induce heart palpitations. But the legendary superhero's origin as king of the fictional African nation Wakanda adds yet another level to the anticipation: It taps directly into the long and rich tradition of black Americans' fascination with seeing themselves depicted as royalty in pop culture.
As comic book lore dictates, Wakanda is rich with a valuable material, known as vibranium, that many other countries would aim to exploit if it weren't for T'Challa's fiercely protective father, T'Chaka, who enacted a strict isolationist policy for the country. Black Panther's early appearances in the comics depicted a Wakanda that holds steadfast to specific African tribal traditions (he's referenced as a "hereditary chieftain" in Fantastic Four No. 52, where he first appears), yet T'Challa still enjoys the comforts that being the leader of an uber-wealthy nation brings. Wakanda is imagined as a country that is untouched by the evils of colonialism, quite literally hidden away.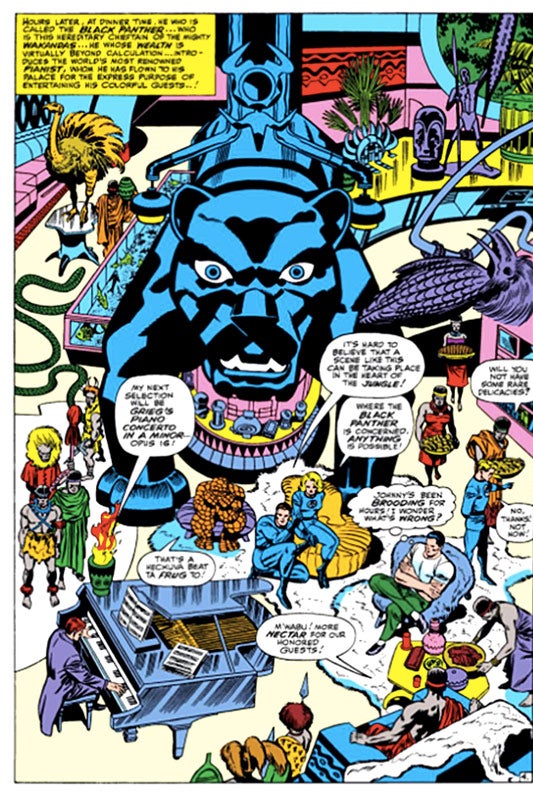 This aspect of the fantasy is key. White America's ongoing obsession with British royals remains oddly prevalent. The marketing of (mostly white) princesses and happy endings remain a lucrative machine for Disney. But this isn't either of those things. For decades, black people have been left to wonder what might have been were it not for the ravaging influences of colonialism. Invoking kings and queens is often a defiantly political act, and Black Panther is an exaggerated exploration of pride in something that has been taken away. Haile Selassie, emperor of Ethiopia from 1930 to 1974, seems to be an early example of how that kind of representation has manifested within pop culture.
A Time cover story reported on his coronation (a lavish ceremony that was speculated to have cost around $3 million) and suggested that while his "complexion and features … resemble those of a Spanish Jew, throughout the world … Negro news [organizations] hailed him as their own." During his first state visit to the United States in 1954, he was greeted with large, rapturous crowds in cities like Chicago, Harlem, and Washington, D.C. "Negroes … feel a distinct pride in the existence of a black nation with a black monarch," black Chicago Tribune correspondent Roi Ottley wrote then. (Jamaicans also felt kinship with him: According to a prophecy by Jamaican activist Marcus Garvey, the crowning of a black king in Africa would lead to freedom for Africans around the world, and many Garvey followers took this as a sign. Selassie is worshipped by Rastafarians as a messiah, perhaps most famously throughout the music of Bob Marley.) It's not clear how much his influence had upon Black Panther's white creators Stan Lee and Jack Kirby, but others have pointed to similarities between Selassie and king T'Challa, like the shared moniker "King of Kings" and their nebulous relationships to the throne.
It's not just Black Panther, however. Count Basie and Duke Ellington may have been figures in the sprawling tradition of "jazz royalty" where artists, regardless of race, played into the concept of aristocracy through nicknames and performance billing, but it's notable that they went by such honorific professional names primarily. (You never mention Count Basie without calling him "Count Basie," first and foremost, unlike Benny Goodman, sometimes dubbed "King of Swing.") Prince, he of the royal purple aesthetic and Minneapolis roots, was named as such by his father, reportedly because he wanted his son to "do everything I wanted to do."
Sometimes we assign nobility to important figures in our spheres to show others how highly we regard them: Kendrick Lamar's "King Kunta," for instance, subversively reimagines the iconic enslaved character from Alex Haley's Roots as a royal figure. And some just anoint themselves, with support from their fans. The "King of Pop," (who had a well-documented fondness for epaulette-adorned jackets and bedazzled sashes), imagines a love triangle set in an ancient Egyptian palace for his "Remember the Time" video. King Lebron James rules over his basketball court. Queen Beyoncé commands us to "Bow Down." (And we heed.) Rihanna channels Queen Nefertiti for a photo shoot.
And then of course, there's Coming to America, perhaps the most obvious and influential modern-day embodiment of black America's obsession with regality. In one of Eddie Murphy's most beloved roles he plays Prince Akeem, son of James Earl Jones' headstrong King Jaffe Joffer, ruler of the fictional nation Zamunda, and Queen Aoelon, gracefully portrayed by the late Madge Sinclair. Akeem shirks the tradition of arranged marriage set forth by his kingdom and takes a temporary vacation to America (Queens, New York, to be exact) in an attempt to find true love. In the process, he strips himself of all of his worldly possessions to fully assimilate into living with common folk. However, it's the sheer majesty of his Zamundan roots that viewers hold on to the tightest. Busta Rhymes paid full homage in his infamous Hype Williams–directed "Put Your Hands Where My Eyes Could See." Bey, Jay, and Blue dressed up like Zamundans for Halloween; Lupita Nyong'o hosted a Coming to America–themed party. Even the creators of The Lion King—which itself maintains a significance to black people of a certain generation—seemed to understand its impact: Jones and Sinclair would once again play parents to a prince as the voices of Simba's parents, Mufasa and Sarabi. (In Disney's 2019 Lion King remake, Jones will be the only main character from the original film to reprise his role. Queen Bey will voice Nala.)
I was introduced to the magic of Zamunda somewhere around 10 or 11 years old. It was the lavish wardrobe accented with shiny, exotic-hued jewelry and the hides of endangered animals, the air of nobility found in the natives' speech pattern that drew me in and led me to rewatch the movie countless times as I grew older. It was, of course, all fictional. (And, like the early Black Panther comics, largely influenced by a white American perception of African culture.) But it still felt right, it didn't seem too far-fetched. At one point, many, many years ago, I imagined, my people lived similarly. Even though all efforts have been made to whitewash history, there's a spiritual connection to the idea that persists.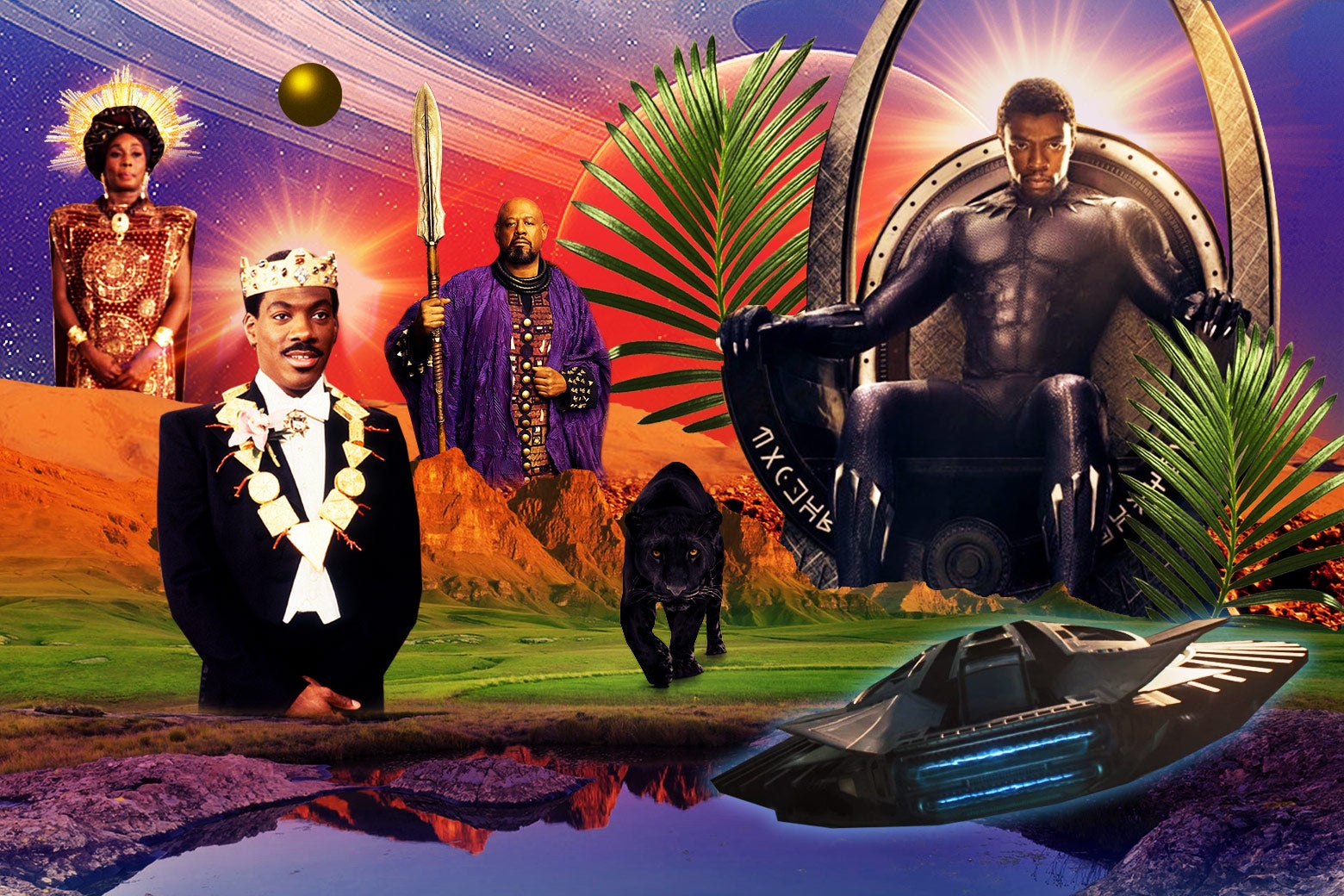 This is why I'm especially excited to see this depiction take center stage again in Black Panther. Revered titles such as Roots, The Color Purple, and more recently, 12 Years a Slave, tackle subject matter that are hardly feel-good topics yet still serve as essential viewing and indelible marks in our timeline. And Get Out and Moonlight have depicted the challenging nuances of black identity in modern times. But I dare argue that those aren't the only kinds of art we need right now. In a time where we still need to march in order to be seen and loudly declare our existence meaningful, it seems almost therapeutic to fantasize of an Afrofuturistic utopian alternate reality. From the looks of the red carpet premiere in Los Angeles, it feels like so much more than a movie. It's a celebration of why we matter, a window into what could have been. As Ava DuVernay so eloquently told the New York Times, "Wakanda itself is a dream state, a place that's been in the hearts and minds and spirits of black people since we were brought here in chains." Now, on screen, Ryan Coogler will provide us a peek into something that can't be milked: our collective imagination. And we'll be there to witness it, gleaming from ear to ear.