Figure skater Adam "Xanax and a quick drink" Rippon has emerged as one of the breakout stars of the Winter Games. Rippon has described himself on Twitter as a "glamazon bitch ready for the runway," but it takes more than feistiness—and some serious skating artistry—to achieve glamazon status: You also need some killer costumes. The man making Rippon sparkle in Pyeongchang is costume designer Braden Overett, the Los Angeles–based owner of Veretto Sport (an outfit whose other claim to fame is its popular collection of mohawk hats). Overett spoke to Slate about the popularity of crystals, Rippon's love of see-through garments, and his client's famously prominent posterior. Our conversation has been condensed and edited.
Heather Schwedel: Tell me about the first outfit we saw Adam wearing in the Olympics, in the team event on Sunday night.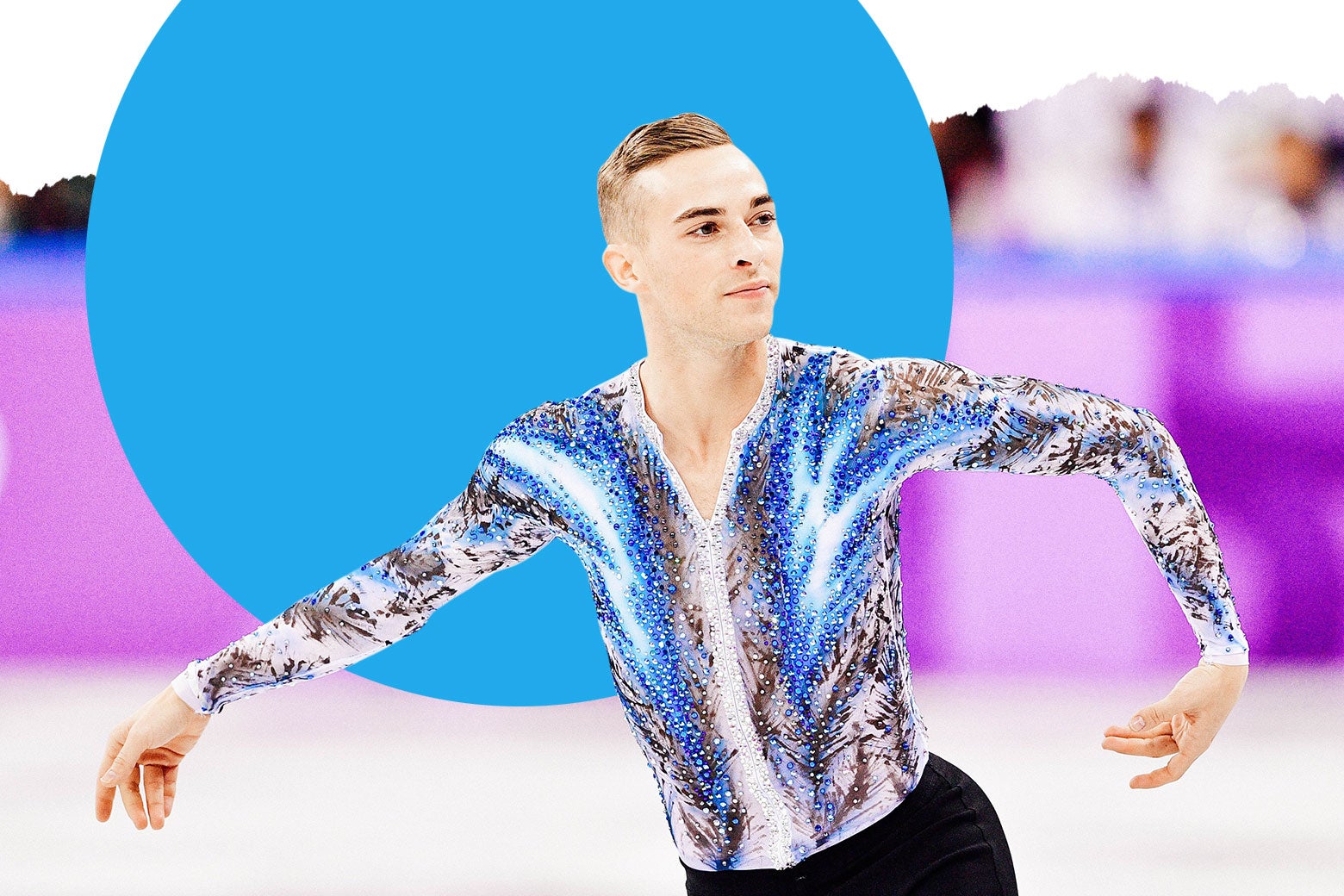 Braden Overett: The program he did on Sunday was the long program, which is the same program he'll do again this weekend. The shirt he's wearing this weekend is the original shirt we had designed for that program. The design concept originated out of feathers and water and this ethereal flowing sound. The program encompasses a number of different elements, not technical elements but auditory elements. We wanted to take a whole bunch of those and create something that was going to reflect both the choreography and the music. This was in the cement mixer of creativity from the day we started talking about it all the way until the day that the top was delivered. That process was more than a year long.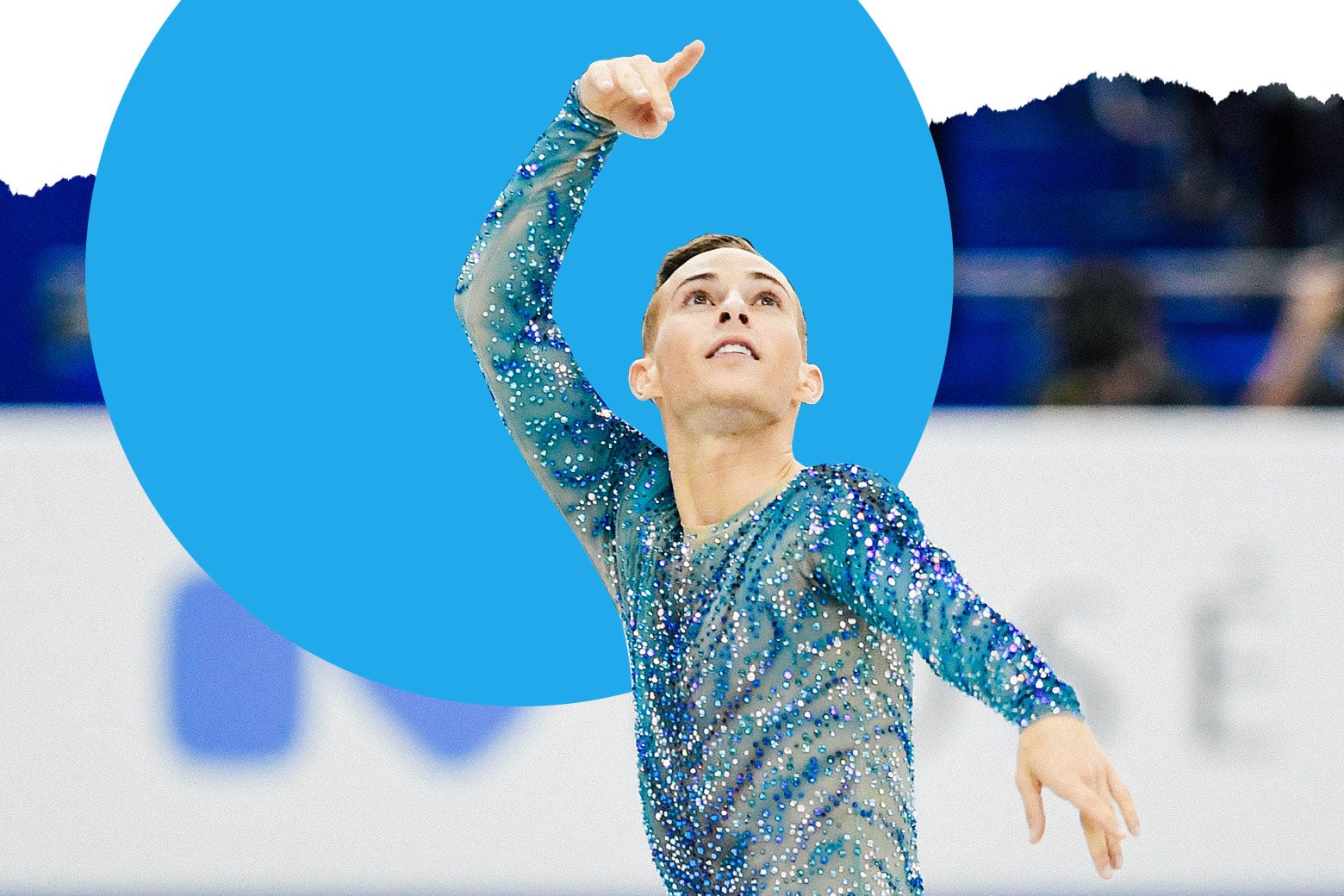 When we made the shirt he wore on Sunday, that was because he had done really well at nationals, and he knew he was going to do the team event. So we said, "Let's stick with the same concept, in this kind of feathery, watery thing, but we're gonna figure out a different element we want to punch up a little bit." We thought we'd make it a little more aggressive with some higher-contrast colors. We made this one a little bit more feather-focused rather than water-focused, more imagery of wings and flying whereas the other one is a little bit softer. The design concept was pretty much in place. We just had to figure out what we wanted to tweak, and then we had three-and-a-half weeks to do it.
The pants are still custom, but it's almost always like, "What color pants do you want?" That's pretty much your variation. You don't frequently end up with pants that are as designed and decorated as some of the tops.
What's something about Adam's first outfit that audiences at home might not have picked up on?
Probably a lot of people don't even know that it's mesh. The one that we saw on Sunday is so see-through you can like read the newspaper through it. And that's through both layers. When it's painted, you don't notice quite as much because it's not necessarily a skin color, but it is still very, very see-through. It's almost inevitably more crystals than anybody expects there to be on it. You're usually talking up into the 3,000 to 5,000 crystal range. Each one is hand-glued on. Every single step of that top is going to be personally engineered, and I think that a lot of people don't understand that. That's from the design to the fabric selection to the cutting to the painting. It's not a printed fabric that you can buy anywhere.
How would you describe Adam's style overall?
There are some elements he is extremely consistent with, and there are some things that totally change. He loves having skintight mesh, always. Growing up as a skater, that was probably my nightmare, to skate in mesh to begin with, let alone something skintight. So when he told me that, it was a little bit of a surprise at the very beginning, but he wears it so well and it works so well for him that I can't even imagine him in anything else. The cut of the shirt, the colors go all over the place, the added materials—his short program is a red shirt with leather on it. All of that stuff kind of varies, and the design concepts and the creative content go all over the place, but we stick with the consistency of having mesh. He loves having visible skin.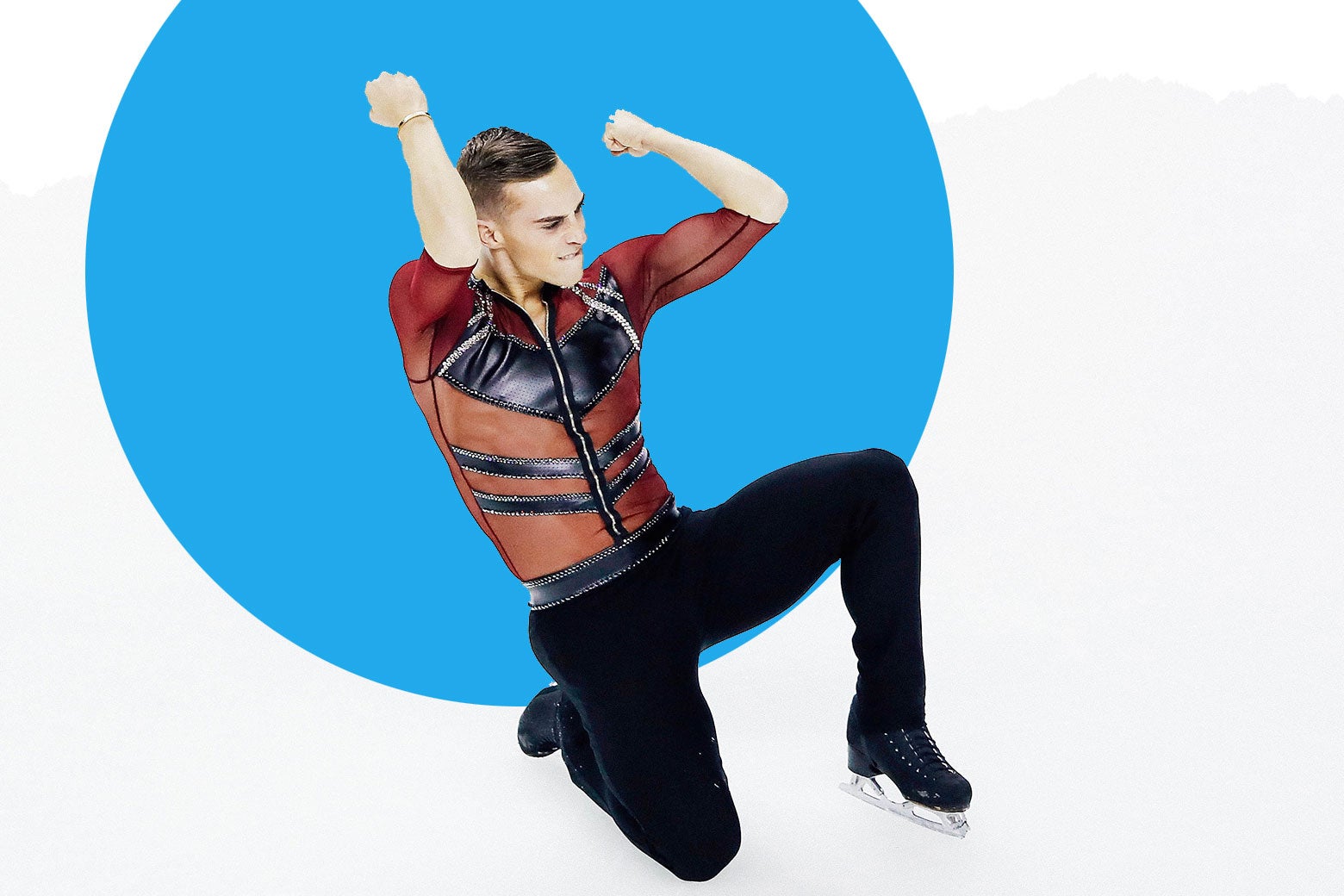 How does designing something to be skintight change your process?
In Adam's case, he likes it really, really tight. So tight. Every time we tighten something up a little bit, I get more and more nervous and I get less and less confident that it's going to function on him because it's kind of like holding elastic at a stretch constantly. I'm like, "Adam, if you snag this or if something happens, it's not just going to be a little hole, it's going to pop open and explode around you." It's a little unnerving in that regard because you want to be able to guarantee your work. That's part of my job, to make sure that the outfit works no matter what.
Adam's butt in particular has gotten a lot of attention. From a design perspective, is it unusual? What's it like to work around it?
Skaters are kind of known for having bubble butts. We just have really round, muscular butts, and Adam has a perfect example of that. So it's not something unusual for us to deal with a really round butt. The nice thing in Adam's case is that he doesn't try to hide any feature. When you're designing for someone, sometimes they say something like, "My shoulders are so wide," or "I'm very square in the midsection," or "I need to make my legs look longer," or you somehow have to play with kind of creating a new aesthetic with a shape that they can't change. Adam's never indulged a limitation like that. It's a combination of, he's not concerned about it and he's excited about what he does have. He's very strong. He's incredibly well-built for the sport. He's like, "Make it tighter. I don't need to hide my butt."
I find it to be more shocking that people are asking if [his butt] is real. I think it's hysterical.
How did you come to work with Adam?
[Adam and I] knew each other, and skating is a pretty small world. He moved out to L.A. to train, and he lived with one of my really, really good friends. He had asked me at one point to jazz up this stock shirt that he bought off of a ballroom dance website, I think. After that it was like, "Can we just go ahead and do next year's outfit?" It's a really good working relationship, and being friends is an awesome bonus to it. I'm flattered he still comes back.
It seems like crystals are the big thing in costumes now. What ever happened to sequins?
It's super rare to see sequins. A crystal, you're going to get a lot of twinkle out of—it looks like it's kinda blinging as it moves or goes by you in the rink. We'll look at every material and say, "What life does this material bring to the outfit?" You get super picky about the materials that go into what you want, because each one brings a different life for the viewer. Certainly for the skater, crystals are like a huge step up. Everybody wants crystals. It's got much more class, it's got a lot of richness to it, it's vibrant in color, it stays consistent, it just looks a thousand times better.
Are there rules or guidelines you get about costumes from the Olympics or figure skating organizations?
There are. It means that if you break the rules, it's a problem, but it doesn't mean that if you don't break the rules, it's not a problem. Within the last couple of years, U.S. figure skating has lifted some of the rules, and they allow you to show your shoulders, which is a big thing [for Adam]. So he wanted a tank top, and this is where we made a leather and mesh tank top. Adam was super excited about it. The outfit still accommodated every rule that was in place. But that doesn't mean that the shirt was super well-received. It was really well-received by most people. But in terms of being presented as a piece that U.S. figure skating was gonna love on an international stage, it was not their favorite.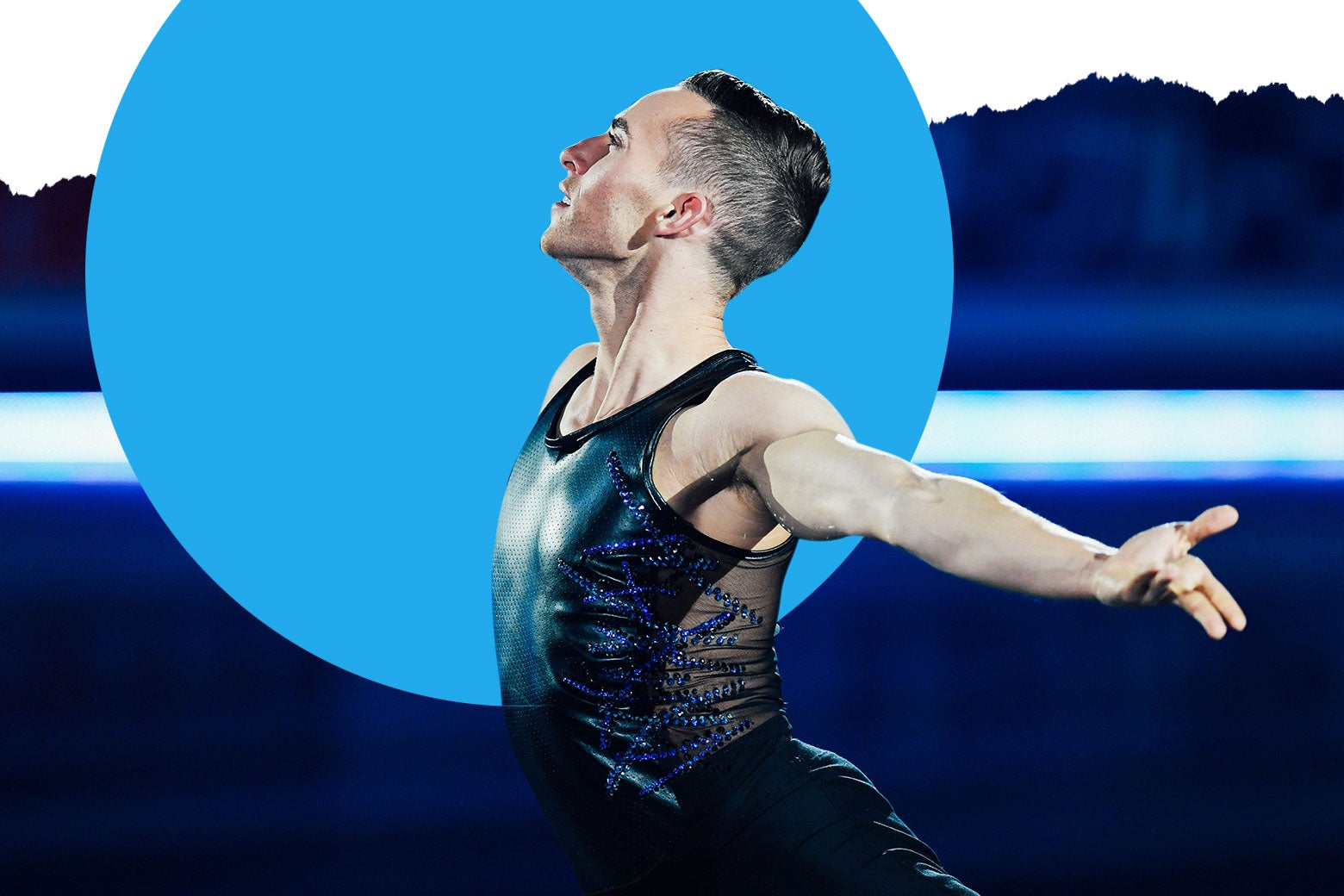 Can I ask you to take me through a few more of Adam's past looks? Let's start with this white top.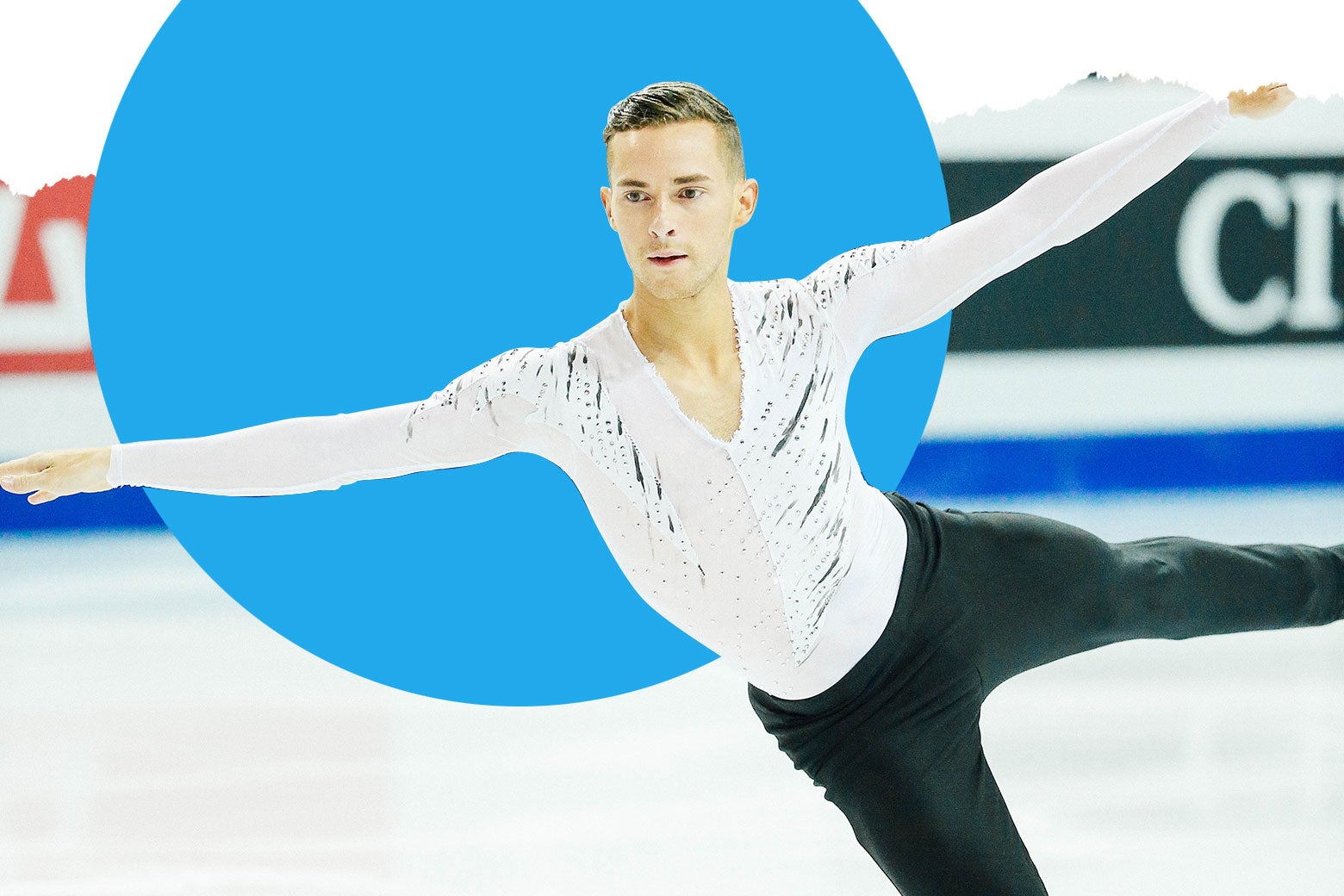 Let's pretend like that shirt doesn't exist. Adam had come to me and said, "Hey, I'm doing a little show, I just need a little shirt to wear, like something super low-budget." Come to find out later it was for performing in Stars on Ice. I didn't even really know what this was for. I kinda threw something together based on the few things that we had talked about. Then he kept wearing it. I keep telling him, "You're not gonna wear that shirt again." And it ends up on all these cards and all that kind of stuff.
This is one of those things with Adam, because he's OK with pushing limits and trying new things, it's great because you go though a creative discovery process, but it does not mean that every discovery you have it's going to be a positive one.
What about this royal blue, band-leader look?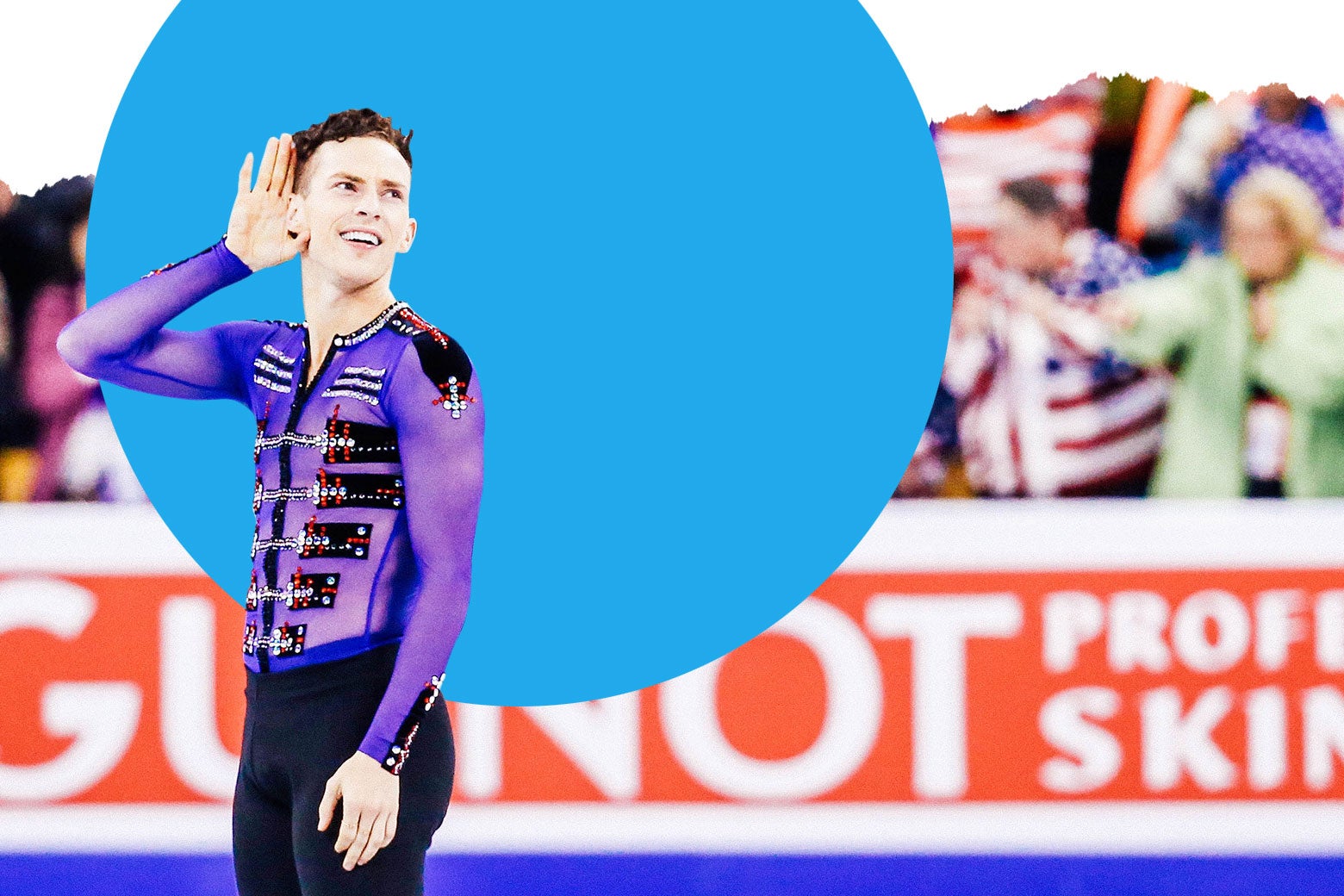 That was in the 2016 competitive season. He was skating to a Beatles medley. That shirt is the second shirt we made for that same program; the first one was bright red and had mesh and yellow. He just wasn't feeling that original shirt. He loved the shirt he had for his short program so much that he was like, "I want to love my long program [outfit] that much." So we kind of kept going with it. We kept trying different stuff.
Are there any other of Adam's outfits you would call out as particularly special?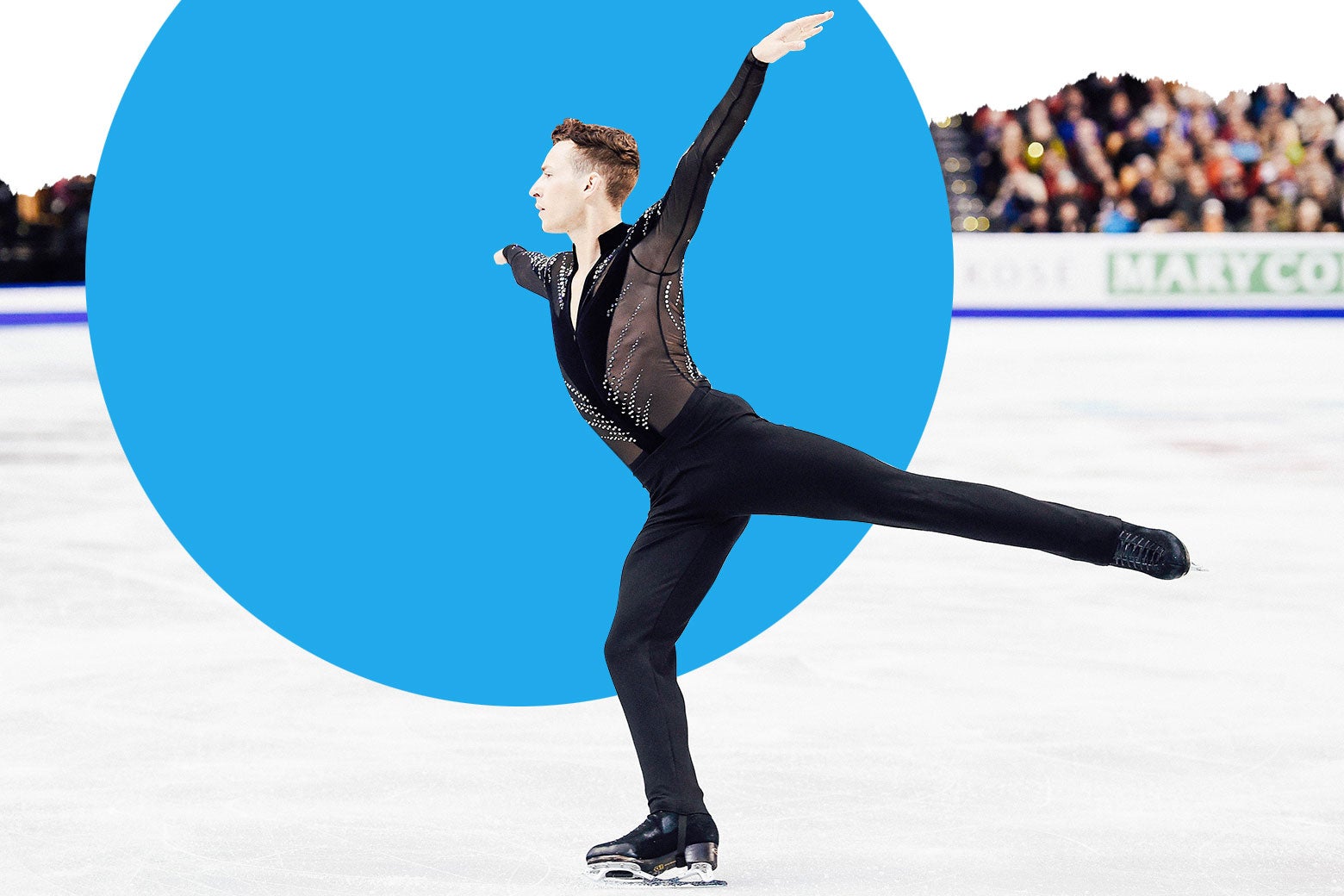 The one that was probably a game-changer with us, with me and Adam creatively, was the short program outfit from that 2016 season, which is black and it's got kind of a stripe of velvet that goes straight up. He usually unzips it. And it's got some lines that come off of him, and then on the back it's got this enormous crystallization. It's got a lot of sharpness to it, it's high contrast.
I knew that when I delivered it, his reaction was so positive that you know you did it right. You know you hit the nail on the head. It creates a different relationship between you and the client. It is so important for a skater to feel comfortable. His reaction was so positive that we were like, OK, we've kind of set the bar at this place. This is where we want to operate. I don't want to give him something that he ever reacts to less than this. Which is a high bar.
Read the rest of Slate's coverage of the Pyeongchang Olympics.
• Bronze Medalist Adam Rippon is Winning the Winter Olympics
• Adam Rippon Skated Flawlessly But Lost to Two Guys Who Fell. Here's Why.
• Ice-Dancing, Vlogging Olympic Siblings Maia and Alex Shibutani Want to Sell You Orange Juice