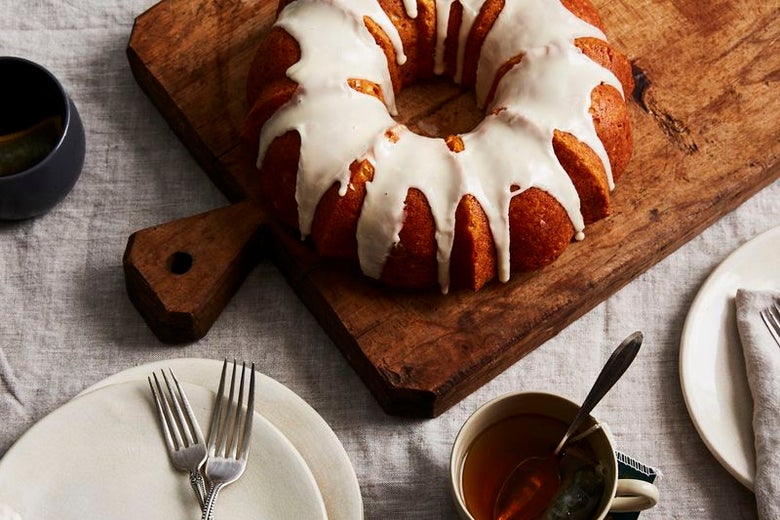 For all of us who can't get enough of juicy-sweet citrus season, there is a cake for us. I don't think we could make a brighter, moister, more deliciously-riddled-with-orange cake if we tried.
You might be thinking this is one of the genius breed of cakes made with whole citrus boiled for hours to make a custard-like, gluten-free base. (I included Claudia Roden's famous three-ingredient Orange & Almond Cake in the original Genius Recipes cookbook, and Nigella Lawson is known for a couple with clementines.)
It's not! This one doesn't bother with the boiling at all. Instead, you toss fresh chunks of orange—skin, pith, and juicy flesh—right in the food processor and blitz till only tiny flecks of skin remain. In this way, it has more in common with cult favorite Lazy Mary's Lemon Tart, whose filling comes from a whole Meyer lemon pummeled in a blender. I just never expected a comparatively burly orange to be so forgiving.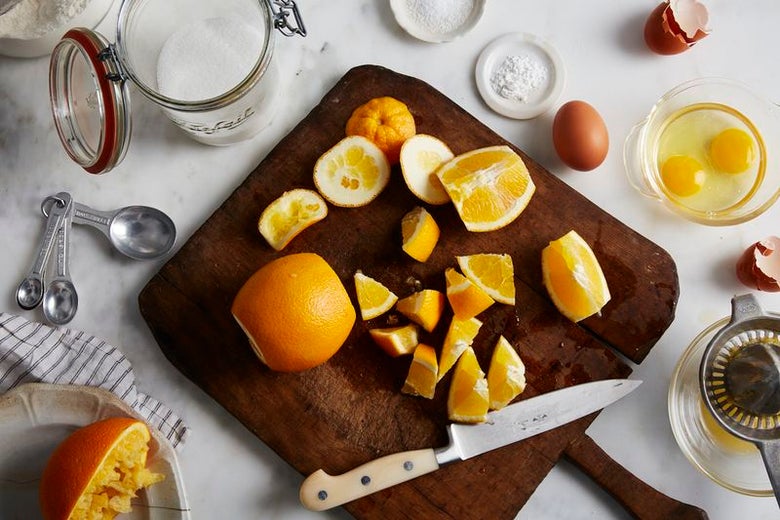 I discovered this lovely recipe after following the trail of bread crumbs from Food52er hardlikearmour's winning riff with five spice streusel back to Sunset Magazine and recipe developer Stephanie Spencer. Everyone I've served it to has quickly fallen in love.
After mixing the pulpy orange slush into the batter, the cake that comes out is incredibly moist (and gets more so by the day), with a flavor that's marmalade-like but brighter, for people who prefer a bit of bitterness and complexity to straight sweet. For any who don't, the glaze is a good distraction.
Serves 12
·       2 sticks (225g) unsalted butter, softened, plus more for the pan
·       1 1/4 cups (250g) sugar
·       3 large eggs
·       2 oranges (about 1 pound/450g), ends trimmed, then cut into chunks and seeds removed
·       2 1/2 cups (315g) all-purpose flour
·       1/4 teaspoon salt
·       1/4 teaspoon baking soda
·       1/2 teaspoon baking powder
·       1 1/2 cups (185g) confectioners' sugar
·      2 tablespoons plus 1 teaspoon freshly squeezed orange juice, from half an orange
See the full recipe on Food52
More from Food52
Duck à l'Orange? Pas De Problème!
Why You Should Mix Salads With Your Hands (Bye-Bye, Tongs!)
Out of Vanilla Extract? This Substitute is Probably in Your Kitchen
The Genius Little Secrets of Creamy, Rule-Breaking, Truly One-Pot Risotto
A Genius New Salad Craze, Shepherded by Smitten Kitchen
The 10 Most Overlooked Genius Recipes of 2017 (+ Why They Deserve More Love)
One more thing
You depend on Slate for sharp, distinctive coverage of the latest developments in politics and culture. Now we need to ask for your support.
Our work is more urgent than ever and is reaching more readers—but online advertising revenues don't fully cover our costs, and we don't have print subscribers to help keep us afloat. So we need your help. If you think Slate's work matters, become a Slate Plus member. You'll get exclusive members-only content and a suite of great benefits—and you'll help secure Slate's future.
Join Slate Plus
Join
---