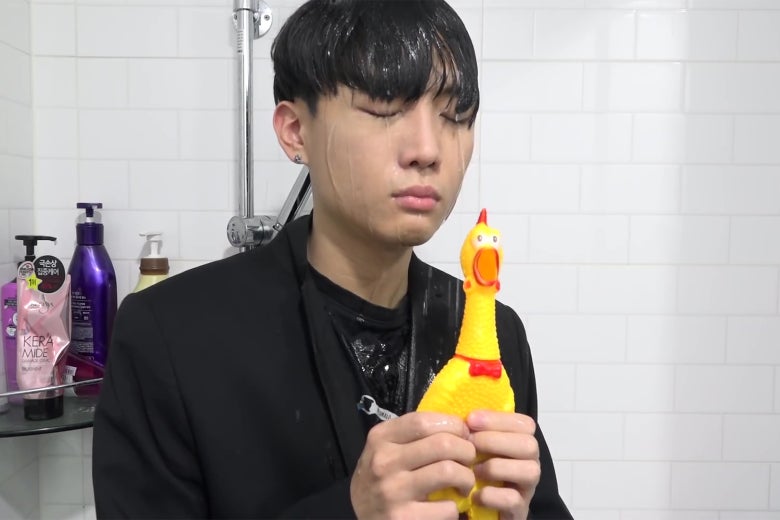 Once in a generation, an artist appears whose work so perfectly embodies his or her time and place that the traditional role of the critic—exploring and explicating the work at hand—is completely obviated: people just get it. Once in every ten or twenty generations, that same artist simultaneously moves the state of their medium forward, creating new forms and styles that influence everyone who follows. For those of us who write about art, confronting this kind of once-in-a-millennium talent is a moral test as much as an aesthetic one: it's easy to fall prey to envy, Salieri-like, instead of appreciating the great cosmic fortune that has allowed you to live in the same time as someone who is redefining the world right in front of your eyes.
The proper response for a critic in that kind of situation is to simply applaud the new talent's arrival, both for those living today and for those who won't be born for hundreds or thousands of years, but whose lives will be forever richer because of the great leap you were lucky enough to witness. Boswell recognized this in Johnson, Aurier in Van Gogh, Brod in Kafka. And now that great historical charge has fallen to me, as I draw your attention to the music of Big Marvel.
In only nine months of posting videos to YouTube, this Korean musician has changed the shape of music—indeed, of sound—forever. But don't take my word for it; experience his work in as unspoiled and unmediated a state as possible. Here is his astonishing cover version of "Peek-A-Boo," by Red Velvet:
If, countless centuries from now, "Peek-A-Boo" were the only fragment of Big Marvel's work to survive, he would still be immortalized as a revolutionary talent. But time and entropy have yet to play their cruel, petty games with his oeuvre, which means we can listen in awe to his heartfelt version of "My Heart Will Go On (Love Theme From Titanic)." We all know the song, but Big Marvel plumbs emotional depths Celine Dion could only hint at. In the process, he has forever changed the way humanity understands its own sorrow and pain:
But it's his cover of "Look What You Made Me Do" that draws together all the disparate strands of Big Marvel's passions and obsessions into a comprehensive whole. Here, musician and music exist in a harmonic tension heretofore unknown:
It would be nothing but vanity to litter the work of Big Marvel with further exegesis from a lesser mind like my own. Better, instead, to step back as Jonson did, and humbly hail the arrival of "the Soule of the Age."
One more thing
You depend on Slate for sharp, distinctive coverage of the latest developments in politics and culture. Now we need to ask for your support.
Our work is more urgent than ever and is reaching more readers—but online advertising revenues don't fully cover our costs, and we don't have print subscribers to help keep us afloat. So we need your help. If you think Slate's work matters, become a Slate Plus member. You'll get exclusive members-only content and a suite of great benefits—and you'll help secure Slate's future.
Join Slate Plus
Join
---