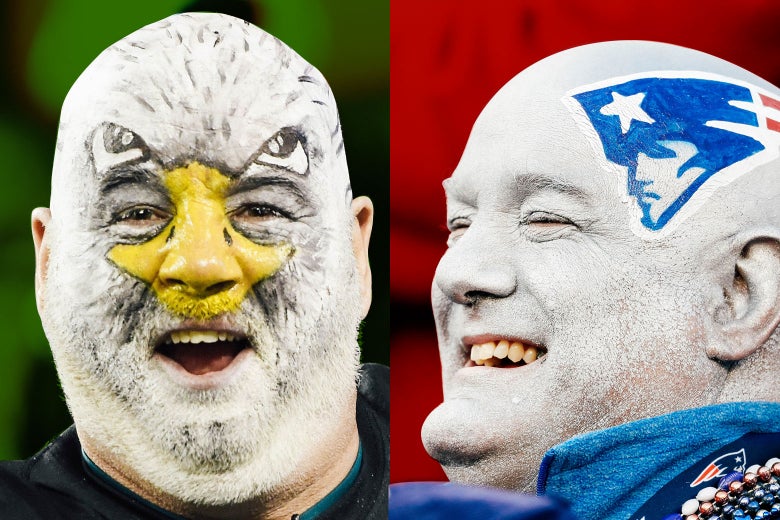 Chances are you already know if you are a fan of the Philadelphia Eagles or the New England Patriots. Congratulations! This must be an exciting time for you.
But if you're one of the millions of Americans who haven't attached their egos to the on-field performance of the Eagles or the Patriots, Super Bowl LII might be an alienating experience. Sure, you could watch as a neutral party and cheer for an even, hard-fought contest. But then you'd be like Switzerland, and Switzerland already has a football league. Last I checked, the Zurich Renegades aren't facing off against the Geneva Seahawks in the Super Bowl; it's the Patriots vs. the Eagles, and you better choose one of those teams lest you enjoy a football game without forming an unhealthy emotional attachment.
As the crow flies, Philadelphia's Lincoln Financial Field is only 254 miles from Foxborough, Massachussetts' Gillette Stadium, yet these two teams couldn't be more different. To understand which organization deserves your support, please consult this helpful guide.
If You Like Dogs …
… cheer for Philadelphia. The Eagles were home underdogs in both their postseason games, a fact that was not lost on their players. That's why linemen Chris Long and Lane Johnson started wearing rubber dog masks on the field after games and in interviews. Considering the Patriots will be heavily favored in the Super Bowl, prepare to see plenty of those masks in the coming weeks.
If You Like Cats …
… cheer for the Patriots. Specifically star tight end Rob Gronkowski, who was the subject of a feline-heavy ESPN photo shoot.
Cat lovers will also be thrilled to learn that head coach Bill Belichick carries himself with the ebullient warmth of a colicky Scottish Fold.
If You Find Success Routine …
… root for New England. For fans of, say, the Browns or Lions or Vikings, getting to see their team play in one measly Super Bowl would represent a miracle of Old Testament proportions. This is not the case for Patriots fans, who have been spoiled to the core.
Like a Skinner rat who knows exactly where the cheese is, Pats supporters have become so engorged on success that they've forgotten what life was like before the world transformed into a never-ending buffet of gorgonzola.
If you can put up with the rote annoyance of repeated trophy presentations, the Patriots are the team for you.
If the Sheer Thought of Success Excites You to the Point Where You Become a Danger to Yourself and Others …
… root for Philadelphia. The Eagles have lost both Super Bowls they've played in (the last of which was against the Patriots, in 2005). The Eagles faithful are so starved for success that, before the NFC championship game, city workers greased up light poles to prevent revelers from climbing the fixtures like overexcited squirrels. The Eagles won, of course, but the grease proved to be no match for their exuberant fans.
If You Like Quarterbacks Who Tiptoe the Fine Line Between Enjoying a Healthy Lifestyle and Joining the Esoteric Order of Dagon …
… then Tom Brady is your guy. The Patriots' star will likely be remembered as the greatest quarterback in history, and at 40 years old, he's performing better than any player ever has at such an advanced age. Brady attributes his longevity to a monklike existence and an extreme diet. He refuses to eat any foods that are pale or white, and he won't touch peppers, mushrooms, and eggplants (to name just a few). He allows himself to eat tomatoes once a month, when he wants to splurge. Brady also drinks up to 25 glasses of water a day and believes that staying hydrated prevents sunburn.
In recent years, Brady has become a devout follower of Alex Guerrero, his shamanlike body coach. The two are business partners whose ventures include lifestyle guides, nutritional supplements, and TB12 Sports Therapy Centers. Guerrero is an interesting fellow who, according to the FTC, pretended to be a doctor in an infomercial for health supplements that he claimed could cure cancer. (Sadly, Guerrero's "Supreme Greens" do not cure cancer.)
Guerrero's close relationship with Brady reportedly irked Belichick so much that the Patriots banned the trainer from the team plane and revoked his sideline access.
Nonetheless, the proof is in the (starch- and gluten-free, paleo) pudding. If Brady wanted to fly a spaceship to train on Hale-Bopp this offseason, who are we to object?
If You Like Quarterbacks Who Are Named Nick Foles …
… then the Eagles are for you.
Philadelphia fans love their young, tough, and charismatic star quarterback. Sadly, Carson Wentz tore his ACL in Week 14. But against all odds, Wentz's backup has led the Eagles to the Super Bowl, a journey that included a bafflingly great NFC Championship Game performance.
Foles has bounced around the league, but, unlike most No. 2 quarterbacks, he did spend a full season amongst the NFL's elite. In 2013, during his first stint with the Eagles, Foles threw for 27 touchdowns and just two interceptions. That miracle year included a game in which he completed an NFL record of seven touchdown passes. If Foles breaks that record in the Super Bowl, then Tom Brady is definitely flying on a spaceship to train on Hale-Bopp this offseason.
If Your Good Friends Were So Good and So Encouraging Before Your Incredible Election Night Win, Something That More and More People Are Saying Was Unlike Anything Else in History, Really It Was So Amazing, So Good and So Much …
… then you will enjoy seeing the Patriots win. Owner Robert Kraft gave Donald Trump a Super Bowl ring this year. Brady once prominently displayed a "Make America Great Again" hat in his locker. Belichick wrote Trump a letter of support before the election, which Trump read at a New Hampshire rally.
Thanks to the loyalty displayed by New England's stalwarts—and loyalty is so important, more and more people are saying so—it shouldn't be hard to choose who to root for at your Mar-a-Lago viewing party.
If You Are Sylvester Stallone …
… then you should root for Philly. As an Oscar-nominated filmmaker and member of the International Boxing Hall of Fame (nonparticipant category), you bring a winning pedigree to a team that has underachieved for far too long. Plus, you already recorded an Instagram pump-up video for the Eagles, so you're pretty much locked in.
If You Are Mark Wahlberg …
… root for the Patriots. Few people know this, but you are from the Boston area. To inform the ignorant public of this fact, get decked out in New England gear and head to Minneapolis to see the big game in person. But if the Patriots are losing, feel free to go home early like you did during Super Bowl LI. This time, however, you can root for the Eagles in the second half, a team that is close to your heart because you starred in the film Invincible, which was inspired by the true story of Philadelphia wide receiver Vince Papale. If the Patriots come back, as they sometimes do, feel free to jump ship again.
Actually, everyone should follow Wahlberg's lead. Cheer for whoever's winning. Hell, take a nap during the fourth quarter so you don't have to see the result. Dream about hoisting the Lombardi Trophy yourself, and take melatonin at halftime to ensure those dreams are incredibly vivid. Now you're the Super Bowl champ. Congratulations!
One more thing
You depend on Slate for sharp, distinctive coverage of the latest developments in politics and culture. Now we need to ask for your support.
Our work is more urgent than ever and is reaching more readers—but online advertising revenues don't fully cover our costs, and we don't have print subscribers to help keep us afloat. So we need your help. If you think Slate's work matters, become a Slate Plus member. You'll get exclusive members-only content and a suite of great benefits—and you'll help secure Slate's future.
Join Slate Plus
Join
---