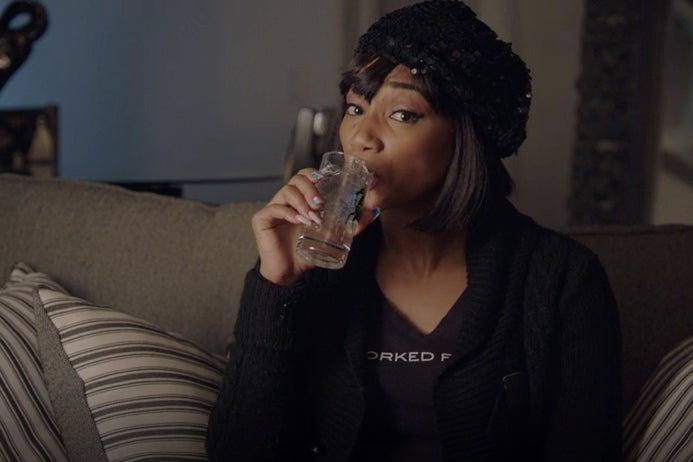 In the return episode of Comedy Central's Drunk History, a drunk Tiffany Haddish takes us back to World War II France, recounting the story of Rose Valland, the war hero who saved thousands of works of French Jewish art that had been plundered by the Nazis. In the words of tipsy Haddish, "She ready."
Because this is a story about art, Haddish started her segment off by doing some drunk coloring. "When I used to date drug dealers and gangbangers, I make them do coloring," she told host Derek Waters. "If you stay in the lines … you know what I'm saying."
Haddish then introduced viewers to the famous art historian/dopest spy Rose Valland and the Nazis she outsmarted. "You know what I know? Art," said Haddish/Valland, looking super pleased with herself. Valland was an assistant art curator at a gallery in Paris when the Nazis began plundering National French and Jewish-owned art. "They were like, 'This our spot. This where we gon' be at'," said Haddish/the Nazis.
Valland/Haddish was furious at the disrespectful way the Nazis were treating the art, and memorized all their hiding places. It was "ghetto as hell," said Haddish, after cycling through a fantastic range of German and French accents, sometimes within the same character.
Haddish has a theory on why failed, bitter artist Adolph Hitler couldn't get into a famous art school he wanted: He couldn't stay in the lines. "'Cause you mad you didn't get to get into school," said Haddish, who is Jewish herself. Or as she puts it, a Jew-Jo (Haddish's father is a Jew, and her mother was a Jehovah's Witness). She also has a theory that Hitler isn't really dead, but maybe, just maybe, she only said it to mess with the scene re-enactors.
"I think he's hanging out with Tupac."
One more thing
You depend on Slate for sharp, distinctive coverage of the latest developments in politics and culture. Now we need to ask for your support.
Our work is more urgent than ever and is reaching more readers—but online advertising revenues don't fully cover our costs, and we don't have print subscribers to help keep us afloat. So we need your help. If you think Slate's work matters, become a Slate Plus member. You'll get exclusive members-only content and a suite of great benefits—and you'll help secure Slate's future.
Join Slate Plus
Join
---