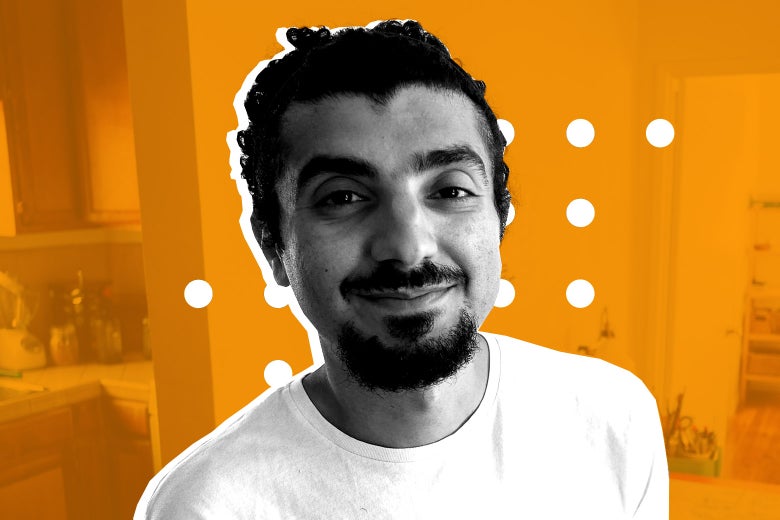 When you've got Egyptian heritage and live in the West, something funny happens when you meet another Egyptian. We get giddy, we smile a lot, we act as if we've known each other forever. After some coffee and a quick tour of his California bungalow, the graphic artist known as Ganzeer hands me a stack of some pages from The Solar Grid. The black-and-white pages are crinkled and dried after being soaked in ink. Each panel looks like it may have taken hours. It's a lot of work for just one person to complete, but it makes sense that this is the next step in Ganzeer's career as an artist.
Seven years ago, in the wake of the 2011 Egyptian uprising that ousted military dictator Hosni Mubarak, Ganzeer's public murals became an international symbol of the chaos in Tahrir Square. On the square's battered walls, he painted larger-than-life portraits of people killed by Mubarak's military brass, the Supreme Council of the Armed Forces; in red, yellow, black, and white, Ganzeer's faces channeled the frustration of the growing throng of occupying protesters. He was far from the only muralist at work in the area but found himself at the center of Egyptian street art after his work appeared in publications worldwide, most notably his image of a life-size military tank aiming its barrel at a boy on a bicycle. Nearly overnight he began to be compared to some of the most famous graffiti artists in the world.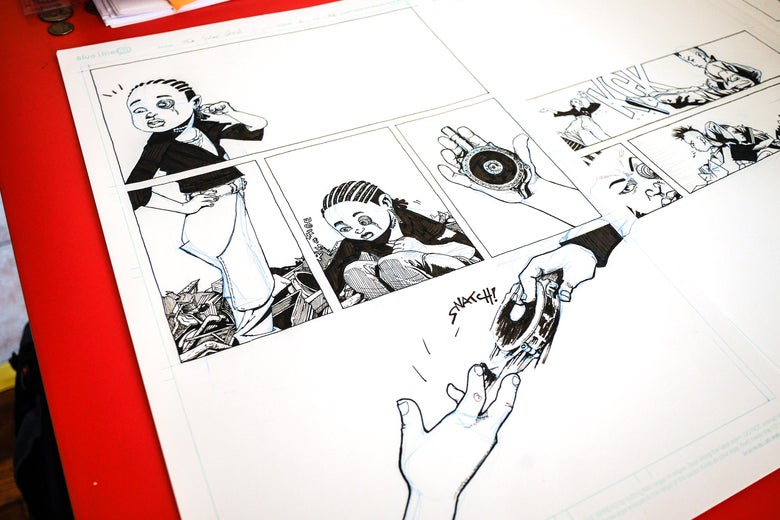 After a short detention, Ganzeer fled to the U.S., bringing his appetite for protest art with him. His first solo show in his new country was critical of American culture and law enforcement. In that same spirit, he's now working on a graphic novel called The Solar Grid, which he funded via Kickstarter.​ It's a story about the inevitable destruction of our planet by corporate greed and a couple of unassuming antiheroes who somehow bring it all down. This is a story of revolution, the powerless taking power back from the powerful.
As much as I wanted The Solar Grid to be a retelling of the Egyptian revolution, Ganzeer says the idea is more universal than that. "The motive of it is not Egypt," he told me. "The seed of it is [the] consequence of environmental connotations, and the part of the story where we have the two most unassuming insignificant people in the story you can ever imagine can actually be the ones who can change everything. That idea, that seed, is very universal, so why limit it to Egypt or something only Egyptians can understand? In attempting to take that idea and let it evolve, the idea of The Solar Grid came about."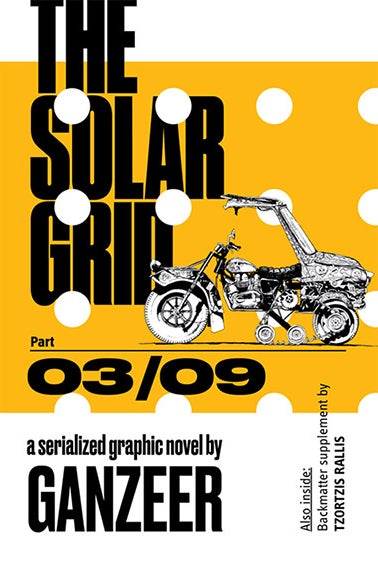 Ganzeer's graphic novel begins when night is eliminated forever on Earth. A network of satellites capable of farming the sun's light and energy to redistribute it to the dark side of the Earth enables corporations to run their solar-powered factories around the clock, but it also causes insurmountable ecological disasters around the globe. Although it comes in the wake of the U.S.'s withdrawal from the Paris Climate Agreement, Ganzeer's comic isn't a shot at the young Trump administration but a criticism of corporate greed going back to the beginning of the Industrial Revolution.
Ganzeer explained that the idea for The Solar Grid originally came from a real ecological catastrophe in Egypt. The Aswan High Dam was created to harness the power of the Nile, but the ecosystem that had nourished animals, fish, and soil that for thousands of years was altered significantly, devastating Mediterranean fishing industries and displacing more than 100,000 locals. In his retelling, Ganzeer expanded the idea from the Nile to the Earth's sun, and working from the idea that revolution sparking from the most unassuming characters was universal, he left up to two orphans, the main characters, to restore the natural order.
Egypt is still very much in the midst of its revolution. The military was able to maintain its power through its current dictator Abdel Fattah el-Sisi, who's demonstrated his willingness to crack down on political dissidents. Ganzeer doesn't think it'll be safe for him to go home any time soon, so for now, he is undertaking this several-years-long project to produce an art piece that can be accessed by anyone with an internet connection, releasing chapters of the novel as he finishes them on thesolargrid.net. He hopes to complete this project by 2019. I don't think he'll ever be able to stop himself from speaking against power, but for now it seems The Solar Grid will keep him busy.
One more thing
You depend on Slate for sharp, distinctive coverage of the latest developments in politics and culture. Now we need to ask for your support.
Our work is more urgent than ever and is reaching more readers—but online advertising revenues don't fully cover our costs, and we don't have print subscribers to help keep us afloat. So we need your help. If you think Slate's work matters, become a Slate Plus member. You'll get exclusive members-only content and a suite of great benefits—and you'll help secure Slate's future.
Join Slate Plus
---