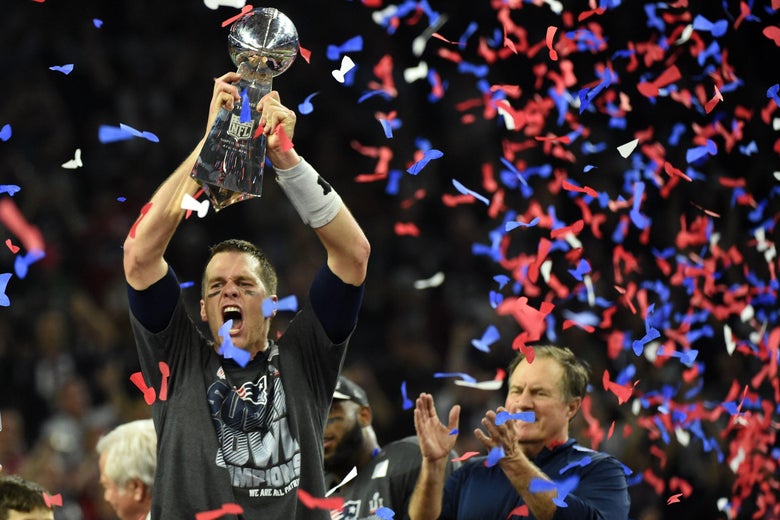 The flu doesn't go away. It mutates, returning as an immunologically resistant version of its former self. Some influenza seasons, like the current one, are worse than others, but even in benign years the bug manages to hang around long enough to plot its inevitable comeback. It evolves and mutates for no other reason than to make you feel like crap.
Bill Belichick would be proud.
On Sunday, Belichick, Tom Brady, and the New England Patriots will play in their seventh straight AFC Championship Game, and their 12th since 2001. A league that's obsessed with parity has fallen victim to these annual Patriots outbreaks for 17 years. Every time New England looks dead, the team reconstitutes itself around the core of Belichick and Brady and returns more resilient than ever.
The Patriots have been so good for so long that the idea of "Patriots fatigue" has aged into retirement. Instead, it has bred specific subsets of fatigue. Personally, I am suffering from "Is this it for the Patriots?" fatigue, which is to say I have grown tired of anticipating their demise.
These kinds of predictions are now old enough to drive. They started in 2002, when the Patriots missed out on the playoffs after winning their first Super Bowl. The beginning of their end was then postponed to 2008, when Tom Brady hurt his knee and missed the entire season. And their supposed downslide began again in 2014 when the Kansas City Chiefs subjected the Patriots to a loss so lopsided that the story of the week was whether or not Bill Belichick should bench his quarterback.
The latest version of this prognostication may the most tempting yet. Seth Wickersham's gossipy ESPN story—headline: "For Kraft, Brady and Belichick, is this the beginning of the end?"—could easily tempt you into believing that this might actually be twilight for New England. The Cerberus of Belichick, Brady, and team owner Robert Kraft has grown agitated, and each head is nipping at the other. At 40 years old, Tom Brady is Methuselah in pads, somehow defying the expiration date stamped on the haunches of every NFL quarterback. The team traded away both of his backups this year—each a young, capable quarterback, with Jimmy Garoppolo now looking superstar-like in San Francisco—meaning that even if the Pats manage to tightrope-walk through these playoffs without a safety net, their future appears shakier than at any time since 2001.
Then there's the small matter of the game against the Jacksonville Jaguars on Sunday. Tom Coughlin is involved! Brady hurt his thumb in practice and he's wearing a glove! The Jaguars' defense is great while New England's is a major vulnerability! Blake Bortles lives to devour Super Bowl–winning quarterbacks!
Now, let's return to the reality we've all been living in for the past 17 years.
Brady's path to the Super Bowl is, according to FiveThirtyEight, the "easiest in modern NFL history." Will it get any harder next year? The Patriots will still be playing in the AFC East, meaning they'll get their steady diet of Jets, Bills, and Dolphins, all pureed for easy digestion. A season's worth of New England–style competence should be all it takes for them to achieve success, and, organizational discord or not, competence is a bar the Patriots have always been able to clear with ease.
Sure, Brady and Belichick may be old, but the longevity they've shown thus far warrants irrational faith in their future prowess. When Tom Brady throws multiple interceptions against the Jets at age 65, the press will ask Bill Belichick, who by then will just be a brain floating in a hoodie-draped jar, if it's time to bench his quarterback. The in vitro brain will twitch and gurgle up a sequence of bubbles that represent the word no. It is at this moment that I will finally allow myself to believe that it might be over for the Patriots. And I will be wrong.
One more thing
You depend on Slate for sharp, distinctive coverage of the latest developments in politics and culture. Now we need to ask for your support.
Our work is more urgent than ever and is reaching more readers—but online advertising revenues don't fully cover our costs, and we don't have print subscribers to help keep us afloat. So we need your help. If you think Slate's work matters, become a Slate Plus member. You'll get exclusive members-only content and a suite of great benefits—and you'll help secure Slate's future.
Join Slate Plus
Join
---