It's become quite common—even a trope—for film and television written by and about black characters to incorporate the emotional and physical exhaustion that can come with existing among white people into their narratives. Shows like Insecure and Black-ish frequently show their characters contending with assumptions, stereotypes, and uncomfortable moments, especially in the workplace, and Best Picture nominee Get Out is a meticulous, step-by-step exercise in this experience, taking a variety of intricacies and stacking them from the subtle ("I would've voted for Obama a third time") to the maniacal (spoiler: literally implanting white consciences into black bodies). The psychological effects of double consciousness, W.E.B.
Du Bois' term for "looking at one's self through the eyes of" a society that perceives it with disdain, has perhaps never been so consistently rendered and detailed on screen as it is in the current moment.
There were several movies at the Sundance Film Festival that continued this trend to varying degrees of success, but one ultimately made me ponder the limitations of the depiction. Sebastián Silva's Tyrel stars Jason Mitchell (Mudbound) as Tyler, a young man who accompanies his friend Johnny (Christopher Abbott) on a weekend getaway at a house in the Catskills with a bunch of Johnny's guy friends. Tyler is the only black person there and knows no one else in the already established, boisterous group of borderline-fratty twentysomethings (and one older gay man)—a doubly awkward situation to be in. From the moment he's introduced to the first part of the crew, it's clear the more laid-back Tyler feels out of place, especially when one of them mistakenly (?) refers to him as "Tyrel." Things only grow more uncomfortable as the weekend goes on, playing drinking games—pull a card and speak in a "black accent," for instance—and singing R.E.M. at the top of their lungs. Tyler becomes increasingly overwhelmed and spirals into depression.
Even before Tyrel was unveiled, the premise alone reminded many people of Get Out. In some ways it is the same, though the genres they're working within vary wildly: Silva's film is a slow-burn drama that deliberately sidesteps the heightened surrealism that Jordan Peele's thriller satire dives into. (Caleb Landry Jones, who played Rose's deeply unsettling brother in Get Out, also plays a slightly less unsettling version of that probing character here, too.) When Slate's Dana Stevens and I interviewed Silva, who was born and raised in Chile, for a Culture Gabfest–Represent live show at the festival last week, he acknowledged the similarities, and that some viewers had been disappointed by the realism and lack of resolution in his film's story. "The movie follows his alienation and identity crisis without ever coming to a resolution. … I'm not pointing fingers, in my mind—as a foreigner, too—I'm sort of exposing a wound that you can sense in America."
I was captivated by Tyrel, curious to know where it was heading, in large part because of Mitchell's performance, which taps into the outsider feeling Silva describes. I could identify with feeling like the odd person out among a tightknit group of friends, and I've also understood what it's like to have white people make subtle, racialized jokes around you, or feel unease when they laugh a bit too heartily at a meme that makes a person of color the butt of the joke. Yet something about the film felt off to me, and I was left cold once it reached its conclusion.
Silva's description of its inspiration helped me crystallize my fraught relationship to Tyrel. He described hanging out on the beach in Cuba and noticing a group of twentysomething Americans and one black guy drinking and playing Frisbee nearby.
It seemed like he was kind of alienat[ed] and following behind. And at some point … it looked like he was pretending to be drunk. And that could've been anybody, just somebody who was feeling awkward at that time with a group of people—but the fact that he was black, it added a whole new layer to his discomfort. … It can never be only that he's feeling discomfort because maybe he drank too much or they were weird to him. There's always going to be … the race factor.
Silva's inspiration came from a projection of a whole set of assumptions about what that black guy, whom he never actually spoke with, was feeling at that moment. It shows in the way Tyler and the other characters are rendered: There's barely a shred of backstory given to each person in the house (including Michael Cera, continuing his recent streak of playing off-kilter assholes), and we never get a full picture of how they're connected to one another; their bond never seems fully realized. Tyler is only a bit less of a shadow on the wall than the others; we get a touch of painted-on character building in the form of a girlfriend with a sick mother and a restaurant he's just started. But for all of Mitchell's deft inhabiting of Tyler, the blankness of the weekend is unsatisfying.
Two other films I saw at Sundance that echoed this experience of feeling watched and unduly judged by a white society managed to avoid ringing hollow (or familiar) in their depictions. The feverish, bonkers satire from first-time director Boots Riley (lead vocalist of hip-hop group the Coup), Sorry to Bother You, tells the story of Cassius (Lakeith Stanfield), a telemarketer who makes his way to the top of the corporate ladder by using his "white voice" to lure customers and impress his bosses. And Hamilton's Daveed Diggs co-wrote and co-stars in the buddy comedy-drama Blindspotting, playing Collin, an ex-con who's trying his best to make it through his last three days on probation without a hitch—which proves difficult thanks in no small part to his troublemaking (and white) best friend Miles (co-writer Rafael Casal). Neither of these films is perfect, and they occasionally go off the rails. But their black male protagonists always feel like whole characters whose pressures of having to perform for the white people around them feel true, even under the most exaggerated of circumstances.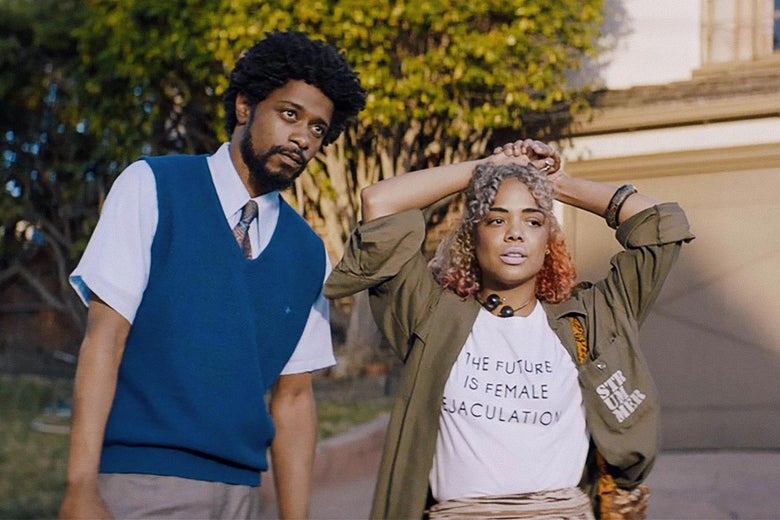 As with Martin McDonagh's tone-deaf Three Billboards, it's hard not to imagine that Silva's disconnect with Tyrel stems largely from having grown up outside of America. (He's lived in New York for the past 16 years.) Silva told us that many people warned him not to make the movie because he isn't black, which is not in itself a reason not to make a film, though it should always give a filmmaker pause. (John Sayles' The Brother From Another Planet is an example of a white director making a thoughtful commentary on a black experience.) And I believe him when he said that he himself understands what it means to feel alienated.
Yet when Silva saw the beach scene play out from afar, he was trying to empathize with that person—this is not inherently a bad thing; it's something that people from marginalized groups, black or otherwise, encourage of those who are in more advantageous positions all the time. He clearly was aware—perhaps because of the Black Lives Matter movement, the media, or even shows like Black-ish—of double consciousness, and sought to express that through Tyrel. But projecting in this case leads, I think, to empty empathy, like a well-meaning white teacher at a school in a troubled neighborhood expressing pity for her students' circumstances, while also assuming that everyone in their families is a single parent and/or a gangbanger. You can honestly want to expose and challenge the moral decay that is American racism and still be unable to fully process and convey black humanity.