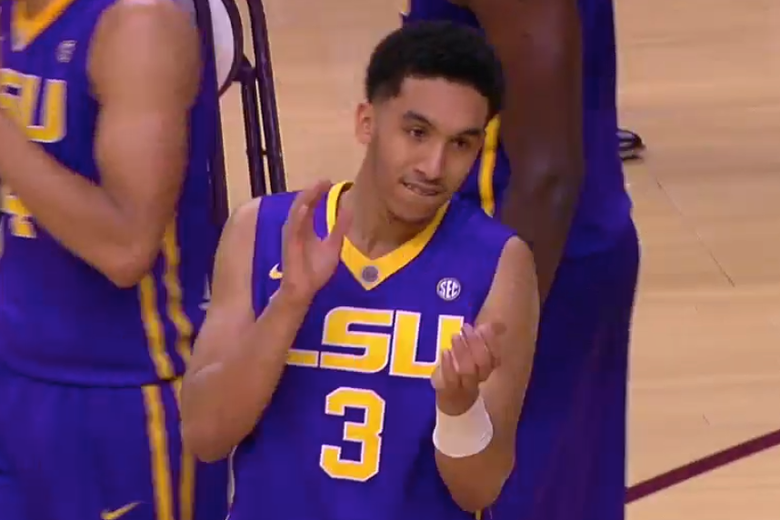 I don't want to wait until the second sentence of this story to note that Trae Young is by far the best player in college basketball. He's amazing and fun and the closest thing to Steph Curry since Steph Curry. Just ask Steph Curry. If people complain on Twitter or Facebook or wherever else people lodge complaints these days, please point them to that first sentence.
Now that that's out of the way, did you see the shot LSU's Tremont Waters made on Saturday to beat Texas A&M?
You could be forgiven for thinking that was a lucky heave—an off-balance prayer from the smallest guy on the court. It was not. For further evidence of Waters' greatness, let me point you to this bonkers shot he made 12 seconds earlier to get LSU within two points.
Or consider this sequence against Michigan when, with less than two minutes to play, he used his world-class dribbling ability to free himself for a game-tying, step-back jumper, then dove on the floor and threw a pass backwards over his head to set up his teammate Skylar Mays for a dunk.
Here's that pass again:
And then there was the time Waters, who is listed at 5-foot-11 (but is probably closer to 5-foot-9), leaped high in the air to absolutely destroy a Houston player's attempt at a last-second, game-tying 3-pointer.
He also nailed a long 3 with less than 20 seconds to go to give LSU the lead against Stephen F. Austin, then whipped an amazing pass for what should've been the game-winning assist only to watch Aaron Epps miss the layup at the buzzer.
The 19-year-old freshman has played 14 college basketball games. In four of them, he has given his team the lead or preserved the lead in the waning moments. That's exciting!
Tremont Waters also does exciting stuff in the middle of games. He made a shot against Michigan that is so crazy that I'm still not sure it actually happened.
It was like that famous photo of Bobby Orr, leaping through the air, totally parallel to the ground. Here's a replay with a couple of other angles:
It's hard to believe he did that on purpose, but … he did that on purpose. Watch him spin the ball off the glass again, in another play from that Michigan game. (Sorry Michigan.)
Waters, who still looks like a small child, was a child basketball prodigy. He's had amazing handles since he was 6 years old and the YouTube hype machine has been comparing him to the likes of Chris Paul and, yes, Steph Curry since he was 14.
Even so, it feels like Waters—who was planning to go to Georgetown until the Hoyas fired John Thompson III; sorry Georgetown—isn't getting the hype he deserves. That's partly because his team isn't that great. LSU, which is 10-4 and lost by 39 points to Notre Dame, is more likely to get invited to the NIT this season than the NCAA tournament.  Waters also isn't putting up Trae Young numbers. That dude leads the nation in points and assists per game. (Remember the first sentence?)
But Waters is fourth in the SEC in scoring average (17.4 points per game) and leads the conference in assists and steals. He's also very efficient, shooting 48 percent from the floor and 44 percent from 3-point range. Waters isn't just spectacular. He's very, very good.
Still, you won't find him on lists of the top 50 or even top 100 prospects for the NBA draft. Waters is very small, he turns the ball over too much (although less than Trae Young), and he can be extremely erratic. A compilation of his worst plays of the season would look extremely bad. (I will leave that aggregation work as an exercise for someone else.)
What that means in practice is that he might stay in Baton Rouge for another year or two. Tremont Waters should get paid a lot of money by someone, somewhere to play basketball. But in the meantime, we should all cherish every chance we get to watch the most exciting player in college basketball. I didn't even mention the time he scored 39 points against Marquette!
One more thing
You depend on Slate for sharp, distinctive coverage of the latest developments in politics and culture. Now we need to ask for your support.
Our work is more urgent than ever and is reaching more readers—but online advertising revenues don't fully cover our costs, and we don't have print subscribers to help keep us afloat. So we need your help. If you think Slate's work matters, become a Slate Plus member. You'll get exclusive members-only content and a suite of great benefits—and you'll help secure Slate's future.
Join Slate Plus
Join