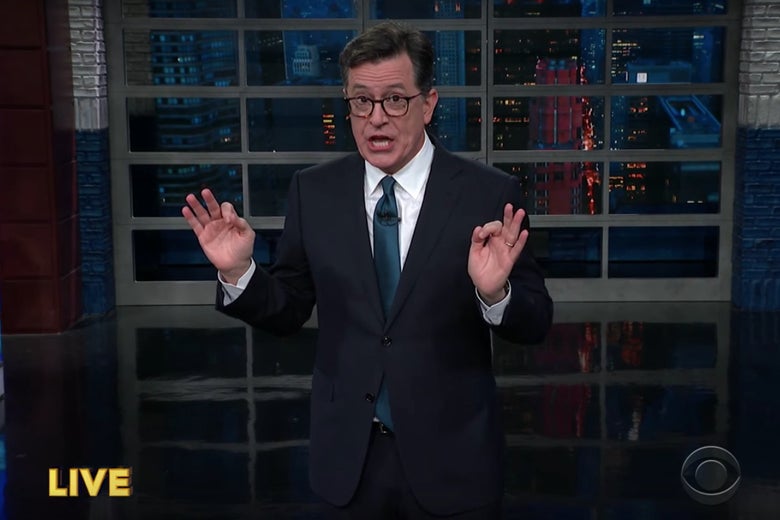 On Tuesday night, Stephen Colbert hosted a special edition of The Late Show, while Trevor Noah spieled on The Daily Show, each delivering live on-air responses to Trump's mind-numbing State of the Union address within minutes of its conclusion. It was a much more difficult job than the president had—as Colbert pointed out, Trump's bar for SoTU success was so embarrassingly low, he literally just had to stay on script for it to be considered a pass.
So how does one summarize a 90-minute State of the Union address, with very little turn-around, and in just 10 minutes of content? Here's a look at how the comedians handled it.
The Daily Show
As Trevor Noah had to keep reminding himself, the State of the Union was not a night for facts. "If you came here for facts, you came here for the wrong thing," he joked. Best not to get caught up in them.
The Daily Show host gave a quick run-down of the people who were present—including Ted Cruz in his usual seat, "far away from humans who will never love him," and Ben Carson, watching from the Sunken Place—as well as those who were not: The many Democrats who chose to boycott the event. "There were so many black women missing that Boko Haram tried to take credit for it," said Noah, before putting a dollar in his "oooh" jar.
Noah couldn't help but address one of Trump's most infuriating claims: That black unemployment rates are at their lowest point in history, and that he somehow has something to do with it. The look on the faces of the Congressional Black Caucus said it all. "I haven't seen that many disappointed black people since I told my uncles I was dropping out of school to become a comedian," said Noah.
He also dove into one of the most bizarre but illustrative moments of the speech, in which Trump got the name of a Homeland Security special agent wrong. But Donald Trump doesn't acknowledge mistakes. He covers them up, excruciatingly badly:
Here tonight is one leader in the effort to defend our country: Homeland Security Investigations Special Agent Celestino Martinez—he goes by DJ and CJ. He said call me either one. So we'll call you CJ.
When it comes to Trump, a mistake is never a mistake, said Noah. It's just an "opportunity to redefine reality."
Speaking of redefining reality, Trump also tried to change the meaning of an important immigration term. Americans, he claimed, are Dreamers too. "Did this guy just all lives matter the Dreamers?" Noah asked incredulously. "The term Dreamers is used to describe a specific hope that young people brought to America have. That's what Dreamers means. And now for Trump, it's just people who sleep, I guess."
The Late Show Live
Stephen Colbert—"live and barely conscious" following 90 minutes of Trump—was much more focused on picking apart the unintended double meanings within the president's words, responding directly to his sentences.
When Trump reflected on the natural disasters America has endured over the last 12 months—"floods and fires and storms…"—Colbert was there to chime in with another. "And Stormys!" he said. "Don't forget her. She was one of the most expensive disasters for you personally."
When the president tried to speak in a manner intended to unify Americans, Colbert reminded viewers just how disunifying and self-serving the man truly is. "We all share the same home, the same heart, the same destiny, and the same great American flag," said Trump. "Really?" asked Colbert. "Because down in Charlottesville I saw your supporters carrying two other flags."
Colbert was also there to mock his "if there's an opportunity, we seize it" speech pattern:
If there's a burger we eat it.

If there's a porn star, we bone it.

If there's an immigrant we deport it.

If there an investigation, we undermine it.
Accurate.
---