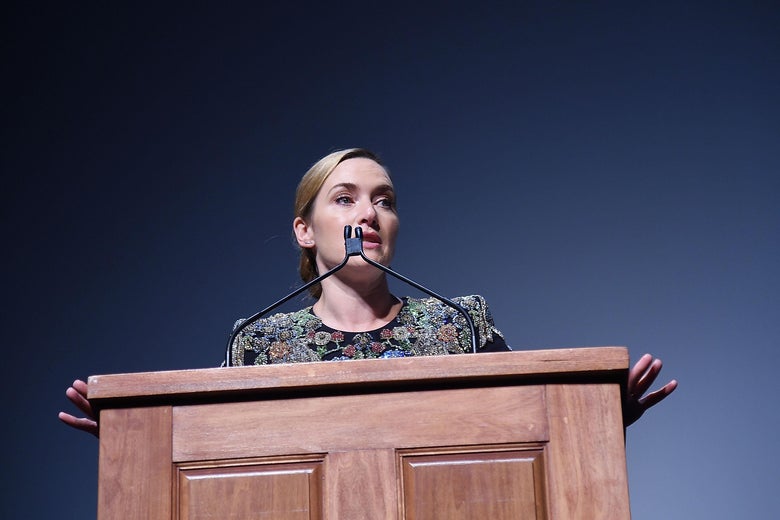 Kate Winslet is finally speaking out about working with Woody Allen—well, kind of. The star of Allen's Wonder Wheel spoke broadly about the #MeToo movement while accepting an award from the London Critics' Circle on Sunday, and in her acceptance speech, she expressed "bitter regrets that I have about poor decisions to work with individuals with whom I wish I had not," before taking a pause to collect herself.
Here's a portion from the transcript of her speech, via the BBC:
It has become clear to me that by not saying anything, I might be adding to the anguish of many courageous women and men. Sexual abuse is a crime. While it rests with the rule of law to pass judgement, it lies with all of us to listen to the smallest of voices and to never stop listening. Also those who do have a voice are becoming afraid to say anything, because of intense scrutiny and criticism. Nobody should be exempt from having a right to speak in support of vulnerable people.
Winslet didn't name names, and Allen certainly isn't the only controversial director she's worked with—she also starred in Roman Polanski's Carnage—but the speech comes as actors who have worked with Allen are currently under increased scrutiny because of the sexual harassment and abuse reckoning within the entertainment industry, and it seems safe to assume that he's included in the "individuals" Winslet is referring to. To recap: Allen's adopted daughter, Dylan Farrow, has repeatedly and publicly accused the director of molesting her when she was 7 years old and has been doing so since well before the Weinstein accusations opened the floodgates. Allen has repeatedly denied that accusation.
When asked about the allegations against Allen during a New York Times interview just last year, Winslet said of the decision to work with him, "[Y]ou just have to step away and say, I don't know anything, really, and whether any of it is true or false" and called Allen an "incredible director."
While it is gratifying to hear that Winslet may now, however obliquely, regret working with Allen, whom she has continued to publicly support in the past few months, the rest of Sunday's speech was disappointingly evasive, with Winslet asking us to "not make this about which people express public regret and those who choose not to" in favor of keeping the focus on victims of abuse. That sentiment rings somewhat hollow considering that Farrow, one of those same alleged victims, has called on famous people who have worked with Allen to acknowledge that by continuing to work with him, they are in part responsible for the continued success of her abuser. That's something Winslet, frustratingly, seems unwilling to do, at least publicly.
In her speech on Sunday, Winslet spoke about how powerful people can speak for the less powerful, but she herself didn't amplify any of those less powerful voices, and certainly not Farrow's, as she never mentioned her or Allen by name. At times, Winslet even seemed to want us to change the subject, telling the Critics' Circle that "The real headline here is that a Hollywood commission on sexual harassment and advancing equality in the workplace now exists, led by Kathy Kennedy" and the Time's Up movement.
I'm not sure Dylan Farrow would agree that that's the "real headline."
The full transcript of Winslet's speech can be found over at the BBC.
Support our journalism
Help us continue covering the news and issues important to you—and get ad-free podcasts and bonus segments, members-only content, and other great benefits.
Join Slate Plus
Join
---