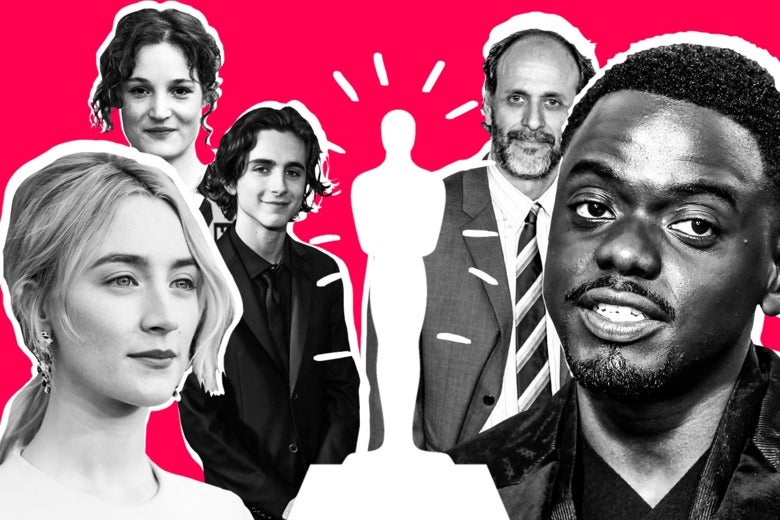 Awards season is officially upon us, and with it the spectacle of famous people butchering other famous people's names. The Golden Globes kicked off this year's mispronuncation season with a bang, with Shirley MacLaine introducing the star of Get Out as Daniel "Kahlua" and Jessica Chastain identifying the star of Lady Bird as "Shersha" Ronan. As bad as Chastain's pronunciation was, she at least came closer to pronouncing Saoirse correctly than Dennis Quaid did last year.
To help you avoid your own Daniel "Kahlua," "Shersha" Ronan, or even "Dick Poop" or "Adele Dazeem," we've put together this handy cheat sheet, complete with video tutorials from many of the expected nominees themselves.
Timothée Chalamet
Actor, Call Me by Your Name
Though his parents gave his first name the French spelling (Chalamet's father is French), the American actor pronounces his name the American way: "Timothy." As for his last name, it's SHALL-uh-MAY. As Pop Sugar points out, you can hear him say his name at the beginning of the clip below.
Daniel Kaluuya
Star of Get Out
Kaluuya's last name is spelled phonetically and is pronounced kah-LOO-ya. You can hear it at the beginning of this clip:
Saoirse Ronan
Star of Lady Bird
Saoirse is pronounced "sir-shuh, like inertia," as Good Samaritan and actor Ryan Gosling has correctly noted. Here she is walking Ellen DeGeneres through how to pronounce her name:
Kumail Nanjiani
Co-screenwriter and star, The Big Sick
You're probably already pronouncing this one right. As the actor says, just sound it out—it's phonetic.
If you're still not sure, here's David Letterman introducing his late-night debut:
Michael Stuhlbarg
Actor, Call Me by Your Name and The Shape of Water
The actor, who appeared in two of 2017's most acclaimed films, goes by STOOL-bahrg.
Alexandre Desplat
Composer, The Shape of Water
Alex is pronounced AL-ig-ZAHN-druh en français, while the T on Desplat is silent, leaving only dess-PLAH. Hear Jon Burlingame introduce him 20 seconds into the clip below.
Hong Chau
Supporting actress, Downsizing
The name of the breakout star of Downsizing is pronounced Hong Chow. Here she is being interviewed for the Asian Global Press (name at the one minute mark).
Luca Guadagnino
Director of Call Me by Your Name
The Italian writer-director pronounces his name Luke-ah gwa-dah-NYEE-no. You can hear an Italian interviewer say his name at the beginning of the clip below.
Vicky Krieps
Actor, Phantom Thread
The Luxembourgish star of Phantom Thread pronounces her name Vicky Creeps. Hear it below.
Hoyte van Hoytema
Cinematographer, Dunkirk
If you get the first half of the Dunkirk cinematographer's name right, you'll probably get the second. His repetitive Dutch name is pronounced HOIT-uh vahn HOIT-uh-mah.
Agnès Varda
Co-director, the documentary Faces Places*
The French director's name is pronounced ah-NYES VAHR-dah. You can hear it 20 seconds into the clip below.
Ruben Östlund
Director, foreign film The Square
The Swedish director's first name is pronounced like the sandwich, while his surname is pronounced est-luhnd. (Let's be grateful he doesn't go by his full name, Claes Olle Ruben Östlund.)
Tommy Wiseau
Character, The Disaster Artist
As with the The Room director's age and country of origin, this is one of life's great mysteries. Sometimes he pronounces his surname wiz-OH, as at the beginning of this clip:
And sometimes he says it WAH-zo, as he does here:
Martin McDonagh
Writer-director of Three Billboards Outside Ebbing, Missouri
The British and Irish playwright pronounces his last name mick-DAWN-ah. You can hear Charlie Rose (sorry) say his name at the beginning of this clip:
Gal Gadot
Star of Wonder Woman
The Israeli actress pronounces her name Gal (like the informal word for girl) guh-DOTT. The T is not silent, as some mistakenly assume, because she's not French.
Here she is saying it herself:
And here she is walking Jimmy Kimmel through it:
Rian Johnson
Writer and director of Star Wars: The Last Jedi
Rian is less difficult than it looks. It's pronounced "Ryan." But don't take it from us:
Read more in Slate about the 2018 Oscars.
*Correction, Jan. 23, 2018: This post originally misidentified Agnès Varda's latest film as People Places. It's Faces Places.
One more thing
You depend on Slate for sharp, distinctive coverage of the latest developments in politics and culture. Now we need to ask for your support.
Our work is more urgent than ever and is reaching more readers—but online advertising revenues don't fully cover our costs, and we don't have print subscribers to help keep us afloat. So we need your help. If you think Slate's work matters, become a Slate Plus member. You'll get exclusive members-only content and a suite of great benefits—and you'll help secure Slate's future.
Join Slate Plus
Join
---