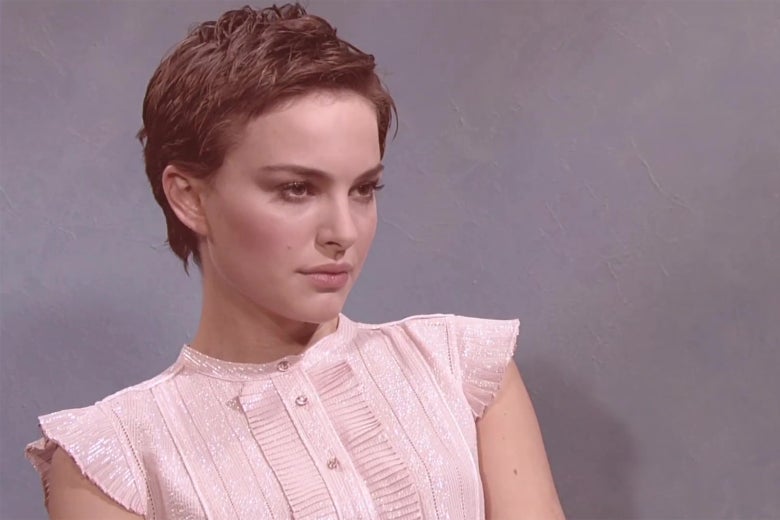 Natalie Portman will return to Saturday Night Live for her second hosting gig next week, securing her place as the second most popular Natalie in the venerable comedy show's history. Portman last hosted in 2006, when she stopped by to promote V for Vendetta. That outing yielded this all-time classic sketch from The Lonely Island:
But despite (or perhaps because of) the aggressive tone Portman struck in her first outing, when it comes to Natalies on Saturday Night Live, she's stuck in second place. Until this week, in fact, she was tied for next-to-last place with Natalie Imbruglia, who was the musical guest on Mar. 7, 1998, and Natalie Maines of the Dixie Chicks, who appeared on Feb. 8, 2003. (Last place goes to every other Natalie in human history, none of whom have been invited to appear on Saturday Night Live even once.) Vintage SNL musical performances are hard to find online, so here's a skit from Natalie Imbruglia's night:
Portman can rest easy at leaving Imbruglia and Maines in the dust, but she has a long way to go to before she becomes the show's top Natalie. That honor still belongs to all-time-champion Natalie Natalie Merchant, who has been on Saturday Night Live four times, twice as often as any other Natalie in the world. Merchant was also the show's first Natalie, appearing on Feb. 27, 1988 as part of 10,000 Maniacs. (Host: Judge Reinhold.) Here's a skit from that night, an ad for "Wilson's Trap Doors":
10,000 Maniacs' second appearance was on Oct. 31, 1992, with host Catherine O'Hara. Again, their performance is not online, so instead, here's an absolutely timeless sketch about Ross Perot's claim that he dropped out of the presidential election because the Republicans were threatening to ruin his daughter's wedding by releasing a computer-altered photograph to the tabloids that suggested she was gay. Talk about an unforgettable chapter in American history!
In 1995, Natalie Merchant became the first Natalie to appear on the show under the name "Natalie," when she was the musical guest on a remarkably unfunny episode hosted by David Schwimmer:
In 1998, having already secured a seemingly unbeatable record as the greatest Natalie in Saturday Night Live history, Natalie Merchant took a victory lap, joining host Matthew Broderick for her fourth appearance.
As if that weren't enough, even episodes of Saturday Night Live that didn't include Natalie Merchant sometimes included Natalie Merchant. Here, Kristen Wiig plays her in an ad for the soundtrack to Bunny Business:
And here's Amy Poehler as a Claymation Natalie Merchant with about five lines, in a December 2009 Robert Smigel video about the importance of not writing off the people in the red states. Fun fact: the host that night was James Franco, and those same red states went on to elect Donald Trump.
That's a 21-year legacy as Saturday Night Live's go-to Natalie, making Natalie Merchant an important pioneer in the history of television comedy and the history of women named Natalie. In many ways, in fact, the history of Natalies on Saturday Night Live provides the clearest lens through which to view our own history over the past few decades, and is in no way an excuse to post a bunch of old Saturday Night Live sketches of wildly varying quality on Slate. Best of luck hosting to Natalie Portman, Saturday Night Live's second-favorite Natalie!
Support our journalism
Help us continue covering the news and issues important to you—and get ad-free podcasts and bonus segments, members-only content, and other great benefits.
Join Slate Plus
Join
---