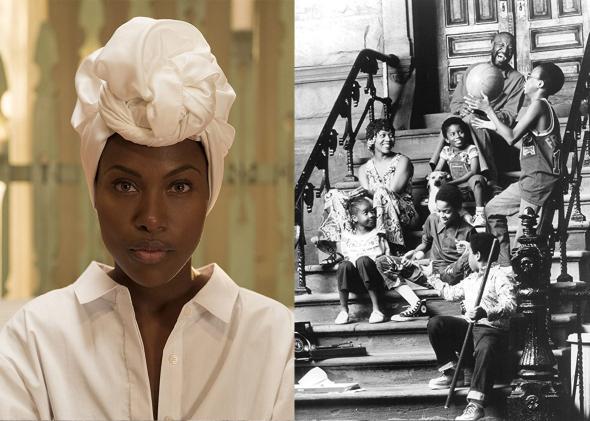 Like pretty much every narrative he's ever produced, Spike Lee's Netflix adaptation of his feature debut She's Gotta Have It has proven to be polarizing. It's been deemed "a boring rehash of the original" and "buoyant, funny … and un-Spikeishly restrained"; "as fresh as a flip phone" and a depiction of Lee's "most feminist heroine yet." That last point especially is debatable, even if one thing everyone can agree on is that this new version is decidedly aware of the ways in which perceptions around black female sexuality have evolved since 1986. Yes, Nola Darling 2.0 (DeWanda Wise) is a vast improvement over her previous incarnation as an elusive, one-dimensional figure (Tracy Camilla Johns) for the men in her life to project their fantasies and desires on. But when looking back on the filmmaker's fascinatingly varied career, I can't help but echo other critics' sentiments that She's Gotta Have It's tale of a black, single young adult woman juggling a complicated love life and a career isn't exactly groundbreaking when stronger representations like Insecure and Being Mary Jane currently exist, and Living Single and Girlfriends preceded it by decades. What's still largely missing from the screen, is a nuanced, studied narrative built around young black girls. Perhaps a more interesting and fruitful return to the well for Lee would have been a series adaptation of Crooklyn instead.
Released in 1994, Crooklyn tends to be overshadowed by Lee's splashier, more controversial efforts like Do the Right Thing and School Daze, or critically acclaimed crowd-pleasers like 25th Hour and Malcolm X. It's a "small" and innocuous film by comparison, loosely inspired by his childhood and co-written with his siblings, Cinqué and Joie, largely unconcerned with institutional racism, the criminal justice system, or morality tales. But that's an inherent part of its charm. Set in the early 1970s, the first half plays out in loosely connected slice-of-life vignettes, the camera weaving along a single bustling block in Bed-Stuy where black and brown kids play freely among Vietnam war vets, druggies, an oddball who owns dozens of dogs in his garden-level apartment, and other colorful neighbors. Carolyn (Alfre Woodard), a school teacher, and her husband Woody (Delroy Lindo), a struggling musician, are raising their five kids in a beautiful brownstone, and while they certainly don't live within the tax bracket of the Huxtables (at one point their electricity gets cut off and for a period of time they have to rely on food stamps), they aren't living The Struggle, either—the family dynamics, of stressed out parents and squabbling siblings, are nearly universal.
The second act of the film zeroes in more acutely on the family's lone daughter, nine-year-old tomboy Troy (Zelda Harris), and her entry into adolescence. In one scene, she enters the bodega in her neighborhood and comes upon one of the male workers dancing seductively with Connie, a tall, gangly person in a leotard, hot shorts and gigantic blond afro wig, played by RuPaul. It's clear Troy has never seen anything like this before, but she's entranced, and the camera follows her perspective as she stares at the couple—there's no judgement, just wonder. This moment and others capture beautifully what it's like to be a kid discovering something new for the first time, and how living in such a richly diverse and bustling environment like Brooklyn provides that kind of exposure sooner than it might for kids who do not.
Crooklyn also explores intimate moments in which the body of a young black girl is scrutinized both internally and externally, whether it's through her inquisitive examination of her self in the mirror, or when she's sent to spend the summer with her well-to-do aunt, uncle, and slightly older cousin Viola in the suburban south. (Aunt Clem's a haughty woman, and her racialized digs at Troy's appearance—"You ain't have good hair like my baby," she remarks—don't seem to hurt Troy so much as annoy her, and make her yearn for a return to the familiar comforts of Brooklyn and city life.) She's Gotta Have It digs into the ugly, misogynistic societal pressures put upon black women, too, particularly through one of Nola's best friends, Shemeka. While that character is wonderfully played by China Layne, her storyline functions more like a capital-M Message than a revealing character study. (The scene in which she gets butt injections on the black market is relentless in its depiction of the horror she's inflicting upon herself, as is the bizarre, unnecessary fictional game show that seems to be playing or advertised all over Brooklyn, "She Ass'ed For It.")
The new She's Gotta Have It's Nola feels more like a more complete character than her predecessor and many other female characters within Lee's oeuvre (Tina in Do the Right Thing, the sorority girls in School Daze, etc.) have not. But her fascinating relationship with sometime-lover Opal aside, there's still something that feels, "been there, done that" about it all. Her friendships with the other women in her life don't resonate as deeply as that of Issa's and Molly's on Insecure, or Mary Jane's and Kara's on Being Mary Jane, or any of the complex relationships on Orange Is the New Black. The mother-daughter relationship in Crooklyn, on the other hand, is built around one of the most heartbreaking and beautiful character dynamics Lee has given us (no doubt in large part due to the co-writing of Joie, herself the only daughter in the family), and Troy and Carolyn are his best-written female characters, even when you consider Nola 2.0. Carolyn is presented in more than just broad strokes, especially as her strong bond with Troy, different from the one she has with her sons and Woody, unfolds—she affectionately refers to her daughter as "Ladybug," and guides her spirit even while she's at Aunt Clem's, via loving, hand-written updates from home. It's Spike at his most personal, and it would be fascinating to see how he might've expanded upon this story for a new generation, rather than venturing too far afield into the fantastical love life of a 20-something woman, as he does with She's Gotta Have It. (As Mic's Erin Evans noted in a recent episode of my podcast Represent, while the credited writers on She's Gotta Have It include an illustrious array of female writers like Pulitzer Prize-winner Lynn Nottage, they are all in their 40s or older.)
A new Crooklyn, set in the present day, could still tackle the filmmaker's most pressing concern, which She's Gotta Have It also deals with: gentrification. In fact, it would have to. But to see gentrification through the eyes of a young black girl would likely be a totally different experience than what we see with Nola, or even Insecure's Issa. And it's difficult to conjure up other examples of TV characters like Troy who take center stage of the narrative—the diabolical tween Diane on Black-ish recently had a great episode in which she dealt with getting her period for the first time, but that show is still at its core a true ensemble comedy. Imagine what Lee could create, if he took a page from Chris Rock's underrated mid-'00s sitcom Everybody Hates Chris, which was also semi-autobiographical, and set in the comedian's home borough, Bed-Stuy—that, too, was an ensemble show, but the young Chris (played by Tyler James Williams) was our way into the world, just as Troy eventually becomes in Crooklyn.
Spike Lee's feature debut was groundbreaking in 1986, for its aesthetic and portraiture of black urban life, in a way one could argue Crooklyn was not. But had both movies come out today, it seems like the reverse would be true. I enjoyed and can appreciate the ways in which the new She's Gotta Have It improves upon its source—there is something to be said for Lee recognizing that aspects of the original film (particularly his depiction of Nola's sexual assault by one of her romantic partners, for which he's since expressed deep regret) don't hold up in the present day. But perhaps Lee, who's been a trailblazer for so long, would have done better to return to a work that wouldn't need as much of a tonal and spiritual overhaul in the first place.
---