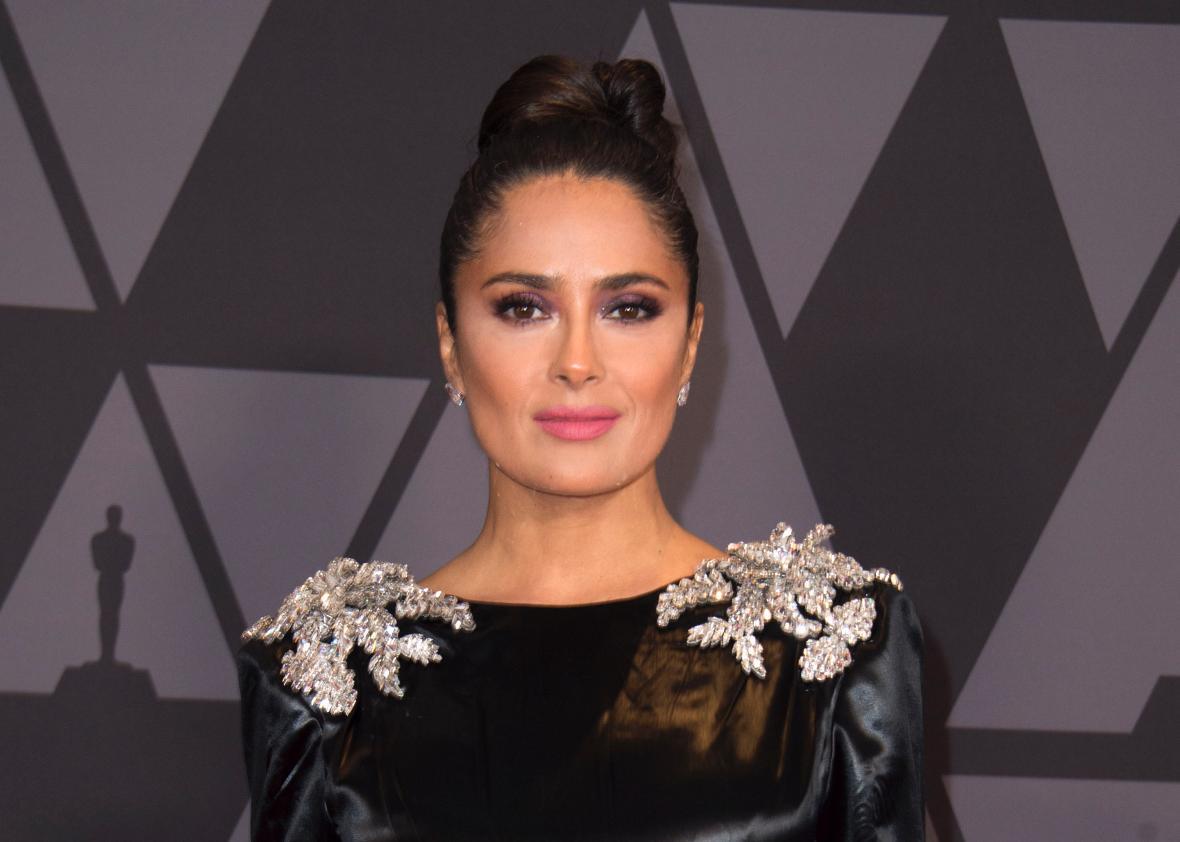 Salma Hayek became the latest high-profile actress to share her #MeToo story about Harvey Weinstein on Tuesday in an intense New York Times essay. Hayek opens the essay, in which she recounts her alleged experiences with the producer while filming Frida, by explaining that she was approached by reporters earlier in the fall but chose not to speak out about the producer at that time: "I didn't consider my voice important, nor did I think it would make a difference."
Now, though, Hayek is speaking up, and her accusations against Weinstein include not only sexual harassment but also fits of rage and manipulation. Hayek alleges, as other women have, that Weinstein asked her to shower with him or watch him shower, offered to give her a massage, suggested he give her oral sex, and showed up at her hotel room on multiple occasions in the middle of the night. "And with every refusal came Harvey's Machiavellian rage," she writes, recalling how Weinstein allegedly threatened to give the role of Frida Kahlo to another actress even though the project had been conceived by Hayek. She also says he forced her to meet strict, often unreasonable criteria in order to move forward, such as rewriting the script on a tight deadline, finding A-listers to act and direct, and raising $10 million to finance the film.
Things got worse, according to Hayek, once filming began, culminating in Weinstein allegedly insisting that the only way Hayek would be allowed to finish the film would be to shoot a sex scene with another woman, with full-frontal nudity:
I arrived on the set the day we were to shoot the scene that I believed would save the movie. And for the first and last time in my career, I had a nervous breakdown: My body began to shake uncontrollably, my breath was short and I began to cry and cry, unable to stop, as if I were throwing up tears.
Since those around me had no knowledge of my history of Harvey, they were very surprised by my struggle that morning. It was not because I would be naked with another woman. It was because I would be naked with her for Harvey Weinstein. But I could not tell them then.
My mind understood that I had to do it, but my body wouldn't stop crying and convulsing. At that point, I started throwing up while a set frozen still waited to shoot. I had to take a tranquilizer, which eventually stopped the crying but made the vomiting worse. As you can imagine, this was not sexy, but it was the only way I could get through the scene.
It was already known that Weinstein had clashed with Frida director Julie Taymor over a test audience's reaction to the film. In a 2004 New York Magazine profile, Weinstein attributed his reaction at the time to his diet. In her essay, Hayek gets at part of why Weinstein's alleged outrageous behavior went unchallenged for so long: "I have to say sometimes he was kind, fun and witty—and that was part of the problem: You just never knew which Harvey you were going to get."
You can read Hayek's full essay in the New York Times.
Update, Thurs., Dec. 14: Weinstein released a statement to USA Today via a spokesperson saying "all of the sexual allegations as portrayed by Salma are not accurate and others who witnessed the events have a different account of what transpired."
---