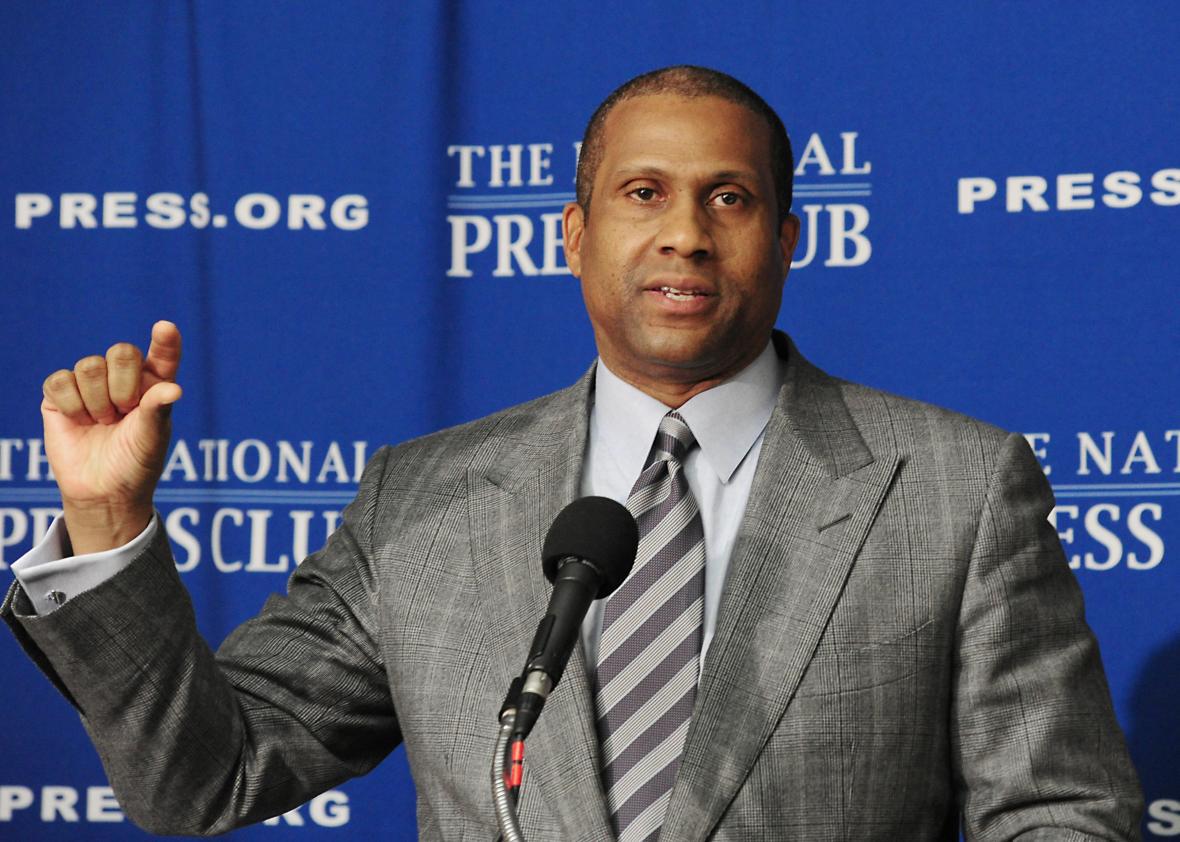 PBS has suspended distribution of late-night talk show Tavis Smiley after an investigation into allegations of sexual misconduct against host Tavis Smiley, Variety reports. Smiley has denied the allegations. The network released the following statement:
Effective today, PBS has indefinitely suspended distribution of Tavis Smiley, produced by TS Media, an independent production company. PBS engaged an outside law firm to conduct an investigation immediately after learning of troubling allegations against Mr. Smiley. This investigation included interviews with multiple witnesses as well as with Mr. Smiley. The inquiry uncovered multiple, credible allegations of conduct that is inconsistent with the values and standards of PBS, and the totality of this information led to today's decision.
According to Variety, the investigation was conducted by Sarah Taylor Wirtz of the venerable Los Angeles law firm MSK, who interviewed ten witnesses, primarily former staffers, about their interactions with Smiley. Although Wirtz declined to comment, Variety reports that sources close to the investigation said that she had uncovered credible claims that Smiley had had sexual relationships with more than one subordinate, that witnesses were concerned Smiley was tying employment status to sexual relationships with him, and that they feared retaliation from the host. Additionally, Variety reports, witnesses said that Smiley had created "a verbally abusive and threatening environment" for his employees.
Smiley responded on Facebook, posting a video and statement denying claims of any sexual misconduct and criticizing PBS for the manner in which it conducted its investigation:
I have the utmost respect for women and celebrate the courage of those who have come forth to tell their truth. To be clear, I have never groped, coerced, or exposed myself inappropriately to any workplace colleague in my entire broadcast career, covering 6 networks over 30 years.
Never. Ever. Never.
…
If having a consensual relationship with a colleague years ago is the stuff that leads to this kind of public humiliation and personal destruction, heaven help us. …
Put simply, PBS overreacted and conducted a biased and sloppy investigation, which led to a rush to judgment, and trampling on a reputation that I have spent an entire lifetime trying to establish.
This has gone too far. And, I, for one, intend to fight back.
It's time for a real conversation in America, so men and women know how to engage in the workplace. I look forward to actively participating in that conversation.
Smiley, the one-time host of BET's BET Tonight, has hosted Tavis Smiley since 2004; he also hosted "The Tavis Smiley Show," for Public Radio International, from 2005 to 2013. He has a deal at Warner Bros. Television, where he is developing an adaptation of his book Before You Judge Me: The Triumph and Tragedy of Michael Jackson's Last Days. Smiley is the second high-profile personality PBS has cut ties with in the post-Weinstein era, after pulling The Charlie Rose Show on Nov. 20 in the wake of a Washington Post article alleging Rose sexually harassed women. Unlike Smiley, Rose did not deny misconduct; he apologized for his behavior but said in a statement that he did not believe all of the allegations against him were accurate.
---