As someone who has not been optimistic about past efforts from Sony Pictures Animation (see, e.g., Smurfs: The Lost Village, The Emoji Movie, Smurfs: The Lost Village again, The Star, Smurfs: The Lost Village yet again—loved The Pirates! In an Adventure With Scientists!, though!), I have a special responsibility to point out that the trailer for Sony Pictures Animation's upcoming animated Spider-Man movie, Spider-Man: Into the Spider-Verse, looks fantastic. That's despite the fact that it's called Spider-Man: Into the Spider-Verse. The film, coming to theaters next Christmas, is directed by Bob Persichetti, Peter Ramsey, and Rodney Rothman—yes, the "My Glorious Publishing Empire"/ "My Fake Job" Rodney Rothman—from a script by Phil Lord. Lord and Chris Miller, the duo behind The Lego Movie (and formerly behind the upcoming Han Solo movie) are producing, along with Avi Arad, Amy Pascal, and Christina Steinberg. Shameik Moore from The Get Down will play Miles Morales, the black Spider-Man Marvel added to their comic book roster in 2011, while Moonlight's Mahershala Ali will play his uncle Aaron.
But honestly, the talent involved here is not the main attraction: superhero movies have a long and proud tradition of taking distinctive artistic voices and turning them into mush. But this looks absolutely gorgeous, miles ahead of live-action superhero films. While even the best of the MCU movies—essentially animated films in their action sequences anyway—all get turned into the same photorealistic overlit CGI sludge, this takes Roger Deakin's neon blue palette from the Shanghai sequence in Skyfall and seamlessly moves it to New York City. Some of the street shots must have involved rotoscoping, but every frame has intelligently chosen comic book art touches. Check out the motion lines on the subway car and the touch of halftoning on Morales' shorts in this frame:
Or the flipbook effect in the shot of Morales falling, which also has striking halftoning on the neon: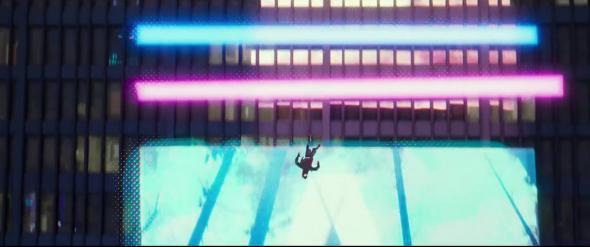 Or these two shots of a car accident, a frame apart. The first has extraordinarily complex photorealistic lighting—check the water beading on the taxi—and then out of nowhere we get a few frames of wildly abstracted pop art: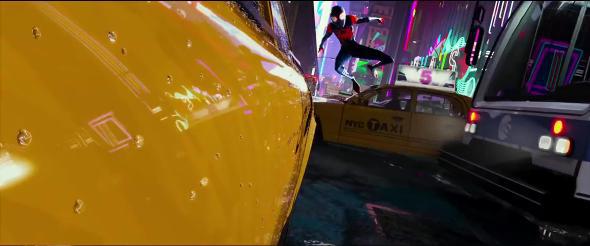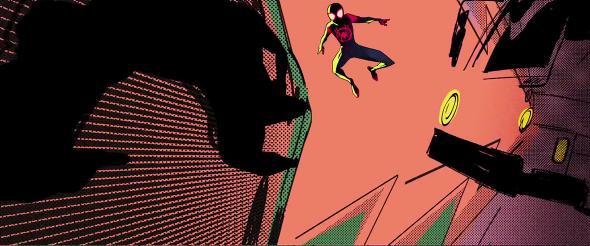 Unfortunately, the least interesting thing in the frame is Miles Morales, who looks like a standard Dreamworks/Sony/Disney computer-animated human: giant eyes, smirk, cocked eyebrows, utterly unconvincing skin: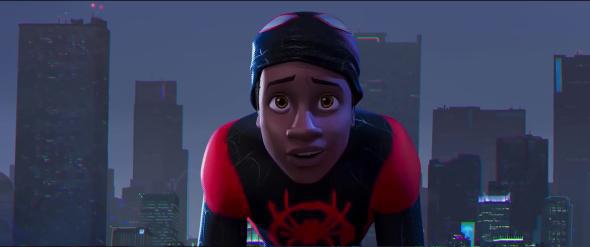 If you're going to relegate the black Spider-Man to animated films, you should at least make him look better than Barry B. Benson. Still, like the title says, this film is meant to be about the Spider-Verse as much as it's about Spider-Man. And the Spider-Verse looks beautiful.
*Correction. Dec. 11, 2017: This post originally misidentified Spider-Man: Into the Spider-Verse as Spider-Man: Enter the Spider-Verse.