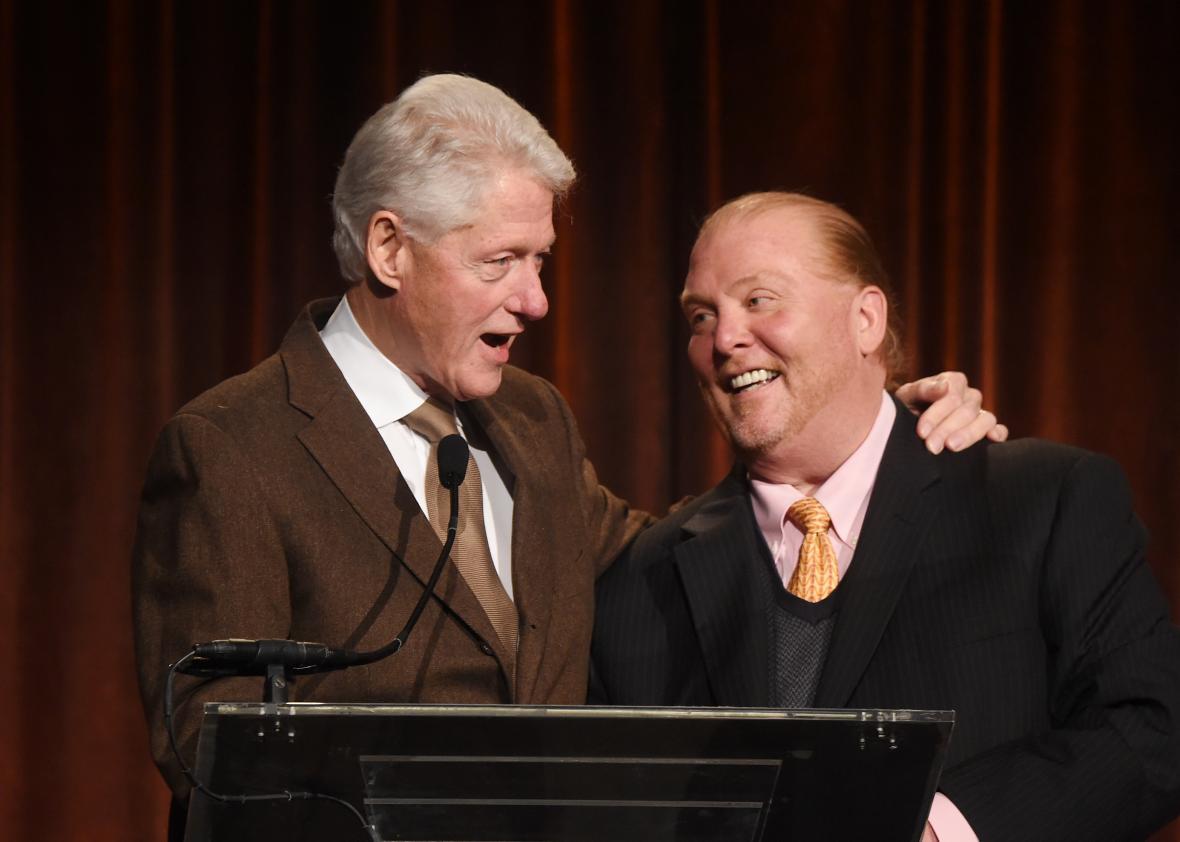 Politics, film, journalism, comedy, the arts, and now, food. No high-profile industry is immune from the scourge of powerful sexual harassers, it seems.
Today's alleged perp: Mario Batali, celebrated TV chef and head of restaurant empire Batali & Bastianich, whom at least four women have accused of sexual misconduct spanning decades. On Monday, Eater revealed the stories of four women, three of whom worked for Batali, who say the restaurant titan touched them inappropriately and without their consent.
The women's stories are depressingly similar, and all revolve around some form of groping. One former employee says the chef would often grab her from behind, holding her tightly against his body, while another says he once made her straddle him. Batali did not confine his harassment to the workplace: Another former colleague, who had ceased working for Batali at the time, says he groped her breasts at a party, while the woman who has never worked for Batali was also groped by the "creepy" restauranteur she had just met after her wine spilled on her chest.
If there's one thing that can be said for Batali, it's that he may have offered the least despicable apology yet, following a range of high-profile apologies that have ranged from dismissive to deranged. In a statement to Eater, Batali said that the allegations matched up with his behavior and apologized for the hurt he had caused. (Note: had caused, not might have caused, Dustin Hoffman.)
I apologize to the people I have mistreated and hurt. Although the identities of most of the individuals mentioned in these stories have not been revealed to me, much of the behavior described does, in fact, match up with ways I have acted. That behavior was wrong and there are no excuses. I take full responsibility and am deeply sorry for any pain, humiliation or discomfort I have caused to my peers, employees, customers, friends and family.
I have work to do to try to regain the trust of those I have hurt and disappointed. For this reason, I am going to step away from day-to-day operations of my businesses. We built these restaurants so that our guests could have fun and indulge, but I took that too far in my own behavior. I won't make that mistake again. I want any place I am associated with to feel comfortable and safe for the people who work or dine there.
I know my actions have disappointed many people. The successes I have enjoyed are owned by everyone on my team. The failures are mine alone. To the people who have been at my side during this time — my family, my partners, my employees, my friends, my fans — I am grateful for your support and hopeful that I can regain your respect and trust. I will spend the next period of time trying to do that.
Batali will be stepping away from the day-to-day operations of his businesses, as well as his role as co-host of ABC's The Chew, for an unspecified period of time. Eater is also reporting that the Food Network is canceling the release of six new episodes of Molto Mario, the show that made Batali famous in the late '90s. "Food Network takes matters like this very seriously and we are putting relaunch plans for Molto Mario on hold," said a representative from the network.
Update, Dec. 11, 2017, at 12:30 p.m.: The article has been updated to reflect the Food Network's decision regarding Molto Mario.
---