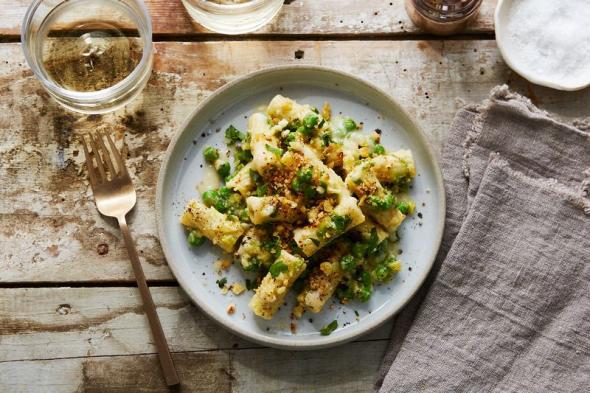 This post originally appeared in Genius Recipes on Food52.
Though this is a pasta hugged by cream sauce—with all the warm, fuzzy feelings such a thing has to offer—it's made mostly of vegetables, with no cream or egg. You'd counterintuitively call this cream-saucy pasta light—fresh, even. But would you call it carbonara?
It's all in the cauliflower. We've seen its cooked, whipped up florets perform astonishing feats before, most famously in Paul Bertolli's vegan cauliflower soup—an impossibly smooth and creamy puree, even though it's made from little more than cauliflower, an onion, and a lot of water.
The secret is that cauliflower is naturally abundant in pectin, which helps the cooked stuff thicken voluptuously when blended. It's frankly a wonder we hadn't been pouring it over our pastas (and everything else) before.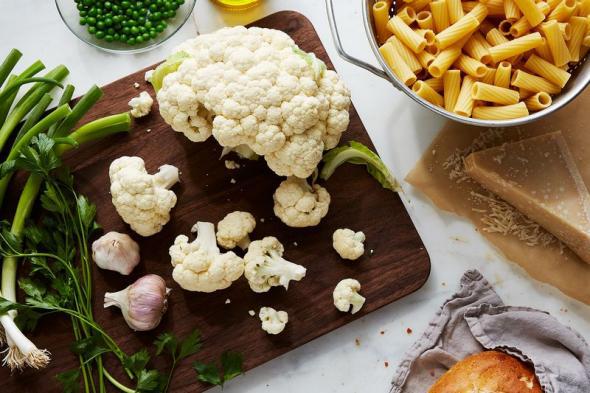 Andy Bennett developed this recipe while he was the executive chef at Rouge Tomate Chelsea—a New York City restaurant with a heavy focus on healthfulness and sustainability.
Bennett simmers cauliflower in vegetable stock till it's very soft, then blends it all up while streaming in olive oil. The sauce fluffs into a weightless emulsion that you can heat up further and jostle around with your pasta, without risking breaking the sauce like you might with a vinaigrette or mayo.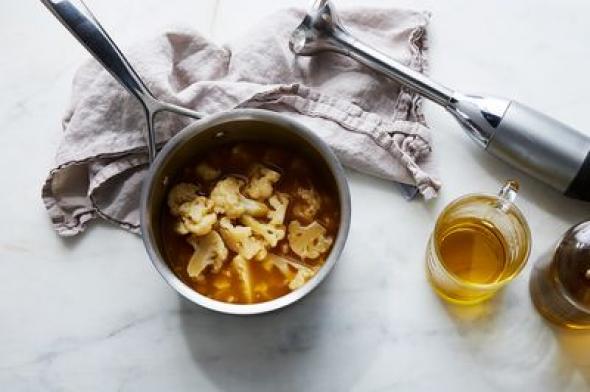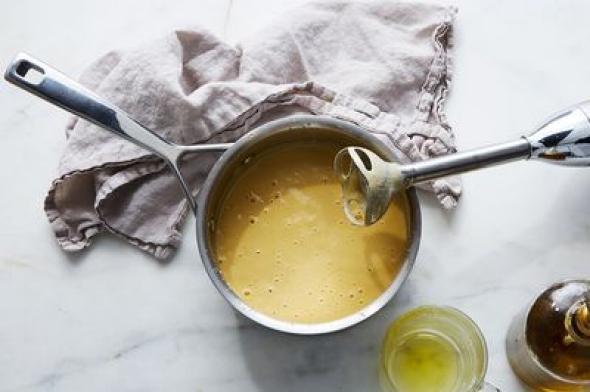 He initially called the dish Spring Carbonara, tossing in spring onions and fresh peas—but you can take this basic premise and work it into a million different dishes. In the fall, he suggests poking in more roasted cauliflower, or Swiss chard, mushrooms, or celery root. Here, we added frozen peas, because frozen peas require no extra prep and are always in season. If you're missing the salty smoked meat, you can sprinkle in some smoked salt as Bennett does—though I doubt you will miss the meat at all.
So why even call it carbonara? Most obviously, because it's similar in its ability to coat noodles luxuriously, though it does so without the weight and richness of the egg yolk and guanciale you'll find in the traditional Roman dish. If you're looking for something comforting but not nap-inducing, this change can be quite a good thing.
But in perhaps the truest sense, this dish reflects the spirit of carbonara—of using just the right technique to eke a simple raw egg yolk into a silky sauce. Here, you see another clever massaging of a basic ingredient, the humble head of cauliflower, and turning it to sauce is no less transformative.
Serves 2
Pasta Carbonara
·       1 tablespoon (12g) olive oil
·       1 cup (100g) sliced spring onions or green onions
·       2 tablespoons (20g) roughly chopped garlic
·       1 cup (200g) Creamy Cauliflower Sauce (from below)
·       250g cooked al dente pasta (from about 125g dry pasta—for the rigatoni we used, this was about 2 cups dry pasta)
·       2/3 cup (90g) fresh or frozen green peas, cooked in salted water
·       Scant 1/2 cup (10g) chopped flat-leaf parsley
·       6 tablespoons (12g) finely grated Parmesan
·       Smoked sea salt, to taste (optional)
·       Freshly ground black pepper, to taste
·       1 tablespoon (4g) toasted breadcrumbs, or more to taste
Creamy Cauliflower Sauce
·       2 cups (200g) cauliflower florets (in roughly 1/2-inch pieces)
·       2 1/4 cups (500g) vegetable stock or broth
·       1/2 cup (100g) olive oil
·       Salt to taste
See the full recipe on Food52
More from Food52
5 Tips for Stress-Free Holiday Hosting   

The Blatantly Obvious Trick for Pan-Greasing I Just Realized

Watch How to Make 2 Colorful Ice Molds for Punches, Mocktails, and More
A Genius, Super-Refreshing Green Salad with 2 Curious Secret Ingredients
Finally: A Genius, Fully Make-Ahead Thanksgiving Turkey
---