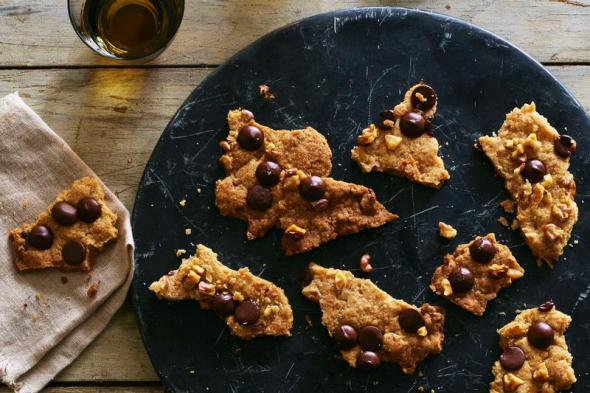 This post originally appeared in Genius Recipes on Food52.
This chocolate chip cookie variant should get its own special bookmark in your brain right now, for the next time you need a last-minute party snack or cookie swap entry or a gift for pretty much anyone (including yourself).
It's speedier, easier, and—especially for us crispy cookie devotees—leaps and bounds better than the standard back-of-the-bag chocolate chip experience.
The reason why is so simple: This is just what happens if you take out any trace of leavener in chocolate chip cookies—no eggs, no baking powder or soda, no airy creamed butter—and mash the dough into a thin layer on a baking sheet.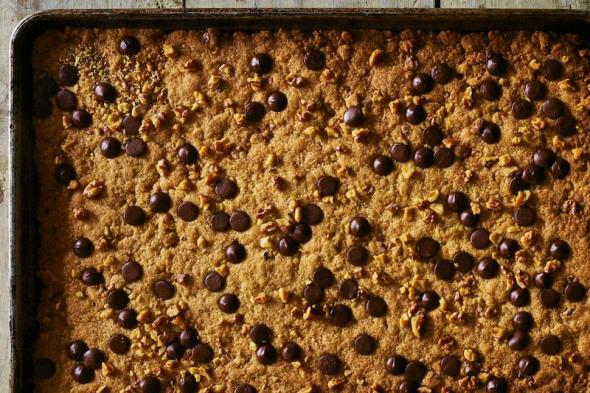 It sounds like something curious kids would make by mistake and has all the makings of a terribly ill-fated idea. But instead, thanks to a generous proportion of melted butter and raw sugar, this dough turns into an addictive, crunchy brittle that falls somewhere between candy and cookie.
Cookbook author and blogger Shauna Sever developed this naturally sweetened recipe for her cookbook Real Sweet based off a version she had found in The American Country Inn Bed and Breakfast Cookbook. After her recipe was pinned a half million times on Pinterest, she ended up demoing it on the Today Show to an incredulous Al Roker.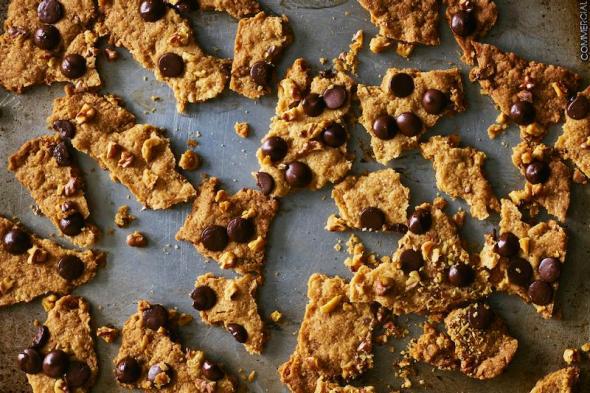 I first learned about Sever's mystical recipe from Luisa Weiss of The Wednesday Chef. "It is so addictive and so good and so insanely easy that you'll never want to make choc chip cookies again (well, not really, but you know what I mean)," Weiss wrote to me. "It's worth the price of the book."
Conveniently, the brittle packs up well in a big jar for holidays, birthdays, and sugar-fueled road trips and plane rides. It's also quite friendly to swap-ins for the nuts and chocolate—coconut? chile? pretzels?—if you need a place to set yourself, Al Roker, or other curious kids free.
Shauna Sever's Chocolate Chip Cookie Brittle
Makes about 3 dozen 3-inch pieces
·       3/4 cup plus 2 tablespoons (200g) unsalted butter, cut into tablespoons
·       1 cup (200g) turbinado sugar
·       2 teaspoons pure vanilla extract
·       1 teaspoon fine sea salt
·       2 cups (250g) all-purpose flour
·       3/4 cup (90g) coarsely chopped pecans or walnuts
·       3/4 cup (130g) bittersweet or semisweet chocolate chips (60% to 70% cacao)
See the full recipe on Food52.

More from Food52
A Fruity, Festive Bread Pudding With Twist
11 Golden, Gussied-Up Birds Guests Will Flock To
The Make-Ahead, No-Mess Dinner Party Combo You'll Turn to During the Holidays
A Make-Ahead, Totally Genius Holiday Breakfast Casserole
A Genius, Super-Refreshing Green Salad with 2 Curious Secret Ingredients
---