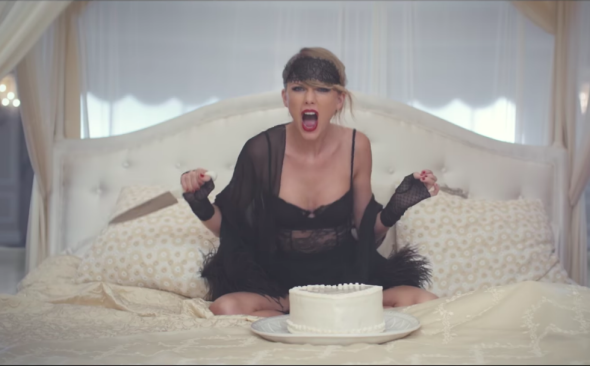 Listening to Taylor Swift's new album, Reputation, it seems Swift—a hopeless romantic with a carefully curated image who throws extravagant parties and is obsessed with the past—might be a fan of The Great Gatsby, F. Scott Fitzgerald's classic American novel about a hopeless romantic with a carefully curated image who throws extravagant parties and is obsessed with the past.
On Reputation, Swift is both the great Jay Gatsby and his great love Daisy Buchanan. On the Kimye diss track, "This Is Why We Can't Have Nice Things," she refers to "feeling so Gatsby for that whole year," presumably the year before her Kim-gineered fall from grace, while on "Don't Blame Me," she has gone from poison ivy to "your Daisy," referring to boyfriend Joe Alwyn's love for her. But could her Gatsby similarities go beyond her newfound fondness for champagne-fueled parties and her dearly beloved?
Looking back, it seems Swift has been emulating a Gatsby-esque lifestyle since well before Reputation, and not just because she imitated Mia Farrow's iconic Daisy look for a 2014 People Magazine cover. Swift has always liked large parties (they're so intimate), from her Fourth of July extravaganzas to her star-studded birthdays, and it often seems the entire point of them is to get noticed, with professional photographers on hand to capture the Instagrammable moments that filled her social media before the great Reputation purge. Getting attention was likewise the motivation behind Gatsby's parties, who only bought his Long Island mansion because it was across the bay from Daisy's.
The entire persona of Jay Gatsby, mysterious billionaire, was a charade invented by James "Jimmy" Gatz in order to achieve his ends. Like Gatsby, Swift had curated a strategic creative persona for herself, the fun-loving, blameless good girl, one that had to be upheld and protected at all costs. Her 2016 downfall, in which she was revealed as two-faced, resembles the unravelling of Gatbsy's world, though without as dramatic an outcome.
Many of Swift's other lyrics have Gatsby-ish themes. Gatbsy is stuck in the past, refusing to be told that it can't be repeated: Ms. Swift, likewise, is obsessed with remembering things, such as in "Red" and "All Too Well." In "Call It What You Want," Swift sings that she no longer cares about all the stuff that mattered to her before now that she's met Alwyn—"They fade to nothing when I look at him"—much as Jay Gatsby feels as he falls for Daisy, saying, "There I was, way off my ambitions, getting deeper in love every minute, and all of a sudden I didn't care." In "Blank Space," Swift plays around with the persona of a jealous and reckless lover, a la basically every character in the novel, while her 50 Shades Darker track, "I Don't Wanna Live Forever," calls to mind the words of Myrtle, Tom Buchanan's mistress: "All I kept thinking about, over and over, was 'You can't live forever; you can't live forever.'" While not a Swift song, Tay Tay's bestie Lorde also has a Great Gatbsy-evoking track in "Green Light," which she revealed is not actually a F. Scott Fitzgerald reference, despite what fans believed (whatever, authorial intent means nothing).
Whatever happens next, one thing is clear: Taylor Swift beats on, a boat against the current, borne back ceaselessly into the past.