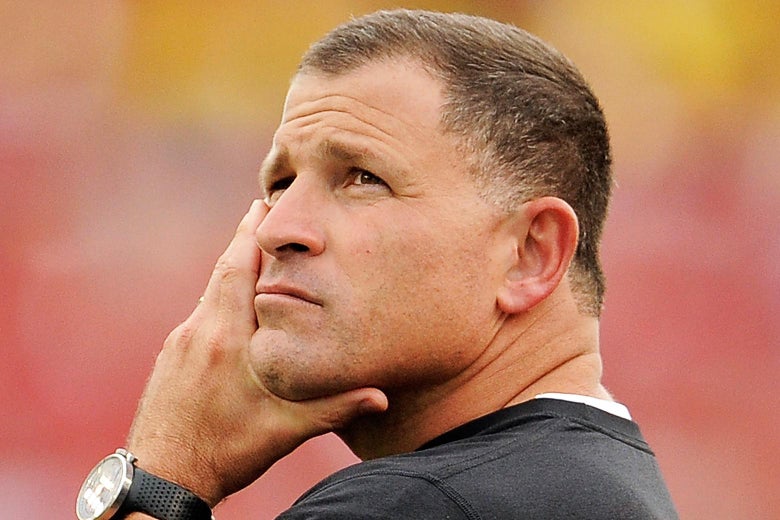 Before Greg Schiano had coached a single game for the Tampa Bay Buccaneers, his players held a private meeting in which they questioned whether he'd rigged the vote for the team captaincy. While Schiano denied engaging in electoral chicanery, it was telling that his players suspected he was capable of such a thing. A month into his second season, Sports Illustrated reported that Schiano had cultivated "an atmosphere of fear and distrust," one in which staffers were "videotaping players on the sidelines during losses to single out players laughing or horsing around." In that piece, SI's Andrew Brandt noted that the Bucs head coach referred to his favorite players as "Schiano Men." The leader of those Schiano Men went 11–21 in Tampa before getting fired. The most noteworthy episode of his two-year NFL tenure came when Schiano literally lost the locker room to a dangerous and persistent MRSA outbreak that he spent much of the fall of 2013 pooh-poohing.
As Barry Petchesky noted in Deadspin this week, Schiano wasn't just loathed in the professional ranks. He was known as a bully during his 11-year tenure at Rutgers, too. Given the coach's history and reputation, it makes sense that the reported anointing of Schiano as the next head coach at the University of Tennessee—a story broken on Sunday afternoon—would be greeted with massive outrage. It was more surprising to see that wave of outrage knock Schiano down, with Tennessee athletic director John Currie quickly walking away from what looked like a done deal. What's most shocking of all is that a large group of well-known, impressively credentialed sports journalists—writers for Yahoo, USA Today, Sports Illustrated, and elsewhere—saw Schiano as the injured party here.
Schiano's Media Men focused on the unfairness of the claim, put forward by many of the coach's detractors, that he'd been implicated in the Penn State sex abuse scandal. Or as someone painted on a rock on the University of Tennessee campus: "Schiano covered up child rape at Penn State." Yahoo's Dan Wetzel called this a "terrifying, lynch-mob reach against a possibly innocent person's reputation." His colleague Pat Forde lamented that a "lynch mob" of "delusional loudmouths" had scuttled the school's coaching search. Pete Thamel, also of Yahoo, named and shamed the "online lynch mob," writing that "those screaming the loudest ended up getting their way without much regard to factual realities." Sports Illustrated's Peter King wrote, "Innuendo won. The witch-hunters won. It's a sad time in America."
These writers would have you believe that Schiano's ouster was the work of a group of unhinged, uninformed message board posters. This was "the perfect combination of fan hubris, local media ignorance, mob mentality and unrealistic expectations," wrote USA Today's Dan Wolken, the reporter who'd broken the story that Schiano would get the Tennessee job. In another piece, Wolken gave space to anonymous coaches and an unnamed "high-level SEC administrator" who vented that the Schiano hiring and unhiring was a "clown show"; that it "made me sick"; and that the movement to drive Schiano away represented "unhinged fandom masked as righteous indignation."
But the attacks against Schiano didn't just come from the likes of VolsFaninMurfreesboro. The coach's denigrators included Tennessee legislators, alumni, former players, right-thinking writers, and yes, professional right-wing troll Clay Travis. If you looked at their critiques, you'd learn that a huge number of Schiano's players hated him, that he left Rutgers with a nonscintillating 68–67 overall record, and that there are questions about what he knew about Jerry Sandusky's crimes at Penn State. By contrast, if you read Schiano's Media Men, you'd think Schiano was a flawless leader who'd been taken down by a single baseless accusation. None of those writers—a group that raged about how a bunch of ignoramuses with broadband connections were spouting off without the benefit of complete information—saw fit to mention that Greg Schiano has a long-running reputation as a micromanaging gridiron autocrat. They also ignored the fact that the University of Tennessee recently paid out $2.48 million to eight plaintiffs who "alleged that UT created an environment within the athletics department, especially the football program, that led to sexual assaults and then employed a disciplinary hearing process biased in favor of athletes."
The Schiano Men in the press box were certainly right to say that the accusations about Schiano and Penn State are murky and disputed. As Wetzel lays out in his piece, the source of those accusations is a 2015 deposition given by one-time Penn State assistant Mike McQueary—the star witness in the successful criminal prosecution of child rapist Jerry Sandusky. In that deposition, McQueary said he'd heard from another Penn State assistant, Tom Bradley, that Schiano "had come to him in the early '90s about a very similar situation to mine." According to Bradley (via McQueary), Schiano "had come into his office white as a ghost and said he just saw Jerry doing something to a boy in the shower."
Wetzel notes that Schiano and Bradley both denied this claim, that the Pennsylvania attorney general's office didn't think the information was solid enough to investigate, and that no charges were ever brought against Schiano. It's clear that what McQueary said in that deposition is hearsay. But a coaching search is not a legal proceeding, and it's willfully obtuse to conflate an allegation's admissibility in court with its potential truthfulness. It's possible Bradley got it wrong or that McQueary misremembered his conversation with Bradley. It's also extremely plausible that McQueary related their conversation accurately.
It will never be 100 percent clear what Schiano did or didn't see at Penn State. But it's fair to give McQueary's deposition some weight when weighing whether it's a wise move to hire Schiano. It also seems fair to consider what Tampa Bay Bucs players have said about their miserable experiences with Schiano, as well as the testimonials from Ohio State athletic director Gene Smith and head coach Urban Meyer, who both say that Schiano—who is currently the Buckeyes' defensive coordinator—is a great coach and a great man. And it would be unfair to omit that Eric LeGrand, the Rutgers football player who was left paralyzed after making a tackle in 2010, raves about the way Schiano treated him before and after his devastating injury.
These are complicated issues that the media and fans needed time to process. But what Wetzel, Forde, Thamel, King, and Wolken are essentially arguing is that the University of Tennessee should have the right to set the terms of the debate, or to rig the process so that there can be no debate at all—that it's perfectly reasonable and proper for a school to hire the state's highest-paid public employee and most high-profile public figure in total secrecy. As Bryan Curtis put it on Twitter: "Weird to see journalists argue that the vetting of Schiano should begin *after* he signs a giant contract and is virtually unfireable." Schiano was known to be on Tennessee's shortlist for just a couple of days before it emerged that he was going to get the job. The school's plan to sneak Schiano in through the back door didn't work. The outrage here, according to the Schiano Men at Yahoo and Sports Illustrated, is that someone was watching the back door.
Why are Schiano's defenders so outraged on his behalf? Albert Breer's article in Sports Illustrated on Tuesday offers some clues. Unlike his fellow ink-stained Schiano Men, Breer actually goes to the trouble of explaining that the Tampa Bay Bucs thought their coach was the pits. Breer wrote a piece about the coach-player imbroglio in Tampa and says he and Schiano "had a short, loud exchange" upon that story's publication. "I'd like to think I got a glimpse at one reason why he's been successful: He confronts problems as they arise, and is willing to settle them in short order," Breer wrote this week. He continued:
[T]here are good and understandable reasons for Tennessee people to not like the idea of Schiano. That's fine. He wasn't a perfect candidate. But given the mess the program has been since Phil Fulmer was pushed out nine years ago, my feeling is having someone who can confront and eradicate problems is just what the administration in Knoxville should be ordering up.
Here is a shorter version of Breer's endorsement: Greg Schiano was a jerk in Tampa. I wrote about how he was a jerk, and then he yelled at me. In conclusion, Tennessee should have hired Greg Schiano.
Schiano's Media Men are in the Greg Schiano business. Coaches are their sources and their talismans. They like Schiano because they like authority. "Schiano is a grownup," Wolken wrote, "a serious ball coach who runs a disciplined program on and off the field." A coach who rants and raves and thinks smiling is bad looks and sounds the way a coach is supposed to look and sound. The rabble-rousers who flung themselves in front of the Schiano train had no right to question a square-jawed football icon's character and credentials. How dare they disturb a university administrator's highly choreographed coaching search by doing a little vetting of their own?
One more thing
You depend on Slate for sharp, distinctive coverage of the latest developments in politics and culture. Now we need to ask for your support.
Our work is more urgent than ever and is reaching more readers—but online advertising revenues don't fully cover our costs, and we don't have print subscribers to help keep us afloat. So we need your help. If you think Slate's work matters, become a Slate Plus member. You'll get exclusive members-only content and a suite of great benefits—and you'll help secure Slate's future.
Join