As you may have heard, the United States failed to qualify for the men's World Cup finals for the first time since 1986, when the national team consisted of college students and indoor-soccer players. In the wake of the national team's 2-1 defeat in Trinidad & Tobago on Tuesday, there has been no shortage of takes, some journalistically dispassionate, others less so. Countless fans, myself included, exchanged expletive-filled texts and emails with friends.
I asked two of those friends to join me to help make sense of the catastrophe. Jonathan Hock is the award-winning director of more than a dozen sports documentaries; his ESPN series Inside: U.S. Soccer's March to Brazil chronicled the team before the 2014 World Cup. Jon Weinbach, the executive producer of Mandalay Sports Media, produced the Vice Sports short film "Das American: Christian Pulisic's Spectacular Rise." Below is an edited and condensed version of our conversation.—Stefan Fatsis
Stefan Fatsis: It's been three days and I've read the postmortems and tried to work through the stages of grief and I still feel sick.
Jon Weinbach: I've been a U.S. soccer diehard since the days of the Major Indoor Soccer League. I remember when mulleted guys like Mike Windischmann captained our national team. I was in Lyon, France, in 1998 for the U.S. loss to Iran in the World Cup, and thought we couldn't possibly get any lower.
Fatsis: We were all at that game. That team was a mess.
Weinbach: And then came Tuesday. By far the worst day in American soccer history. Literally a stomachache and I'm still depressed. I remember watching a World Cup without the United States, and I am a hyper-geek of epic proportions. For my children, who don't really care about the game yet, not having the U.S. in the World Cup perpetuates all the old tropes that some Americans still have: Soccer is dumb. We suck at it. Why should anyone care?
Fatsis: In the few fleeting, rational moments I've had since the game, I've tried to tell myself not to fall into that trap. Because the tired stereotypes about U.S. soccer have mostly been vanquished. We're already on the defensive about everything else American these days. Soccer again, too?
Jonathan Hock: If you're really being rational, you have to see this as a cataclysm. It is irrational to think that it's not a big deal, to think that if Clint Dempsey's late shot is two inches to the left the game is a draw and we're through to Russia, that it's all OK. This is an utter failure. Soccer in America is very much alive. Major League Soccer is real and growing. The women's national team is glorious. Youth soccer is a national pastime. But the men's national team? Dead.
Fatsis: Let's be clear: There is no excuse for not qualifying. This isn't Europe or South America, where a glut of great soccer nations means the likes of the Netherlands or Chile will miss the World Cup. Before we do the autopsy, let's talk about the Trinidad game. Congrats to the Soca Warriors! But while CONCACAF qualifiers on shitty fields in unfriendly environments with suspect refs are challenging, a team of top American soccer players, who play in Germany's Bundesliga and England's Premier League, should defeat if not demolish a team of top Trinidadian soccer players, who play for W Connection and Police, every single time.
What stood out in this game was the utter lack of urgency. It was as if the Americans believed there was no way they wouldn't qualify because they're American and entitled to qualify. I mean, check out this GIF of Trinidad's second goal. Way to hustle, guys.
Weinbach: T&T had acres of space from the first minute. It was so obvious, even on TV, that this had the makings of a nightmare. From the first minute.
Fatsis: The United States was chasing lackadaisically and passing listlessly. Michael Bradley, the putative U.S. leader, who played in Serie A in Italy for chrissakes, was turning tail against Trinidad. With the exception of the first five minutes of the second half when wunderkind Christian Pulisic scored, the United States lacked the energy and creativity to break down an opponent perched just ahead of Luxembourg and Madagascar in the world rankings. Taylor Twellman might have understated matters.
I think they were half-expecting Mexico and Costa Rica to bail them out by beating Honduras and Panama. No way those guys lose, right?
Weinbach: We saved Mexico's ass in 2014 qualifying after we had already qualified. Shocking they couldn't do the same for us. I'm blaming Trump.
Hock: Did you see Mexico put its final free kick, from 22 yards out, dead into the wall? They loved laying down to spite us, which is how a proper soccer nation should behave. It may be the beautiful game, but international football is ugly and corrupt, there is zero good sportsmanship (so prized in America), and cheap shots, fake injuries, fan violence, and intimidation are all part of the game. We need to raise players who can flourish in that environment. It's like trash-talking and roughhousing in playground basketball. If you can't hang, don't call "next."
Fatsis: Let's talk about the roster. The core players who failed to get the job done are old or getting there—Bradley (30), Clint Dempsey (34), Tim Howard (38). More than half the players who went to Trinidad—14 out of 23—were 30-plus. Only four players were between the peak performance ages of 23 and 27, and one of them, Jozy Altidore, has been around forever, since he made his national team debut as a teenager.
Weinbach: The Bradley-Dempsey-Howard group—they've been allowed to linger too long. Good riddance to them. We've basically lost a generation because the players who are now roughly 24 to 30 have shit the bed repeatedly, not qualifying for two straight Olympics and not making the national team better.
It's no coincidence that the core of the 2000 under-23 Olympic team, which finished fourth in Sydney, was Landon Donovan, Josh Wolff, and John O'Brien, plus Frankie Hejduk and Brad Friedel as over-age players. All were hugely important in 2002, when we made that incredible run to the quarterfinals at the World Cup in Japan and South Korea. There's been nothing like that in the last decade, with new guys achieving international success at the level below the senior national team.
Fatsis: The United States U-23s didn't make the last two Olympics. Now the senior men won't play a meaningful match until 2019. So huge thanks to Timmy and Clint and Michael for the memories—stunning Spain in the 2009 Confederations Cup, the Algeria miracle in South Africa in 2010, the crazy thrilling loss to vastly superior Belgium in Brazil in 2014. But they shouldn't wear the USA uniform again. Give them a framed jersey, a bouquet of flowers, and a Hall of Fame IOU, and let's move on.
In fact, other than 19-year-old Pulisic, who plays in the Bundesliga, 24-year-old Premier League defender DeAndre Yedlin, 24-year-old Bundesliga striker Bobby Wood, and 24-year-old Bundesliga defender John Brooks, maybe no one who's been a core player for the U.S. in the last few years should play for the team again. OK, 32-year-old Premier League defender Geoff Cameron—inexplicably benched against T&T—can stick around to train his replacements.
Notice what those guys have in common? They work in two of the best leagues in the world. I'm really pissed right now, so here's my rage proposal: From now on, if a player chooses—chooses—to play in Major League Soccer instead of a major European league, he doesn't get called in to the national team. Last year, Jordan Morris, just out of Stanford, was offered a contract with Werder Bremen of the Bundesliga. He signed instead with the Seattle Sounders because "I wanted to play in my hometown."
That was great for family dinners at the Morris house, and for MLS. But will that kind of narrow thinking—Morris was 21 at the time; experience the world, dude— limit his growth and hence make the national team less good? By contrast, Pulisic went to Borussia Dortmund at 16, starts and scores for the first-place team in Germany, and is on his way to becoming the first American international superstar.
Hock: I disagree about Morris. He is big and strong and would have protected Pulisic a lot better than Altidore did against Trinidad. He played really well in a few of the qualifiers, set up Wood's goal against Honduras that kept the U.S. alive, scored a big goal in an earlier match, and was 90 percent of their energy in a couple of games. The guy was nonstop.
It's just a shame that Morris had to come up on a team of selfish, aging players who were scared for their own places on the team (Dempsey, for one). Let's talk about Morris in four years. Do you want to give the young guys a chance or don't you?
Weinbach: Hey, Landon Donovan spurned Germany as a teenager and it worked out OK for him. Also, the U.S. Soccer Federation is too intertwined with MLS to make it punitive to play domestically. The unintended consequence of MLS has been that it has considerably raised the game of Costa Rica, Honduras, and Panama. I actually think MLS needs to have more Americans.
We've also seen countless examples of how going to Europe can be destructive for American players who don't play. Look at Sebastien Lleget, who was doing great for the Los Angeles Galaxy and the national team until he got hurt versus Honduras. He was with West Ham in England and never played. He returned to MLS and what do you know? He can play! Given the politics and money and personalities in global soccer, you have to let guys play where they have the best opportunity to improve—not just based on the reputation of the club.
Fatsis: But there's always the unknown of how much better a player would be were he practicing daily with top international clubs versus the motlier collection of talent in expansion-diluted MLS, which will be there to scoop up players like Lleget on the rebound.
But let's get optimistic. There's a bumper crop of young American talent. On Thursday, the United States advanced to the knockout stage of the U-17 World Cup in India. And most of the best young Americans are based in Europe, including 19-year-old Weston McKennie, who just made his first start for Schalke in the Bundesliga, and 19-year-old Cameron Carter-Vickers, who scored in his debut for Sheffield United in England's second division. Weinbach, you hung with Pulisic for the Vice Sports doc. Surely you see the trend.
Weinbach: The American soccer development system is far, far, far better today than it's ever been. It's kind of a miracle that guys my age (41) plus or minus five years, basically from Brian McBride (born in 1972) to Landon Donovan (1982), developed at all, considering there was no domestic league and very little soccer on TV. College isn't going away, and for the record, lots of guys who've succeeded on the national team played college soccer at some point, Yedlin among them. But the NCAA is really a place for B prospects—the best players are being signed by MLS and foreign clubs. Clearly there's still too much "pay to play" in the suburbs, but the youth national teams feature a bunch of children of African and Latino immigrants, which is a really good sign.
Fatsis: Grant Wahl's post-T&T analysis in Sports Illustrated was tough and unapologetic. He called for a top-down purge, starting with longtime U.S. Soccer Federation president Sunil Gulati, the creation of a permanent director of the men's national team, and, of course, a new coach. In a conference call with reporters on Friday, Gulati took "full responsibility" for the World Cup horror—but he didn't resign and refused to rule out running for a fourth four-year term in February. Huh.
Weinbach: I think there absolutely needs to be a full time USMNT technical director or general manager, and I think seeing women's national team legend Julie Foudy as president of the federation, as Wahl suggested, would be smart. The next coach should either be a foreigner with U.S. connections—like Tata Martino, the former Argentina and FC Barcelona manager who's currently coaching Atlanta United in MLS—or a USMNT-er from the "pioneer" era, either U.S. U-20 coach Tab Ramos or Sporting Kansas City manager Peter Vermes.
Fatsis: Weren't we just here? With great fanfare, U.S. Soccer in 2011 hired former Germany star, Germany coach, and California resident Jurgen Klinsmann to bring Deutsche smarts and new-age ideas to American soccer. After losses to Mexico and Costa Rica in the final round of World Cup qualifying, Klinsmann was fired and replaced by Bruce Arena, who coached the U.S. to the 2002 and 2006 tournaments. Hock, before the 2014 World Cup, you followed Klinsmann around for that ESPN series. How much of the blame for this failure rests with him?
Hock: A lot. I think Jurgen was smart about talent and had a keen understanding of personnel and matchups. But he was horrible as a leader of men. He was inconsistent and arbitrary in a tactical sense, changing formations and player responsibilities without regard to how much he'd been asking of the players before he changed his mind. The players, who really bought in at first, became confused and untrusting, uncertain that Jurgen would honor their commitment to him by rewarding them with a consistent status on the pitch.
You can't treat Americans like that. If you ask for something and they buy in, you have to reward them. Jurgen did, then he didn't, then he did, then he didn't, and he lost them. That manifested in a lack of "will" from the players on the pitch—not that they weren't trying to do their best, but they weren't so thoroughly invested in their task that they could access the very best of themselves. That lasted through the end of the T&T game, and it started under Jurgen.
Fatsis: And he cut Landon Donovan.
Hock: I think Jurgen reminded the players, in ways that were sometimes subtle and sometimes less so, that he was a better player than any of them would ever be and that his home country was better than theirs would ever be, and that wore them out. A coach is always a parent, and a parent always needs to make his (or her) child feel he (or she) can exceed what the parent accomplished. Jurgen belittled the players when he coached them—probably not deliberately or strategically, but it was just his affect of superiority when he was trying to instruct them. I think he probably wanted to love them and support them, but couldn't.
Fatsis: Also, he cut Landon Donovan.
Hock: When Arena took over, it was an old team that couldn't get it back (as we all see clearly now). If Arena was a great national team coach of a great national program, he would have recognized the problem instantly, filled the team with hungry, young, talented players, coached their asses off through a weak and forgiving CONCACAF region, and qualified for Russia. I mean, what kind of hubris does Arena have that he thought he could trot out the same guys as Klinsmann did, but they'd win because he's on the sideline and Klinsmann isn't?
Fatsis: As his comments after Trinidad showed—"Nothing has to change," Arena told reporters—he has a lot of hubris. Arena should have resigned on the spot, as any self-respecting international coach would have. He finally departed on Friday, in a statement that tried to walk back those postgame remarks. Not qualifying for the World Cup "certainly is a major setback" and "[q]uestions rightly should be asked about how we can improve." Thanks for the insight. Don't let the door hit you in the ass.
Hock: Looks like Beckham United has its coach! Maybe there just wasn't enough quality waiting in the wings, and Arena had no choice but to try to push these old guys over the line. But if that's the case, it speaks to the failure of the entire system. A failure of vision, a failure to mobilize a nation of soccer-playing children to the purpose of winning a World Cup.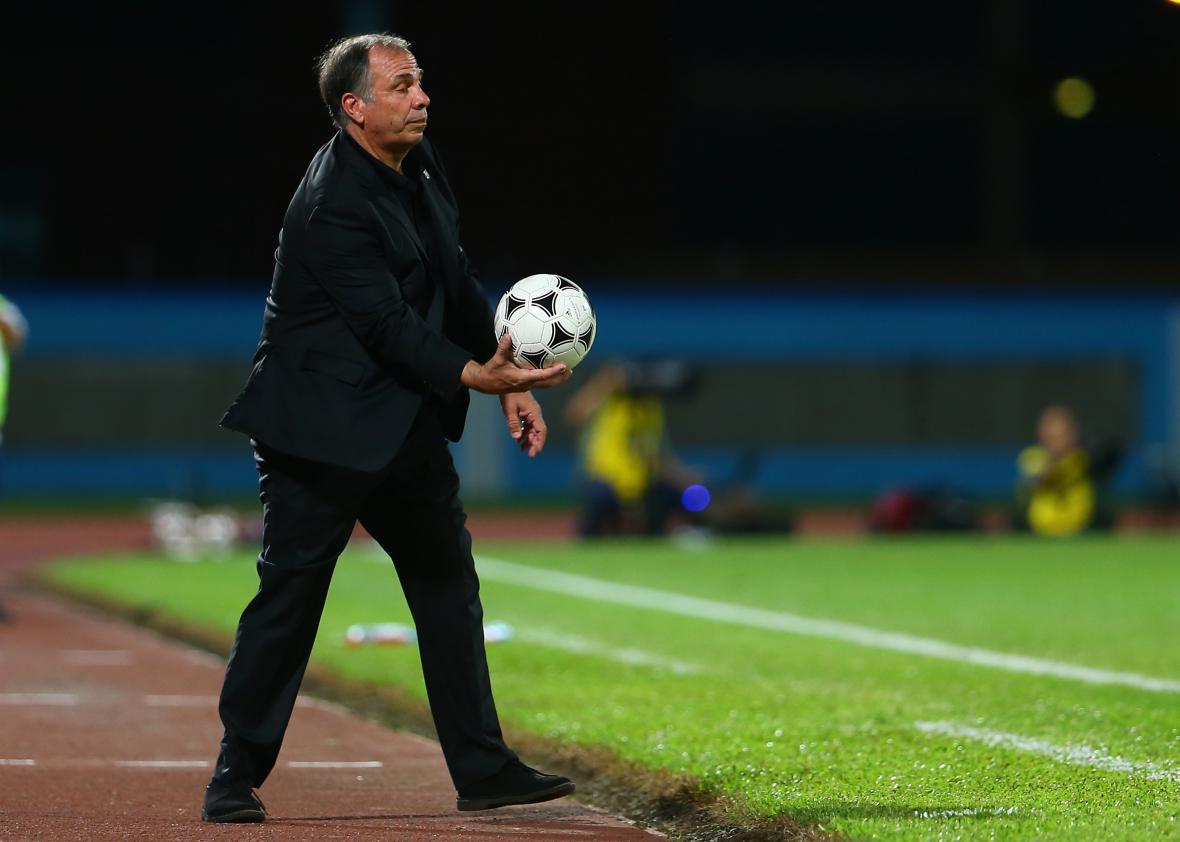 Weinbach: It was easier in the past to say the problem is youth development. I'm not so sure now. Last year I was in Dallas and saw some of my friend's son's game. He plays for the U-9s at FC Dallas. I couldn't believe how good the kids are. And all the coaches are either former college players or MLS castoffs or Latino guys who played for a junior national team. Not like the dads who coached me on AYSO all-star teams in L.A. in the '80s.
There are clearly system-wide changes to make, but I think this cycle was the perfect storm of an older generation being left on the field too long, a "missing" generation totally whiffing, and some astoundingly bad coaching decisions all mixed together.
Fatsis: Brian Sciaretta wrote a good piece about the lost generation in American Soccer Now. The question is what changes need to happen. The United States might be too big and its youth-sports industrial complex too entrenched to impose a collective national system like Holland and Denmark or plucky first-time World Cup qualifier Iceland. And soccer doesn't have the cultural hegemony, or funding, to enable the kind of overhaul Germany imposed in the 2000s.
As Weinbach noted, coaching, scouting, and talent identification have improved vastly in the last two decades. The change has to come through U.S. Soccer, MLS clubs, and grassroots urban programs like a couple in D.C., where I live, that get kids playing early and then funnel talent upward. And we probably need a better system for plucking and nurturing the very, very best 14- to 19-year-olds, boys and girls.
Hock: If the United States is too vast and unwieldy to reinvent the development system, how's this for an experiment? Take one area around the size of Holland or Belgium—say Los Angeles, which has 20 million people. Seed it with small turf fields the size of basketball courts. Bring in a thousand licensed coaches from Europe, Mexico, and South America, and create one super-squad of 20 kids from that area in every age group. I bet they'd beat the rest of the country within five years. Our national development is too diffuse.
It works in basketball because it's been drilled into the culture for decades. Our littlest kids learn the game from their friends and big brothers and older kids in the neighborhood, not from coaches. You can't have it coached into you at a certain point. It has to be baked into who you are. If we are ever going to not suck compared to the rest of the world, we have to bake soccer into the culture of our hungriest kids.
I think it would take 25 years, three mini-generations of kids cycling through, where being the baddest soccer player in the neighborhood is the best thing to be, and where it's the kids teaching it to each other. That's when we'll have a shot at transforming soccer in this country. If we don't do something radically different, if we fail to recognize this past cycle as the cataclysm it is, we will never make it in this mean, dirty, global game.
Fatsis: The way American kids play soccer has to change. My neighbor's 13-year-old son played in a club with a Brazilian name that uses a Dutch model emphasizing "athletic skill, creativity, expression, and passion over purely technical instruction." At younger ages, a lot of "practice" is player-run futsal on a basketball court—small-sided games that reward ball possession and control, ingenuity, and improvisation, like the playground basketball Hock mentioned or, more to the point, urban street soccer in every football-first country. My neighbor's son loved that. Now he's aged into a more traditional American club, which he finds not as much fun. Pulisic is a unicorn, but unstructured play was central to his development.
Hock: On Hang Up and Listen this week, Stefan played clips of great "Panenka" penalty kicks. The one from Spain at the 2010 World Cup struck me: "Por Dios, por Espana…" the announcer said. Do we have to get to that point as a soccer nation—where we're trying to score for God—if we want to compete with Spain, or Brazil, where the players are convinced they were handpicked by God to be on the Seleçao?
Weinbach: This may be a bit pessimistic, but U.S. soccer might be destined to be like Serbia or Argentina in basketball. A bunch of elite young players will go to European clubs, the way foreign hoops guys come over here for college or the NBA. A few will stick in the top leagues. But, on the whole, these countries rely on a few big domestic clubs to pluck and develop the best basketball talent, in the hopes they'll have some domestic success and maybe coalesce into a decent national team.
The global soccer market is obviously much bigger, but in basketball it almost always takes a golden generation to compete for top honors internationally—like 2004 Olympic gold medalist Argentina or the crop of Spaniards led by Pau and Marc Gasol, Rudy Fernandez, and Juan Carlos Navarro. You see how hard it is for these countries to stay consistently good in hoops, because they don't have the expertise and the player pool to create global stars, and at most only a few guys get seasoned against the best every year. And if there's a "missing" generation, like what we've seen from Croatia or Russia in basketball—or the United States in soccer—they struggle at the national level.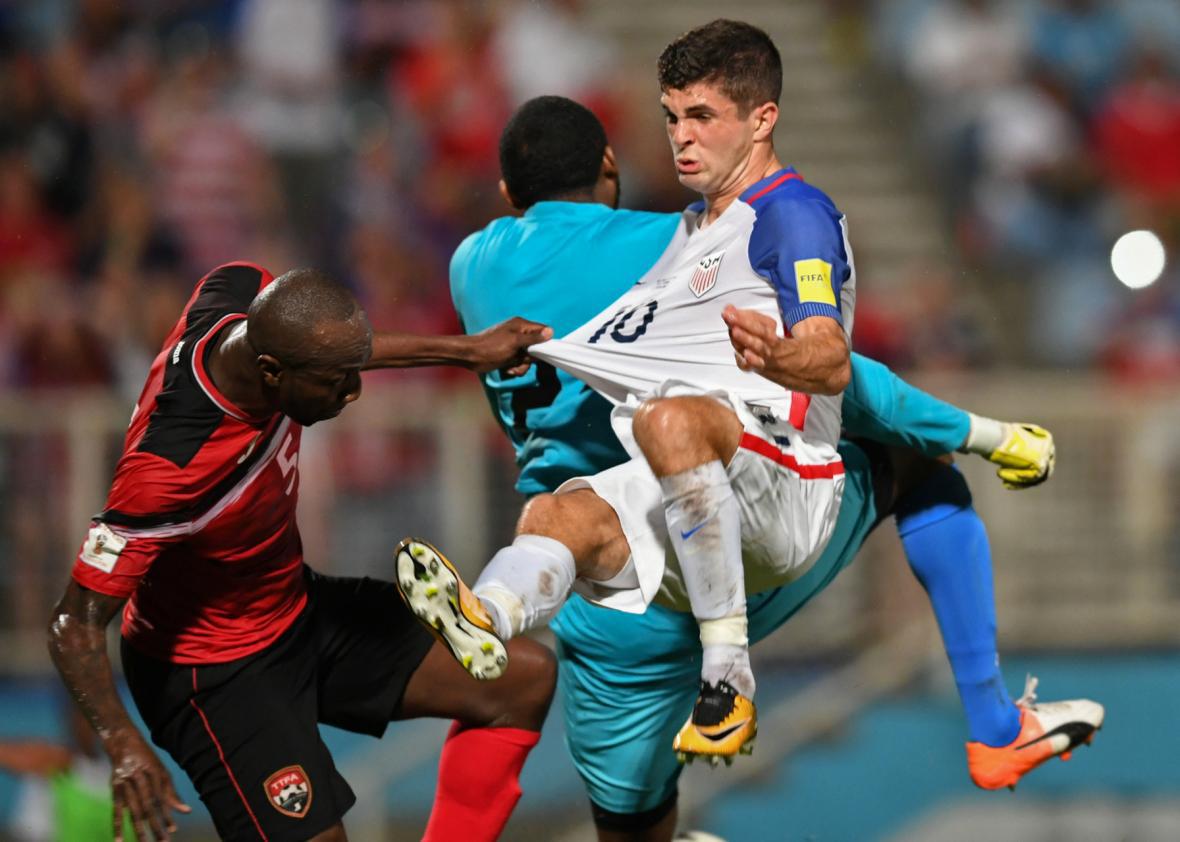 Fatsis: Talking it through like this is making me feel slightly better. But still I mourn. What a shame for Pulisic's career—the chance to play in a World Cup as a teenager and do something magical that will inspire some 9-year-old boy or girl to juggle for hours in the backyard the way he did. And also for fans, because rooting for the United States in the World Cup, men's and women's, has become one of America's few truly communal sports rituals. I'll miss that in 2018 (but I'm psyched for the Women's World Cup in 2019).
Weinbach: It is incredibly depressing, to a degree that isn't possible with our team sports fandom. In the pro and college games, there's always next season. With no U.S. team in Russia, I worry that American soccer fans, casual and hardcore, will get even more passionate about foreign clubs in the next four years—and they're already way more into Manchester United and Real Madrid than they are the Galaxy or New York Red Bulls. That's the trickiest thing. An NBA team doesn't have to worry about its fans abandoning it for a club team in Italy. MLS teams, and the U.S. men's national team, do.
But I'm just too invested to give up. I'm incredibly excited about the new LAFC expansion club in MLS, about some of our younger players, about Pulisic, and about the general trends. But watching the World Cup will be kinda brutal. I'm rooting for Iceland.
Fatsis: Duglegur! I loved your Vice Sports short with Roger Bennett explaining how Iceland got so good. I'll be pulling for my ancestral homeland, Greece, to qualify and make another soporific run to the knockout rounds. I'll root against England and France, just because, and for Egypt because Bob Bradley nearly got them there four years ago. Burkina Faso might debut, and I love it when little countries debut. And I'll be cheering for Lionel Messi to win the whole thing for Argentina, because Leo freaking Messi. It'll be mesmerizing, because it always is. But less intense than it would have been had we not fucked up so colossally.
Hock: For the United States, this loss, this qualifying period, is our Chicago Fire (the actual fire, not the MLS team). Maybe something about what was built had been worth saving, but it's all lost so let's take advantage of the opportunity to rebuild. We love soccer now in this country, and we have a healthy league and a lot of excellent younger players. Let's hope that someone new will take the controls and improve the system for developing world-class talent. The apocalypse has come, and paradise awaits.
Fatsis: Save us some seats, in the American Outlaws section.