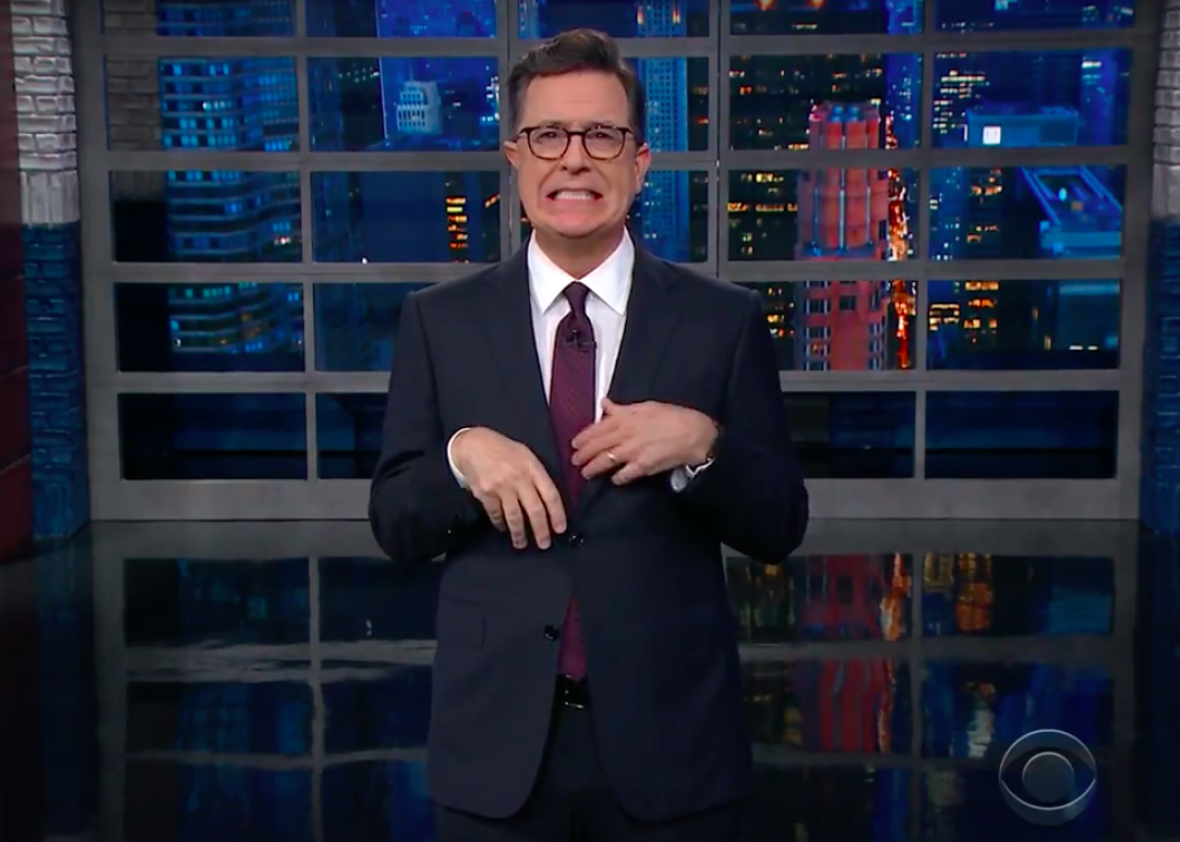 This weekend's episode of Saturday Night Live was oddly silent about the sexual harassment allegations against film producer Harvey Weinstein, but late night hosts had plenty to say about the scandal on Monday night, even as new, horrifying details continue to emerge.
Late Night With Seth Meyers
As he has done before, Meyers ceded the floor to three female members of Late Night's writing staff, Amber Ruffin, Ally Hord, and Jenny Hagel, who pointed out that while men might be shocked by the allegations against Weinstein, many women are not. Ruffin noted that if there are eight women who received cash settlements from Weinstein over sexual harassment, then there are probably more. "And whatever details you hear, just know that means there are worse details we haven't heard."
The trio also mocked Weinstein's bizarre response to the New York Times article, in which he blamed his behavior on the fact that he "came of age in the '60s and '70s." Hord said that that excuse might fly if Weinstein "came to the present via time machine."
"Does he lose his shit every time he sees a microwave?" wondered Ruffin.
The Late Show With Stephen Colbert
Stephen Colbert didn't beat around the bush in his monologue. "Harvey Weinstein is a bad person," he said plainly, calling Weinstein's behavior "monstrous" and "indefensible." He even suggested that, now that Weinstein has been fired from the company that bears his name, they should consider calling The Weinstein Co. something less offensive—like "Asbestos Child Slappers."
Colbert also seized on a statement from Weinstein's attorney Lisa Bloom (who is no longer defending him) calling him "an old dinosaur learning new ways."
"Dinosaurs did not touch themselves in front of their employees," said Colbert. "The T-Rex's arms were way too short."
Jimmy Kimmel Live!
Jimmy Kimmel sparred with Donald Trump Jr. on Twitter over the weekend after the president's son asked for Kimmel's thoughts on Weinstein—the implication being that "the biased left-wing media propaganda machine" would not comment on harassment if it came from a Democrat. (Kimmel replied by sending a video of the infamous Access Hollywood tape in which Donald Trump bragged about grabbing women "by the pussy.")
Others tried to somehow blame Hillary Clinton for accepting donations from Weinstein when she was running for president. "I'm not defending Hillary Clinton," said Kimmel. "Her campaign did take money from what turned out to be a high-profile man who has been accused of sexual harassment multiple times—and not just one of them. She took money from two of them." Kimmel said. "Harvey Weinstein and Donald Trump, who donated to Hillary's campaign in 2008."
The Tonight Show Starring Jimmy Fallon
Jimmy Fallon's monologue was focused on other topics, but he did get one good barb in—though not at Weinstein's expense. "Harvey Weinstein was fired by his company yesterday for sexual harassment. Not good," said Fallon. "If he keeps this up, he'll wind up with his own show on Fox News."
---