The Harvey Weinstein scandal is the biggest story in American entertainment, but it's also getting particular attention from the Italian media, with good reason. Two of Weinstein's accusers, model Ambra Battilana Gutierrez and actress Asia Argento, are Italian and are well-known figures in their home country. Argento, who has won two David di Donatello awards, the Italian equivalent of two Oscars, for her acting, is also the daughter of famous horror filmmaker Dario Argento, while Battilana Gutierrez, who was involved in a NYPD sting operation in 2015 designed to get Weinstein to admit to groping her on tape, is a Miss Italy finalist who gained national attention for testifying against Silvio Berlusconi and others over the former prime minister's notorious "bunga bunga" parties.
As a result, the Weinstein scandal has received more coverage in Italy's major daily newspapers, including La Repubblica, La Stampa, and Corriere della Sera, than a Hollywood scandal otherwise might. In particular, Fabrizio Lombardo, the former head of Miramax Italy who has been accused of procuring women for Weinstein, is receiving outsized attention in Italy for his alleged role in the scandal.
Sharon Waxman wrote in her story for the Wrap that according to multiple sources, "[Lombardo] had no film experience and his real job was to take care of Weinstein's women needs, among other things." And on Twitter, Argento identified Lombardo, who was the head of Miramax's Italian office from 1999 until its closure in August 2003, as the producer who brought her to Weinstein's room under false pretenses on the night that Weinstein allegedly assaulted her. (Weinstein denies all allegations of non-consensual sex.)

While the American press at first seemed more concerned about Matt Damon vouching for Lombardo to Waxman in 2004 than with Lombardo himself (Damon denies that he knew about any of these allegations and says he was simply vouching for Lombardo's skills as a producer), Italian reporters immediately zeroed in on the former head of Miramax Italy and his alleged involvement. For his part, Lombardo has denied the accusations against him to multiple Italian outlets over the past few days, telling La Stampa (in Italian), "I have decided to make a denial, it is all fake news."
Paola Jacobbi of Vanity Fair Italia also spoke to Lombardo about the allegations in an in-person interview, during which his lawyer, Bruno Della Ragione, was on hand. Jacobbi talked to Lombardo about his role in Miramax before finally asking him about the Weinstein allegations. Jacobbi noted that he seemed nervous, like an uccellino spaventato, a "scared little bird," throughout.
[Lombardo:] … Who could have said such a thing?
[Jaccobi:] Maybe the same people who argue that it was you who accompanied Asia Argento to that famous party/non-party at Hotel du Cap, where in the place of the guests, as she recounted to the New Yorker, Argento found it deserted and only Weinstein in his hotel room.
It is not true, I categorically deny it. During the Festival of Cannes, at Hotel du Cap, it was common to have parties attended by hundreds of people. Do you know what the truth is?
Which is it?
That I, the very things I'm telling you, I had already told them to Ronan Farrow. Unfortunately, Mr. Farrow, in his piece for the New Yorker, did not consider leaving room for all of my words.
Farrow's article, it's worth noting, does not actually name Lombardo and identifies the man who led Argento to Weinstein's room only as "one of Weinstein's producers." It also notes that the unnamed "producer denies bringing Argento to the room that night."
Since the New Yorker piece's publication, Argento, who has accused Weinstein of forcibly performing oral sex on her in 1997, has been frequently engaging with critics on social media, including Italian politician and media personality Vladimir Luxuria, who questioned Argento's account on Twitter on the grounds that Argento continued to work with Weinstein after the alleged rape. Another personality, Selvaggia Lucarelli, expressed similar doubts in a lengthy Facebook post and then later called out Argento for signing a petition to support the release of Roman Polanski in 2009, after he was detained in connection with an underage sex case.
Most notably, Argento has announced her intention to sue the right-wing Milanese newspaper Libero over a column about the Weinstein accusations by Renato Forina with the headline "Prima la danno poi frignano e fingono di pentirsi" ("First I Give It Away, Then I Whine and Pretend to Repent"), in which Farina writes that "falling for the boss' advances to make a career is prostitution, not rape." Libero's director, Vittorio Feltri, made similar comments during an appearance on the radio program La Zanzara on Radio 24, fixating on the fact that Argento allegedly received oral sex—una leccatina, "a little lick," he called it—and suggesting that she could have turned Weinstein down: "Others refused. Instead of taking the part in a small film, they went to be shop assistants or cashiers in a supermarket."
Farina's Libero column and others like it have opted to use scantily clad photos of Argento from Abel Ferrara's 2007 movie Go-Go Tales, as opposed to one of her more famous movie roles, in a classic case of slut-shaming.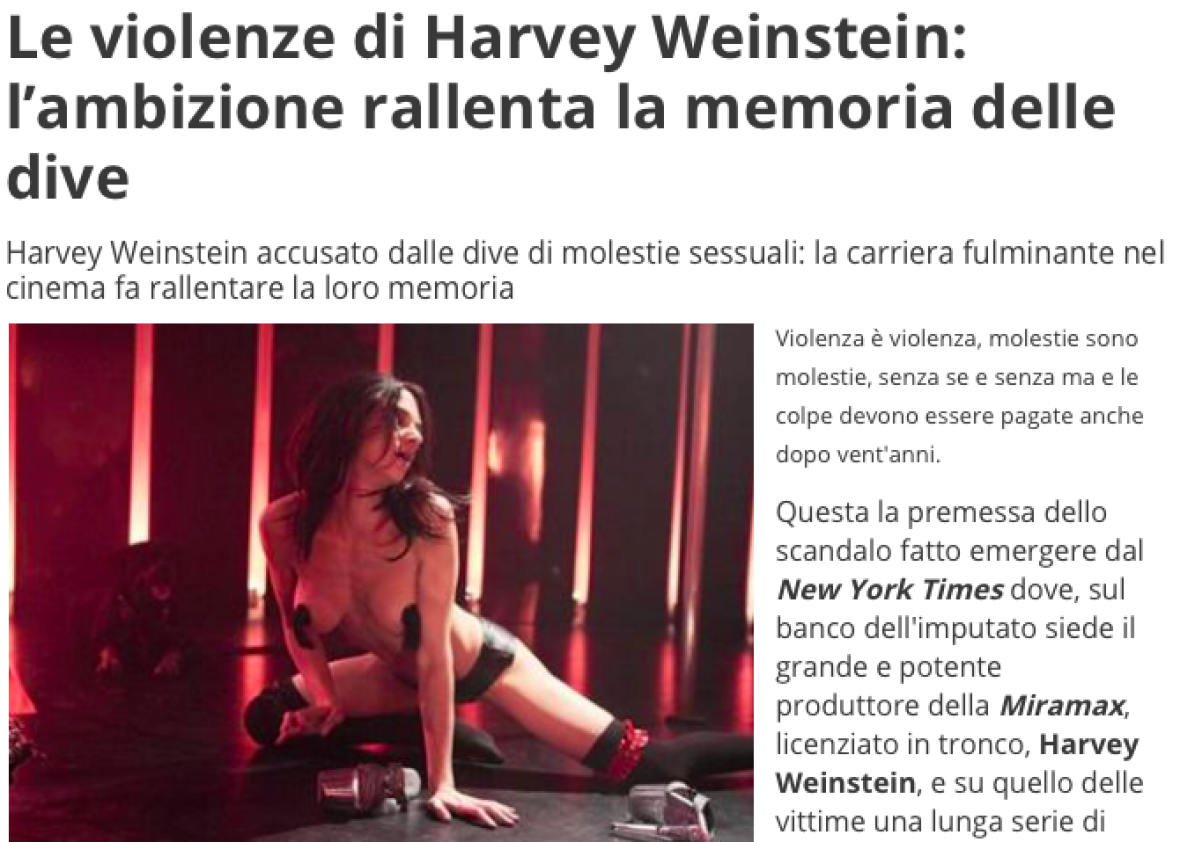 Argento has her defenders in the Italian press. Paolo Armelli, writing for Wired Italia, criticized even mainstream outlets like La Repubblica and Rai News for, among other things, using the word diva to refer to the women who have spoken out against Weinstein, a word which carries a more negative connotation than a neutral word like donna (woman) or star. Writer Teresa Ciabatti praised Argento for her courage in speaking out, while Weinstein's other Italian accuser, Battilana Gutierrez, has expressed solidarity, adding:
("Only in Italy are the victims judged and questioned. Above all when you go against the titans.")
Battilana Gutierrez in particular recalled how she was vilified in the Italian press years earlier, when she was labeled a "bunga bunga girl" for speaking out about Berlusconi. But victim-blaming is hardly a uniquely Italian institution, as Battilana Guiterrez surely knows—after the Weinstein sting, the New York Post ran an anonymously sourced story that suggested Battilana Gutierrez tried to leverage her accusation against Weinstein to nab a film role, complete with pictures of her in a bikini.