In 1960, when Fats Domino could have built a mansion anywhere on earth, he chose the corner of Caffin and Marais in the Lower Ninth Ward, a few blocks from where he was born and raised. Over the previous decade, he'd sold more records than anyone but Elvis Presley, and, unlike many contemporaries, his record contract entitled him to royalty checks. He was a star, hailed around the world. But he felt like the same person who'd delivered ice by wagon on Marais Street, before it was paved. He was living across the river in Jefferson Parish when he died on Wednesday.
When Domino grew up, the Lower Ninth Ward was more hinterland than neighborhood of New Orleans. His neighbors raised farm animals, and his mother grew vegetables to feed her children. His father came from a sugarcane plantation upriver (he spoke French, influencing his son's distinctive phrasing). By 1960 the area was full of modest, single-family houses. Domino bought up a few lots and moved into a modern split-level home with 24-foot ceilings. He wasn't there to show up his old friends, though. He was giving them a place to hang out and drink beer while he made them lunch.
Domino signed his first record deal in 1949, when Dave Bartholomew, a black bandleader and talent scout, brought Lew Chudd, the white head of Imperial Records, to the aptly named Hideaway Club, a honkytonk deep in the Ninth Ward. Domino's driving rhythm on the piano and sweet singing voice blew Chudd away.
Soon, Domino was in J&M Studio on Rampart Street, recording "The Fat Man." He considered it a standard rhythm and blues song—he just made up new lyrics to "Junker Blues," an old tune recorded by another New Orleans piano man, Champion Jack Dupree. But Domino's pulsing left hand pointed a new way forward. Soon, with Bartholomew's direction and a heavy backbeat from drummer Earl Palmer, Domino cut a string of hits that would help define the sound of rock 'n' roll.
What followed changed popular music forever, an important story well told in Rick Coleman's biography Blue Monday: Fats Domino and the Lost Dawn of Rock 'n' Roll. Domino's music crossed over to white audiences and became a touchstone for young people from Detroit to Liverpool.
Domino spent much of the '50s and '60s on the road, packing houses across the country. He always kept part of the Ninth Ward with him: hot plates, pots, and spices from his house, which he used to cook red beans and rice in his hotel room. When a tour took him in the general direction of New Orleans he was known to peel away from the band to spend a night in his own bed.
When the Industrial Canal levee gave way during Hurricane Betsy in 1965, Domino was on the road. He flew back to New Orleans, hired a boat, and ferried his family to safety from the second floor balcony of the new house. The Lower Ninth Ward was inundated, but displaced residents stayed in town and began rebuilding when the water receded. The Domino house was redone, down to the ivory dominoes inlaid in the marble floor downstairs.
The house had become an attraction. Sometimes people rang the doorbell to see if he would answer. White teenagers ventured across the St. Claude bridge to see if they could catch a glimpse of him taking out the trash. Domino was gracious with fans but did his best to stay out of sight.
When the levee breached during Hurricane Katrina in 2005, Domino, then 77, was at home with his wife Rosemary and extended family. Like a lot of Betsy survivors, they figured they could handle it. The wall of water from the Industrial Canal blew houses off their foundations, and quickly filled Domino's first floor, but the structure held. Days later, rumors of Domino's death led someone to spray paint "R.I.P. Fats You will be missed" on the balcony. As it happened the Dominos had been rescued, and managed to get from the Superdome to Baton Rouge.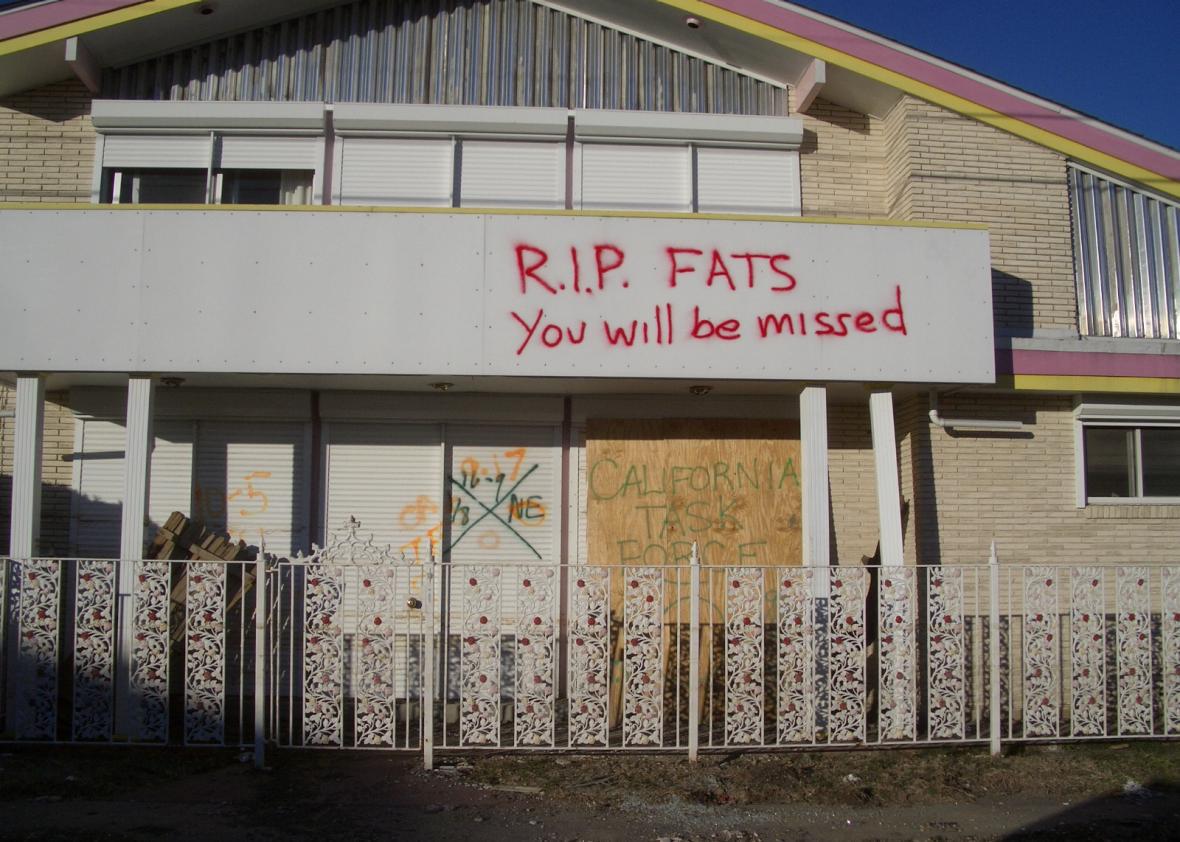 Domino's fans breathed a sigh of relief. A local nonprofit renovated his house, but Domino had already bought a new one in a gated subdivision across the river, and set aside a room for an upright piano and his couch made from the tailgate of a Cadillac. He would've gone back to the Lower Nine, but it was unrecognizable. His old neighbors were gone, some forever, and it would be years before basic services came back.
While Domino is universally adored in his hometown, the Birthplace of Jazz hasn't made much effort to celebrate him, or its part in the emergence of rock and roll. The J&M Studio building—where Little Richard and others also cut seminal records—now bears a plaque, but it houses a laundromat. The Hideaway Club is long gone. Twelve years after Katrina, Domino's compound in the Lower Ninth Ward stands empty, and swaths of the neighborhood have reverted to nature.
Domino never wanted a fuss made about him. To the end he was almost impossibly humble about the reach of his music, insistent that he was just a piano player from New Orleans. Maybe now the city he loved can celebrate him more publicly. Fortunately, since some Confederate monuments came down earlier this year, there are a few empty pedestals in town.