Growing up in Novi Sad, Serbia, Dusan Domovic Bulut fantasized about hitting a game-winning shot in the NBA. The point guard would watch old games on well-worn VHS tapes, figuring out how to mimic the moves of Allen Iverson and Jay Williams. In his dreams, he'd add his own personal twist to Iverson's crossover, tossing in a brief hesitation to make his defender stand up before driving past him or rising up for a game-winning jumper.
Bulut never made it to the NBA, but his career hasn't been anything close to a failure. The 32-year-old Serbian, the best three-on-three basketball player in the world, is living out his dreams on a different stage. In last year's FIBA World Cup final, he squared up against the United States' Myke Henry. Deep beyond the three-point line on the right wing, the 6-foot-3 Bulut froze the taller defender, pivoted off his left leg, and skied into the air. His long three splashed the net. Bulut and Serbia were the champions of the world.
Although Americans' basketball dominance dates back to the age of the peach basket, Serbia's win wasn't an upset. Since 2012, when FIBA launched both its 3x3 World Cup and 3x3 World Tour, Bulut's teams—the Serbian national team and his club team Novi Sad Al-Wahda—have won a combined five titles and amassed a 77–15 record in world tour play. (Those squads share identical rosters, while the players split time between Serbia and the United Arab Emirates, home of the club's sponsor.)
Bulut has spent much of 2017 as FIBA's top-ranked three-on-three player, an algorithmic honor that measures points scored as well as game results. Although he dropped to the fourth spot in the rankings after suffering an ankle injury, he remains the best offensive player in FIBA three-on-three. As adept at shooting threes as he is attacking off the dribble, Bulut's strength and size enable him to bully past defenders and get to the rim. Opponents also can't afford to help and double Bulut. His Serbian team boasts multifaceted three-point marksmen Marko Zdero and Dejan Majstorovic (No. 1 in the FIBA rankings) as well as Marko Savic (No. 2), a burly do-it-all 6-foot-5 forward who's something like the Serbian Draymond Green.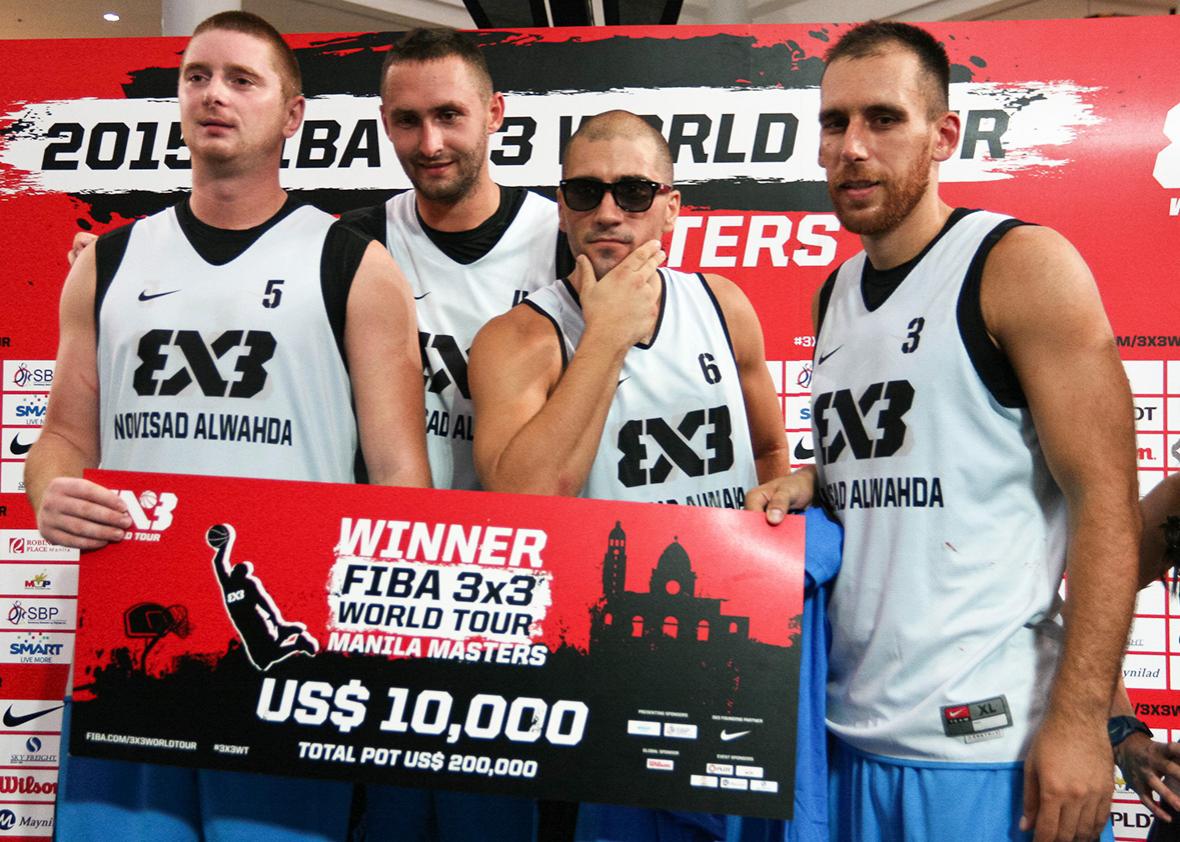 The foursome are the biggest fish in the still small-ish pond of international three-on-three basketball. "They play such a cerebral brand of basketball, and they'll put you on a table and dissect you," says Kyle Montgomery, who announces games for FIBA. Novi Sad, though, isn't destroying the competition by running the picket fence. Two times in recent months, Bulut—whose FIBA-approved nickname is Mr. BullutProof—has embarrassed opponents with a move of his own creation: the Shammgod nutmeg.
Bulut's team is considered a lock to win its third world tour title in Beijing this weekend. "Whatever adjustments you have, Novi Sad Al-Wahda has already adjusted to that adjustment," says John Rogers Jr., head of the investment firm Ariel Investments and sponsor of an American professional three-on-three team. (Rogers is probably best known for reportedly beating Michael Jordan in a game of one-on-one at a fantasy camp.) Or, as Piotr Renkiel, a guard for the world tour squad Krakow puts it, "The first step to beating Novi Sad Al-Wahda is actually believing you can beat them."
Although Bulut and his teammates have mostly triumphed in obscurity, they'll soon have the chance to win a gold medal. Three-on-three basketball—FIBA styles it as 3x3—will debut as an Olympic sport in 2020. Serbia's quartet, all of whom are in their 30s, will likely be considered the favorites to stand at the top of the podium in Tokyo, assuming LeBron James, Steph Curry, and Kevin Durant choose not to team up. Although Rogers is in contact with USA Basketball, he says he has no idea what the process to qualify for the 2020 Games will be. "My hope is players will find their own teammates and those that compete are chosen based on how they've done in all the tournaments during the year," says Rogers, essentially describing how the FIBA system works stateside today.
On the court, FIBA's three-on-three rules dictate that each possession lasts 12 seconds, and the ball must be cleared beyond the three-point line regardless of a make, miss, or turnover. A game lasts until a team reaches 21 points or 10 minutes have elapsed. For players coming from the full-court game, the most difficult adjustment is getting used to the basketball itself, which is the size of a women's ball but weighted like a men's one. There's also the fouling. "If you played as rough on any playground in the United States as you can in FIBA three-on-three, someone would get arrested for assault," says Craig Moore, who suits up for Rogers' Ariel Investments squad.
Unlike their competitors, weaned on five-on-five action, the Serbians haven't been forced to adjust their style of play. "You have to have your own instincts and creativity," Bulut says. "You need to recognize movement in a matter of seconds and act. Thinking too much is the biggest problem for five-on-five players."
The world's top player learned the game alongside his teammates Savic and Zdero in a neighborhood of Novi Sad known as the Bronx. "We would collect money to pay for the net as kids but then get kicked off the court by old players," Savic told Vice Sports in a 2015 video feature.
From the moment they stepped on their local courts as teenagers, the Serbians immersed themselves in what makes a successful 3x3 team. "That was how I made pocket money in the summer," says Bulut. Fresh off playing in a Red Bull–sponsored one-on-one tournament at Alcatraz in 2011, he learned FIBA was set to sponsor a three-on-three tournament the following year. He got the old gang back together, and the team's familiarity and style of play, predicated on ball movement, spacing, and perimeter shooting, has taken them to the top of their sport.
While Novi Sad Al-Wahda has been compared to the Golden State Warriors and San Antonio Spurs, their offense is most akin to the one traditionally run by Princeton. With only 12 seconds to execute, there are no set plays, just endless variations of free-flowing motion. "They found an interesting combination of still attacking players one-on-one while still having a good balance of slipping screens and getting easy shots at the rim," says Steve Sir, the all-time NCAA Division I three-point percentage record holder who played on Saskatoon's three-on-three team during the 2017 world tour. "You have no idea how deflating it can be to be in a scrap with a team and then give up a wide-open layup, and Novi Sad will do that six times a game."
"They don't have some secret sauce," says Dan Mavraides, who also played on the world tour. "But they are setting a precedent. Everyone looks at their game films to learn how to play and be this successful consistently."
Three-on-three basketball isn't Mavraides full-time job—the guard works at an investment firm—nor is it a 24/7 commitment for Sir or Moore. But for Bulut and his teammates, three-on-three pays the bills, thanks to sponsorships from Red Bull and Dubai's Al Wahda sports club. The financial backing, the Serbians say, gives their squad a huge advantage over competitors struggling to carve out practice time each week. As Savic told Vice Sports, "It's hard to play at a top level if you're worried about putting food on the table."
It's unclear what sort of investment other countries will be willing to make when the sport's top prize is a gold medal. (The winning team at each of the seven world tour sites now gets a $20,000 check.) Just as important as money is building an infrastructure for a sport that—notwithstanding the launch of Ice Cube's Big 3 league—isn't going to pull in the best American basketball players. "Maybe some G League or high-level Euro players could play," explains Moore, "but without the benefit of steady three-on-three competition, they'll be crushed by the European squads."
Bulut himself talked a bunch of trash in an interview early this year following a tournament in Croatia, saying that the Big 3 was full of old players who'd "wasted their money away" and "look very clumsy to me, judging by their game and static movement." He added, "Send them our way—just make sure there is health insurance courtside, because their spines and legs will break apart quickly."
Even though the Olympics aren't too far off, Bulut says he isn't "playing solely for the Olympics"—that "even if the sport wasn't added to the Olympics, I'd still be playing three-on-three." He has started to visualize what it will be like in 2020, though, just as he used to dream about playing against Allen Iverson and Jay Williams. "I saw in my head that I will bring home a gold medal," he told me. "I know I will do that."