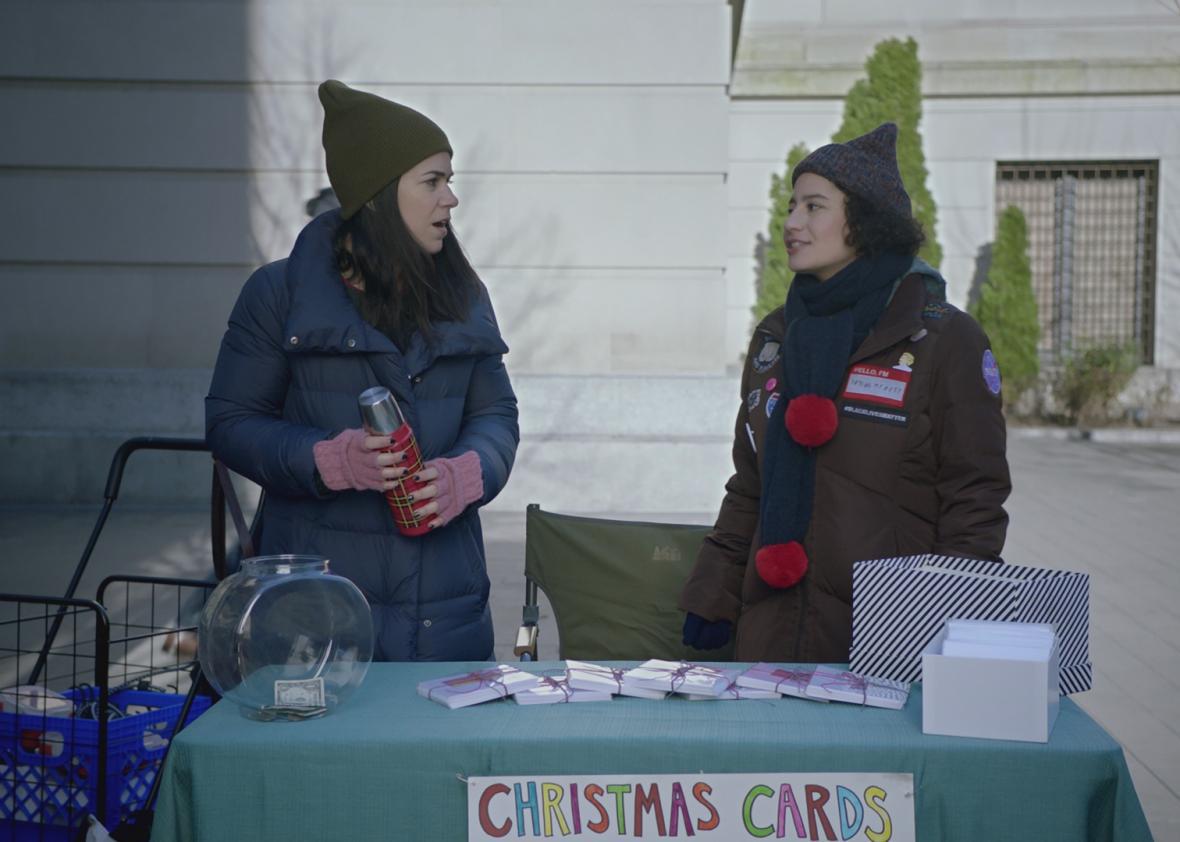 On Broad City, empowerment is often synonymous with carefreeness. Twentysomething friends Abbi (Abbi Jacobson) and Ilana (Ilana Glazer) seek fun and pleasure, like spending a Saturday on 'shrooms or rollerblading to a dog wedding in Prospect Park, with little regard for professional ambition, romantic goals, or good taste. The New York the BFFs live in is a polluted playground, filled with subway vomiters and overly intimate roommates, and the fact that surmounting those obstacles feels like significant triumphs speaks to the Comedy Central series' winsomely low stakes.
The current season, Broad City's fourth, is still goofy and wacky and warm and sharply observational. But it's also streaked with melancholy and forced maturation—and, yes, it's maybe a little less funny than in previous years. In the Sliding Doors-esque season premiere, the show actually kills off an alternate-universe Abbi and Ilana on the day they first meet each other. We see one of the few cracks in the besties' relationship in the second episode, "Twaining Day," when it's revealed that Abbi has been lying to Ilana for months about training Shania Twain at the gym. (Abbi actually does get to drill the country singer, but in doing so, is pushed to find closure with her ex-fling Trey, played by Paul W. Downs, with whom things got much more emotionally involved than she'd intended.) Ilana is similarly compelled into a reckoning with her lingering feelings about her former boyfriend Lincoln (Hannibal Buress) while on a bad drug trip. Fall chill, white guilt, and life in a "fascist state" combine with heartbreak to exacerbate Ilana's seasonal depression, sapping the usually exuberant urban elf. Not even fictional characters, it seems, are spared from the soul-crushing machinery of 2017.
But last night's episode, "Witches," found a silver-glitter lining to the storm clouds overhead, while adjusting the show's vision of women's empowerment to celebrate female aging. "Witches" opens with Ilana's discovery of Abbi's first gray hair, an unwanted milestone that reminds the struggling artist how much more she'd wanted to accomplish by this point in her life. Outside the Met museum, where she sets up a stand to sell her drawings, Abbi is confronted with a vision of an unwanted future in the form of a slightly daffy older woman played by Jane Curtin. Every few seconds, Margo (Curtin) points out the things they have in common with a too-friendly smile (or the observation that money is a "mind-control technique that quantifies the progress of the patriarchy"). A visit by a fiftysomething dermatologist (Greta Lee) who looks Abbi's age, along with a chance encounter with a now-married former crush (Stephen Schneider), convinces the millennial to counter that gray hair with some Botox. Abbi leaves the dermatology clinic after a single injection, embracing the fate Ilana had decreed from the start: "You're becoming a witch." (Or, as Abbi's roommate put it, "Like Dame Judi Dench and Stacy London from What Not to Wear before you, you're ascending.")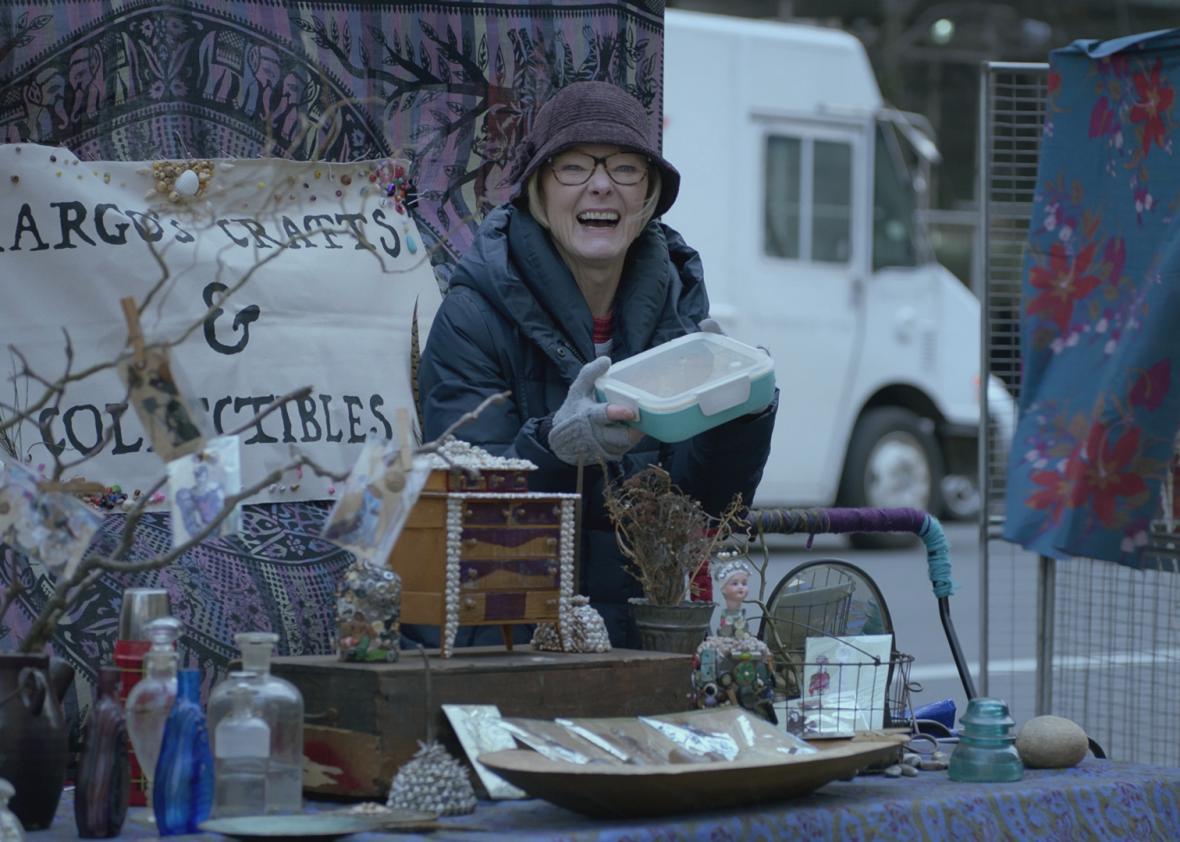 After sundown, Abbi and Ilana come across a coven in the park. "Witches aren't monsters," Ilana explains. "They're just women who [orgasm] and giggle and play in the night, and that's why everyone wants to set them on fire. Because they're fucking jealous." The half-hour concludes with a blink-and-you-miss-one montage of accomplished women, many of them older, like Angela Davis, Kamala Harris, Billie Jean King, and The Golden Girls to underscore female achievement. The visual list echoes the one Ilana imagines in the B-plot, in which Ilana seeks sex therapy for her inability to come since Donald Trump's election. (I find the practice by some of spelling the president's last name "T—p," as if it were a curse, a little silly, but it's still amusing to hear the show beep "Trump.")
Broad City has previously nursed an ambivalence toward older women. Kelly Ripa, Shania Twain, and of course Hillary Clinton have played themselves, received with rapturous dumbfoundedness by the show's leads. But other middle-aged female guest stars—Peri Gilpin as Abbi's buttoned-up mom, Melissa Leo's martinet of a food co-op manager, and Rachel Dratch's floundering one-woman temp agency—have largely served as cautionary tales. Many of the adventures Abbi and Ilana find themselves in—brunch, pop-up stores, the gig economy—glamorize the unfettered life of a post-collegiate Brooklyn hipster.
As much as comparisons of Broad City to HBO's Girls can be lazy, one contrast between the two comedies is informative in this regard: Lena Dunham and her writers never let Hannah and her friends mature, and thus let go of some of their pettiness and narcissism. Though the series continues to focus on youth, this season of Broad City attempts to extend its brand of female defiance and insouciance beyond young (white) women. In the half-animated, Yellow Submarine–inspired episode "Mushrooms," for example, Abbi and Ilana marvel at motherhood. "A person pussy-poops another person," Ilana gapes. "And then gives it milk to make it grow to be human-sized," Abbi adds. "That's comic-book shit," Ilana crows, ending the scene with the proclamation, "God, we're gonna be good moms."
"Witches," then, just might be the apotheosis of this season's anticipation of the future. It's also probably not a coincidence that the sex therapist (Marcella Lowery) who shepherds Ilana through her "Trump-related pussy constipation" is a white-haired, chunky-jewelry-wearing older woman. She's seen and been through a lot more than her young client has—and, like Margo, is happy to impart her hard-earned wisdom to the next generation.
Given this new thematic development, it's natural that Broad City is sadder and more regretful this season; that's what existence inevitably entails. But aging a la Abbi and Ilana doesn't seem so bad, either. Sure, there are a few more gray hairs on your head—or in Abbi's case, dozens. And other people don't always appreciate your knowledge or helpfulness. But you can remain as untroubled and as unruly (and as obsessed with bodily functions) as you wanna be—and no one can take that power away from you.
---